Hannah Crowell is officially the coolest woman you've never met. Is it because of her inspiring entrepreneurial journey? The way she's powered through life as a single mother AND business owner? Is it because of her familial roots in the music industry, her unbelievably gorgeous home, or her laidback attitude and fun-loving spirit? I'm going to be honest — it's all of the above.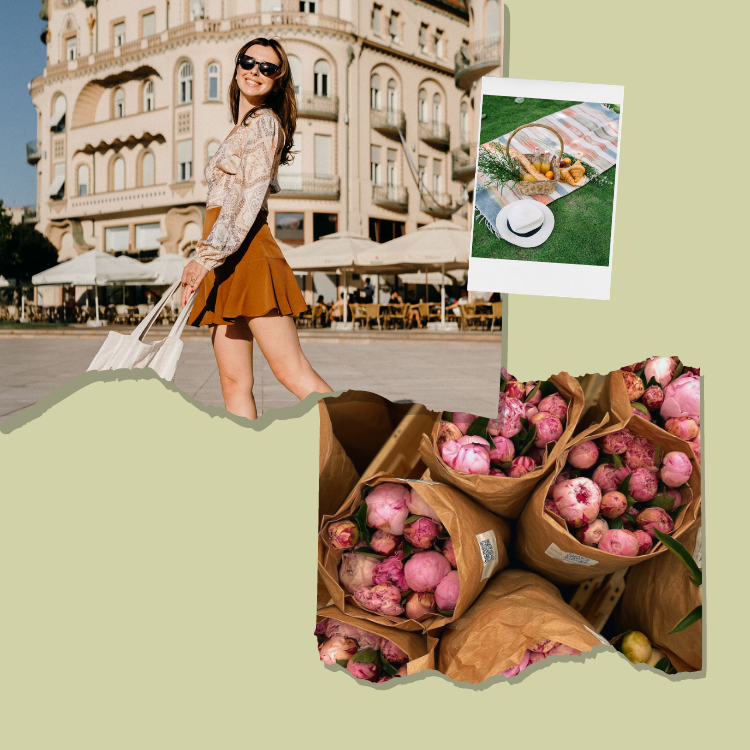 read this if you're in your saving era this summer
As owner and principal designer of her own interior design studio, Hannah is no stranger to tough interior projects. But when it came to the home she shares with her two daughters, the renovation and design were a whole new ball game. Read on to see how she made her Nasvhille ranch the home and office she's always dreamed of — and a little more about who she is and why we're so obsessed with her.
Name: Hannah Crowell
Job Title: Owner/ Principal Designer at Crowell + Company Interiors
Location: Nashville, TN
Sq. Ft.: 2,800
Rent or Own: Own
Years Lived In: 4
What was your first job and how did you land it?
It was an extensive kitchen remodel and to be honest, I was in WAY over my head!! It all turned out great but I definitely had to implement the "fake it til you make it" mentality. I learned so much from that project, but man was I a ball of nerves!
Tell us about your career trajectory and how it led to where you are now.
As a young woman, I wanted nothing more than to be Meryl Streep. I moved to Los Angeles and quickly discovered how brutal that industry is, and my skin was just not thick enough. I had paid my bills working for a photographer and an art collector and eventually ended up in a beautiful photography gallery in San Diego. I loved representing artists and being surrounded by the beauty of that industry, but I wanted to be the one creating something tangible. I had never even considered interior design, and one day it just sort of clicked.
Why did you decide to open your own business, and what unique challenges did you face upon starting out?
I began my business with a partner and, like many partnerships, that did not last. I decided to fold the partnership and start my own firm. At the time I was going through a divorce with a 3-year-old and 4-year-old. The three of us had moved into a rental house that felt like such a step back for me. I was literally beginning an entirely new existence, both personally and professionally. That was a daunting time, to say the least, but I had two little girls to support and I had no option but to make it work. I constantly tell my children that you might be smart and you might be talented, but an incredible work ethic will always get you the farthest. I have come a long way. My paternal grandparents were sharecroppers and I think that hard-working DNA stuck through the generations.
What skills from your time working in the arts industry carried over into the world of interior design?
Photography is all about composition, not unlike a room. You have to have an eye for that to create a space that really feels cohesive and right.
When embarking on a new interior design project, where do you begin?
The most important part of beginning a project is to spend time with my client. This is such a personal experience and my clients become like my family. I want to know their children and how they live because without understanding the flow of their lives, it is hard to design a space that embraces that. From there I can begin to put all of the pieces together.
When you began designing your own home for you and your two daughters, did you follow the same process?
I have SUCH a hard time with my own home! I second guess everything and cannot make up my mind to save my life. I spend every day looking at fabrics and tile and fixtures so when I have to make a decision for myself, I feel almost crippled. This is the total opposite of how I am with a client. I have lived in this house for not quite four years, and I have already changed the wallpaper, lighting, and window treatments. I think it's safe to say I have design ADD in my own home.
The art in your home is so fun and vibrant. What's your best advice for someone hoping to begin the process of curating their own art collection?
Buy what you love. I do not think there is a formula or rules when it comes to art. If it makes you happy or if it's something that you are really drawn to, you will find a place for it. However, consider scale and have things properly framed.
How would you describe your design style? How would you describe the overall style and theme of your home?
My design style is probably best described as modern bohemian. My own home really is a mixture of mid-century, family heirlooms, weird art, and pieces I have collected from travels. The most important thing for me in my own home is for it to be comfortable and a representation of who we are as a family. That means my daughter's anatomy model might live alongside a vase I brought back from Sweden. I like the unexpected moments.
Which room in your home is your favorite? Which room do you spend the most time in?
I love my formal living room. My blue sofa is the most comfortable sofa I have ever owned, and I love being surrounded by all of my books and weird little objects I have collected around the world. I also love my bedroom. My bed is my happy place and the one corner of this world that feels like it is just mine.
What were your biggest challenges in designing this home? Were there any architectural or structural obstacles?
This house had not been touched since it was built in 1960. The walls were paneled and the bathrooms were truly awful. The one thing that had been done at some point in time was to take away part of the master and create the world's smallest powder room in the hallway, which made no sense because it was directly across the hall from another bathroom. The master bath was so small you could have washed your hair while sitting on the toilet. I had to reconfigure all of that and create a true master bath again. There was a wall separating the kitchen from the den and the kitchen was so tight. It is still a small space but now it is open and bright and perfect for the three of us.
Where do you like to shop for furniture and decor items? What pieces in your home do you hope to keep forever?
When it comes to sofas and chairs I really love Lee Industries. I have consistently been happy with every piece I have ordered from them, and their lead time is pretty quick. I buy a lot online as well. Finnish Design Shop has been one of my favorites lately, and I can always find great pieces on Chairish. Etsy is my go-to for rugs. Our piano is one of my favorite pieces that I can never part with. It was left behind in a house I bought when I first moved back to Nashville. The sound is not perfect but my girls play it all the time and I love it.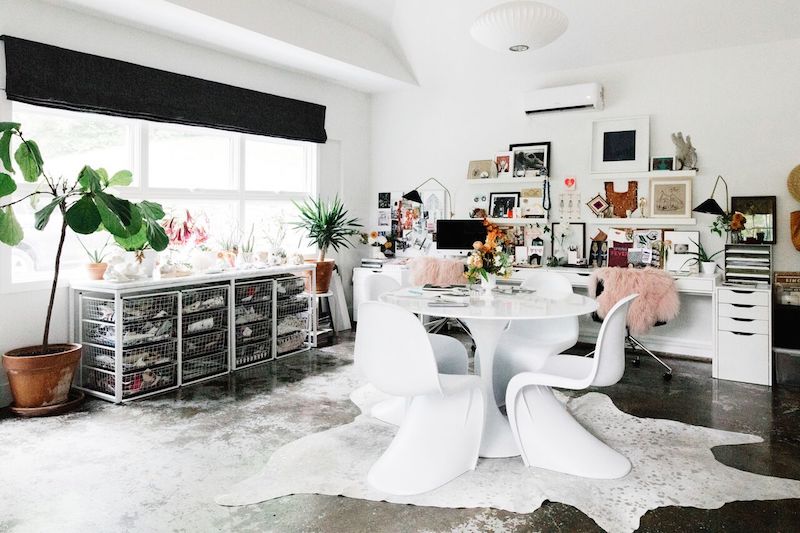 Your business operates out of your home — but in a separate office. How (if at all) do you keep your work and home life separate during work hours and beyond?
It can certainly be a challenge. I have to unplug from what is happening inside of my home because inevitably there is a mess somewhere, or dishes to be put away, or an unmade bed. When I walk into the office I have to forget about all the chores that await me inside the house. I love my office so much that compartmentalizing has been easier than one might think it would be.
What's next for you, your business, and your home?
We are in the process of buying a new home which I am very excited about. It is another ranch in the same neighborhood, but the footprint is larger and there will be a pool for the kids which they are thrilled about! And of course, my office will be there as well. I am so excited to create a whole new home but if I could pick up my office and move it exactly as it is I would. That is one thing I don't want to change at all.
What advice would you give to your younger self?
Don't be so hard on yourself and wear sunscreen.
Hannah Crowell is The Everygirl…
Ideal Saturday?
Walk the dogs with my girls and my love. Flea market with a girlfriend. A visit to this amazing reflexology spa in my neighborhood. Bike ride with my girls. Indian food and wine on the sofa while watching Netflix in the evening.
Go-to lunch on a workday?
Our lunches are so boring. Every day is a salad and La Croix. The big excitement is if we find leftover candy a child has left behind.
Favorite item in your closet?
This Hawaiian dress I found in a vintage store in Palm Springs. It is my favorite dress ever!
Funniest thing your kids said to you recently?
Well, Iris asked me last week if crayons had been invented yet when I was a kid. That made me feel great! But my favorite was when I recently took them to NYC for a visit. I always let them eat things there that I don't typically allow in our normal life. At the end of the day Addie asked for cake. I said, "You had a chocolate croissant for breakfast, M&Ms and lemonade at the show, and ice cream after that. What do you think?" She looked at me with these huge eyes and said, "that I have diabetes?" I almost fell out of my chair laughing.
If you could have lunch with any woman, who would it be and why?
Terry Gross. I have an admiration for her that teeters between nerdy fan girl and flat out stalker. My dream is to be on her show, but I am also painfully aware that interior design doesn't really pull the same audience as the latest twists in the Muller investigation or an interview with Will Ferrell.