It's not easy to find a bra that you look forward to wearing, so when we find one that can do it all, we have a habit of shouting it from the rooftops. A exceptional bra is one that we have outlined as follows:
comfortable enough to take an accidental nap in
supportive enough to withstand a day of errands
cute enough to show off if we're feeling cheeky
makes us feel damn good
So when we had the opportunity to collaborate with Harper Wilde to make a bralette that meets our near-impossible standards that we feel our best in, we knew we had to jump on it. Partnering with Harper Wilde was an easy no-brainer for our team… from their product quality that makes us (actually) look forward to wearing intimates to their for-all-women approach that strongly aligns with our mission here at The Everygirl Media Group, this collaboration is a match made in heaven.
Over the past ten years, our company has grown to provide millions of women around the globe with a daily dose of inspiration, guidance, and friendship. We've been there with you through the highs, the lows, and all of the spaces in between. We understand the challenges that come with being a woman and we value prioritizing mental health—which is why with this collaboration, we've decided to donate 15 percent of proceeds to the National Alliance on Mental Illness, the nation's largest grassroots mental health organization dedicated to building better lives for the millions of Americans affected by mental illness. We've put our heart and soul into this collaboration and we know you'll love it as much as we do. Introducing: our Emotional Support Bra, here for a limited time and designed with you in mind.
After months of keeping this oh-so-exciting secret on the tips of our tongues, we can finally share that our Emotional Support Bra collaboration is LIVE on Harper Wilde's site from now until February 2. Get yours before they sell out and read on for our team's review:
The second I took this bra out of the package, I was in awe of how silky-smooth the material is. In fact, I was so excited that I changed into it immediately—and I'll be honest, I basically haven't taken it off since. I have a fairly large chest, so it's really difficult for me to find bras that actually work for me. I've encountered very few that are comfortable, fit correctly, and are wearable for any occasion. And to find one that is all of those things and also doesn't look like I stole it from my grandma? Nearly impossible. That's why I was shocked that this one checks all of those boxes.
I typically wear a size 36DD in bras, so based on the size chart, I'm wearing a size large in this one. It fits me well, but because my bra "sister size" would've put me in an XL, I'm between sizes. If you're in the same boat, I would recommend going for the larger size for a little more coverage in the cups. Overall, this is 100% my new go-to. I'll leave you with one note about just how comfortable this bra is: I'm getting ready for a trip that includes an 18-hour travel day, and I already know that this is the bra I'll be wearing.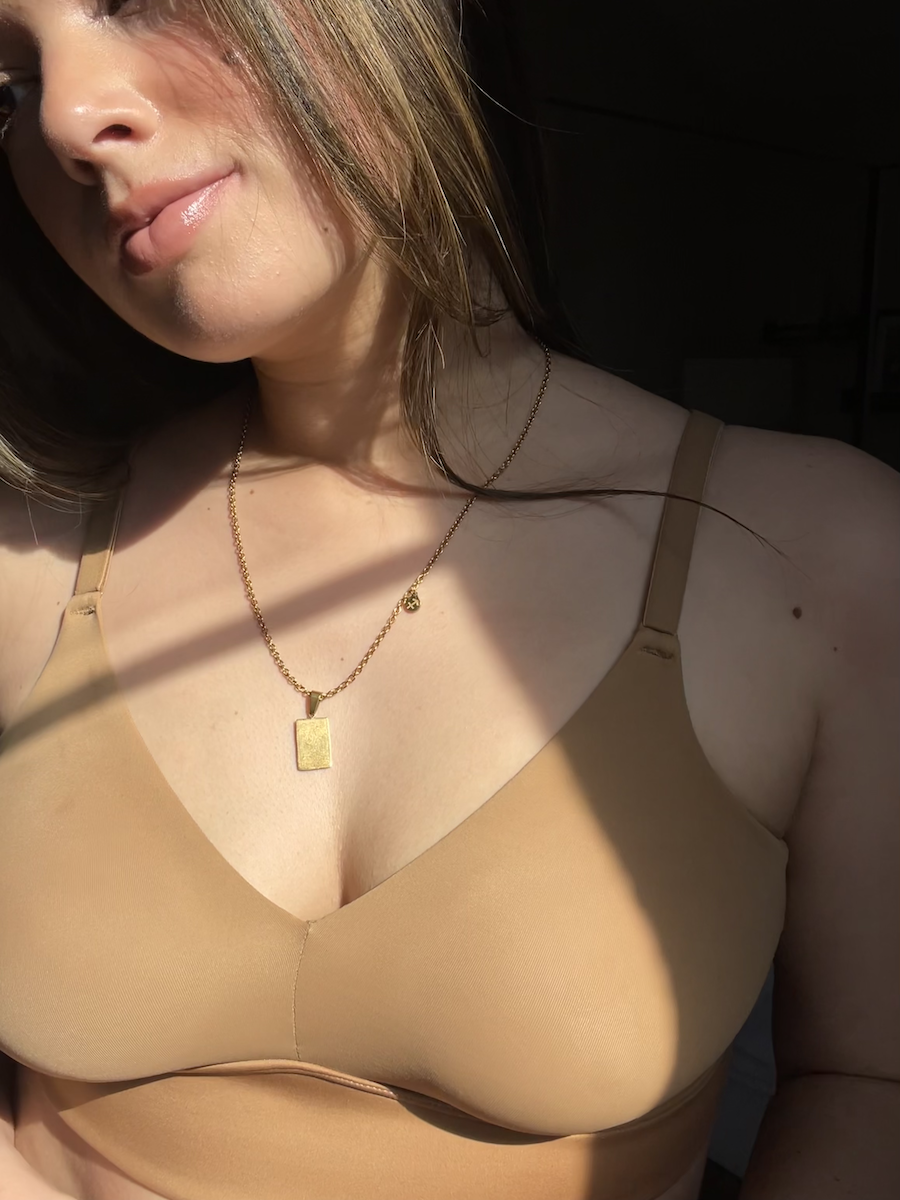 I've been a loyal bralette stan since college, but unfortunately since becoming a mom in 2020 none of my bralettes have offered the best support. Breastfeeding for the past two years means the girlies just aren't as "perky" as they used to be (RIP). But once I tried on my Harper Wilde bra, I immediately knew it was the answer to my aforementioned problems. It's incredibly soft, flattering, and provides the perfect amount of support. I can wear it with any outfit and my boobs stay in place without any spillage. It also doubles as a nursing bra, which is a huge plus for me. I've become accustomed to wearing my old nursing bras at night, and this Harper Wilde bralette is comfortable enough to sleep in, too!
It's a bra you can wear all day while working, out and about running errands, or even while doing a light workout. The versatility is unmatched. Plus, our custom design is adorable and makes it feel even more special. The past couple years I've bounced between a 34B and a 36C, so I ordered a large to give me more room and the fit is a dream. I will 100% be buying one in black because I'm absolutely obsessed!
One thing about me? I avoid underwire bras like the plague. There's just something about them that makes my chest feel like it's in jail and sends a shiver down my spine. I typically opt for sports bras and bralettes and when I'm looking for one to add to my collection, here are my non-negotiables: It has to be stretchy yet supportive (I have a pretty busty chest for my frame so I don't love going braless), versatile for my fairly active lifestyle, and have a material that I look forward to putting on. So imagine my surprise when I tried on this bralette from our collection with Harper Wilde and found that it checked all of my boxes and then some.
When I first took it out of the package, I was a little taken aback. That is going to fit on these? I held the buttery soft bralette in my hands and, at first glance, it did seem a bit small but I continued on because the reviews on the site noted that the size chart was accurate (I got a medium and am typically a 32DD). To my pleasant surprise, it effortlessly stretched over my body and fit me like a glove.
It gives me a good amount of support without making me feel claustrophobic. I've accidentally worn it to bed twice now without noticing that anything is even there and have even gotten through a whole 12-3-30 and a strength workout without realizing that I forgot to swap it out for my athletic bra. If that's not versatile, I don't know what is. If you're cool with a bustier fit (guilty as charged), opt for the recommended size, but if you're someone who likes more coverage in the chest area, I'd size up and adjust the straps as needed!
The Everygirl designed this product line in collaboration with Harper Wilde. If you buy a piece from our collection, we may earn a commission, at no cost to you. We only recommend products we genuinely love.