This year has been harder than any of us could have imagined, in so many ways. Not only are people across the globe struggling to cope with and adjust to a new way of life, but many are also faced with the extra challenge of having to do it without jobs, without child care, or without the loved ones that normally serve as their support system.
While everyone is struggling in some way, there are people out there who have been hit especially hard by the economic crisis caused by COVID-19. More than 22 million Americans filed for unemployment in March and April, a number that has not been seen since The Great Depression. That means that the unemployment rate surged to a record high of 14.7 percent, according to the Bureau of Labor Statistics.
Although some jobs have started to come back—with the unemployment rate dropping to 7.9 percent in September—the U.S. has still only regained 42 percent of jobs lost.
Our team has heard countless stories of families struggling to choose between paying their utilities or buying groceries to feed their family; who don't know where their next paycheck is coming from, or are debating stepping away from work to manage their children's education.
Too many Americans are struggling because of this pandemic, and we at The Everygirl Media Group knew we needed to help in any way that we can.
On October 1, we announced the launch of The Everygirl Media Group Foundation, a 501(c)3 non-profit, to better be able to respond to the needs and issues that are important to our team and our readers. It is our goal to empower women and support them in times of need—and through this foundation, we can provide funding directly to the people and causes we wish to support.
With the holiday season quickly approaching, we are announcing the foundation's second initiative:
We are helping 10 families this holiday season, covering everything from paying for utility bills and grocery costs to providing holiday cards, decorations, and gifts to put under the tree.
You can apply for your own family or nominate someone you know that is in need of assistance this holiday season. Ten random winners will be selected next week on Wednesday, November 11.
---
What will each family receive?
With the help of generous donations from our amazing brand partners, we will be providing 10 families with everything they need for the holidays—including gifts, winter gear, holiday decor, diapers and wipes, groceries, and utility payments—valued at over $2,500 per family. Keep scrolling to see exactly what each of our brand partners is providing to every recipient.
The Manhattan Toy Company will provide each family with a $200 gift card to purchase holiday gifts for babies and toddlers ages 0-4. Every family with children in this age range will receive this gift card.
Seen here: playdate friends doll / camping soft book / beats to go toy / fox plushie / lion plush stacker / wooden camera set / canoe buddies / musical llama
Crate and Kids is donating a curated gift set for kids ages 4-7 valued at $200. Every family with children in that age range will receive one set of this gift collection for the holidays.
Seen here: matching game / binoculars / coloring poster / gears puzzle / nature activity book / eco dough set / USA puzzle / mini golf set / marker set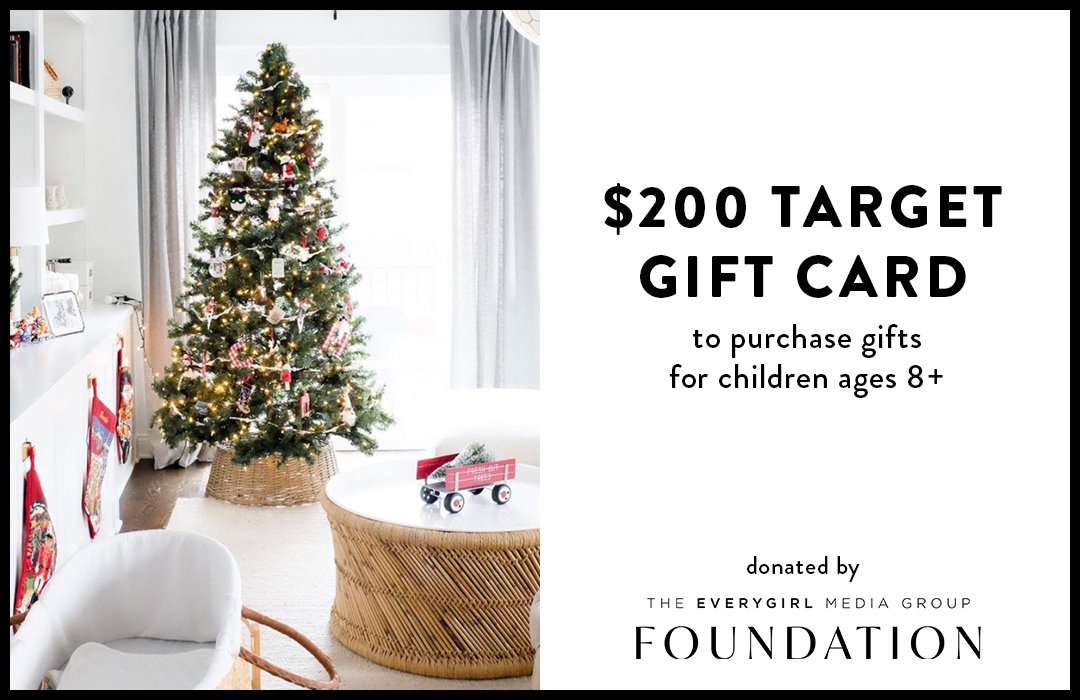 The Everygirl Media Group is providing a $200 Target gift card to purchase gifts for any family with children ages 8 and up.
Candlewick Press is donating a custom book pack appropriate for children of different ages and valued at $250.
Seventh Generation is donating a three-month supply of diapers and wipes from their Sensitive Protection line to families with children in the appropriate age range.
Reima will be providing one coat per child in each family to provide warmth all winter long. They have options for all ages—from babies and toddlers to big kids.
Seen here: kids' ski jacket / toddler down jacket / toddler parka / baby snowsuit
Talbots is providing a $300 gift card for mom to shop for winter gear to stay warm this season. There are many coats, accessories, and shoes to choose from.
Seen here: puffer jacket / pom hat / tech gloves / sherpa boots
Equilibria, a CBD company by women for women, will gift each recipient with a specially-curated holiday gift box to provide some much-needed TLC for parents and guardians.
Minted will gift each recipient a $150 gift card to use on minted.com for holiday cards. Excludes use for art, home decor, and fabric gifts.
FTD Flowers is providing a FTD Holiday Cheer Package. Each family may choose two items from an assortment of holiday gifts including a wreath, centerpiece, bouquet, and chocolate gift set. In the event the selected items are not available for delivery in the recipient's zip code, the winner will receive a $250 gift certificate for FTD.com.
La Marca Prosecco generously provided The Everygirl Media Group with a donation to support parents/caregivers with $250 to purchase a holiday meal from their local grocery store (provided in application).
The Everygirl Media Group is donating up to $500 per family to help cover the cost of utility bills this season, for past due or future payments. We will be covering whatever is most helpful to you—whether that be $500 applied to one company to help cover future bills or to cover any late payments. Utilities include heat source, electricity, or water. Payments will be made directly to utility companies (account details required in application.)
---
How to Enter:
Click the button below to fill out the form for yourself or the family you are nominating. We will be collecting basic information such as names and ages of family members, phone number, and address—as well as product-specific information such as sizing, utility account credentials, and local grocery store chain preference. The application is open to any family who needs assistance this holiday season.
Frequently Asked Questions:
Q: Who is eligible to apply?
A: Helping Hands for the Holidays is open to anyone living in the United States of America who has been negatively impacted by the COVID-19 pandemic and/or the economic crisis that came with it. We specifically want to provide assistance to families—no matter what that may look like—with children, who deserve an extra-special holiday season.
Q: What is the timeline?
A: We are accepting applications beginning today, Monday, November 2, and they will remain open through 11:59pm CST on Monday, November 9. Program "winners" will be announced on Wednesday, November 11. We are asking our brand partners to ship their pre-determined contribution to the winners within 7 days of receiving the family details.
Q: How are the 10 families who receive assistance chosen?
A: We will be selecting the 10 families randomly from all viable applications (those with a proven need for financial assistance this holiday season).
Q: When will the products arrive to me?
A: All items will be shipped out within 7 days of winners being announced and confirmed. If chosen, we will be in immediate contact about any additional information needed and next steps.
Q: How will you be paying my utility bills?
A: We will be collecting utility account information (company names, phone numbers, and account numbers), as well as the specific amounts needed to be paid or prepaid so that we can call in payments to your utility companies. If you wish to prioritize certain bills over others up to $500, please note that in the application.