I'm just going to be honest and say that I think I am an ~expert~ when it comes to weekend street style (Am I one? No. But do I think of myself as one? Yes.). I own several pairs of joggers, distressed boyfriend jeans, and suede sneakers. I have pleather leggings, oversized ironic graphic tees, and a scarf collection that would make Lenny Kravitz proud.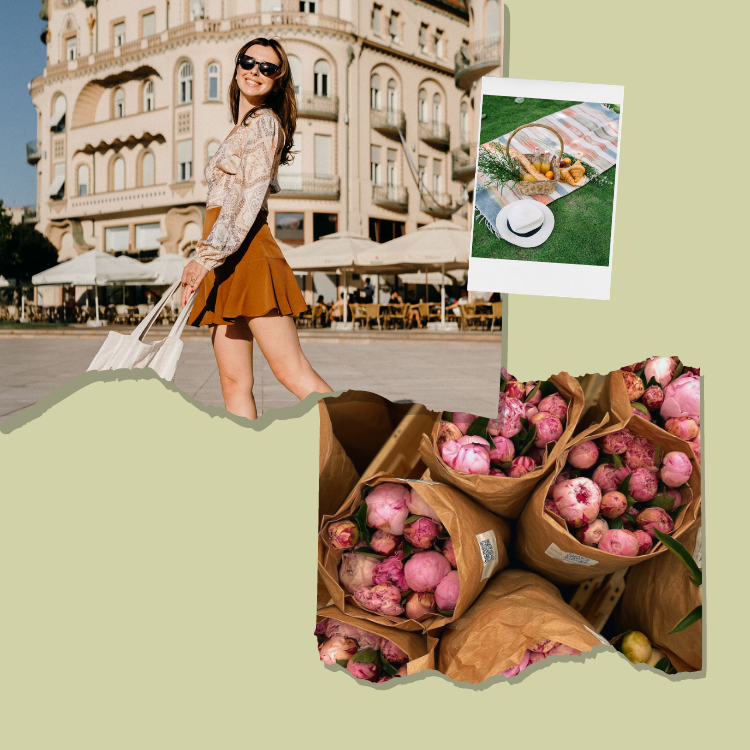 read this if you're in your saving era this summer
So yes — I own all those things, but if I'm being honest, I don't wear all those things. When the weekend comes around, I look at my mismatched closet chock-full of street style favorites, and I don't know how to wear them. I ALWAYS end up in my go-to joggers (incredible, albeit overdone in my own life) and a drapey tunic. I own SO many great pieces, but I don't know how to style and wear them.
ENTER THE REAL EXPERTS. There is such a massive amount of bloggers out there who ACTUALLY know how to style the perfect weekend look — and I'm turning to them for help. So whether you have a closet full of pieces like I do or you're looking to build a weekend wardrobe from scratch, look no further — the following outfits are perfect for a myriad of off-day situations. Copy the outfit as a whole, or just find a few new ways to style pieces you already own. You. Are. Welcome.
The "Looks Way More Complicated Than It Is"
Source: @notjessfashion

Let me assure you that you probbbbably already have a bunch of these items in your closet. Jeans? Check. Neutral-colored turtleneck? Check. Statement earrings? Double check (get it – because there's two of them). And a crossbody bag that's both roomy and chic? Mother-loving check. The piece of this outfit puzzle that you might not already have is the kicky beret — but that's the glue that holds this seemingly-complicated look together.
The "I'm Running Errands And I'm Preppy But Also Edgy"
Source: @styledsnapshots

Kendall Kremer is my ultimate style crush. We have VERY similar taste — the only difference is that she wears everything so well it looks like it was literally made for her. We also have very similar hair — and our difference there lies in the fact that she probably washes hers more than twice a week. Thanks for the endless inspiration, Kendall!
In other news, I used to HATE camo. I still don't always love it — but Kendall's strutting around proving to me that it can look totally chic when paired with the right outfit. I love that she paired it with a collared shirt to keep it from feeling sloppy, but still added distressed jeans to keep it from looking office-ready (Not that camo's ever really office ready… Actually, I have no idea what your office is like — ignore me! I just love the outfit — that's all there is to it).
The "I'm Running Errands and It's a Little Cold Out but I'm Still Chic AF"
Source: @cinnamonryan

What is it about a camel coat that makes every outfit look INSTANTLY fabulous? You could wear a camel coat with the most basic pieces underneath, and it would still look chic. This outfit is anything but basic — but it's still simple to pull together. Wear it for a long lunch, an afternoon of errands, a trip to the farmers' market, or just about anywhere else your weekend takes you.
The "I Really Want to Wear My Pajamas to Go Grab Coffee But I Also Know I Can Do Better Than That"
Source: @laurenkaysims

We had a little debate the other day in the office about graphic tees. I, personally, LOVE them for sassy weekend-wear. I love that you can still be cute while also being cheeky — and they're perfect for days when you're just running around but still want to wear more than your sweats and PJs. Oversized tote and sunnies, your favorite jeans, and a fun tee? Flawless.
The "I Just Threw On a Few Pieces and Came Out Looking Like a Goddess"
Source: @waityouneedthis

I love this look because it looks SO pulled together — but it's only two (TWO!!) pieces! A great sweater speaks for itself (but of course a few kickass accessories don't hurt). I love the detailing on this sweater, which really amplifies a simple pair of favorite jeans. I'd wear this to dinner with my friends or to a movie-ish kinda date.
The "I'm Breezy and I Know It"
Source: @stylecusp

This outfit makes me SO EXCITED for spring! I love tying a denim shirt or jacket around the waist — it makes a dress so much more casual (and hello it's practical as hell). Heeled booties take this from day to night, so you can go straight from brunch to errand running to date night. Done, done, aaaaand done.
The "I Just Came From the Gym (Or At Least I Want It to Look Like I Did)"
Source: @lakeshorelady

I sincerely hope that athleisure never goes out of style. I'm all about those efficient (and comfortable!) layers on the weekend. Layer a long-sleeved workout top over a tank or sports bra (or both), throw on your favorite leggings and most comfy sneaks, and suddenly you're ready for the gym OR for a day of shopping and hanging out. Athleisure is queen — and so are you.
The "I Can Mix Patterns Almost As Well As I Can Mix a Drink"
Source: @lizadams

My girl Liz Adams is SO good at subtle pattern mixing — an element I think is a really simple way to up your weekend outfit game. Some people say leopard is practically a neutral, so mixing it with neutral stripes is practically a no-brainer. Y'all already know how I feel about a solid camel coat — so this outfit screams chic to me (it's also appropriate for basically three of the four seasons — score!).
The "I'm Not Sure If I'm Cool Enough to Rock a Look Like This But Hot Damn She Looks Good"
Source: @adamantlyadler

When I saw this picture for the first time, I LITERALLY GASPED. She looks SO FLAWLESS — this is the street style outfit of all my wildest dreams. While most of us don't go out for the day in leather joggers AND a fur coat AND a crop top AND a really badass pair of sunglasses, that doesn't mean we shouldn't at least try. I'm making myself a rule for this spring — I'm going to hang this photo in my closet, and every weekend day when getting dressed, I'm going to attempt to channel it in some way, shape, or form. Will I ever look this cool? Probably not. But can I buy at least one element of the ensemble and rock it with my own pieces? HECK YES — and you can too.
What are your favorite weekend looks? Let me know in the comments!