It's the season of giving, folks, and this year, I'm gifting everyone I know by serving mad looks at every Christmas party I attend. You know what I'm talking about: those people who walk into the room and immediately command attention because the sparkle on their eyelids and that bright red lip that perfectly matches their skin tone is so eye-catching. While some people might swear by your party outfit, I'm here to tell you that a solid makeup look can make or break you. You'll go from sipping 'nog with your coolest cousin and his amazing new partner to listening to your great-aunt Gertrude ask how to talk to Siri for the eighth time this year.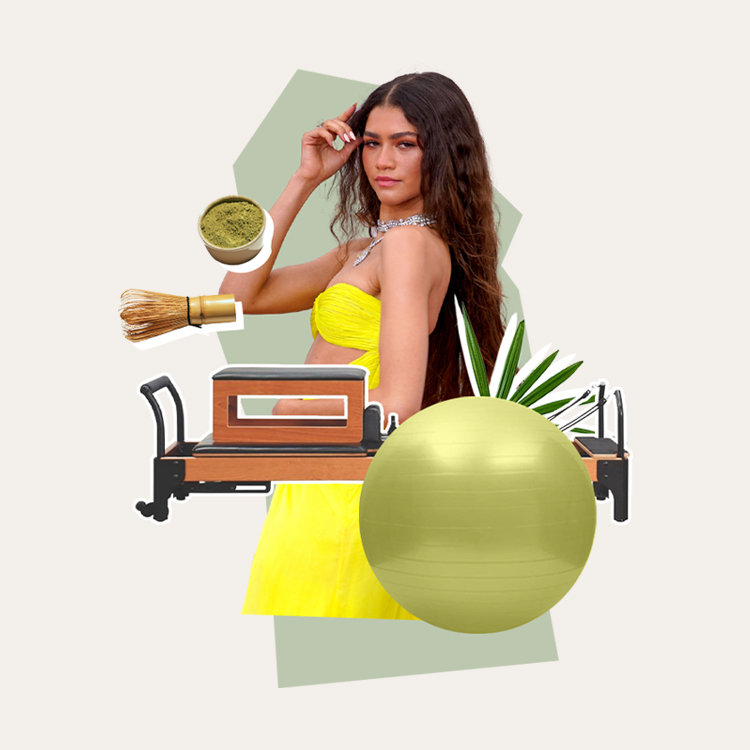 she's (kinda) just like us!
I did the work for you and found so much inspiration for every kind of holiday look you need. Whether you like to keep it natural, want a little glam, or want to be decked out in sparkles (ooh, don't mind if I do!), there's something here for your style!
1. Metallic Eyes
https://www.instagram.com/p/B4KgoCUHA0s/
Katie Jane Hughes is a makeup goddess, and her take on the metallic gold eyeshadow trend is one for the books. Get this look by popping a yellow-gold shadow in the inner corner and first half of the lid and blending a darker brown through the crease.
Gigi Hadid looks good in pretty much anything, but we're obsessed with this green/gold metallic look for the holiday season. Although this look seems difficult and intricate, you can replicate it with three shadows (yeah, you read that right!). Use your finger to place a green/gold metallic shadow on the inner part of the lid and a more brown-based gold shimmer on the rest of the eye. Then, use a brush to diffuse the line and blend a medium brown through the crease.
Silver is having a moment right now, and we are so here for it. This look is perfect for a party, but you could easily tone it down for a shopping day with the girls or a work happy hour.
This look takes that silver we're loving so much and puts it in a striking, angled shape. Get this look by using tape on the outer corner of the eyes to keep the shadow in the right spot. Clean up the line with your under-eye concealer!
Metallic eyes pair so well with metallic, glittery lips, as seen in this photo. Just add a shimmery, gold gloss on top of your typical nude lips, and you're good to go!
2. Bold Lips
Who doesn't love a good holiday red lip look? Going off of that metallic eyes and lips combo, we're so here for this shimmery red on the lips paired with sparkly eyeshadow. If you don't want to buy a metallic red lip just for this look, add a glittery gloss on top of your favorite shade of red.
Red isn't the only bright shade to have in your arsenal this season. This bright pink would look amazing for a girls night on the town when everyone's back home for Christmas or to spice up your outfit on NYE.
This brown, bold lip paired with a brown smokey eye is at the top of our wish lists. Consider it an homage to your favorite holiday drink: a spiked hot cocoa.
You can't go wrong with a classic, head-turning red lip this holiday season. If you're going for a minimal-but-festive look this season, look no further than winged liner, bold lashes, and the brightest red lipstick you can find.
3. Emerald Lids
If you want an understated look that involves a little color this season, this might be the option for you. This is basically the opposite to the look Gigi Hadid is wearing in the photo above. Add gold to the inner corners and a dark, emerald green to the other half of the lid, and blend the two colors for a seamless look.
If the look above is understated green, this is the antithesis. This is quite possibly one of the most beautiful eye looks I've ever seen, and it's basically one shade all over the lid in a dramatic wing shape. Don't call me out if you see me wearing this every day this month.
This is basically the matte, smokey version of the look above. Add a yellow-brown shade and lighter green in the crease to help you blend the dark green better.
This is the work-appropriate way to add green to your eyes (if you're in a more conservative office environment). Instead of focusing on the green on the lid, add a green eyeliner to the lower lash-line and smudge it with a green eyeshadow.
4. Cool-Tone Shades
Grey eyelids are my kind of groutfit. The winged liner keeps it edgy and current, and the light grey shade is soft and natural enough for every day.
Cooler toned products aren't exclusive to the eyes. This cool-toned, purple-gray brown would be perfect for a night ice-skating or for any of your winter activities.
5. Highlighted Cheekbones
A glowy look is necessary to add some moisture back into your dry skin this season. This look takes the cheekbone highlight over-the-top and keeps the rest of the face fairly natural (except those insane lashes, which I love, of course).
For your day-to-day look, going for something natural and glam doesn't have to be a challenge. This highlight is so prominent that the rest of her face is basically bare. Get this look by using a cream or liquid instead of a powder highlight — it'll blend with your foundation to make it look like you're actually glowing from within.
I'm sorry, carry on, I'm just obsessed with bright, highlighted cheekbones and natural skin, just let me live.
This look is a good example of how to elevate a smokey eye and lip combo with your highlighter. This highlight brings the full look together, making her face look brighter than ever even when she's wearing darker shades.
6. Winged-Liner
Gold liner is a quintessential this holiday season. Seen in products from Fenty Beauty, Urban Decay, and more, this look is bound to turn heads. Go for a more burnished gold shade for a smokey look, or use a yellow-gold liquid to brighten up the eyes and make them pop.
Add a little bit of that holiday green to your look without going over the top. You can go for a dark emerald, a forest green, a deep olive, or something fun like this shimmery mint.
While winter white is taking over our closets, it's also popping up in the editorial beauty space as well. Incorporate it into your every day with this white winged liner look. This could easily be worn to the office with an understated base or worn with a bold lip for a party.
7. Smokey Eyes
The holidays are certainly smokey eye season in the makeup world! This is one of the coolest eye looks I've ever seen, as it combines black, silver, brown, and glitter all in one look. This is a reminder to have fun with your makeup this season — don't be afraid to play with tones and textures you wouldn't think to wear together.
Could Sophie Turner ever look bad #askingforafriend?? This 1960s-inspired cat-eye is head-turning without being glittery or bright. With an all-matte look like this, keep your base dewy and fresh to make up for the matte look on the eyes.
This smokey eye looks so intricate, but it actually could be replicated with one black, shimmery shade. To make this work, apply the shade in one go with your fingertips. Then, use a brush to blend the edges and add more product where you want it to appear darker (in the outer corners). Then, just pop your face highlighter in the inner corners, and you're done!
Halo eyes are a gorgeous way to make your eyes appear brighter and more awake. Get this look by using a dark, grey shade in the outer and inner corner, leaving the center of the lid bare. Fill the space with a matte color (or change it up by going for something sparkly!).
8. Sophisticated Glitter
Glitter gets a bad rap in the beauty world, but there are ways to make it look grown up. In this look, the MUA put glitter just on the inner corners of the eyes to add brightness. When used with intention, glitter can definitely look editorial rather than like you just went to a rave.
I love how minimal this look is while still being striking. Simply add a glitter to the center of the lids and a white, shimmery shadow to the inner corners. It looks special without being over the top.
Complete the same steps as some of the smokey eyes above, but instead, add a hint of glitter on top of your metallic shadows. This adds texture and dimension to the look and is perfect for New Years!