Living in a small space doesn't mean that you can't do it up right when it comes to holiday decor. Just ask Kelsey Byrd. She makes sure that there's plenty of festive decor throughout her approximately 500-square foot apartment in Chicago's Lincoln Park neighborhood all season long. Rather than embracing the look she grew up with, Byrd takes cues from her apartment's finishes and overall feel to transform it into a winter wonderland that still feels fitting even after it's time to take the Christmas tree down (winter is long here, guys).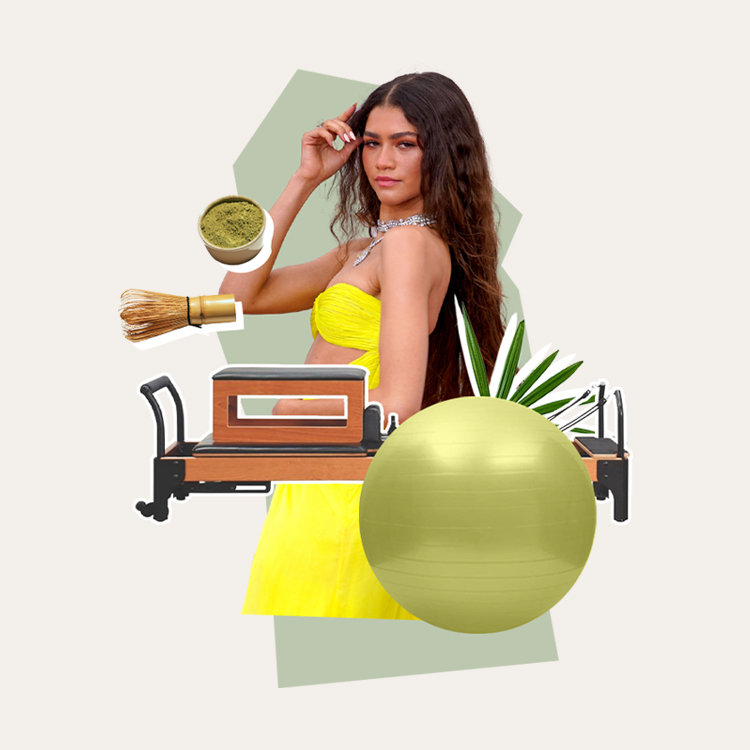 she's (kinda) just like us!
Take a look at how Kelsey is able to pull it all together, learn her tricks for inventive (and affordable) holiday decor, and find out which sweet Christmas activity she's hoping to turn into an annual tradition.
Name: Kelsey Byrd, Global Brand Designer at PepsiCo
Location: Lincoln Park, Chicago, IL
Sq. Ft: 500(ish)
When do you start decorating for the holidays?
I spend a good portion of the holidays with my family in South Carolina, so I usually begin decorating my place in Chicago by mid November. I always love coming home to the sights (and smells) of Christmas after a long Thanksgiving weekend in SC.
Tell us about your holiday decorating process.
Before I ever purchased my first piece of Christmas decor, I compiled a bunch of inspiration into a Pinterest mood board to get a better sense of where I ultimately wanted to take things aesthetically — I am a designer after all. I found myself gravitating to warm wood tones, simple greenery, and soft neutrals, which are all consistencies that have since helped me spend my decor dollars wisely. Finding creative ways to recreate my favorite bits of inspiration in a small studio apartment has been a fun challenge.
How do you budget when it comes to decorating seasonally? (Things can get expensive for such a short time of the year!).
Because winter typically extends through April up here (cue nervous laughter), I try to decorate for the holidays with pieces that are more wintery and less overtly Christmas-y in order to maximize bang for my buck. While the flocked tree will likely come down at the beginning of January, things like my faux fur Pottery Barn throw, the snowy prints around my TV, and the little birch trees will stick around until early spring. Pieces that easily transition from fall to winter or winter to spring are always a great place to start.
Where do you shop for holiday decor?
You can usually find me browsing Target's Christmas decor as they're literally in the process of unpacking the floor set just after Halloween (#shameless), but I also love places like Rejuvenation, CB2, and McGee & Co. if I'm looking to splurge on something special.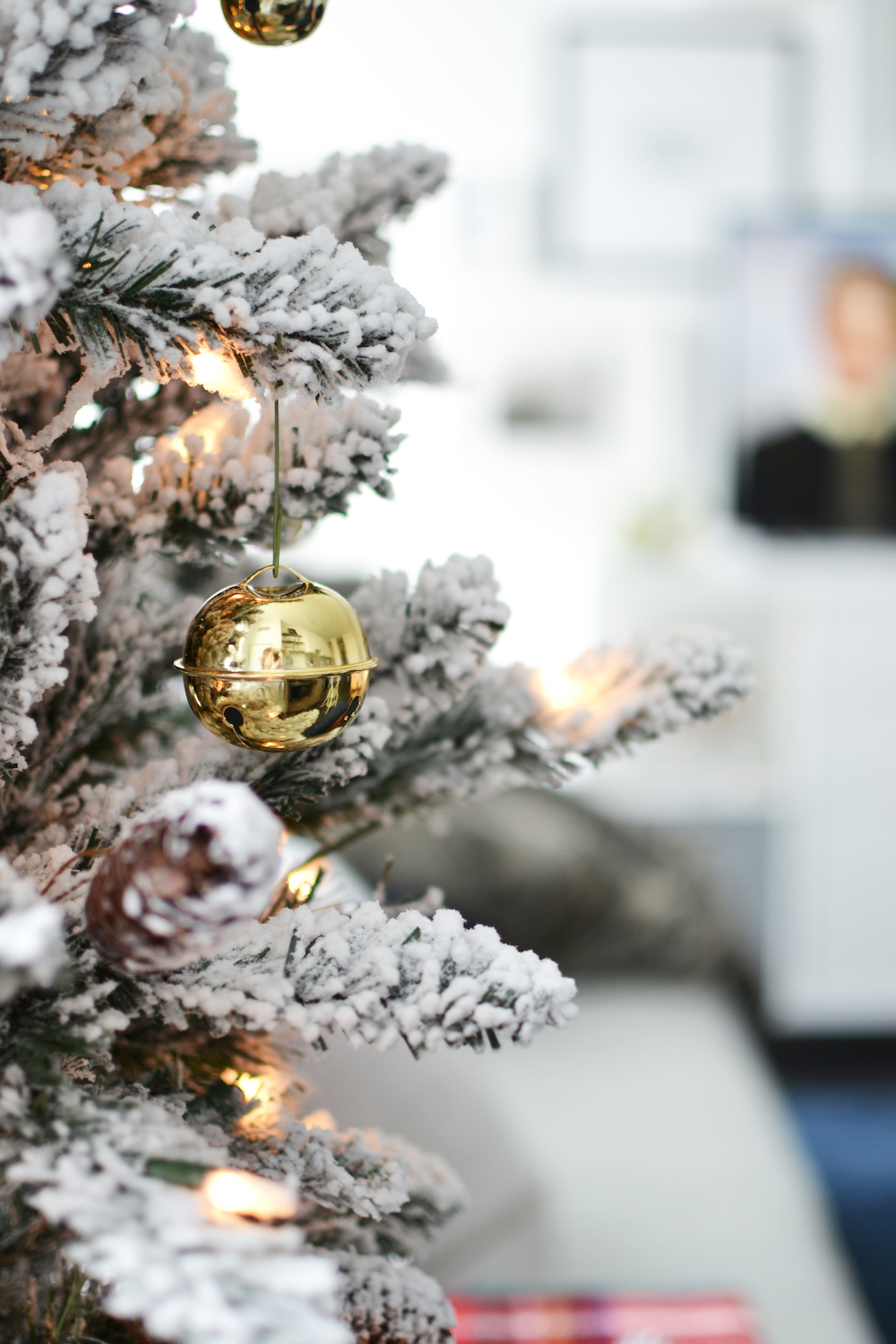 Do you have any holiday traditions that are special to you?
Reading Matthew's account of the Christmas Story together as a family on Christmas Eve is a tradition I really love. We usually take turns reading year to year, but it's always a great reminder of who and what the season is ultimately about.
Do you have any tips for readers who may live in smaller apartments (and who are on a budget) who might not be able to decorate to their heart's desire?
Get creative! A couple of the prints around my TV are actually Anthropologie shopping bags from last winter. I loved the watercolor illustrations so much that I snagged a few extra bags to repurpose as seasonal art. And when in doubt, don't underestimate the value of a good candle, a well curated holiday playlist and Netflix's "Fireplace for Your Home" — a winning combination, if I do say so myself.
What was your childhood home decorated like at the holidays, compared to your own as an adult? Did you take any influence from your childhood when putting your own together?
My mom's decor style tends to be more traditional than my own. Our family tree is a collection of ornaments from childhood as well as a healthy dose of Clemson orange (because #GoTigers). It tells the really sweet, authentic story of our family, and I love getting to enjoy it when I'm there for the holidays. A more traditional experience at my parents' house has, in some ways, granted me the freedom to go in a completely different direction when it comes to decorating my own space.
How has decorating for the holidays evolved over the years for you?
For me, decorating has always evolved a bit as I've moved from one apartment to another. Now that I'm in a studio, I'm much more conscious of visual clutter, and I've tried to balance a holiday aesthetic that feels both festive and breathable. A small flocked tree felt like the perfect addition this year. I love that the flocked branches don't demand quite as much visual attention, and simple mixed metallic ornaments nod to the modern finishes present throughout the rest of the space.
Have you slowly been collecting your holiday decor over the years, or did you purchase it all at once?
This is my fourth post-grad Christmas and the first time I've actually had a tree of my own. I'm fairly intentional (aka picky) when it comes to purchasing just about anything, and holiday decor has been no exception. Rather than rushing to purchase everything all at once, I've tried to invest in a couple new things each year. The only "decor" I bought during my first Chicago Christmas was a big faux fur throw, a splurge that still tops my list of winter favorites.
What's your favorite piece of holiday decor that you own?
The garland around my bed frame is one of my very favorite holiday touches. It's simple greenery wrapped in a single strand of lights, and it makes a big impact!
Overall, what's your favorite thing about celebrating in your home?
My heart for hospitality has grown exponentially since moving into my own place. I love creating space for people to feel seen and heard and valued. Hosting a small group of women in my apartment on a weekly basis is one of the things I love most, and designing this space with them in mind has been a really sweet opportunity to practice stewarding my home well.
Do you have any holiday traditions you haven't started yet, but are planning to?
Last year, I sent holiday cards to a bunch of friends for the first time. I'm a big believer in words of affirmation, and spending the month of December writing words of encouragement, hope, and gratitude over some of my favorite people is a tradition I hope to continue for years to come.
Kelsey Byrd is The Everygirl…
Hot chocolate or hot cider? Hot chocolate. Extra marshmallows.
Favorite Christmas song? Nat King Cole's "The Christmas Song" is a true classic, but "Have Yourself A Merry Little Christmas" by Sam Smith is on constant repeat at the moment.
Favorite Christmas movie? The Holiday
Favorite Starbucks holiday drink? The Irish cream cold brew they released earlier this month is incredible! Highly recommend.
The great debate: when do you start listening to Christmas music? The limit does not exist. I've been known to shower jam to Michael Bublé in July.
What's at the top of your Christmas list this year? Tickets to watch Clemson compete for another CFP national championship in January. Fingers crossed!