The hustle and bustle of December is upon us and we're soaking in every bit of holiday cheer imaginable. Whether your favorite part of the holiday season is spending time with loved ones, enjoying a seasonal cocktail while watching a cheesy Hallmark movie, giving back to your community, or filling up on fresh-baked Christmas cookies, I think it's safe to say that this season holds a plethora of enchantment and joy.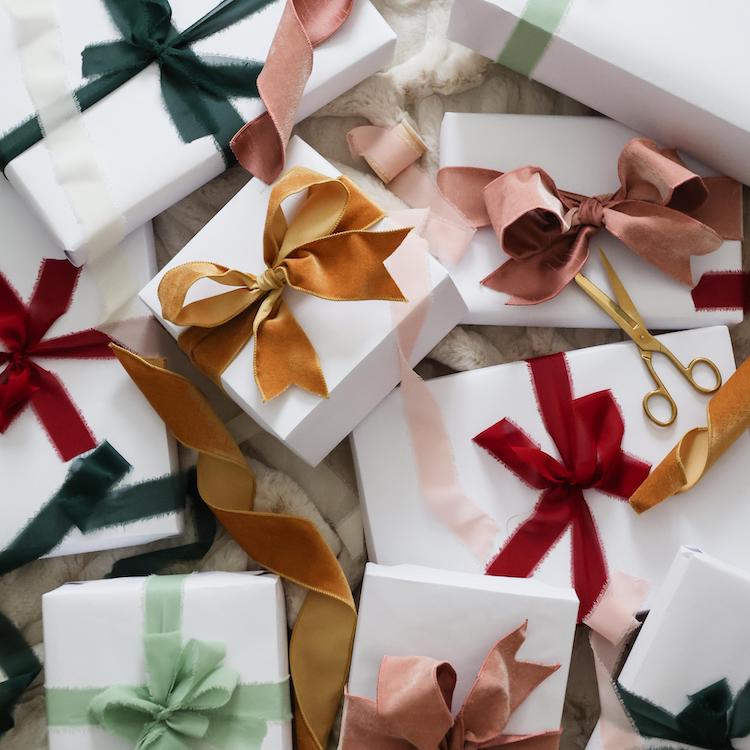 the perfect gifts for everyone—and we mean everyone—on your list
For Michelle Harriss, the magic of Christmas starts at home. With an organic and minimal approach on seasonal decor, she has created the ultimate holiday safe haven to foster her family's favorite Christmas traditions — toasting with hot cocoa next to a cozy fire, partaking in Christmas movie marathons, and decorating the tree with her husband, son, and pup. In her pursuit to achieve a feeling through home decor, she has proven that decorating with whites and neutrals can be festive and magical.
Keep reading for some major holiday design inspo and to discover how Michelle transformed her home into a serene, seasonal space that we are all asking Santa for this Christmas.
Name: Michelle Harriss | @michelle_janeen
Location: San Diego
Sq. Ft: 2,100
When do you start decorating for the holidays?
I usually start getting the itch to make things a bit more cozy in November. Depending on how I'm feeling, sometimes I like to put up our faux tree with just white lights and maybe some greenery on the fireplace mantel right before Thanksgiving. I love having the tree and twinkling lights for Thanksgiving dinner if we are hosting — it just makes it feel a bit more magical. After Thanksgiving, we add our real tree and I typically do all of my decorating so we can enjoy it through the month of December.
Tell us about your holiday decorating process.
I like to decorate when I'm feeling inspired. It typically happens in phases, and I start on Pinterest and pin different holiday images to my holiday board to see what theme, colors, and textures are inspiring me. Once I have a good idea of the direction I want to go in I can take an inventory of what items I already have and whether or not I need to purchase anything new.
How do you budget when it comes to decorating seasonally? (Things can get expensive for such a short time of the year!).
I try not to go overboard, and I usually keep my decor very simple so there's really not any big investments to be made. I try to stick with a neutral and minimal theme and stay away from anything too trendy.
Where do you shop for holiday decor?
I shop both high and low for the holidays! I have many pieces from Target, World Market, Hobby Lobby, Michaels, and I also added some beautiful pieces from McGee & Co. this year.
Do you have any holiday traditions that are special to you?
The holidays always feel so rushed, so I try to create lots of little moments of tradition throughout the entire month. We love to go to the tree farm and pick out our tree as a family, drive around and look at holiday lights, watch lots of christmas movies, and we always have a special night of tree decorating by the fire where we drink hot cocoa, play music, and I typically take a thousand pictures of Maddyx while he decorates the tree! On Christmas Eve we host a dinner for family and friends, which is always so fun and special, and Christmas day we spend with the rest of our family.
Do you have any tips for readers who may live in smaller apartments (and who are on a budget) who might not be able to decorate to their heart's desire?
For me, the holidays are really about creating spaces that feel cozy and magical. They are warm and inviting and make you want to stay awhile. I don't think you need much to accomplish that — twinkling white lights, some pine cones foraged from the yard, a stack of firewood, some clipped greenery, a tree, and maybe a wreath and garland.
What was your childhood home decorated like at the holidays, compared to your own as an adult?
I think my childhood was pretty typical, but nothing over the top — a pretty Christmas tree and maybe a few holiday-inspired items.
Did you take any influence from your childhood when putting your own together?
I don't think so. I've always been pretty into decorating, so I feel like once I had my own home I really just did what I felt inspired to do.
How has decorating for the holidays evolved over the years for you?
I would say the biggest evolution has been my shift to a much more simple, organic, and minimal approach to decorating for the holidays. I tend to decorate more for the seasons and the holiday "feels" come by adding the tree, garland, and wreaths.
Have you slowly been collecting your holiday decor over the years, or did you purchase it all at once?
I have definitely been collecting. I donated quite a bit a few years ago and only kept the pieces that I truly loved and felt I would use. I usually add one or two items a year if I find something that I really love.
Do you have a favorite ornament on your tree?
I don't know that I have any favorites. Some were gifts and others are ones that Maddyx picked out and really loves, so those might hold a bit more value.
What's your favorite piece of holiday decor that you own?
My favorite piece of holiday decor is always the Christmas tree! That's when the magic happens. We have a faux one and we also get a real one. Although, I did just add a beautiful wreath and garland from McGee & Co. this year that might be my favorite at the moment!
Overall, what's your favorite thing about celebrating in your home?
I really just love the magic of the season. Slowing down, enjoying nights by the fire and the tree, and time with family. I just wish it could be longer!
What does your Christmas morning look like?
Christmas morning is pretty quiet with just Kasey, Maddyx, myself, and my mom. We drink coffee by the fire, open presents, and then make some breakfast.
Do you have any holiday traditions you haven't started yet, but are planning to?
I always want to be better about hosting friends during the holidays, but I always seem to run out of time!
Michelle Janeen is the Everygirl…
Hot chocolate or hot cider? I like a little hot chocolate mixed in with some coffee.
Favorite Christmas song? Oh that's hard! Last year it was anything and everything from Sia's Holiday album — "Every Day is Christmas" being my favorite. I listened to it on repeat and cannot get enough! I also love White Winter Hymnal.
Favorite Christmas movie? Also very hard! I would say The Holiday.
Favorite Starbucks holiday drink? I don't really drink any holiday drinks from Starbucks, but I do love a good pumpkin spice latte!