Kristina Lynne is our idea of a superhero — she has a gorgeous home, an enviable blogging career, an adorable son, and the attention of HGTV. Kristina let us into her home to talk house flipping with her husband, how design changes before and after having kids, why she's glad she chose to go back to school, and which room in her house was the hardest to design (even though they all look pretty flawless to us!).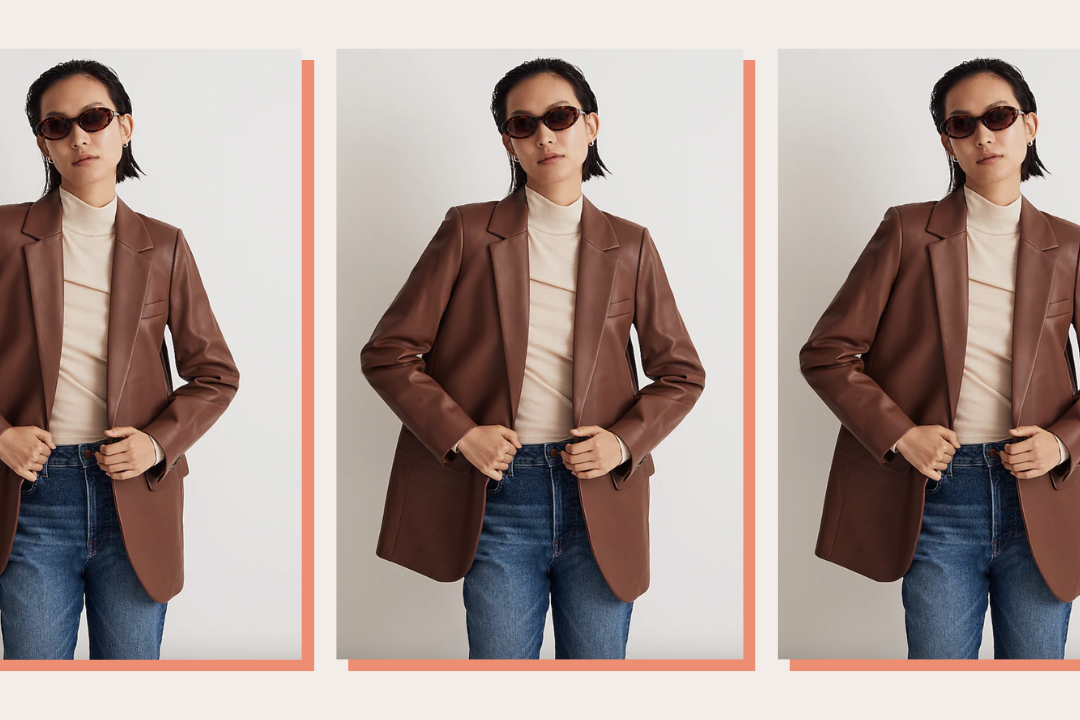 time for your fall wardrobe update!
Name: Kristina Lynne, Blogger and Designer
Age: 31
Square Footage: 1700 sq ft
Rent or Own: Own
City: Edmonton
The name of your blog, Inspired By Lynne, has a super inspiring backstory. Tell us about it.
When I first started dreaming of creating a blog, I had just lost my Nana, someone who was very special to me. Her name was Dorothy Lynne. Her strength, resiliency, and passion for life left a huge impression on me and so I was inspired to include her in my new creative venture. She and I share the middle name Lynne, so I decided on Inspired by Lynne. Fast forward a few years and I have rebranded as just Kristina Lynne, but her spirit still remains strong.
Why did you decide to start a blog in the first place? What motivates and inspires you?
Truthfully, I started the blog because I was feeling unfulfilled with my 9-5 job being a performing arts teacher, which really isn't a 9-5 job at all! Yes, it was great to be active and creative, but the job itself was taking a toll on me emotionally. Teaching is hard work! So since I loved to write, I saw the blog as a way to express myself, to continue to be creative and to explore what truly inspired me — design! I was super motivated to make a career change and thought it would be a great introduction into the world of interior design. Little did I know how much it would consume my life… in a good way!
What do you learn from other bloggers, and how do you hope to inspire others with your own?
When I first started blogging, I had no clue what I was doing. I worked on the content, sent it out into the world, and then went about my day. I didn't really have a direction or any major goals. It wasn't until I connected with other bloggers and found this amazing community right here in my own city that my blog (and me!) started to grow. I've learned so so much from my favorite bloggers — from simple technical things to life changing hacks. They've even helped me evolve my style as a designer. It's truly about collaboration and community, and I hope that comes through in my own blog… besides inspiring my readers through my design ideas and projects, of course!
Tell us about your experience studying interior design. Did you feel that a degree was more beneficial than just hands-on experience?
I chose to study interior design as an extension program while I was teaching — so I spent many evenings and weekends in class! I took on a lot in those years, but I found it so thrilling. Maybe it's the teacher in me, but I absolutely love being a student. Especially when you're studying something you're passionate about. But, at the same time as I was sitting in class, I was flipping houses with my husband. So I was gaining practical knowledge and stretching my design muscles at the same time. Both are valuable but I think you definitely learn the biggest lessons when you're in the field. I needed to make mistakes and take risks before I started to feel more confident in my abilities.
We'd love to hear the story of how you and your husband became a house-flipping team.
Before I met my husband, he was already working in renovations and living in a condo that he had flipped with a friend. I think he had always imagined doing more, so when I came into the picture, I encouraged him to start his own company. Then, after listening to me endlessly complain about my job, it was Ryan who encouraged me to start pursuing design and go back to school. We purchased our first house flip about three years ago and though we were pretty nervous, the project ended up being a success. That got us really excited to keep going and we really haven't looked back since. Honestly, we make a pretty great team — I have the vision and Ryan has the skills to pull it all together. We even had HGTV knocking at our door last year… so who knows, you may see us on screen yet!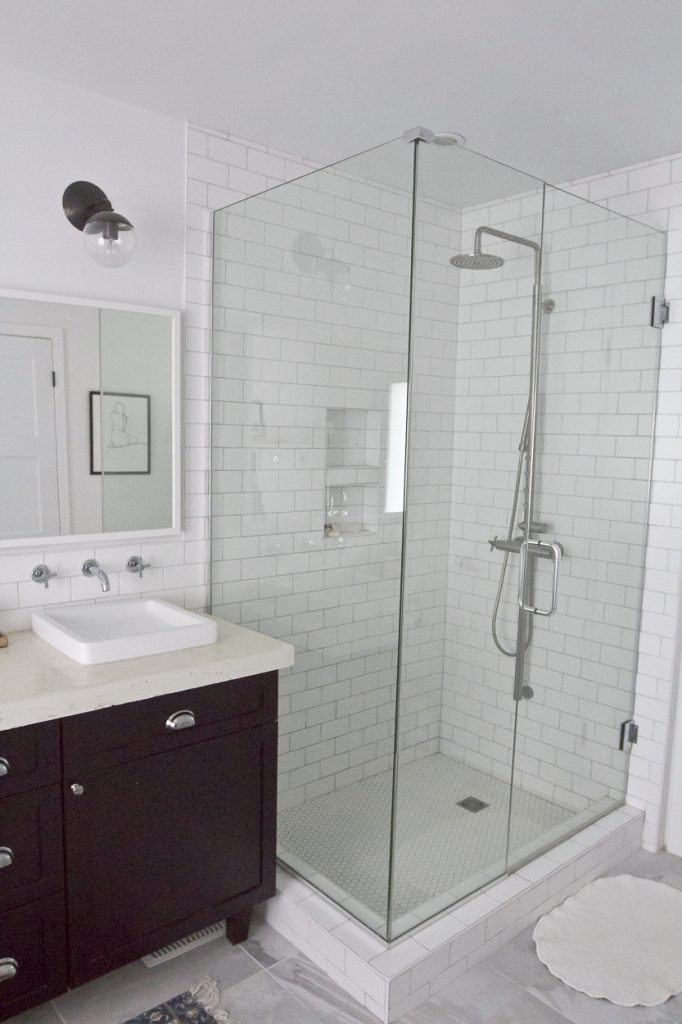 You and your husband just had your first child! Congratulations! How has your son impacted your design style?
Thank you! Oh my gosh, having Jack has been such a whirlwind! Every mother says it's an emotional roller coaster but worth every second… boy, are they ever right! I haven't had this role for very long yet, but it's already changed me, including my design style. I think having Jack has made me loosen up a little and allowed me to have a bit more fun with my design choices. I'm not big on color but I've started to add some small pops to spaces here and there. Since I'm a minimalist at heart, and babies come with a ton of stuff, I've had to get creative with hiding the mess too. Great storage, dual purpose furniture, and baskets galore are all my current go-tos! One thing I won't give up though is my love of white. You won't see me painting all my walls now that I have a messy kid!
How would you describe your design style?
Ever evolving. But at the moment, I'm in love with mid-century modern, with some Scandinavian decor to pay tribute to my roots!
Did your home have any quirks that you had to design around? Tell us about them.
Our house has a lot of angled rooflines and walls. I definitely wanted to highlight them in a good way because they're what make the house unique and fun! So we did things like adding the beams and large chandelier in the bedroom and tiling the fireplace all the way to the ceiling. The main set of stairs were open tread as well, which we saw being an issue once Jack could start climbing. We ultimately closed them in, which I thought I would hate, but I actually love now. Also, we've yet to tackle the kitchen but with an awkward layout and some tricky ducting, I foresee it being a bit challenging. Wish us luck!
What's your favorite room in your house and why?
As each room gets finished, it becomes my new favorite! But seriously, my favorite room has to be Jack's. I spent so much time getting it just right, and even before he came, I would just sit and relax in the big cozy chair, imagining what it would be like to have him here. Now, it's definitely not as organized as it once was, but it's still my favorite. It's a beautiful mess.
What was the most difficult room to decorate? Why?
I think our master bedroom was the most difficult, only because I couldn't settle on anything. I didn't have a clear vision for the space and way too many ideas circulating in my head. Plus after finishing our master bathroom, we didn't have a lot to spend. A strict budget makes decorating more challenging, but that can also be more fun too! Eventually, with some creative problem solves, it came together and I absolutely love it.
What are your favorite places to shop for home decor?
Being in Canada makes decor shopping tricky. I so wish I had more options without paying so much in shipping and duties! But my favorites are West Elm, Rejuvenation, Schoolhouse Electric, Article… and I have to include Target. I miss Target!!
Do you have any budget-friendly or DIY projects from your home that you can share with us?
I'm not the best DIY'er, but the best project I've done was the dresser in our master bedroom. Remember how I said I didn't have a huge budget for this space? Well, we needed storage and since I couldn't afford the dresser I loved from West Elm, I decided to convert a plain jane IKEA one instead. So many people ask me about it and where I got it… it makes me pretty happy to say I DIY'ed it!
What's your favorite piece of furniture, decor, or artwork in your home and why? And where did you get it?
My favourite pieces are the ones that have been passed on to us. I inherited my Nana's piano that has been in the family for many, many years and even though I don't know how to play, its presence in our home brings me so much joy. We have this quirky chair from Ryan's Granny that has become a favourite too. I also really love Jack's dresser/change table. It's a piece I thrifted while travelling with my family in BC and it's exactly what I had envisioned for his room. I think it will be with us for a long time! And if I can casually throw in my leather sofa too… I just love how comfortable it is! Seems I have a lot of favourites!
Your home is so cozy! How did you create a space that was both lived-in and trendy?
I think it's all about balance. It's finding pieces that make you want to curl up with a coffee, but also look beautiful and timeless too. It's having places where everything is styled, like an open shelf, but then a nightstand covered haphazardly with books. I'm constantly looking for inspiration on social media, online, and in magazines, so it would be hard for me not to be impacted by what's on trend in decor and design. But I try not to take myself too seriously either! A home is meant to be lived in!
Tell us about your current design projects. What are you most looking forward to in the near future?
Well, my husband and I are flipping yet another house. And, I haven't announced it quite yet, but we've purchased a second one too! It's the first time we've taken on two house flips at once. And this second one has plans for a major addition as well, which is really exciting. We're also continuing our own renovation at home. I can't wait to tackle the kitchen — the last project to complete and then we can take a much-needed break and just enjoy our home! I am so looking forward to that!
We love the gallery wall above Jack's changing table. What's your best advice for creating a unique yet stylish gallery wall?
First off, I'd always suggest choosing artwork that's either all uniform or very different. Think about your frames and what finishes will look best together (for instance, all black frames or a mix of white and wood). I would typically never go with more than three finishes together in a gallery wall. Then make sure to add in objects too. Hanging Jack's bunny head and hats adds interest and great texture to the grouping. Oh, and watch your spacing! I've seen many a good gallery wall gone wrong because of this missed step. It's best to go nice and close together — no more than 2-3" apart. And lastly, choose artwork and items that represent you and what you love! That's what makes it unique!
What's next for you, your family, your growing business, and your blog?
What's next is me continuing to do what I love. Being a mom. Blogging as much as I can and hopefully expanding as a designer. I would love to see my blog and business grow, working with bigger brands, taking on bigger projects and hey, maybe even a vacation! Lol. I'd love to take Jack somewhere with some sunshine and sand! Wouldn't that be nice!!
What advice would you give to your 23-year-old self?
Not to wait. Don't be afraid to make changes when your heart is telling you to. Timing will never be perfect, so just go for it! I waited a long time to make that career change because I was scared of taking a risk. But life is definitely too short not to be doing something you love.
Kristina Lynne is The Everygirl…
Favorite movie of all time?
Oh that's tough… I have so many! But I HAVE to watch The Family Stone every holiday season. It's definitely a favourite!
Your iPhone camera roll is full of?
Pictures of Jack now!
Bag you're currently carrying?
My Fawn Design diaper bag. It's so beautiful you wouldn't even know it's a diaper bag
Pregnancy cravings?
A lot of fruit… and ice cream
If you could have lunch with any woman, who would it be and why?
Right now, I'd have to pick Joanna Gaines. She's accomplished so much in the design world, and she has four kids!! I'd love to know how she does it all!