They say New York City is where dreams come true, and while Leah McCormack now resides in Boston, MA, her career path started as an eager student at the Fashion Institute of Technology in none other than the concrete jungle itself. Graduating with two degrees under her belt, Leah started her career as an assistant stylist for Rue La La. While Leah considers this a major stepping-stone in her career, she's the first one to admit that the work wasn't glamorous.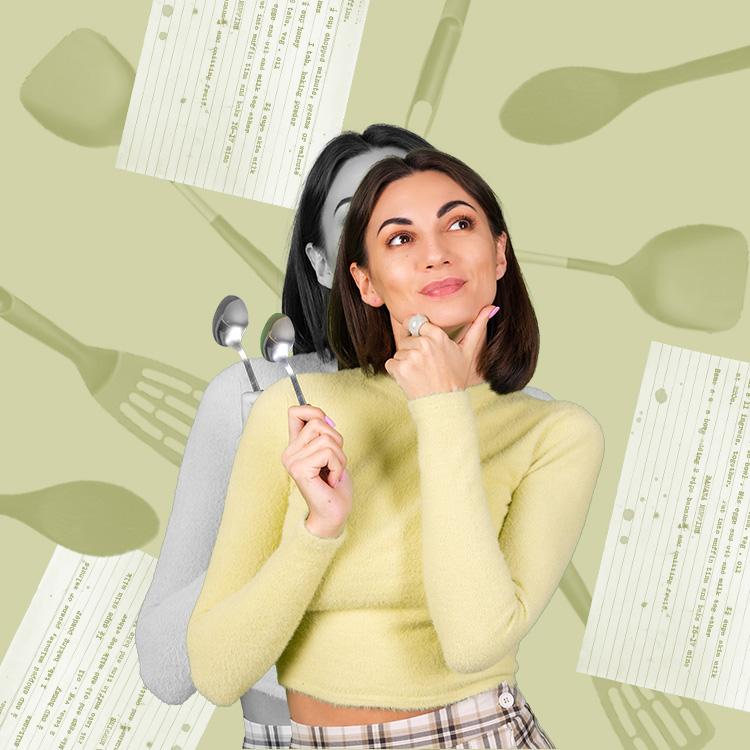 high in protein, good for gut health, and anti-inflammatory? yes, please!
Still, no task in the world could dampen her drive for the role that she ultimately saw for herself: photo styling. After she got her foot in the door at Wayfair.com as a merchandising analyst, where her daily duties consisted mostly of keeping Wayfair's website and products up-to-date, she continued to work toward her goal of becoming a full-time stylist. Now Leah spends her days searching the prop room for the perfect accents, styling bedding, and pursuing her creative passions. And while this 24-year-old has already carved an inspiring career path, we think it's safe to say it's only the beginning.
Name: Leah Marie McCormack
Age: 24
Location: Boston, Massachusetts
Current position/company: Junior Stylist / Wayfair.com
Education: Bachelor of Science Degree in Advertising and Marketing Communications, Associate of Science Degree in Fashion Merchandising Management and a minor in English from the Fashion Institute of Technology
Tell us about your time at the Fashion Institute of Technology in New York. How did your time there shape your career, and how much of your current success do your attribute to FIT?
The Fashion Institute of Technology in New York City gave me the opportunity to spread my wings outside of my small hometown for the first time. I was 18, young, and impressionable. I had an idea of what my passions were, but it was just the beginning of finding out how to achieve them. I was able to dive into classes that mattered to me, like Fundamentals of Textiles, Introduction to the Fashion Industry, Creative Fashion Presentations, Product Development, Fashion Merchandising, Art History, Visual Displays and Exhibition, Advertising Copywriting, Video Studio Production, Internet Marketing, Introduction to Business Law, Brand Management, Public Relations, and Event Planning to name a few.
Glamour was never my concern, getting my career started was.
FIT brought me the opportunity to intern at one of the worlds leading fashion trend forecasting firms (WGSN) and to absorb everything NYC had to offer. I learned that a creative industry, whether it be a visual styling career or a role as a fashion writer, was what I needed to pursue. I attribute much of my success to FIT. It gave me the finest education for my line of work and it brought me closer to finding what I love in a career.
What was your first job out of college and how did you land it?
My first "real job" out of college was an assistant stylist for the RueLaLa.com headquarters in South Boston's Seaport District, situated in a beautiful refurbished old New England brick loft building. As the recruiter even stated to me before I accepted the role, it was not going to be a glamorous gig and much of my day would consist of steaming clothes (and burning myself), tracking merchandise into the photo studio, removing clothing tags, refilling steamers, tidying up the fashion closet, and organizing the studio schedule. Occasionally, I would build furniture for future home sets and then be allowed to sit on set to absorb the duties of the stylist and watch a live set in action. But glamour was never my concern, getting my career started was. I was prepared to start from the bottom.
Surprisingly enough, I was working my summer job back home in New Hampshire, in the midst of applying to endless companies a day, waiting for a callback. I was talking to a co-worker about how stressful landing your first job out of college was and how I was trying not to get discouraged. I soon learned that her friend was a buyer at Rue La La down in Boston. I gasped with excitement, as Rue La La was my goal. She contacted her friend with my name. I received her email, sent over my resume, she forwarded it to the recruiter and I was hired within weeks! Sometimes you never know who can open another door for you and how vital connections are.
You worked at the Mercedes-Benz Fashion Week in NYC as a venue assistant from 2009 to 2012. Tell us about that experience! What was it like, and what did you learn during your time there?
Working at New York Fashion Week was a complete and utter dream! My first runway show was Badgley Mischka! I was working at the runways I had only seen on TV. Every one of those opportunities came from FIT and NYC. Other shows I assisted with were Monique Lhuiller, L.A.M.B. by Gwen Stefani, Rad Hourani, Timo Weiland, Carlos Miele, Custo Barcelona, Reem Acra, Cynthia Rowley, and Caravan.
I learned to stand my ground, be professional, yet not allow anyone, no matter his or her status, to walk over me.
My first September season was at the last running of the Bryant Park location. Then I worked the new location at Lincoln Center, as well as offsite shows at Milk Studios and the Metropolitan Pavilion. Duties pertained to setting up assigned seats for the front row guests, putting out programs/gift bags, helping guests, dressing the models backstage, and cleaning up the venue post show. Then after years of assisting, I was finally a guest at NY Fashion Week, sitting amongst all of the people I used to seat. I went to Jenny Packham, courtesy of my alma mater, and worked as a style editor reporter from Lela Rose and Perry Ellis, while interning at fashion trend forecasting firm, WGSN. During my time at NY Fashion Week, I learned the raw realities of what goes into the day of a runway show. Learning the hierarchy of who sits in the front rows-celebrities, socialites, muses, and buyers whom the designer wants to impress enough to purchase their line for retailers like Barneys, Bergdorf Goodman, Bloomingdales, and Saks. I learned that each paparazzi at the end of the catwalk gets a square foot of tape to stand in (no really—a square that is taped on the floor with duct tape measuring a foot by a foot). Beyond absorbing the environment of the event, I learned to stand my ground, be professional, yet not allow anyone, no matter his or her status, to walk over me.
You were an assistant buyer and stylist at Rue La La in 2013 and 2014. How did that opportunity come about? What did it teach you in terms of how you wanted your career to evolve?
I started as an assistant stylist, through an internal referral several months after graduation from FIT. This position was freelance and after a few months, even though I loved the atmosphere of the photo studio department, I needed a full-time role. I applied to an opening for a home décor assistant buyer. With recommendations from my coworkers in the studio, I was offered the position. It was a three-month contract for a buyer on maternity leave. This opportunity was a tough one: printing out profit margin documents, researching our competitors on competitive pricing, and making sure everything for web events was set to go live on behalf of the buyers. I came to learn what buying truly entailed and it was not something I ended up loving. Ecommerce buying never stops, the events are always launching and they do not wait.
But with every day, I learned more about what I wanted in a career. That is what led me to Wayfair. At the time, Rue La La was not hiring for many openings and Wayfair was becoming more successful by the day. I had tunnel vision of getting back into a photo studio and I knew that Wayfair could eventually give me that opportunity.
Your next venture was at your current company, Wayfair, as a merchandising analyst. What did the day-to-day of that job entail?
As a merchandising analyst at Wayfair, my job entailed a myriad of daily duties to keep the website and its products up-to-date. I was constantly in contact with vendors, manufacturers, buyers, and category managers. Updating imagery, product descriptions, pricing, and Q&A's on Wayfair.com. As a merchandising analyst, I grew to learn the different brands, products, and strategies of the company. Our work was timed and very fast paced, exposing me to learning the programs of SQL, excel, and company tools.
Ultimately you moved on to another position at Wayfair as a junior stylist—tell us about your responsibilities. How does this position differ from your previous one?
It felt like a long road to finally become a full-time photo studio stylist, but it was well worth the wait! I help style living room, kitchen, bedroom, vignette, and product shots. Ranging from traditional, contemporary, modern, coastal, and holiday styles, we stage for the many in-house brands that Wayfair.com has created. From soft styling bedding, which is more time consuming than one would think, to searching through the prop area for the perfect accents-creativity ensues.
This position could not be more different than my previous position in merchandising. It is my passion. It changes everyday. I am able to tap into my visual and artistic abilities to make a set come alive for the consumer, which in turn, elevates profit, and ROI.
Is there anything you think women aspiring to a similar career path would be surprised to know about your journey?
They would be surprised that my childhood had much to do with my journey to figuring out my creative passions. It started early and in the most humbling of ways.
Who knew that my job steaming clothes in the studio would have brought me to realize my ultimate career goals?
Growing up in a quaint New England town within the Lakes Region of New Hampshire, I was drawn to curating all things. I was nowhere near a city and I did not grow up with expensive things. Whether it was pairing together a few vintage finds, so I could be dressed to the nines at school the next day or flipping properties with the style driven women in my family, I was inundated with style. I spent endless hours traveling to auctions, yard sales, and thrift stores, marveling over thoughts of my next treasure. The lengthy hunts and modest budgets brought even more thrill to those trips. I learned of my passion for styling through a long journey of finding character in things that others would have thrown away.
Many of us struggle with pinpointing their passions and how to translate this into a career. How were you able to find a career path that you are truly passionate about?
Honestly, it took time. It was gradual and between my time studying at FIT in NYC, my senior internship at Worth Global Style Network, and my childhood of watching the women in my family take on styling their homes, I grew closer to my passions within the creative world. It took experiences that I did not think would have had as much of an impact as they did, to evolve my career path.
I never knew about the photo studio styling world until I started as an assistant at Rue La La. Who knew that my job steaming clothes in the studio would have brought me to realize my ultimate career goals? I owe my success to taking on every opportunity that came my way and by putting myself out there, every chance I got. Never settle, keep striving to progress.
What is one of the most important lessons you have learned over the course of your career?
One of the most significant lessons I have learned over the course of my career is to take every opportunity. Sometimes taking a position you do not like and sticking it out for a while, will eventually lead you to the job you love! If I had never taken the assistant stylist job at Rue La La, I would have never learned how much I wanted to become a stylist styling my own sets one day!
At Wayfair, being a merchandising analyst was nowhere close to my passion, but I knew that if I took the offer, I would have my foot in the door and could eventually work in their photo studio when an opportunity arose. I learned that if you do not get one position, do not get discouraged, get more motivated to score the position of your dreams. Think of it as great interview experience. Try again, keep searching, and applying. Stay professional; yet be persistent in reaching out to the right people about your goals. Stay ahead of the game, connect on LinkedIn, use it to your advantage, and stay relevant!
Being a merchandising analyst was nowhere close to my passion, but I knew that if I took the offer, I would have my foot in the door.
You also do some freelance writing in addition to your current position—how you balance this with your full-time job?
As many of you may know of the Kardashians, you may also know of their celebrity hair guru, Jen Atkin. She owns a hair trend website called ManeAddicts.com. I am a contributing writer for the Los Angeles based site and love having an outlet to publish my own articles! I work directly with the editorial director, virtually from Boston, pitching story ideas on up-to-the-minute trending hairstyles. Many of my posts come after major award shows, like the VMAs, after the hottest emerging trends hit the red carpet. I submit articles a couple times a month or so. Balancing it with my full-time job is attainable, as I write posts after hours or on weekends when I am inspired.
Where do you see yourself in five years?
Oh man, I have so many ideas. I cannot sit still. In five years, I see myself as a senior stylist or art director. My work would consist of styling, branding, and traveling to on set locations around the globe for commercials and catalogues. I would go to tradeshows and festivals to pick up on emerging trends and still be a contributing trend writer. Maybe I will be in a movie or be published in one of my favorite fashion magazines like Vogue or People StyleWatch in some capacity!
What advice would you give your 23-year-old self?
Without a doubt, I would tell myself to not worry so much. Enjoy your time after college for a second before you start in the professional world. The longer it took to land my first job, I was so concerned that everyone I knew would think I was not going to be a success. I felt like I needed a "big girl" career A.S.A.P. If you have not landed a job yet, you will; it takes time. Go travel, visit family, read books you never had time for, volunteer with dogs, lay on the beach on a week day. Experience life for a bit without having an agenda!
Leah McCormack is The Everygirl…
If you could have lunch with any woman, who would it be and why?
Marilyn Monroe. She is my beloved icon and style muse. I strive to be a bit more Marilyn-esq each day! I have always felt that she was a bit misunderstood and was used to a certain degree—whether it be by powerful men or the media. As a 5'3" blonde myself, I always have to try harder to prove myself in the working world and I believe she would be a successful woman who could give me advice on how to prove people just how much I have to offer!
Boston or New York?
Boston. Every time. Not only are New Englanders like myself die-hard Red Sox, Bruins, and Patriots fans, but I could never actually pick New York over Beantown! Yes, NYC gave me some of the most crucial experiences of my life. FIT is one of the best fashion schools in the world and I feel lucky to be alumni. But New York to me just does not have the same feeling as Boston. It is smaller, cleaner, and less hectic to handle. The colonial character, the Irish history of my great-great grandparents or the quick car ride away from my home state of New Hampshire just makes it special. New England is home.
If I won the lottery I would ______?
First, pay off the rest of my student loans. Second, give my parents and sister their shares. Then invest and save a percentage for the future, set myself up with a summer home in New England and a winter home in a warmer place, start a rescue dog organization, launch my own fashion line, publish a book, and travel the world.
Favorite season?
Summer. I love New England during that time of year especially. Whether it be the gorgeous Lakes Region or Mountains of New Hampshire, the seacoast of Maine, Cape Cod or Martha's Vineyard in Massachusetts, there is no place I would rather be.
Who would play you in a movie of your life?
Marilyn Monroe—because I basically want to be her.