How insanely gorgeous is Jenna's light-filled craftsman rental?! We're digging the bright energy of this space and with an expansion to her online food gift boutique, The Sweet Petite, in the works, the space is obviously a source of creative inspiration for Jenna as well.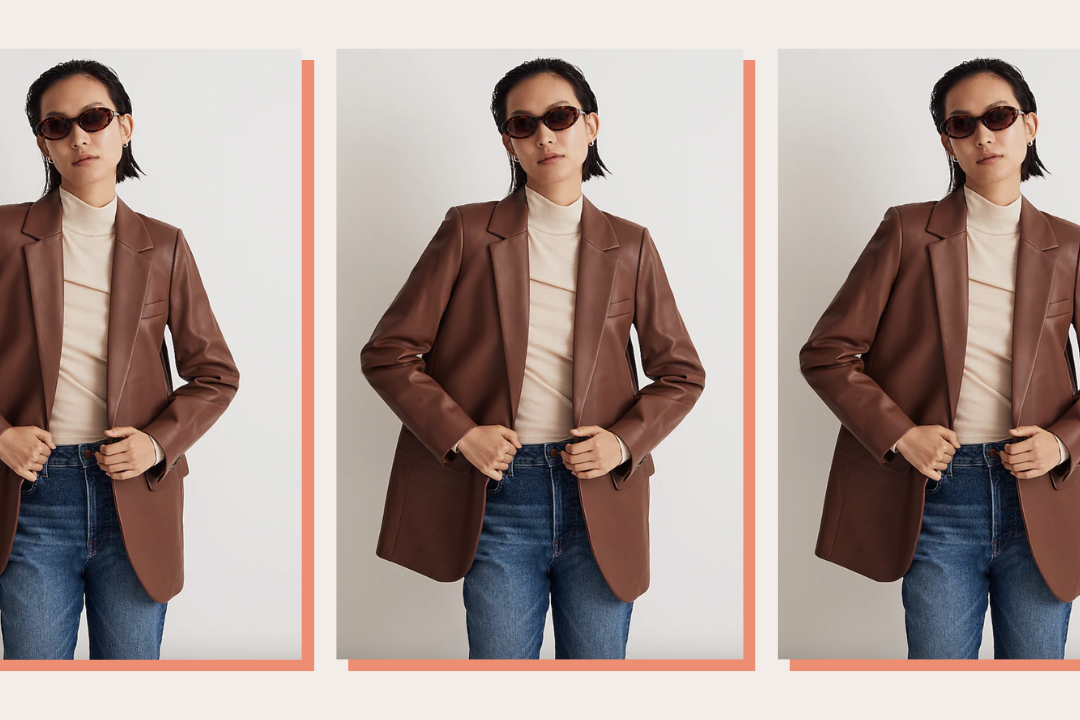 time for your fall wardrobe update!
Jenna brings the same attitude to her buying choices and her business: be thoughtful and take it slow. The impact is clear in her gorgeously refined space, where mid-century accents and strategic uses of black and white create a subtle and sophisticated vibe. Read on to find out where Jenna sources her best pieces, her DIY instant fixes, and her master plan for the next five years.
Name: Jenna Kincaid
Age: 23
Current Job/Company: Owner of Sweet Petite + Associate Art Director Lulu & Georgia
City: Bellingham, WA
Last time we chatted, you were working in IT at Lulu & Georgia and running your own company The Sweet Petite. How have these roles evolved and grown since we last chatted?
I am fortunate to wear a lot of hats at Lulu & Georgia. In addition to the IT work that I do I am also involved in the creative side, including planning brand campaigns and photo shoots. Since we last spoke, Sweet Petite moved entirely online and is now a food gift boutique! We sell cookie boxes for specific occasions, including asking your ladies to be your bridesmaids! I am planning to expand the product line in 2017, so stay tuned!




Take us through a typical day-in-the-life of Jenna. How do you start your morning and end at night?
I usually wake up around 7 a.m. and immediately make a pot of coffee (I love my Chemex.) I then take my cup of coffee to the bathroom and do my hair and put on makeup. Even though I work from home, I find the days that I actually get ready I end up being much more productive. After that, I make the bed, get dressed, and eat some breakfast. I usually work at my computer from 8 a.m. – 6 p.m. with a few breaks in between. Once I'm off work I will usually have a glass of wine, cook dinner, and hang out with my boyfriend. If there is work to do for Sweet Petite I will do it before work or in the evenings, but most of it is concentrated on the weekends.
What has been a professional milestone or highlight over the past year that you're particularly proud of?
For Lulu & Georgia, I was really happy with the way our spring and winter campaigns turned out. It's really fun to see a vision come to life and have such a positive response from customers. For Sweet Petite, it was knowing that the food cart wasn't where I needed to take my business—so setting my ego aside and taking the business in a different direction.
Let's talk about your current home. Do you own or rent, and how long have you been living there?
We live in an old craftsman home that is split into three units. We rent and have been living here for almost two and a half years.
How did you find your home? What was on your wish list, and was there anything on it you had to sacrifice?
We found our home on Craigslist. The listing photos made it look uninviting, but we had searched for a while with no luck so we figured it was worth checking out. As soon as we walked in we loved it. It has tons of natural light, a yard, and is the perfect size for the two of us. The one thing we did have to sacrifice was hardwood floors. Our place is chopped up with FIVE different types of flooring, which is less than desirable. But it's in a great location, it's cozy, and we have amazing landlords.
Working at Lulu & Georgia, you're constantly surrounded by beautiful home decor, which I'm sure can be exciting—and also overwhelming, especially when trying to decide on the design of your home. How did you tackle that process?
My style is literally always changing. I used to love bold colors and leaned towards bohemian style but these days I prefer things more simple and neutral. I always love green and fur so there are pops of that around the house. Mostly, I just try to resist the urge to overhaul my decor completely! And then I try to plan a photo shoot for a look I love to live vicariously through the design. Currently I'm obsessed with matte black everything so I took spray paint to the majority of the house, including our once gold nightstands—instant makeover!


How did you stick to a budget for decor and furnishings? What tips do you have for someone looking to decorate on a budget?
My main tip is to do it bit by bit. You will stress yourself out if you try to decorate your home in one go! You will likely buy a lot of things you don't love and then end up giving them away later. Instead of making a run to a big bargain store and buying everything you see, take your time and make thoughtful purchases for the things you will always love. You'll save money in the end and you will love everything in your home.
You have some great statement pieces and accents, like the amazing couch in your main living space, and of course, the wallpaper in your kitchen. How do these elements fit into your design process? Do you begin with a full vision in mind or allow the space to take shape gradually, building on these individual elements?
The couch was from my grandparents' house and I "called" it way back in high school. I always loved the look. When I finally got my first real "grown up" apartment I knew the couch was coming and I designed my home with it in mind.
The wall with the wallpaper in the kitchen was completely blank and bland when we moved in. I debated what to do with it—I thought about a giant mirror or a hanging pot rack but eventually settled on wallpaper. I love the vintage feel of the pattern and how the black and white makes the whole space feel more vibrant.
Your kitchen probably means more to you than the average homeowner, considering it's the foundation of your business. How did you make it a special and unique?
For my business, I actually bake out of a commercial kitchen but I do love the kitchen in this apartment—it's definitely my favorite room. I cook almost every day and bake often, so it's where I spend the majority of my time. My favorite part is probably the single open shelf; I love anything that can be styled and restyled.
Word on the street is there are a handful of DIY projects in your home. Do you have a favorite?
I'm not sure if this is considered a DIY but I printed and framed a photo I took of some roses from the bush outside our front window. I love the moody, feminine feel of it and I love that no matter where we move we will have a little piece of this house with us. I also painted the blue chair in the living room with fabric paint. It was from my childhood bedroom and was previously light pink. I didn't want to pay for re-upholstery so I painted it and threw a sheepskin over it to cover the slick texture.
You also have a knack for finding vintage pieces. What are some of your favorite vintage finds, and how have you incorporated them into your home?
Luckily, my grandparents were sitting on a mid-century gold mine—and I had my pick! We have a vintage credenza, couch, chair, and rug from them. I wanted to avoid the flea market feel so I mixed them with more modern pieces (like our coffee table) and brightened up the space with a rug.



What are some of your favorite spots to find vintage or budget friendly items?
I'm an online shopper all the way! I'm going through an Ebay phase at the moment and it's addicting. I also love Etsy for vintage art or decorative objects.
Were there any areas/pieces of your apartment you splurged on? If so, how did you justify the splurge?
Rugs are something I will always splurge on. You don't know the value of high quality wool rug until you own one. They are durable, beautiful, and easy to clean. Plus, rugs have such a big impact on the look and feel of a space so it's important to get one you really love.
Where do you look for home decor inspiration? Any particular sites, magazines, or blogs you frequent?
I love following designers like Amber Interiors and Studio McGee—their work always inspires me. I also love everything L&G photographer, Monica Wang does—her Instagram is an amazing source of inspiration.

Where do you see yourself in five years?
In Paris, eating my weight in bread and croissants. Also, hopefully by that point I will FINALLY have taken the laser hair removal plunge (ladies, you feel me?). But in all seriousness, I don't plan too far ahead. I just hope to always be inspired, challenged, healthy, and fulfilled.
What advice would you give your 23-year-old self?
I'm just about to turn 24 and this past year has been a huge period of growth for me. I spent so much of it stressing about making my business a success and seeking a lot of my self-worth from that. Recently, there was a shift where I realized that I'm not entirely sure where I want my business to go, but it won't get anywhere while I'm just throwing things at the wall and hoping something sticks. So this year, I'm vowing to take things slower, let the business evolve as it will, and enjoy it while it does. So I guess my advice would be: GIRL, CHILL.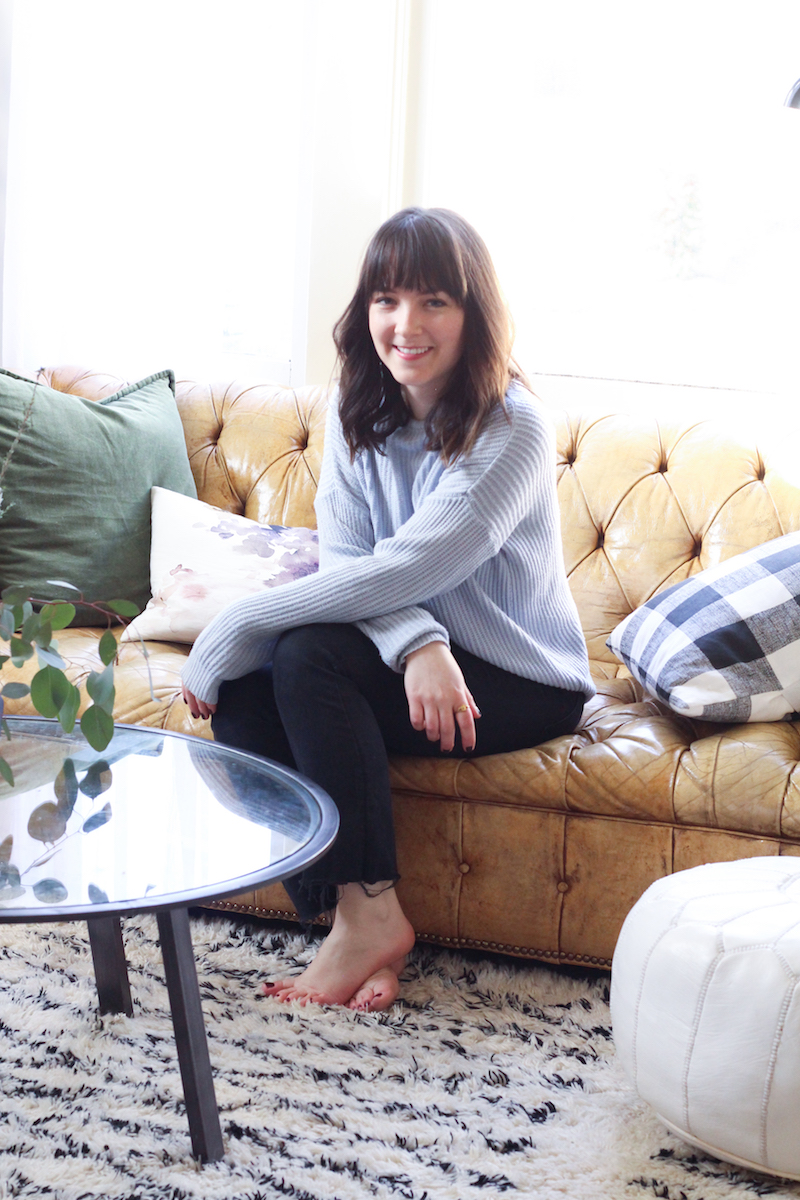 Jenna Kincaid is The Everygirl…
Dream purchase for your home?
A set of Mauviel copper cookware
Dessert you can't get enough of?
Anything with fruit—cobblers, pies, crisps—and a big scoop of vanilla ice cream
Ideal way to spend a day off?
Day trip to Seattle! It's one of my favorite cities—I love heading down and trying new restaurants and spending time just wandering.
Product Sources
Living Room
Couch, vintage (similar)
Rug, Lulu & Georgia (similar)
Coffee Table, Lulu & Georgia
Pouf, Lulu & Georgia
Plaid Pillow, Etsy
Green Pillow, Lulu & Georgia
Watercolor Pillow, Lulu & Georgia
Blue Throw, Lulu & Georgia
Horned Sculpture, Jonathan Adler
Lamp, Target
Curtains, Amazon
Blue Chair, vintage (similar)
Sheepskin, Lulu & Georgia
Side Table, IKEA
Black Vase, Lulu & Georgia
Wall Art, vintage
Black Sconce, CB2
TV Area
Credenza, vintage (similar)
Floral print, Debbie Carlos
Hand print, Spruce
Dog print, From an issue of Cherry Bombe Magazine
Record Player, Amazon
Kitchen
Wallpaper, Spoonflower
Black Cake Stand, Amazon
Wood and Marble Cake Stand, similar
Shelves, DIY (similar)
Chemex, Williams-Sonoma
Candle Holders, vintage (similar)
Bowls, Anthropologie
Purple Planter, Whole Foods
Brass Hanging Pot, Lulu & Georgia (similar)
Stuab Pot, Williams-Sonoma
Bedroom
Bed, Lulu & Georgia
Moroccan Wedding Blanket, Anthropologie (similar)
Pink Shams, Lulu & Georgia
Grey Fur Pillow, Lulu & Georgia
Nightstand, vintage (similar)
Gold Urchin, Lulu & Georgia
Sconce, Triple Seven Home
Floral Print, Etsy
Sheepskin, Lulu & Georgia
Chair, vintage (similar)
Bathroom
Shower Curtain, Target (similar)
Rug, Lulu & Georgia (similar)
Tub Shelf, DIY
Soap Holders, Target
Towels, Macy's