If you're anything like me, you want to look put-together and fashionable at work. Time and time again, you promise yourself through the whole weekend that you will wear stilettos this week, you will wake up an hour earlier to blow dry your hair in the morning, and you will take a leap of faith with that tight pencil skirt hanging in the back of your closet. And then Monday morning rolls around, and you groggily opt for ballet flats and the same black pants. The fact of the matter is that you probably don't have hours in the morning to spend on your hair or a lifestyle that allows for clothing that's any less than what's easiest and most comfortable. Most of us are busy, active, and could always use that extra hour of sleep instead of blowdrying our hair.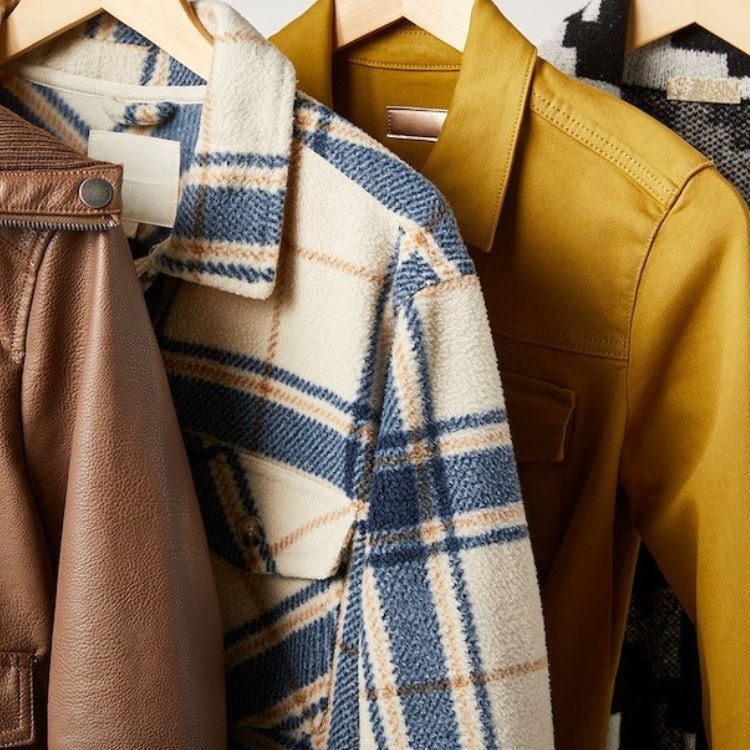 ...and it's wallet-friendly
So here are a few tried and true cheats that will make you appear as chic as possible while still being effortlessly comfortable and well-rested from a quick morning routine.
Wear Pajama Pants in Public
Source: Fake Leather
Source: Bloglovin'
I know you're thinking it's too good to be true. But you can wear the same pants to bed as you wear to work. However, if your idea of "pajama pants" is your flannel plaid drawstrings you've had since you were a teenager, you might need to get different pajamas. This look works because the pants are silky and luxurious. Wear with a simple t-shirt and add a jacket, blazer, or sweater so no one else will know you're wearing pajamas (except you and your comfy legs). If you're extra stylish and/or extra lazy, check out this guide to wearing full pajama sets.
When You Don't Feel Like Wearing Pants at all, Throw on Leggings
Source: Who What Wear
Source: Style Blueprint
You may be thinking that leggings are a dead giveaway to your comfort-first attitude rather than an impossibly chic wardrobe, or maybe that they could never be appropriate for work. But leggings can look extremely sophisticated and work-appropriate when reinvented. Find a thick cotton pair (rather than the shiny spandex material of workout leggings) with pant-like details like obvious seams or zippers. Pair with longer tops like a crisp button-up and sweater or long blazer. Black heels, boots, or ballet flats elongate your look and make your outfit put-together and stylish.
Make Long Layers Your Best Friend
Source: Le Fashion
Source: Healthy Girls Love
Any fashion blogger or seasoned celebrity will tell you the easiest and most foolproof tip to looking chic lies in the layering. There's something about a long jacket or duster (below the knee but above the ankle), that looks totally stylish no matter what you wear under it. Whether it's jeans and loafers or sneakers and black pants, you will inevitably look fashionable if you throw a long jacket on over it. A trench or duster works for rainy summer days and cool nights, and a wool jacket works for crisp fall. Extra bonus for the flattering silhouette and easy comfort.
Wear Flats That Feel Like Slippers
Source: The Lovecats Inc.

Source: Slightly Undressed

Flats seem like the obvious choice when aiming for comfort, but we all have that one pair of Mary Janes that gives us horrible blisters, or sandals so thin it feels like we're walking on concrete by the end of the day. Lucky for your blistered heels and aching arches, a new trend is comfortable flats. Fur-lined loafers are a new trend seen on fashion girls everywhere, thanks to Gucci's cult-favorite. But you don't have to be a fashion-insider or have an easy $1k lying around to reap the benefits of fur-lined feet. Less expensive brands like Steve Madden are making similar styles for much cheaper. For a more summery look, Birkenstock sandals are endlessly comfortable and a fashion-blogger favorite.
When You Do Wear Heels, Make Them Thick
Source: Sincerely Jules
Source: Who What Wear
The sky-high stilettos that Carrie Bradshaw famously (and unrealistically) ran around in in New York City are a thing of the past. Styles with a thick and/or low heel like kitten heels, mules, or block heels are not only comfortable enough for long commutes and active workdays, but are also much more trendy and of-the-moment than stiletto or platform heels. For extra comfort, try these high heel hacks.
Who needs a blowout when your outfit looks this good?
For more stylish, yet comfy inspo:
What's your go-to cheat for chic and comfortable style?