Nowadays, there's an abundance of crazy versions of our favorite (and weirdest-looking) skincare trend, the sheet mask. Every kind of mask — from emoji sheet masks to masks that are made of solid gold, or masks with weird ingredients and masks that literally bubble — stocks the shelves of our favorite beauty suppliers and fill up our Snapchat and Instagram feed. It can be totally confusing which ones actually work, and which ones just look or sound intriguing. So, following the rules of Sheet Mask 101, I tried nine crazy sheet masks so that you don't have to.
because periods CAN suck less
Just a note about the pictures below: How in the world do celebrities take such cute/pretty sheet mask selfies!? Asking for a friend. Just kidding, asking for myself, since you'll get to see about nine selfies below where I wish I had the answer to that important question. I learned that sheet masks DO. NOT. STAY. ON. MY. FACE. Don't be fooled by the pictures — getting the sheet mask not to slip off while standing vertically to take a picture was near impossible. Trust me, sheet mask selfies are a difficult feat. Do not attempt at home, unless you're lying flat on your bed, with a towel wrapped around your hair, and only sending it to your best friend or someone who loves you even if you look like the killer in a horror movie. Unless you know the secret to celebrity-level sheet mask selfies. In that case, let me know. But here's what happened when I tried nine crazy sheet masks.
You know how skincare always says "brightening," and you stare at your face in the mirror afterwards to see how you look "brighter" but you can't see any difference? Well this is not one of those times. I could tell an immediate difference in my skin because my complexion looked much more even-toned. I guess Grapefruit is my newest favorite superfood, because I'm adding it into my skincare regime and diet. Look out, bright skin, here I come!
Karuna
Grapefruit Seed Extract deflects environmental toxins from the skin, while rare Asian plant extracts help to create a fresher-looking, smoother-feeling complexion.
I was definitely reluctant about this one… I mean, I look more like I'm dressing up as the Hamburglar than taking a spa day. But I must say, I'm a sucker for lace print, and I did feel pretty cool for wearing a lace masquerade mask casually on a Tuesday. Oh right, back to the skincare benefits, though. It was super cooling, which felt amazing. I have self-diagnosed chronic under-eye bags, but when I took off the mask, my under-eyes were significantly smoother and brighter.
TOO COOL FOR SCHOOL
The gel formulation moisturizes the skin around your eyes while helping improve fine lines.
While this one definitely makes me look and feel like a serial killer from a horror movie, the results are less horrifying. It's an interesting concept because the mask comes with a little tub of the serum that you first pat on your face before applying the rubber sheet (which is separated into two parts so it can better fit different face sizes — genius, but somehow other sheet masks don't understand that). So the sheet is not soaked in the serum already, like the others, it just seals in the serum so it doesn't evaporate before it's sucked into your skin. Sounds scientific and makes a ton of sense to me. The results definitely showed because my skin was extremely glow-y and hydrated all day long. I guess rubber is the new sheet.
DR. JART+
A brightening two-step rubber mask that helps with dullness and uneven texture, dark spots and uneven skintone, and the appearance of scars.
I know, the packaging looks super legit, right? The results were not bad, either. I didn't see quite obvious difference in "brightness" like I did with the grapefruit mask, but I definitely felt more hydrated and my skin looked subtly more even-toned. And I swear, my makeup went on smoother, even hours after I had taken the mask off.
Master Lab
A water type ampoule consistency that makes skin healthy by providing radiance and nourishment.
I was excited/terrified to try the bubble mask… it seems like any other sheet mask at first application, but as the minutes go by, it produces a thick layer of bubbles that made me feel like I was a kid in a bubble bath again, making beards and funny hairdos with the bubbles. The idea behind this beauty technology (besides just inspiring the bubble-beard nostalgia) is that it brings oxygen into your skin, helping pores soak up all the good nutrients, and I definitely felt those results. I noticed a more even skin tone even the day afterwards.
MISS SPA
Infused with antioxidant-rich white tea extract, this self-activating crème mask turns into a refreshing, bubbly foam when applied to skin. It delivers a refreshing oxygenating effect to revitalize dull, tired looking skin.
This mask claims to have natural ingredients, which I am always down for (though looking at the ingredients, there are only a few words I actually recognize). The sheet itself was too much material, and left me wondering if I had an exceptionally small face or if the mask was just extra big. I'm also a little skeptical on how it was purifying, and didn't see any significant changes in the purity of my skin. But it definitely worked to hydrate my skin.
TONYMOLY
A 3-layer pulp sheet filled with a micro emulsion-based essence that cleanses your skin with natural oils and waters.
As I've already complained to you about my under-eye circles problem, I'm sure you could've guessed my excitement to try this one. It's a hydrogel eye patch that uses collagen and adenosine to help plump skin and smooth fine lines. After using it, I am completely sold. The material is more of a gel-like cushion than a sheet, so it sticks to your skin perfectly and feels so cool and refreshing. It's also nice that it's an eye patch, but covers more of your face on your cheeks, which is great for people like me who are obsessed with cheek bones (which, isn't that everyone?). 10/10 would recommend. I just ordered five more.
DR. JART+
A hydrogel eye patch that helps reduce the appearance of fine lines and provides the eye and cheek area with firm-looking skin.
Bee venom sounds intimidating, but this mask was the easiest one I've ever tried. The sheet felt thinner and more flexible, so it stayed on with barely any wrinkles and did not slip off as much as the others did. I'm definitely going to stock up on this one because I can walk around and live my life while wearing it, instead of lying flat on my bed, so it doesn't slip off. It also had immensely hydrating results, and my poor winter skin didn't dry out all day.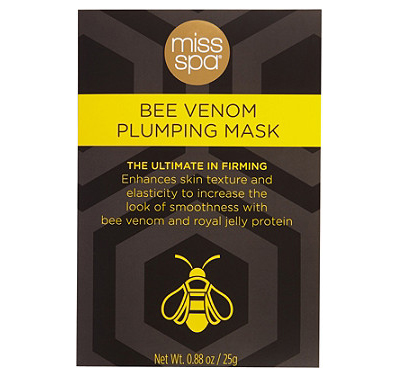 MISS SPA
This natural silk mask pampers skin as targets loss of skin firmness. Royal jelly protein and bee venom cleverly work together to help improve skin texture and create a plumping effect, while honey extract and aloe deeply nourish and moisturize.
I gotta say, I definitely avoided looking in mirrors while wearing this one. I pictured I'd look like a cute koala, but it's a little more terrifying on me. The material felt super thick and a little scratchy to the touch, so it did not mold well to my skin, and I barely got any coverage on my chin or nose because the sheet did not fit into my crevices! Don't you just hate when that happens? But it is one of the sheet masks that hydrated my skin the best. In winter, I get terribly dry skin that nothing can cure, and this sheet mask made me almost glow from hydration throughout the rest of the day. Might be worth the missed crevices.
ANP
Recharges dry skin with hydrating energy for a moist and refreshed look. Coconut water, caulerpa racemose extracts, and brown algae extracts help skin keep oil and water balance.
What's your favorite sheet mask or ingredient for face masks? Which of these sheet masks would you want to try?