The second Chelsey Brown received an internship offer with the ABC network, she packed her bags, moved to New York City, and never looked back. She'll be the first to admit, however, that finding an apartment in Manhattan was no cakewalk. (At one point, she was so discouraged she walked into every building she passed to inquire about one-bedroom prices.) A year-and-a-half later, Chelsey has settled into her apartment with a roommate—and into her role as an editor with the Dr. Oz Show. Below Chelsey shares details on the journey to both, and what makes living in the Big Apple so amazing.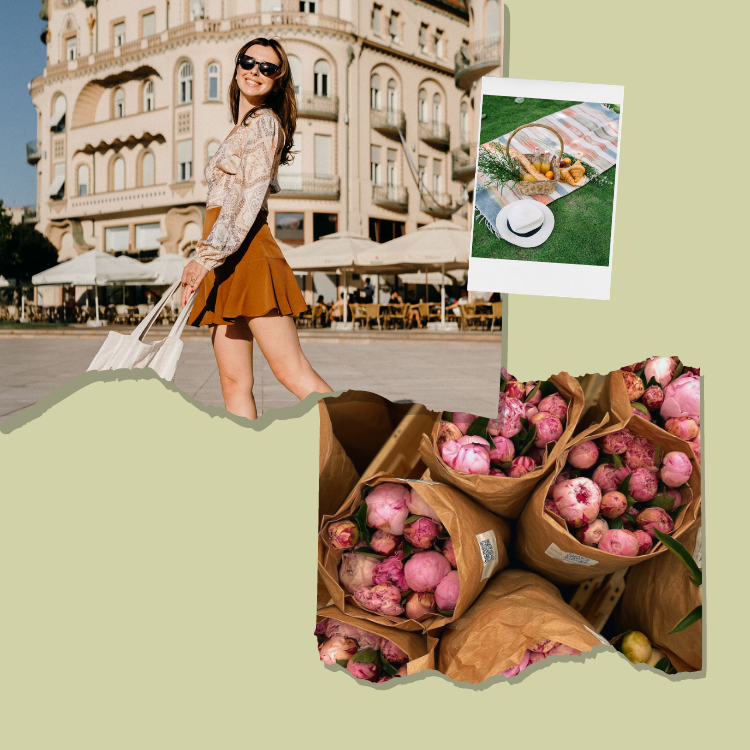 read this if you're in your saving era this summer
Name: Chelsey Brown, Editor at the Dr. Oz Show
Age: 23
Square Footage:
Rent or Own: Rent
City, State: New York City, NY
How did you land your current gig?
Upon graduation, I received a summer internship position with ABC in New York City. It was a tremendous opportunity to break into the media business and build my resume. Video editing and graphics were always my passion, and at the end of the internship I earned of a full-time junior editor position with the Dr. Oz Show—an ideal job description matching my goals. I applied, interviewed, and landed the job of my dreams. Not only am I able to do what I love every day, but I also work with the most amazing people. I learn something new every day, which is something I value a lot in a career. I have been working there for the last year, and just recently was promoted to editor.
I will probably be here for the rest of my life. There's no better place to live.
Did you hold an internship while in school? What's the most valuable thing you learned? 
So. Many. Internships. The first internship I had was volunteering at our local radio station, WFHB, in Bloomington, IN. The following summer, leading into my junior year, I landed an internship at Cumulus Media, WMZQ-FM, in Washington D.C. That fall, I interned at our local PBS station in Bloomington. I couldn't be more thankful for that experience: I learned so much and worked with the most incredible people.
The next summer, I worked at the American Film Institute helping out with their documentary film festival. My senior year I landed an internship with the local CBS affiliate in Indianapolis requiring a long commute between Bloomington and Indianapolis twice a week. Upon graduation, I landed a summer gig interning at ABC in NYC. I have to give some of the credit to my wonderful parents for being my support system and guide in college. Without their help, advice, and support I wouldn't be where I am today.
The most valuable thing I learned in college was actually from my dad. He taught me that I should exude flexibility and enthusiasm in any endeavor whether it be the classroom, an internship, or a full-time job. Flexibility meaning that you should always be willing to try new things and say yes to every job given to you. Enthusiasm meaning that you should always have a smile on your face and be positive in every situation you are in. This one simple piece of advice is what I believe has gotten me so far in my career, so thank you, Dad!
How did you end up in NYC? 
I've always known I wanted to end up in NYC. The second I received an internship offer at ABC, I packed my bags. I've been in the city for about a year and a half, and will probably be here for the rest of my life. There's no better place to live.
At one point, I was so disheartened that I started walking into any building I would pass on the street asking about one-bedroom prices.
As many know, finding the right apartment in NYC can be a process. Tell us about your hunt: What was on your wish list? What compromises did you have to make? Anything non-negotiable?
Finding an apartment in New York City was one of the most stressful experiences of my life. At one point, I was so disheartened that I started walking into any building I would pass on the street asking about one-bedroom prices. Eventually, I gave in and got a broker. I wanted something spacious that would give me enough room to build a second bedroom for a roommate. The non-negotiable item on my wish list: a 24-hour doorman, dishwasher, spacious bathroom, and a good location next to subways.
The second I walked into my apartment for the first time, I knew it would be my home. It had a large foyer, a decent sized living room and kitchen, and a spacious bathroom. The building is fantastic and is in a central location in Manhattan. I'm next to a bunch of subways and tons of stores and restaurants.
In terms of compromise, I had to give up a view. I am on the 8th floor of a building so my view is basically staring into the building right next door. But the cool thing about my apartment is that if you look out of my window and straight up, you can see the top of the Empire State Building. The view from my rooftop is fantastic, so it really wasn't that much of a compromise.
You ended up in a one-bedroom flex, meaning you converted a one-bedroom into a space for two people (common in NYC). Tell us about your setup. 
Being a young professional in the city, I didn't want to come home every night to an empty apartment. My roommate is now one of my best friends, and we have so much fun living together. It's always nice to have someone at home, whether it means going out to get a quick bite to eat or having girl talk on the couch. It was way less expensive to build walls versus getting a two-bedroom in NYC. Luckily, we work on such different schedules that it's not a problem living in a small space together. I also think being close friends makes it a lot easier as well!
Let's talk about your apartment decor—so beautiful! How would you describe your style? 
Why, thank you! I would definitely say my style is glam-chic. I love neutral colors and unique statement pieces and I wanted to create a space that felt glamorous yet super inviting. I am obsessed with silver and gold and wanted to create a home where I could incorporate both. It took about a year to find the right decor and furniture to combine both, but all in all I'd say I accomplished the look I was going for.
 It was way less expensive to build walls versus getting a two-bedroom in NYC.
What was the design process like? Where do you find design inspiration? Are there any particular blogs, magazines, or sites, you reference? 
The design process took a long time. I think the hardest part was finding the right decor to successfully combine all my favorite styles and colors. I wanted the base of my apartment to be neutral, with the occasional pop of color. I also didn't want my apartment to look like anyone else's – it was very important to keep my space as unique and "me" as possible.
I am always decor hunting and changing little bits and pieces of my apartment around. I have this obsession with furniture and decor shopping, so I wouldn't be surprised if my entire apartment looks completely different a year from now. My favorite places to find inspiration are Pinterest, the Z Gallerie catalogue (my bible), and of course, The Everygirl.
How did you stick to a budget for decor and furnishings? 
I was lucky when I moved to NYC that my parents helped me buy the necessities for the apartment. We did buy everything on a budget though! I brought what I could from home, like the white curtains and furry chair in the living room. Everything else we bought from discount stores like Home Goods, World Market, and of course, IKEA. I think my favorite budget buy in my apartment is the painting above my couch in the living room. My mom pointed it out at Z Gallerie a few months ago and I instantly fell in love with it. We got an amazing deal on it!
Anything you splurged on?
One of the few lavish purchases in my apartment is the leaning mirror in my bedroom. I got it from West Elm and am obsessed with it. The second splurge in my apartment was definitely the mattress. I ended up buying a Sleep Number because I wanted something super comfortable and that I could adjust accordingly. The next thing I will eventually splurge on is a new coffee table in the living room!
My favorite part about living in Manhattan is being so close to all of my best friends. There's nothing better than having the people you love so close by.
Is there a particular area of your home that you're particularly proud of?
It would definitely have to be the living room. It took a long time to put it together and and make it look exactly how I wanted it to. I love how many different colors and styles I was able to incorporate into one space. Another reason I love the space is because of my how my roommate contributed to it. She has the most talented grandparents, and her grandmother painted us the most beautiful painting that's currently hanging over our bar cart. I love that I am able to share this space with her, and that she helped make it so beautiful.
What's your favorite part about living in NYC? 
There's always something to do in NYC. There's never a second when I am bored. Because of how many fabulous bars and restaurants there are in the city, there's always somewhere to go. If I had to choose my favorite part about living in Manhattan, it would be living so close to all of my best friends. There's nothing better than having the people you love and who love you so close by.
Where do you see yourself in five years?
This is a hard question to answer because I am so happy and content where my life is currently. My five-year goal right now is to still be editing and expanding my skills in the field.
What advice would you give your 21-year-old self?
Never give up on your dreams, no matter how hard it gets. Life works in mysterious ways and I believe everything happens for a reason. Every single person in your life is meant to be there for a purpose. You learn from everyone you cross paths with and likewise, you teach and give wisdom to everyone who crosses paths with you.
Chelsey Brown is The Everygirl…
Favorite brunch spot in NYC? 
L'asso! They have the BEST breakfast pizza.
I wish I knew how to…  
….speak another language
Dream purchase for your home? 
the Z Gallerie Enzo Bed
Guilty pleasure? 
Watching "Teen Mom" while eating a jar of chocolate frosting
If you could have lunch with any woman, who would it be and what would you order? 
It would have to be Mary Kate and Ashley Olsen! I would definitely order sushi, more specifically, Philadelphia rolls with a side of spicy mayo.
Product Sources
Living Room
Couch, World Market 
Butterfly Chair, Bed Bath & Beyond
Rug, Home Depot
Coffee Table, IKEA
Bar Cart, Target
Black and White Pillow, H&M
Furry Pillow, HomeGoods
Gold Pillow, HomeGoods
Gold Skull, ZGallerie
Art above couch, ZGallerie
Foyer
Mirrored Cabinet, HomeGoods
Candle Holders, ZGallerie
Bench, Target
Bedroom
Ottoman, T.J Maxx
Duvet, Bed Bath & Beyond
Grey Throw, Amazon
Leaning Mirror, West Elm
Dresser, IKEA
Hardware, Home Depot
Animal Skull, Etsy
Sheepskin Rugs, HomeGoods
Acrylic Tray, World Market