Jaclyn Johnson is one cool girl—you know, the kind of girl who hustles, doesn't take no for an answer, and isn't afraid to be a little bossy in order to accomplish her goals. We chatted with Jaclyn about founding her two businesses, (No Subject), a creatively-driven digital marketing and events agency and Creative + Cultivate (a women's conference), and also about the inspiration behind her blog, Some Notes on Napkins. It quickly became clear that she is a force to be reckoned with and we're not the only ones who think so: Jaclyn was named Forbes Magazine 30 Under 30 this year. She's shaking up industry standards and in the best way possible.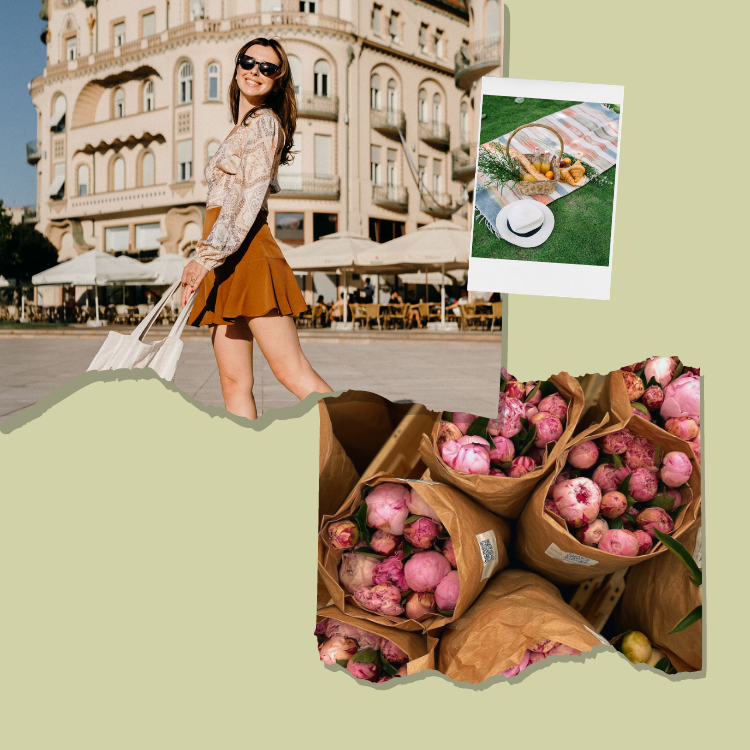 read this if you're in your saving era this summer
Jaclyn's home reflects her easy vibe; it's bohemian chic meets minimal modern California flair—glamorous yet authentic, unrestrained yet utterly calm and cool. She loves texture, layers, different fabrics and colors all mixed together and like with everything else so quintessentially Jaclyn, she pulls it off effortlessly. But still no stranger to a good budget find, she'll tell you where the best deals can be had—and how to throw a fabulous at-home dinner party on a dime.
Jaclyn reminds us to not over think it, get a little scrappy if necessary, and chase down those dreams. We're thrilled to share her advice on how her blog helped advance her career, her ever-evolving style, and what she splurged on in her gorgeous home. Read on and be inspired!
Full name: Jaclyn Johnson
Age: 29
Current title/company: Founder at (No Subject), Creator of Create + Cultivate, and partner in the soon-to-be-launched On Holiday
Educational background: Bachelor of Arts in Journalism and Public Policy at New York University (magna cum laude)
Your first job out of college was working for Attention USA, where you led some of the first online word of mouth marketing campaigns for clients like BlueFly and Estee Lauder. How did you land this job?
It was truly happenstance. I found the job on Craigslist and it literally said "seeking female account executive who likes fashion and the internet"—yes! I applied and got it!
Can you please give a brief synopsis of your career before launching (NO SUBJECT)?
I actually started out in editorial interning at CondeNast Traveler and SELF magazine. Following, a professor of mine sent me an interesting opportunity at Time Inc Interactive—essentially, a 6 month think tank—tasked with working on bridging the divide between print publications and the online world. After that I transitioned into marketing and PR with my first job at Attention USA. After a year there I was poached by another agency (iCrossing) and was tasked with building out their social media service lines. From there I went in-house at IAC working on their shopping start up Pronto.com, and later Citysearch, which brought me to LA.
What was your vision when you started (NO SUBJECT)? 
I had initially been looking into agencies in LA and (at the time) I felt like none of the agencies were catering to the fashion, beauty and lifestyle community—most were interested in entertainment. I saw a gaping hole in the market and wanted to take advantage. When I first started, I wanted to create something new and different—an agency that focused on creating interesting partnerships and campaigns through collaboration and shared ideas, not only providing services but building companies and events that brands wanted to be a part of.
How did you start (NO SUBJECT)? Give us the details!
I moved to LA for a position at Citysearch and was laid off three months later after the company decided to focus on a b2b strategy versus b2c. I was scrambling in a new city with little to no business relationships at the time. I sent an email to my contacts about freelancing and gathered a few clients, eventually I started making enough money to get an office, then enough money to hire my first employee, so on and so forth. Luckily, as a service business upfront costs are minimal—I got scrappy and built the website myself, furnished the office with ikea, etc. I started the company out of a rad warehouse space in DTLA where I held different events connecting the fashion, tech, and influencer communities. The events started garnering attention and clients started coming to us!
You work with some major companies, such as Nasty Gal, Urban Decay, Marimekko, and Levi's. How did your blog (Some Notes on Napkins) assist in making contacts in lifestyle and fashion industries?
It was absolutely helpful. As I launched my blog in 2007 and began my career, they ran parallel, creating this advantageous relationship—I would work with brands on a campaign for my blog and then they would ask about (No Subject) and vice versa as clients would ask for blog posts. Actually, I think my major differentiator (in running an influencer agency) is that I am a blogger (an OG one in fact). I understand the community thoroughly, how it's evolved, what works and what doesn't, and I have the relationships that can make things happen for brands.
In addition to (NO SUBJECT), you also run Create + Cultivate, an inspirational conference for female entrepreneurs and business leaders. What led you to start Create + Cultivate?
I had attended multiple conferences and while I enjoyed them, I always felt that the ambience was lackluster and the content was stagnant, and the audience was kept at a distance. I wanted to create a conference for women that was beautiful and had tons of characters. One where women could get their hands a little dirty making stuff, drink cocktails, and most importantly leave entertained, informed, and inspired. Create + Cultivate spans from the CEOs of Wildfang discussing how they quit their creative director jobs and raised $2 million dollars, to Mr. Kate teaching a DIY on how to make an inspiration board for your dream job. It's fun and engaging and doesn't take itself too seriously. The conference has grown exponentially and organically and has taken on a life of its own—it's incredible!
Last year, I took a step back and decided I wanted to focus on building the conference by bringing it to different cities across the U.S. Our kick-off is in March in LA and we have Emily Weiss, founder of Into the Gloss and Glossier, as the keynote and I could not be more excited for her to tell her story about launching Glossier, shaking up the beauty industry, and raising $10 million dollars!
Let's talk about your home! What were your must haves, in terms of furniture and accessories?
When I first moved into the space I knew I wanted to splurge on two items: a large farm style outdoor table and a brand new bed frame.
Are any of the items in your home DIY or thrift store finds? Did you have a budget?
Yes, tons! I am the knick knack queen and I love random tchotchkes I find at flea markets. I am actually a partner in a company called Frankie + Albert—we send curated monthly boxes filled with vintage finds. Our buyers are incredible and find amazing items (sometimes it's hard not to take them home!). My favorite vintage items I have are my brass candlestick holders, punch bowls, wooden game pieces (from my grandma), and milk glass vases. My budget was tight so while I splurged on a few things, I ended up finding some great deals on other items by scavenging flea markets and Goodwill!
Your boho-inspired home is chock-full of fun textiles and cool art prints. What are your go-to sources for bohemian, contemporary furnishings?
I am a texture freak—I love layers of different fabrics and colors. A few of my favorite spots include TRNK, Fab, One Kings Lane, Target, Urban Outfitters (they have killer rugs!), Jonathan Adle, Blu Dot, Casa Victoria (a great vintage shop in Silver Lake), Sunbeam Vintage (a great shop in Highland Park) and etsy/ebay for vintage paintings.
You are known for hosting some fabulous parties in your home. Do you have any advice for someone looking to host a great party on a small budget?
I love throwing dinner parties and cocktail hours. A few tips for an event on a budget:
Florals—make all the difference! Mason jars are an inexpensive way to display florals; if there is a Trader Joe's nearby stop by early in the morning to get the best (and cheapest) floral selection!
Stringed Lights—a great and inexpensive way to create ambience in your space whether outdoor or indoor.
Punch—streamline your alcohol selection by creating a pre-made option like a punch.
Pot luck—create the main dish but invite your friends to bring over the sides. This is a great way to gather everyone and have a fabulous dinner party on the cheap!
What do you love most about living in Los Angeles?
The access to so many different environments. You can drive 30 minutes and be at the beach, 10 minutes and be in the mountains, 5 hours and be in wine country. You can just get in your car and go! As a former New Yorker, I cherish my morning hikes and west side weekends.
What advice would you give to your 23-year-old self?
I think the best advice I could give myself is: everything happens for a reason. There were trials and tribulations and 'this is the end of the world' moments that plagued my mid-twenties (personally and professionally). I took everything to heart. Now approaching my thirties, I can see the path clearly. Things happen for a reason and lead you to where you need to be, with the people you need to be surrounded by. Oh and also: get everything in writing!
Jaclyn Johnson is The Everygirl…
Guilty pleasure?
Sweats. If I can spend a day in sweats with no make up, it's a good day.
Best moment of your career so far? 
Actually it just happened—I was named 30 under 30 by Forbes Magazine this year.
If you could meet any woman for lunch, who would it be and what would you order?  
Beyonce, burgers, and beers. Because, why not?
Where do you see yourself in five years?  
Surrounded by good people, feeling accomplished, and thinking about the next phase of my life.
The perfect Los Angeles weekend?
A bike ride in Venice, brunch with friends, scouring the melrose flea, backyard cocktails with friends, a bit of gardening, and bad TV.
Product Sources
Living Room
Coffee table, Urban Outfitters
Couch, custom Z Gallerie
Dresser, Blue Print Furniture
Turquoise bench, cb2
Side tables, Target
Mirror, vintage
Black Bull, Vincon
Gallery Wall, Society 6
Fan, Vintage (spray painted gold)
White spiked container, Jonathan Adler
Kitchen
Table and benches, cb2
Bar cart, Target
Painting, antique (ebay)
Chairs, living room silverlake
Cactus, Sunset Nursery
Marble stand, vintage
Glass cake stand, vintage
Girl with bowl on her hand, Jonathon Adler
Bedroom
Bed, Design Within Reach
Sheets, Muji
Plus Blanket, Pia Wallen
Side Table, vintage
Glass table, vintage
Jewelry box, West Elm
Painting, antique (etsy)
Rug, Urban Outfitters
Gold Bull/ Urban Outfitters
Green Leaves paintings, David Kaul
Office
Couch, custom West Elm
Rug, World Market
Marble chest, vintage (my grandmother's)
Desk, West Elm
Hashtag sign, Scott Coppersmith Designs
Sidetable, blueprint furniture
Chair, One Kings Lane
Pillows, One Kings Lane
Gold Frames, west elm
Astrology Images, prismatic print shop
Record player stand, vintage from sunset bazaar
Typography picture, Ikea
Striped Bag, Marimekko
Paperclip, vintage
Ampersand, Vincon Barcelona
GhettoBlaster, vintage
Outside
Long table, Restoration Hardware
Red chairs, Target
Side Table (bar), Amazon
Punch Bowl, vintage
Ice buckets and stand, Target
Blue chairs, vintage
Woven chairs, Ikea
White wire Tables, vintage
Pots, potted atwater
Long cutting board, Amazon
Bathroom
White stand, cb2
Black wire stand, Urban Outfitters
Frame, Ikea
Soap dish, Zara home
Rug, Urban Outfitters
Hallway mirror, Ikea

GIVEAWAY
Jaclyn Johnson is giving away one VIP ticket to Create + Cultivate, the beauty and fashion blogging conference she started in 2012!  This year's speakers include Emily Weiss from Into the Gloss, Aimee Song of Song of Style, and Julia Engel of Gal Meets Glam (and about a dozen more!). The conference is in Los Angeles on March 21 (with a meet and greet the night before) and the VIP ticket goes for $500.
How to Enter:
Follow @TheEverygirl_ on Twitter!
Extra entry if you sign up for our newsletter!
Leave a comment here telling us you did. And heck–why not tell us about your blog? If you don't have a blog yet, no worries. We just want to get to know ya'll better!
DEADLINE: 
Enter by Monday, February 9 at 11:59pm. Winner will be announced on Facebook and Twitter the next day.