With the beauty industry growing at a rapid pace, it's nice to know there are women-run companies that are committed to creating products that are not only better for our health, but that are environmentally conscious. These values ring true for indie brand, Captain Blankenship — founded by art curator turned entrepreneur Jana Blankenship.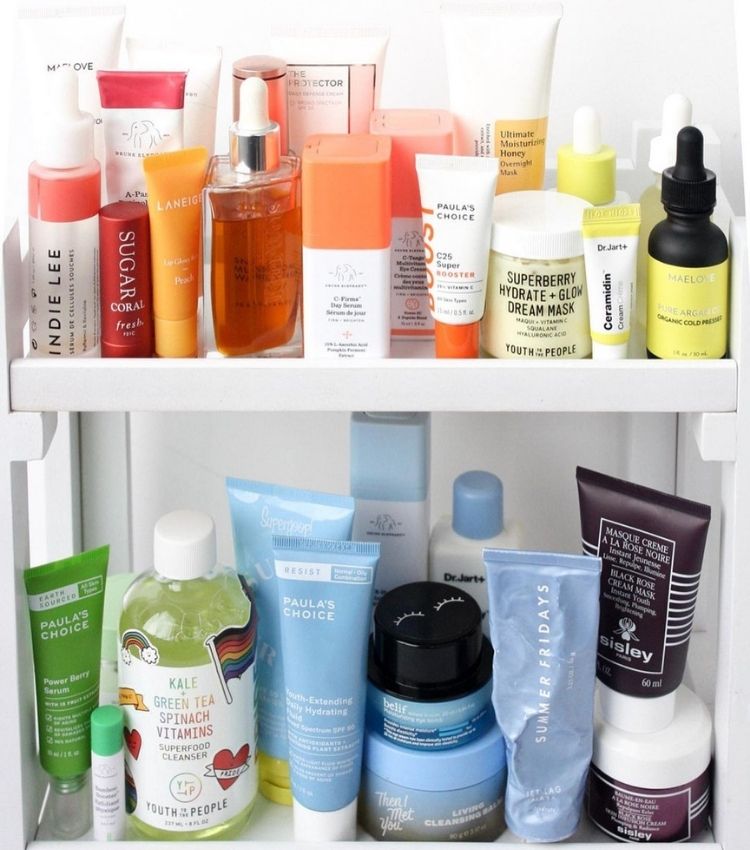 the wrong order can reduce effectiveness
This business-savvy beauty lover took Captain Blankenship from her kitchen to the shelves of Sephora and Target while balancing life as a momma of two. Her story reminds us that we can follow our passions while building a life full of love. Here I talk with Jana about what it's like to start a career in a new industry, her commitment to sourcing Captain Blankenship's ingredients ethically, and how we can contribute to the health of our environment through beauty.
Name: Jana Blankenship, Founder/Captain of Captain Blankenship
Age: 37
Current Location: Gardiner, NY
Education: BA & BFA from Cornell University, MA in Curatorial Practice from the California College of the Arts, Studies in Natural Perfumery and Herbalism
What was your first job and how did you land it?
Right out of college, I worked as a tour guide at the Rubin Museum of Art in Manhattan, which is an incredible Himalayan Art Museum in the original Barney's building. I had studied Tibetan Buddhism in college, so it was an exciting opportunity to craft tours based on my knowledge.
I gave tours to diverse groups such as seniors, vets, children, and scholars. I loved getting to tailor my tours to each group's interests and figure out different accessible ways to talk about an esoteric subject matter. I feel like that experience really helped me to gain a lot of confidence in my own voice and my storytelling ability. I think it has been helped me as the founder of a company, being able to clearly communicate our ethos in an engaging way.
Did you always know you wanted to build a beauty-focused business?
Not at all. I was working as a contemporary art curator and started crafting products on the side for myself, friends, and family. I had a background in the arts and really missed working with my hands. I had a lifelong sensitivity to synthetic fragrances and was starting to have reactions to some of the "natural" products I was using.
I started with natural perfumery and then expanded the line into skincare, body care, and hair care — but essential oil-based scents are still at the heart of all my products. My friends wanted to start carrying my products at their store, Gravel & Gold, and I decided I needed to start a company. I had no business plan except the desire to create. In some ways, I think this was better since if someone had told me what it is like to run a business, I probably wouldn't have done it.
I had no business plan except the desire to create. In some ways, I think this was better since if someone had told me what it is like to run a business, I probably wouldn't have done it.
What was it like transitioning into a completely new industry?
The creative aspects of my work as an artist and curator really translated into the company. From developing the formulas to drawing the logo to the watercolor gradients that grace the packaging, that part of my job feels so effortless and artful to me.
The part that was challenging to me was the nature of actually running a business. In the beginning, it was just me and it was hard to try to wear many hats, many of which, I didn't feel confident wearing. Having to be the creator and handle the books wasn't easy.
When I look back now, I am really grateful that I had the chance to be thrown in and had to learn how to swim. It has been a real adventure and I have learned so much and continue to be astounded every day. I now have an incredible team that I get to work with, which makes all of it possible.
I love the name of your brand. How did you go about coming up with your company name?
My husband's last name is Blankenship and when we got married a friend joked that I was going to be the Captain of the Blankenship. It just stuck and when I started my company it was the only name I considered. It is quirky, but I think it captures the spirit of the brand.
I would imagine sourcing organic ingredients could prove to be challenging. How do you ensure you're sourcing "good" ingredients ethically while keeping your products affordable?
This is always at the crux of the company.  When I started Captain Blankenship, I really didn't want to price out my friends. I didn't want to be creating products at an inaccessible price point, but I was also positive that they needed to have as many organic ingredients that I believed in as possible. Without the integrity of ingredients, I wouldn't believe in this company.
With all our products, we make sure to stick to a very strict guideline with our ingredients, making sure they are plant and mineral-based, ethically sourced and use only organic ingredients when possible. We are starting to form direct partnerships for many of our ingredients, including a recent partnership with a women's cooperative in Uganda for our organic Shea Butter. It is always a process watching our margins and trying to figure out how we can pack our products with beautiful ingredients and keep them affordable.
Without the integrity of ingredients, I wouldn't believe in this company.
Captain Blankenship uses recyclable and reusable glass packaging. Why was this important to you as you were building your business?
We are proud to be a B Corporation, Leaping Bunny Certified, and 1% for the Planet. Supporting and protecting the environment through ingredients, packaging and our proceeds is of utmost importance to us at Captain Blankenship.
Per 1% for the Planet, a non-profit organization you all donate 1% of every sale to — In 30 years, the ocean will contain more plastic in weight than fish. How can beauty lovers make more environmentally conscious purchases? Can we recycle empty product containers even if they aren't labeled recyclable?
My advice is to read labels to make sure that the ingredients in your beauty products are safe for you and the environment. Consult the EWG for ingredients you do not recognize. Research the company. If a company cares about the environment, they will make an effort to choose environmentally packaging and organic ingredients. Avoid single-use or virgin plastics and support companies that are using recycled plastic, glass, metal, and compostable packaging.
Unfortunately, plastics that are not labeled recyclable are not able to be recycled. Containers that are not recyclable should be repurposed or refilled, if possible.
What is the best piece of beauty advice you've ever received?
Less is more. When I was young I used to be a lot more high maintenance than I am now. My skin, body, and hair thrive using fewer products, but better ones. I wash my hair less often using our plant-based shampoo and conditioner, use our sea salt hair spray for styling and our dry shampoo between washes. My hair has never looked healthier. This goes for the rest of my routine, it's simple but decadent since the products smell and feel beautiful.
I am a firm believer women can have it all. How do you balance your home life with building Captain Blankenship?
It isn't easy, but I firmly believe in it, too. Raising two small children while growing a business has been challenging, but a process. Both as a mother and a business owner, I am learning so much every day. I try to be present for the process and really relish in the wonder of moments and realizations. I think what keeps me going is realizing it is always a process, that nothing is ever done or perfect, that things are always changing. I am constantly figuring it out and navigating each day anew. Life is definitely never boring and there is lots of laughter, which is good. I have gathered an incredible team of women at Captain Blankenship and we support and help each other. Some days there are kids tearing through the office.
I try to not be hard on myself. I give myself time every day to take a hike, run or walk with my dog, which keeps me sane. I get the mornings and evenings with my kids and then really try to be as efficient as possible when I am at a work. Sometimes I do have to get back to work after they go to bed, but it is worth it to be giving my energy to what I believe in.
What advice would you give your 22-year-old self?
Stop being so serious. Life is hard and you just gotta be able to laugh a lot.
What keeps me going is realizing it is always a process, that nothing is ever done or perfect, that things are always changing. I am constantly figuring it out and navigating each day anew.
Jana Blankenship is The Everygirl…
Favorite artist?
Agnes Martin. Her beautiful minimalist paintings have been a source of inspiration for 20 years.

Best way to spend a day off?
A dream day would be hanging and eating pizza with my family at Westwind Orchard in Accord. Then a short hike and sunning at the waterfalls at Minnewaska State Park. I would end the day with dinner at our favorite local restaurant the Mountain Brauhaus in Gardiner.
My phone camera roll is full of…
Pictures of my children and my dog.  
If you could have lunch with any woman, who would it be and why?
Mandy Aftel. She is a mentor to me and I miss her. Studying natural perfumery with her and getting to know her inspired me to start on this path. I would love to sit with her in her rose garden in Berkeley and have lunch and talk about wonderful things. I am also dying to visit her new museum, the Aftel Archive of Curious Scents.