I'm a sucker for a good Outfits of the Week post. Getting a glimpse at what someone wears Monday-Friday not only gives an insight into their style but also their career and how their daily life might differ from my own. I'm so into fashion and make-up that my hair game has taken an unfortunate turn for the worst in the last few years. I tell myself I don't have the time or the products or the skill to give my hair the attention it needs and deserves.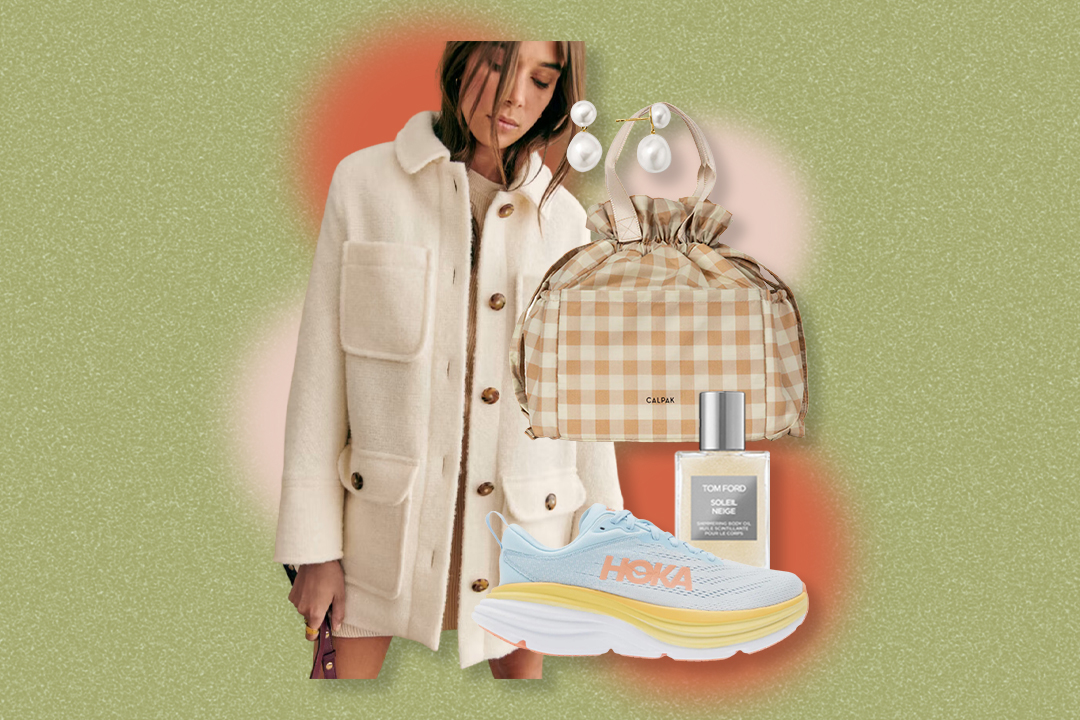 One of our favorite fashion bloggers (and previous Everygirl Intern!), Jess Keys of The Golden Girl, knows that you don't have to be a pro to have amazing hair (and that she does!). Jess took us through a week in her life, all through the eyes of her favorite hairstyles and discusses her favorite products, why you need a good dry shampoo in your life ASAP, and her go-to workout styles.
So let's start at the beginning — how often do you wash and style your hair?
I try to go three days in between washes, but I've been trying to stretch it to four – really depends on what I have going on that week and how presentable I need to look on a given day. I try to let it air-dry as much as I can and only use hot tools when I'm planning to do a photoshoot or if I'm going out somewhere special (like date night on Saturday, for example!) Otherwise, it's au natural!
We've seen on your Instagram stories that you've been testing different hacks to extend your style between washes. What have you learned? What has worked versus what hasn't?
Yes! I have loved sharing my experience on Instagram stories because I learn SO MUCH from my readers. It's one of my favorite parts of blogging, being part of such an active community and sharing so many great tips with one another!
Anyway, here are some of the best tips I've learned from trial and error and through my Instagram fam's collective savviness on the subject:
Blow-dry just the roots
When you wash your hair, let your hair air dry as much as possible, but, if you hit the roots (just the roots, because, you know, hair dryer = damage so you want to minimize as much as possible – I generally avoid blow dryers as much as possible, but this part I've bent the rules for) with the blow-drier for a hot second and get your roots dry (we're talking, like, just the top half-inch to inch of your hair) then it REALLY helps to combat grease. This really makes an incredible difference in setting your hair up to be less greasy.
Use a shower cap
I don't know why I just dismissed the idea of using a shower cap for the first 29-odd years of life – maybe because my mom had this grandma yellow one that she used to use all the time that scarred me – but the idea occurred to me to give it another go, so I asked my readers which kind they liked best, and this version won by a landslide! It really helps combat frizz, because even if my hair doesn't get wet in the shower, it does get crazy from the steam. I also like that it's actually cute and definitely not your mom's 80's-tastic shower cap!
Dry shampoo before bed
Of course, you use it after to help soak up existing grease, but where dry shampoo truly shines is in its preventative effects – it's great to spray on before you go to bed! You'll wake up with more voluminous bedhead and it's amazing. My favorite brands are Living Proof and Bumble and Bumble's Pret a Powder.
Are you loyal to any particular shampoo/conditioner combination?
I love beautycounter's daily shampoo and conditioner. It's sulfate-free (but actually lathers really nicely – which is the downfall of a lot of sulfate-free shampoos) and has none of the bad stuff! The conditioner is super moisturizing and I finger-comb my hair in the shower with conditioner in and don't touch it afterword.
Pro Tip: Don't comb it or brush it out before you air-dry, this will make it too frizzy – using your fingers is enough to detangle without creating frizz, and the conditioner makes it easy to do without pulling your hair out!
What do you do with your hair at the gym? How do you refresh your hair after a workout?
I spray dry shampoo on my roots and hairline before I work out – this really helps to keep it looking fresh throughout my workout! The Invisibobble No-Crease hair bands work great, too! Make sure to take your hair down right after your workout – spray a little more dry shampoo, and then hit it with a blow dryer at the roots again if you need to.
What tools are you working with in your bathroom?
My curling iron and hair dryer are definitely worth the investment – I use the T3 Whirl Wand—buy the base + barrel separately. I use the 1" wand about 99% of the time. I've had so many people message me after they tried my curling iron and say they were so skeptical at first but that it's really worth the money. It curls your hair so fast and the curls really do hold!
Pro Tip: Make sure you lower the heat settings though, I only use it on the third one – it gets SO. HOT. You don't want to damage your hair!
While I usually try to avoid blow-drying my hair, sometimes it's unavoidable, and the T3 gets the job done quickly. It's super fancy and has a bunch of different heat settings so you can minimize heat damage, and I notice less frizz when I use this one versus cheaper versions (like the ones in hotels whenever I travel. Woof!) It's also super lightweight and really small so it doesn't make your arm tired and also fits easily in your suitcase!
You're known for having long, gorgeous waves on Instagram. What's your everyday curling technique, and how do you get them to hold?
My trick is to spray your hair before you curl it, brush it out (note, I only brush my hair with a brush if I'm going to curl it – not if I'm going to air-dry it!) and then curl about 1.5" sections away from your face. Hold it for a few seconds, then catch the curl and pin it with some alligator clips. Let the curl cool, then remove. Tousle with fingers and then finish with a texture spray – my favorite is Oribe's!
Be real: how often do you get your hair cut?
Way less than I probably should. Really like every six months. I go to Stacia at Sine Qua Non Salon – that's one of my most frequently asked questions!
What are your hairstyle go-tos when you need to be out the door ASAP?
If my hair is dry, a quick spritz with more Oribe texture spray usually does the trick! If it's wet, I'll put some moisturizing cream, oil, or leave-in conditioner (Moroccanoil works great for this and it lasts FOREVER. Christophe Robin's moisturizing cream is my ultimate favorite, but it's a splurge!), followed some sea salt spray (this is my favorite), and put it in a side-bride and then take the braid out when it's about 85% of the way dry so it ends up being soft and wavy.
When you're trying to go a little easier on your hair, what are your favorite no-heat styles?
I'm a big proponent of the air-dried beach waves look, which I have about 80% of the time. (I have a full tutorial on how I do this on my blog!) It's non-damaging, and I'm a big fan of the "perfectly undone" look. (My husband, Neal, lovingly refers to me as "his beautiful mess" because I am the definition of controlled chaos – he loves my air-dried hair because it suits my personality).
A high-pony or topknot are also go-to's – all you need is about two minutes and some good bobby pins! (These are a game-changer – I can use like three and they'll secure my whole top-knot.)
You're located in Chicago – like us! What are your hair tricks for tackling the unpredictable but always windy Chicago weather?
Ah, yes. Chicago weather! When it's hot, sticky, and windy, I usually go for a topknot or a low chignon, so there's nothing to blow away in the wind! If you have flyaways, go with a chignon with a side part (so those pesky flyaways around the frame of your face are covered by your longer strands of hair!)
Best new hair related product you've tried this year?
Probably the Invisibobble hair ties. I always thought they were gimmicky but they are totally worth the hype and don't crease your hair! Game-changers!
If you could only fix your hair with two items from your bathroom, what would they be?
Oh, that is a tough one! My t3 curling wand and Oribe Dry Texture Spray.