"Many people graduate college with a clear understanding of what they want to do — I was not one of them," Kathryn Booth confides with us. It's always refreshing to hear from a successful woman that she was once in a position many of us are in — unsure of which career to pursue while figuring out how to make ends meet. Kate, now the vice president of strategy at the medical marketing firm LehmanMillet, used her uncertainty to her advantage. After graduating from Yale with a degree in History, she remained open internship opportunities and supported herself by waitressing. Realizing she needed to move forward with her career, she relied on one of the most important skills Everygirls should master — networking. Networking helped Kate land a position at a patient recruitment firm, and even though she wasn't quite sure what patient recruiting entailed ( as she learned: gathering willing individuals for clinical trials), she accepted a site support specialist position. Thanks to her critical thinking skills and knack for learning medical terminology, Kate was quickly promoted to account consultant and then became a part of the market outreach and development team.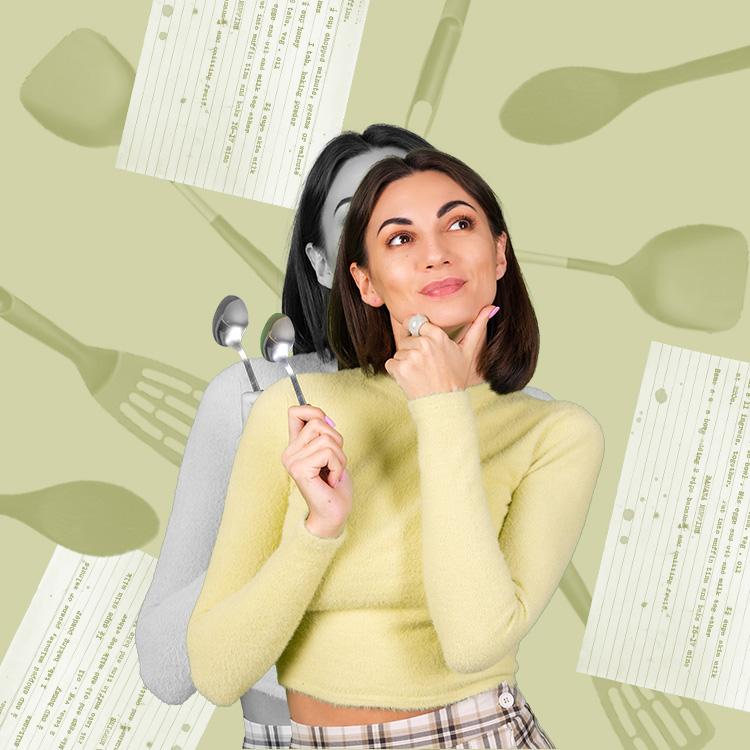 high in protein, good for gut health, and anti-inflammatory? yes, please!
After a few years at the same company, Kate was ready to switch gears. And even though pursuing a new job meant leaving a company she loved, people she cared for, and a sense of familiarity, she went for it. With a little networking and some help from her mentor, Kate landed a business development manager position at LehmanMillet, a healthcare marketing communications agency. And in true Kate form, she wowed her bosses with her critical thinking, passion for communicating innovative medical solutions, and love for relationship building. So it's no surprise that Kate quickly rose in rank to her current managerial role!
To top it all off, Kate is a wife and mom but manages to juggle her professional and personal life with grace and ease. Kate does whatever she can, whenever she can to be present for both areas of her life which certainly makes Kate our kind of gal. Keep reading to learn more about Kate's accomplishments, how she climbed up the medical marketing ladder, and what makes a perfect day in her world!
Full name: Kathryn Booth
Age: 32
Location: Boston
Current title/company: VP of Strategy at LehmanMillet
Educational background: Yale University, Bachelor of Arts in History
You received your BA in history from Yale, but your career is in medical marketing. How has your liberal arts degree helped further your very specific career?
I loved studying history for the same reason I love medical communications–it's about making meaning out of information. At Yale, I had to digest immense amounts of information then form an opinion about what happened historically, why, and what it all might mean moving forward.
I rely on those same skills every day. I research a drug and disease state, survey the marketplace, and translate that knowledge, with related experience, into recommendations to ensure future success of the product and a measurable improvement in care. The subject matter has shifted, but the fundamental approach has not. And just like in school, I pride myself in doing ALL my homework .
After graduating college, you spent a year interning for various companies while supporting yourself as a waitress. What advice do you have for recent graduates who struggle with finding an internship or a job that "fits"?
Many people graduate college with a clear understanding of what they want to do–I was not one of them. Each internship I took gave me critical pieces of information to select for my next path. When I took my first "real" job at BBK Worldwide, I didn't realize it was the door to my future. I just wanted health insurance. My advice would be to keep an open mind about the paths jobs or internships might reveal for you. You may just find your passion.
My advice would be to keep an open mind about the paths jobs or internships might reveal for you. You may just find your passion.
Next, you landed a position at a small patient recruitment agency outside of Boston. How did you hear about the job, and what was the interview process like?
It's no big secret–it's all about networking. A friend of my father's had a job opening, so I went in for an interview. I cannot stress how important it is to do your homework for the interview. I scoured the company website. Even though I did not quite understand what patient recruitment was, I was able to ask thoughtful, if not exactly technically accurate, questions that showed my potential new bosses how I thought. That was critical to my getting the offer.
And you got the job! What were your daily tasks?
I started out as a site support specialist. I was responsible for calling physicians and their support staff in order to track their clinical trial recruitment efforts. Much of my job was calling doctor's offices and leaving messages. I also tracked the evaluation and approval of communications materials through legal reviews in over 20 countries. I was successful because I was persistent (no voicemail machine could stop me!) and super detail-oriented.
Was jumping into the world of medical marketing tricky considering your college degree wasn't related to your job?
In an ideal world, I would have already known every medical or biological term that I now confront daily or would have taken marketing courses that introduced the 4 Ps (product, place, promotion, and price) before I heard about them on the job. However, my college degree taught me how to think critically, and it fed my appetite for knowledge. I was able to succeed in my job because I have continued to apply those skills as I become more versant in the language of my field.
For those who aren't familiar with medical marketing and communications, will you explain this sector of the healthcare industry?
In description, it's pretty vanilla. We help companies communicate the value of their medical solutions to all critical audiences. In practice, it's rocky road! Everyone involved in healthcare decision-making, from physicians to patients to payers, is time-starved and dealing with multiple priorities. And learning about a new therapy may be low on the list. Our job is to help our clients engage, educate, and persuade those audiences. We employ every tool at our disposal from video, digital and print, to social media and live events. It's exciting, challenging, and very rewarding.
At BBK Worldwide, the company you worked for five years, you were an account consultant and you worked in market outreach and development. What was required of you in this particular part of the company? How did your role shift in the company?
A core growth goal for BBK was to expand our global reach and network. As more clients required global support of clinical trials, we needed to ramp our resources outside of the U.S. My role in market outreach and development consisted of helping map out the plan for growth. I was also tasked with establishing relationships with sister agencies across the globe, which forced me to modulate my communications style based on different cultural mores and preferences.
You met your mentor while working at BBK. How has she helped you grow professionally? Is having a mentor crucial to career advancement?
I have been incredibly fortunate in my career to have a number of strong female role models, many of whom have been mentors. My favorite aspect of having female mentors is they seem to have a universal open-door policy. I truly believe they are invested in my growth, and they are generous with both praise and constructive criticism.
This type of continual support and feedback has helped me identify strengths but also quickly pinpoint weaknesses. The brutal honesty about the euphemistic "areas for development" is what I have appreciated most. As a passionate, enthusiastic believer in my agency's work, I have been known to speak louder, and more often, than anyone else in the room. My favorite piece of advice from my mentor was to purchase a piece of jewelry that would serve as a reminder to occasionally keep quiet. One beautiful black onyx ring later, I have a nice upgrade from the string-around-the-finger school of memory.
After five years with the same company, you were ready for a new opportunity. With the help of your mentor, you landed a business development manager position at LehmanMillet, a healthcare marketing communications agency. Tell us about starting at a new firm and the growth curve you experienced.
Moving to LehmanMillet was thrilling and also terrifying. Leaving a place where I had history, relationships, and deep expertise was difficult. And when the CEO offered me the position of business development manager, my first response was visceral–a flashback to selling cookies as a young Girl Scout, absolutely terrified of walking up to neighbors' houses. However, swallowing that fear and saying yes is one of the best decisions I have made.
In business development, my role was to learn all about new opportunities for the agency and collaborate with account and creative to develop recommendations and strategies for potential new clients. Every day and every opportunity was a chance to learn and to think critically–my two favorite things to do!
Over the past few years you've moved up at LehmanMillet from business development manager to management supervisor to your current position as VP of the strategy department. Walk us through this professional journey.
While I thrived on the pace and variety of new business, secretly, my goal was to help the agency win enough business so I could return to account management. Always goal-oriented, my plan succeeded, and I took over the two specialty pharmaceutical accounts I'd helped land.
There is much that I love about account management–earning the trust of a new client, digging into the science of a compound, brainstorming new ways to approach problems, and navigating a path through the unknown for the agency. However, time and time again, I found myself drawn to the strategic brand discussions. There was nothing I liked better than to receive a new research report from a client and dig into the data to try to make meaning out of numbers–to come away with actionable insights and concrete recommendations that could move their (and our) business forward.
So in January of last year, when my then-boss and I sat down to discuss my career goals, it turned out we had the same idea–she wanted me to create and head the new strategy department.
I definitely experienced separation anxiety (No more timelines! No more budgets! Why isn't the client calling me?), but this new role is tailor-made for me. I'm working with clients across both our Boston and Santa Ana offices. They are innovators who are introducing new drugs and products that really will change the way physicians practice medicine and the way that patients receive that care.
What are your current responsibilities as vice president of strategy?
On a daily basis, the account teams tap me when engaged in strategic planning with their clients. I come to the table with a deep understanding of the healthcare environment, a ferocious commitment to analyzing the competitive landscape and drawing relevant experiences, and even analogues outside the space. I work closely with our planning and medical departments to develop insights and recommendations for how our clients should position their product, communicate with their customers, and build for long-term success.
I'm still heavily involved in new business too, but most importantly, I help our teams feel comfortable being uncomfortable and to feel confident in saying "absolutely" when the team proposes or the client requests something novel. We call it "figuring out how to eat the elephant"–determining the process for tackling a large unknown. This is something I love to do–drawing on analogues, relevant past experience, calling on outside experts, or just sitting in a room white-boarding until we come up with a smart approach. In doing so, I help the agency and my team members grow and evolve.
Considering you've had a successful career in medical marketing for almost a decade, what would you say is vital for success in this field?
One of the reasons I love my job is that I feel like I to go to medical school every day! The curriculum also includes a big dose of psychology and sociology. It really requires working both sides of the brain–you have to engage with the science and see the story in it. An open mind, willingness to dig into the details, and familiarity with a dictionary (some of those medical terms can be tough!) are vital to success.
It's an agency. We ultimately serve our clients, so you will have to make certain personal sacrifices (read: long hours), but being even a small part of the ultimate effort in the way physicians practice and how patients receive care is absolutely worth it.
You're a mom to an 18-month-old little girl. How exciting! Has your current work routine changed? If so, how? How do you balance career and being a mom?
My colleagues would say that motherhood has softened me. Instead of working until 8 or 9 every night, I leave every day at 6 pm to get home to my daughter by 6:30 pm. And I have learned that the sky will not fall! The few hours I have before her bedtime are so precious. I can always check email and move things forward once she is tucked in.
I still travel 3 out of 4 weeks in a month, but I have become adamant about getting home from trips as soon as I can. This has led me to hone my red-eye strategy: red wine, neck pillow, and socks.
Your career has taken you all over the world, from places like Singapore to Buenos Aires. How do you handle the extensive travel required of you, especially with a toddler at home?
Yes, travel is brutal, but it is also exciting and satisfying. I think I am incredibly lucky to be able to see so much of the world through my work, even if a lot of it is in conference rooms.
I am incredibly fortunate to have my mother and father nearby and willing to watch my daughter when my husband and I have to travel. I also have an amazing partner in my husband, who recognizes and supports my goals. We strive to have at least one of us home with our daughter every night. So far, we have a pretty good track record.
You don't always have to prove that you are smart. You don't always have to raise your hand with the right answer to the question.
What advice do you have for Everygirls who are trying to balance career and family?
Sometimes, after I've taken my 3rd red-eye of the month so I can get a few extra hours with Lila, I wonder if I'm a little crazy. However, I know I'm modeling for her how wonderful it is to pursue something that you love. That knowledge helps me through the bouts of "mommy guilt." I cannot wait to discover who my happy, prone-to-running, sociable little toddler will become. I believe that she will admire the woman I am continually becoming.
Where do you hope to be, both professionally and personally, in five years?
Establishing the strategy department at LehmanMillet has been a terrific ride and a bit exhausting. In five years, I hope that the agency will have grown by leaps and bounds, and with agency growth, the strategy department will have also expanded and deepened. Red-eyes may always be part of my travel plans, but I would love to give younger women opportunities to shine, just as my mentors gave me those chances.
What advice would you give to your 23-year-old self?
You don't always have to prove that you are smart. You don't always have to raise your hand with the right answer to the question.
Kate Booth is The Everygirl…
Coffee Order?
Skim hazelnut latte, extra hot.
If you could have lunch with any woman, who would it be and what would you order?
Marissa Mayer. I would love to hear how it is REALLY going at Yahoo and how she is handling motherhood. Greek chicken salad. (Of course, all my coworkers could answer this for me, since I eat one at least four times a week, but I bet wherever I had lunch with Marissa would have a truly delicious version).
Next personal goal you want to accomplish?
Selling my house. We (read, my daughter) have outgrown our condo, so we need to buy a real house, with a big playroom and backyard for her to explore.
Describe your perfect day off.
My daughter sleeps until 7 am (maybe 7:30!). We get up, and I take her for a run with me (thank you, jogging stroller!). We meet my husband for coffee and walk home together. After a nap, we get lunch in our town center and stop by the children's boutique, shopping for my daughter (how times have changed). After a stop at the park and the market, my daughter goes down for her afternoon nap, and I get my toes and nails done, allowing me to catch up on my New Yorker reading. I meet my husband and daughter for a drink at a local restaurant (our daughter is known by name at more than a few of them), then go home to cook a delicious dinner (New York Strip medium rare) with a glass or two of Malbec. After my daughter goes to bed, hopefully, I stay up long enough to catch up on DVR: currently full of Mad Men, Game of Thrones, and Veep.