Minimalism is one of those things that looks easy to achieve. Clean lines, neutral palettes, and simple features. How difficult could it be, right? If you're an Everygirl who's tried her hand at interior design–on any level–knows that's hardly the case. "Where do I put all of my belongings? What do I do with all of the clutter?"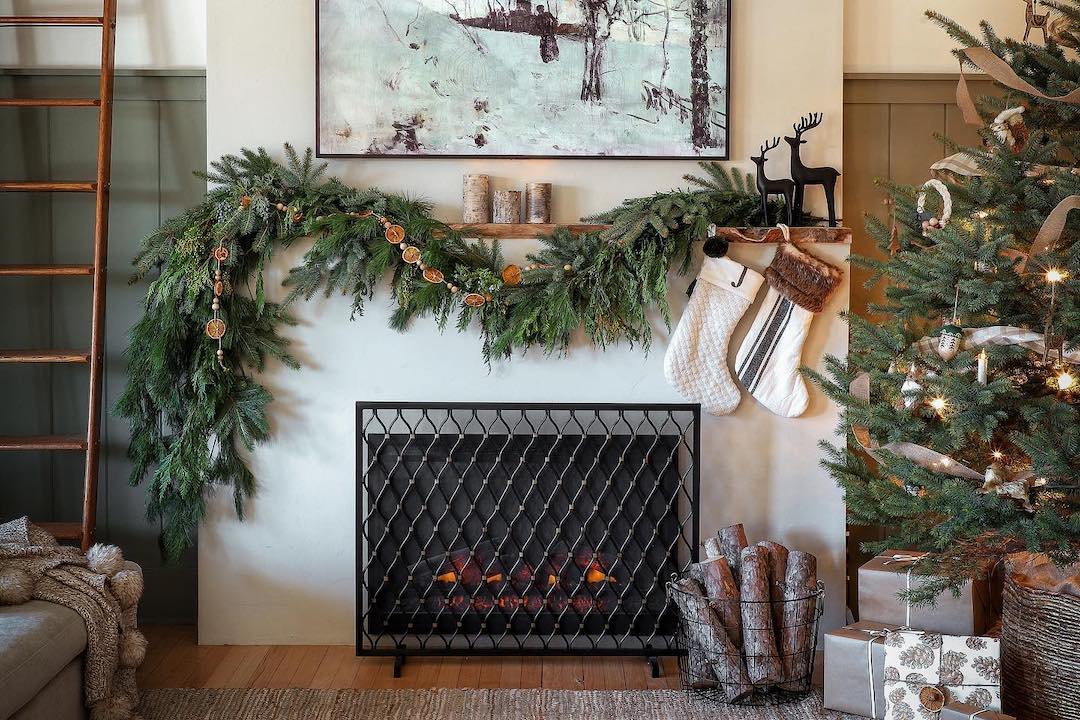 there's still time to deck your halls
Not Kate Davison. She does it right. Her home is a minimalistic dream, but by no means empty. Filled with rustic touches and hearty furniture, this San Francisco apartment is a breath of fresh air. Subtle pops of color perfectly contrast the crisp white walls. And for a girl who's never lived more than 20 miles away from her hometown before now, this Georgia peach did a pretty flawless job creating a new home a coast away. Ironically, she credits packing her truck up with pieces of décor from her family that made the transition smooth. "There was just something nostalgic about waking up in a foreign city but still surrounded by familiar things." Exactly. She's also has us rethinking the old family heirloom pieces that our mothers tried to push on us, but we couldn't bring ourselves to save. Sorry, mom. 
Previously an archivist and now exploring creative roles at a start-up, Kate has a resume anyone would envy. So read on to find out more about Kate, enjoy this peek around her lovely abode, and hear her advice on finding the perfect decor. Oh, and Kate claims the clutter is hidden somewhere, but we don't believe her.
Full Name: Katie Lane Davison
Age: 33
Location: San Francisco, CA
Current title/company: Executive Assistant/Marketing Coordinator, Mashery, an Intel Company
Education: BA in History and English
What was your first job out of college and how did you land it?
For my first job out of college, what started out as a post-college job (to justify my having spent four years studying history) actually turned out to be a fabulous position where I restored and digitized decades of vintage photos and documents. I worked as the Executive Archives Administrator (or archivist) for a private family in Atlanta, GA – I found the job in an ad in the actual newspaper (pre-Craigslist!)
You moved from Atlanta to San Francisco with no job, a little bit of savings, and a whole lot of dreams. Tell us about your decision. What was the hardest part about the starting fresh?
A few years ago, I had just turned 30 and had never lived more than 20 miles from where I was born and raised.  I thought it was high time and I started living my life for me and following my own dreams, one of which was breaking out of my hometown and moving to San Francisco. The hardest part was definitely leaving my family and friends, but I knew I needed to make the leap on my own, and fortunately everyone was super supportive. Once I had made the decision, it only took four months to sell everything I owned. I was quite literally purging my old life to start a new one. So I packed the rest on a truck, kissed my dogs goodbye, and headed to the west coast.
You found a job within two weeks of your move! What was essential to landing the position? What do you love most about working at a start-up?
As much as I loved being an archivist, I knew my chances of finding another role like that were slim. So I reached out to a recruiter who understood my background and was great about listening to my wants and needs. I had this idea that I wanted to work for a start-up and figured since I was in San Francisco, that should be easy enough. I had no idea how competitive the field was! Luckily I was placed as an Executive Assistant at a great company with awesome employees, some of whom I consider close friends. We were acquired by Intel about a year into my position, which has lead to even more opportunity. I am now transitioning into a more creative role within the marketing department and am really excited about the changes to come. Working at a start-up, and now an organization within an enterprise, has allowed me to work with some of the brightest and most creative people I've had the pleasure of meeting. Their energy is contagious and it makes me want to try harder every single day.
After your move, you found an apartment with mutual friends. But now you call a one bedroom flat home. Do you rent or own? We all know San Francisco has some of the highest housing in the country. Was it difficult transitioning to co-habiting?
I currently rent an apartment with my boyfriend. We were so lucky to have found such a beautiful apartment in a great location, which made the transition of moving in together so easy and rewarding. Although housing can be out of control in SF, we totally get what we pay for! I think coming home to such lovely home every day makes up for any increase in rent.
The clean, yet rustic decor in your home fits the vintage design perfectly. Did you have a specific vision when you moved in?
When I moved to California, I brought a lot of family pieces with me because I wanted to feel at home immediately.  There was just something nostalgic about waking up in a foreign city but still surrounded by familiar things. I always wanted mine and my boyfriend's new space to reflect both of us, and there were definitely some compromises, as with any couple newly co-habiting. I think in the end, the vision is clean and simple, and we both share a basic aesthetic.  I honestly couldn't have asked for a more perfect background for all of our belongings.
What was on your checklist when designing your apartment? What were your must-haves, in terms of furniture and accessories?
I had this list of "must-haves" when I was looking for an apartment. I admit my list was little unreasonable (fireplace, parking space, hardwood floors, open shelving, claw foot tub, etc.) so you can imagine my shock and awe when I walked in to view our apartment. It had everything I was looking for! As far as furniture goes, we only lacked two of the most important pieces – a couch and a dining table. I knew we were on a pretty tight budget, having just paid for the deposit and the movers, so I scoured Craigslist and local thrift stores. The accessories came a bit later, and I still keep an eye out for that perfect white piece for the mantel or other little knick-knacks for the open shelves in the kitchen. But even some of those still get phased out as we continue to explore a sense of "our style" as a couple.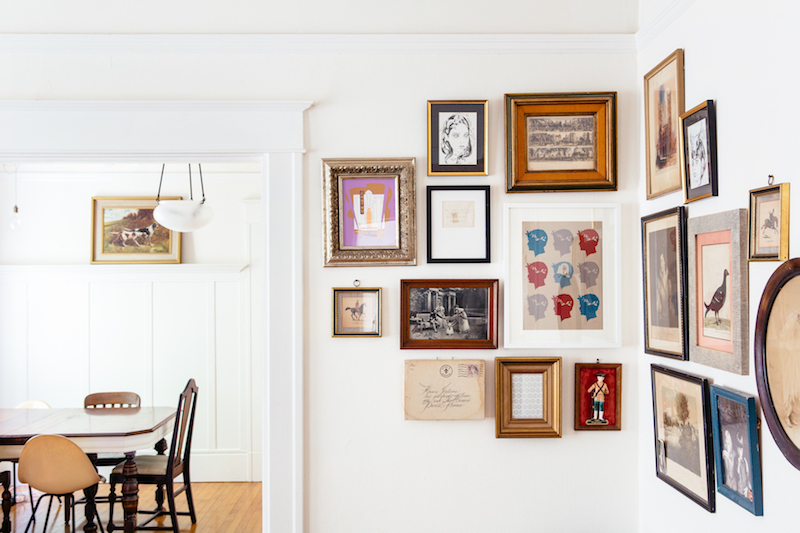 Are any of the items in your home DIY or thrift store finds? Did you have a budget?
I scored so many great pieces when we first moved in.  I found our dining table on Craigslist for just $45, and it has been the perfect piece for the space, as well as for our crafty weekend projects that are usually scattered all over it.  I don't get nervous about scratches and spills because it was so cheap, and really the new dings only add more character. The dark table felt so heavy in comparison with the other furniture in the apartment, so I painted a band of white around the edge to break up the scale. Sometimes it only takes a small amount of work to transform an unassuming piece into something that fits both your style and budget. I found our bookcase and our picnic table at the local thrift store, both for under $50. The bookcase was in great shape and only needed new knobs, but the picnic table required a little bit more work. It was originally barn red, which I quickly covered with a coat or two of grey. It only came with one bench, so I make up for the lack of seating by bringing out mix-and-match chairs from the dining room.
What items for the home would you say are most important to invest in? What items do you recommend saving on?
I think if you are going to spend a good deal of money on one piece, it needs to make a statement.  My biggest investment so far has been my custom couch, which was made locally here in SF. I went back and forth between grey and blue for the color, but I am so pleased with the final look. Everything else is so neutral and I needed the pop of the blue to complete the room. The layout of my apartment is very fluid and one room leads to the next, so I have to keep all of the rooms basically decorated the same. The benefit of this is that I can always rearrange the space to keep things interesting. I think the best way to save money is in the details. Take for instance the ribbon on my bedroom door. It's simple and sweet and it was just a remnant from a BloomThat arrangement I received from my best friend.
The space feels and looks so minimal, without looking empty. Any advice for keeping clutter at bay?
The clutter is there; believe me, it's just hidden quite well.  There is only one closet in the apartment, so I use a lot of old trunks and suitcases for storage that fit right in with the décor.  You would never know that one of them holds all of my craft supplies, and another has my power tools and paint cans inside. I also think that having super organized closet space and under the bed storage helps a ton. Having open shelving in the kitchen can be a little intimidating, as you need. You want to have everything appear orderly and appealing. For that, I, so I just store the essentials that aren't pleasing to the eye, like cereal boxes and Tupperware, in the lower cabinets, and use fun canning jars and containers for the rest. I try to keep true to the old saying, "a place for everything and everything in it's place."
What do you love most about living in San Francisco?
I truly love the weather in San Francisco – it's a big change from the humidity in Georgia. Fall was always my favorite season in the South, and it feels like fall almost every day of the year here. Living in the Mission has also been a plus because even though most of the city is covered in fog, it's normally bright and sunny here. The location has also made life so much easier. My apartment is just a few blocks from the train station and within walking distance to hundreds of great restaurants and shops.
You mention you've got something amazing in the works that you're passionate about! What are your current career aspirations? Where do you see yourself in 5 years?
I am excited about where I am for now, but would love more than anything to explore a position where I am able to integrate my love for archival theory and design. Having the support and the help of other creatives has really inspired me, and hopefully I will be able to launch my own little side business one day soon. I think it's really important to love what you do, no matter the obstacles.
Kate Davison is The Everygirl…
Morning or night?
Morning. Early to bed, early to rise.
If you could meet any woman for lunch, who would it be and what would you order?
I would take Jane Austen out for one of my favorite fancy grilled cheese sandwiches.
Guilty pleasure?
Uber. I don't have a car in the city and most of the time I can't be bothered to take mass transit. I depend on them almost daily. I oftentimes take an Uber home from the grocery store, and even had Uber deliver my Christmas tree last year.
What advice would you give your 23-year-old self?
Things aren't always as they seem. You will make mistakes. But it's up to you to learn from them. Travel. Explore. Adventure. Repeat. And just remember, pace is the trick.
This article was originally published on July 30, 2014.