It's the age-old vocational dispute: follow the artistic dream, or get a "practical" job? Katherine Corden — exquisite painter and physical therapist — is living both lives and thriving, thank you very much. Her Chicago apartment in Lincoln Park is an oasis for her artistic self, complete with a painting nook, walls covered in her art, and her boyfriend's expansive record collection. Oh, and did we mention it's only 600 square feet? Read on to see how she's striking the professional/passionate balance and turning her small space into the eclectic home of her dreams.
Name: Katherine Corden
Job Title: Fine Artist and Physical Therapist
Location: Chicago, Illinois (Lincoln Park Neighborhood)
Sq. Ft.: 600
Rent or Own: Rent
Years Lived In: 1
What was your first job and a transitional skill you learned from it?
I'm actually still at my first physical therapy job! I've been here for almost two years. I work at a state hospital on the inpatient acute care floors. I'd say the strongest skill I've developed since working here is my interpersonal communication. In order to best serve my patients, I need to establish expectations for physical therapy, educate them, build good rapport, and communicate with other health care providers. These experiences have helped me manage complex and uncomfortable situations in the hospital setting, my art business, and my personal life. They've also given me great perspective. I've realized that rarely anything is as urgent or critical as it is in the hospital setting. This mindset has really helped me know when to take a step back in my art business and personal life when I find myself stressing over silly things.
Maybe most importantly, I'm not afraid to ask for help and guidance. I've had fabulous peer mentors at my hospital and fabulous peer mentors in my art business, and maintaining and growing those relationships is critical for success no matter what area you are working in.
You're an artist and a physical therapist! What does that balance look like for you?
Lots of coffee and weekends working! Ha. But really, so much has changed these past few years that my "balance" constantly looks different in each season. I started my physical therapy job and art business around the same time, and as my business has grown, so have my dreams. My fiancé and I are also planning a move to Madison, Wisconsin this summer for his job and planning our wedding in August *takes another shot of espresso. Trust me, I'm not as balanced as it might appear on social media! We are busy, but busy with all good things.
I will say, since starting, I've spent a lot of time educating myself on ways to be more efficient and productive. I batch my work tasks and listen to lots of business podcasts on my commute. I'm lucky that my physical therapy knowledge has equipped me with lots of self-care skills. I prioritize exercise and eating healthy because I know the impact it has on my mind and body. I make sure to see my friends at least one day a week. I never charge my phone in our bedroom. I could be better at using my meditation app. My biggest weakness is definitely staying up too late… I tend to burn the midnight oil from both ends. At the end of the day, I try to give myself grace and remind myself that I am enough, right where I am. It's okay to stop what I'm doing and enjoy the present moment — do something different. Lately Dave has been teaching me how to play the ukulele. It's my new favorite mental break.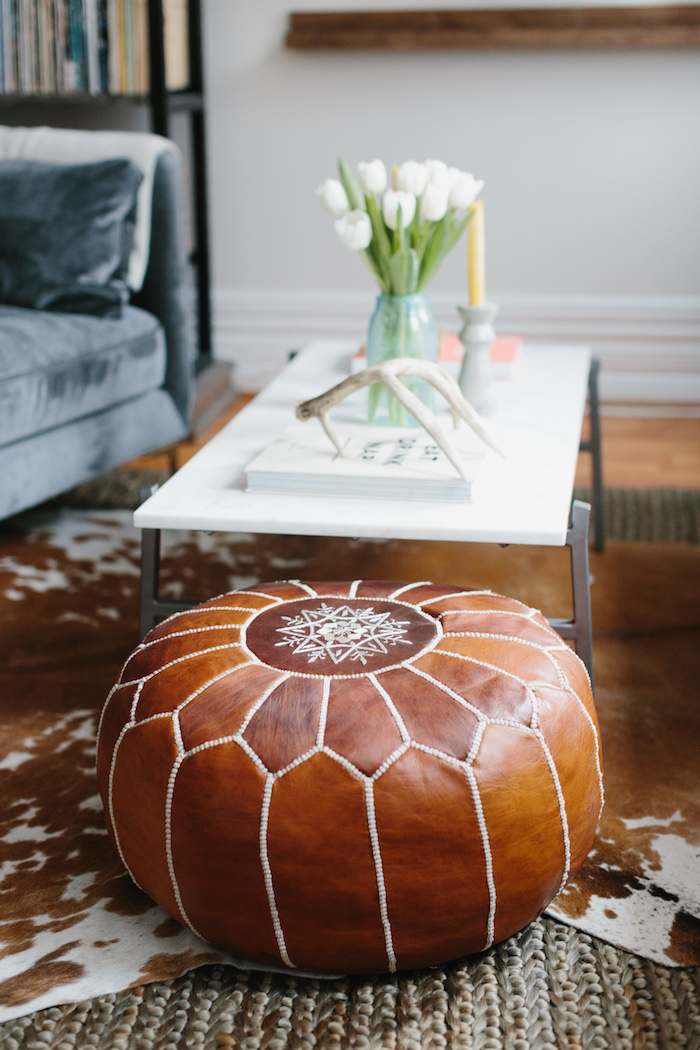 What factors went into you choosing this as your first home together? Were there any specific factors you were on the hunt for?
I've only ever lived in walk-up style apartments — they're just so charming to me. We don't own a car, so we wanted to live in a walkable neighborhood close to the L for work. In terms of the interior, I wanted hardwood floors and lots of natural light to paint. Ideally something with original character. Our apartment definitely needed sprucing up, but everything was fixable. Plus — oftentimes landlords are more open to you personalizing the space when it's not in the best condition to start with. We ended up repainting the entire place white. We replaced the blinds and cheap closet doors with curtains. We scrubbed the entire place down including the windows. We made our own shelves to take advantage of our high ceilings, compensating for our lack of square footage. Nothing we did broke the bank, and it has made a world of difference.
It seems like you and Dave have both of your passions featured in the space — your art, his music. How did you make the choice to dedicate a segment of your fairly tight square footage to these things?
Thankfully both our passions can be hung on walls! The 10-foot tall ceilings were a major selling point. We made all the wooden picture shelves and they are perfect for my rotating art collections as I finish paintings and sell them off. I'm also lucky that Dave's guitar collection (and Dave) is so handsome. One wall of our living room is completely dedicated to his guitars, and I love the way it looks. His record player and record collection live on our bookshelves. In our entryway, we framed four of our favorite album covers in a grid. I tend to lean more towards "form" and Dave definitely prefers "function," so I feel we've balanced form and function well in the way we use our passions to decorate.
Making these passions easily available to us has created a home that encourages us to continue pursuing these gifts on a daily basis. His music and my art are such a big part of who we are — without them it wouldn't quite feel like home. I'm constantly working on my art, Dave pulls an instrument down to play at least once a day, and we listen to records instead of a TV. We live for art and music — and each other.
You're particularly close to your parents and immediate family. What influence did their home have on how you designed your own?
My mom is an art teacher and my dad loves woodworking. They each share a love for interior design, home renovation, and creative expression. Growing up, my sister and I used to tag along with them and their friends to antique stores and help with home projects on the weekends. When they renovated their kitchen, I was ten years old and I used to sit at the dining table next to the architect and watch them draw up plans. When I was in high school, they bought a fixer upper cottage in Northern Michigan and completely gutted and renovated it themselves. Since then, both of their houses have been on multiple walking home tours. They are my personal version of Chip and Joanna Gaines. Their homes are beautiful yet approachable. They invite you to land on the couch, feet in the air with a dog to pet nearby. Watching them create homes together is both "home décor goals" and "relationship goals." I hope our apartment sends a similar vibe — it's not quite large enough to host a large family holiday, but we love having friends over for pizza and wine. Our living room is set up to seat at least eight people in a moment's notice — we have a large leather couch, love seat that fits two, a pouf hidden under the coffee table, and two chairs tucked away in the corners. We want you to feel like you can hop on the couch and stay awhile.
We love how eclectic and warm your home is — where did you get the inspiration for this look?
Thank you for calling our home eclectic and warm! I like to think of myself as an eclectic and warm person, so my personality might be shining through. I've learned from my parents that much of the enjoyment of creating a home is slowly taking time to collect pieces that really speak to you. If you rush a decorating process, it might feel dated very quickly, and you don't want to end up regretting an expensive purchase. I love reading home décor blogs and have a collection of art and interior decorating coffee table books. I take note of little things I like and try to integrate them into my own style. I think northern Michigan will always show through a bit with my style sense. I spent a lot of time growing up there and the casual and natural vibes feel very true to myself. I've tried to integrate that style into our Chicago apartment. I have a wild mind, but I like to think my disciplined eye helps keep everything cohesive.
Where do you get your favorite pieces of furniture or decor accents?
The summer before I went to physical therapy school, I worked at a boutique furniture store and interior design company in northern Michigan called Betsie Bay Furniture. I don't think I made any money that year because every paycheck went towards a piece of furniture with my discount. The shelving unit in our living room, the pendant light in our kitchen, my wooden dresser, and many other accent pieces are from there. My other favorite pieces are things we've made ourselves. The frame in our kitchen and frame in our bedroom were sidewalk sale finds that we re-purposed and turned into a chalkboard and headboard. The eating nook in our kitchen is an old desk I made with my dad from reclaimed wood.
With only 600 square feet and two people, your space could get pretty cluttered pretty quickly. How important is organization for you?
Organization in small spaces is key. I have a board on Pinterest called "tiny apartment inspiration." You'll notice we have a lot of baskets, jars, and shelving units. Everything in the containers might not be super organized, but they are an easy way to clear up the clutter, and shelves get things off the floor. I often work from home when I'm working on my art (painting is messy enough on its own!), and I can't focus unless I'm in a clean space. It calms my mind.
Did the small space provide any surprises or challenges while you were making it your own?
Our bedroom is only 7' x11'. I mean, there are walk in closets bigger than that! Trust me, there is no bedside table that exists that will fit in a space that size — I've done the research. A headboard and footboard would have just made the space feel more restricted. We ended up making our own bedside shelves with some pipe and wood from Home Depot. Our DIY headboard helps define the bed without adding extra bulk.
How would you define your design style? Which part of your space reflects that most?
I'm constantly refining my style, but it will always be eclectic, artistic, personal… a little bit rustic, and always cozy. I told you, I'm constantly blending bits of inspiration! The corner of our living room near my art studio reflects this best. There is a grey wooden chair with an eclectic purple cushion and a ukulele hanging over it. We added curtains over the art studio entryway to add some warm texture and define the spaces, but they are always open and inviting.
Was there a moment when you were decorating that you finally felt like this was your home, and not just a space where you lived?
After putting all the work in our selves to fix it up, it really felt like it had our own hands in it. Once we put the final toolbox and paint can away, we sunk into our new couch admiring our hard work and it felt like home.
What advice would you give to your 22-year-old self?
You do you. It's easy to get caught up in what people around you are doing or saying. Decide what it is you want and stay in your own lane. Enough grit and determination will get you further than you can imagine. Oh, and smiling. Smiling helps.
Katherine Corden is The Everygirl…
Last item you splurged on?
A summer dress from Christy Dawn
Favorite restaurant in Chicago?
Stella Barra for pizza followed by one of those cookies the size of your face from their little bakery.
Last show you binge watched?
Gossip Girl (again)
Favorite item in your closet?
My denim overalls from Madewell (90s girl forever)
If you could have lunch with any woman, who would it be and why?
My sister. She's in her first year of medical school at UVA and we miss each other terribly! We also have similar taste in food so going to lunch is always fun.