After years of working in the live music scene in the ever-so-vibrant city of Austin, Texas, Katie Taylor found herself wanting more time to pursue her passions outside of work. An opportunity presented itself and before she knew it, she had traded in her "concert tees for pencil skirts" and took a job working for the state government as an executive assistant. As a self-proclaimed lover of scheduling and organization, this career switch was a perfect fit.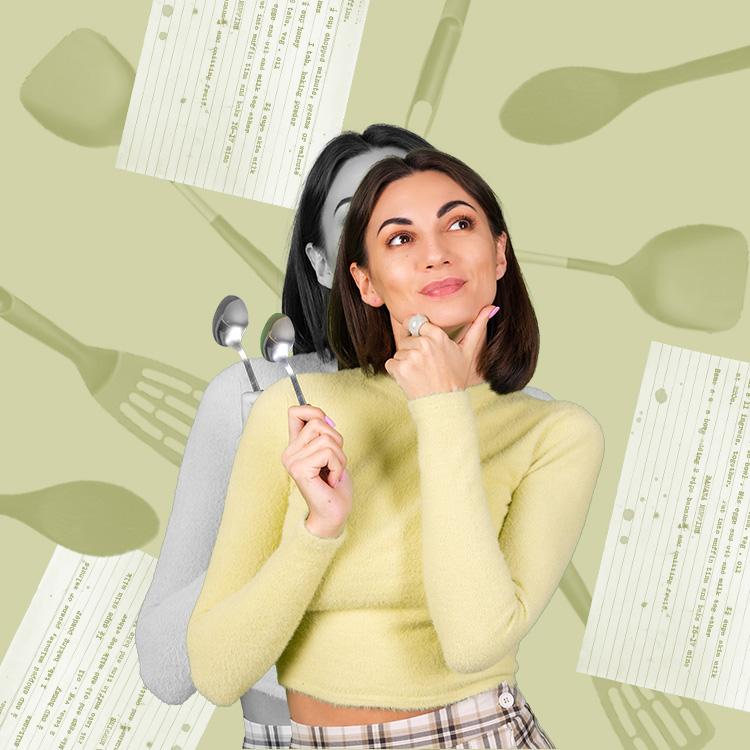 high in protein, good for gut health, and anti-inflammatory? yes, please!
After purchasing her first home on the outskirts of downtown Austin (partially based on its close proximity to Target—our kind of girl!) Katie's passion for decorating began to grow, and she's since transformed her townhouse into an inspired place to call home. After multiple paint jobs and plenty of home decor bargain hunts, Katie is taking us on a tour through the place that she attributes as the catalyst for her most recent career goal: building a business where she is able to design, style, and transform homes for others full-time. And if her own home is any indication, we'd say her new small business will be a wild success!
Full name: Katie Taylor
Age: 31
Current title/company: Executive Assistant [State Government] + Lifestyle Blogger
Education: B.S. Communication Studies, University of Texas at Austin
What was your first job out of college and how did you land it?
I was the Event Planner / Fashion Show Coordinator / Editorial Assistant / Photo Shoot Stylist [can you tell I didn't have a specific title?!] for a local Austin lifestyle magazine. Just before graduation, an alumna in my sorority reached out to me to let me know that her son-in-law had just published the first issue of his new magazine and that I "looked like I liked to shop," and she thought maybe I would be a good fit. He already had a full-time editor, photographer, and graphic designer, so I came in as the "everything else" person. It was such a wonderful experience, and since I had so many different responsibilities, I was able to figure out what I was really interested in. Plus, I was able to meet so many local business owners and build a great network of Austin creatives.
You worked in and around live music for 10+ years. Tell us about the time in your life! What were your day-to-day responsibilities? 
I started interning in the music industry, in the Texas country genre, while I was in college, working for a local agency. I later co-produced an event with that same agency while I was at the lifestyle magazine and was quickly reminded how much I truly loved working in live music. I then returned to the agency and headed the artist publicity sector of the company and booked radio tours, artist interviews, and wrote more press releases than I can count. Next, I took a talent accounting position with one of the nation's largest concert promoters.  I was fortunate enough to travel and work at music festivals all over the country [Lollapalooza, Austin City Limits Festival, Wanderlust, etc…] A major highlight was being able to work and be a part of the grand opening of the Cosmopolitan in Las Vegas, which was an intimate 3-day event headlined by Coldplay, Jay-Z, Beyonce, Kanye West, and John Mayer [cue: head explosion!].
So, what led you to making a drastic career change?
Despite all of the amazing opportunities I was given in the music industry—and that being the only business I really knew—I still hadn't found 'that thing' I was truly passionate about. A friend had an open position at the Capitol, so I took a chance and traded in my concert tees for pencil skirts. [Hey, it was a good excuse to buy a new wardrobe!]
What are your current job responsibilities as a state government employee? How do you manage to blog and take on styling clients at the same time?
I mainly do scheduling, which is perfect for me since I love a well-organized calendar! Unlike working in the music industry, this isn't a job where I have to "bring work home," so once I'm out of the office I'm able to focus on blogging and other creative projects. I try to meet with clients or prospective clients during my lunch breaks, and evenings and weekends are pretty much dedicated to crafting, styling, photographing, blogging, and sourcing items for my Etsy shop. I would be lost without my ever-growing 'To Do' list and my Google calendar!
How did you first become interested in home styling and decor? What are your favorite sources for inspiration?
For as long as I can remember, I've always been interested in home decor and making spaces "pretty", but it wasn't until I bought my house that I recognized how passionate I was about it. I read a ton of blogs and scour Pinterest and Instagram for inspiration. Two of my favorite sources of inspiration at the moment are Jamie Meares' isuwannee and Emily Henderson's Style by Emily Henderson.
You also started your blog, Spray Paint and Chardonnay, after becaming a homeowner. What were your original intentions for the blog and how have they changed since it first began?
I originally started blogging as a creative outlet and a way for me to show my family and friends, "Hey! Look what I spray painted!" When I started, it was more of just a journal and I think maybe all of five people read it. It wasn't until about a year and half ago that I really started to take blogging seriously and realized that it was something that I wanted to turn into a business. And now all of my photos are taken on a DLSR camera and edited in Photoshop as opposed to the iPhone 3 I used when I first started.
Let's talk about your home! You currently live in an Austin townhome that you bought in 2009. What sold you on purchasing this particular home?
My poor realtor must have shown me over 100 houses, and I finally landed on this one. I was looking for something that wasn't going to require too much work, yet was still customizable to my style. I took a risk and bought something a little further from downtown Austin than I originally wanted, but at the rate Austin was growing, I knew it wouldn't be long before everything started moving out this way as well—luckily, I was right! Other contributing factors were the fact that it's minutes away from the best Target in town and it has a ton of closet space.
How has your home changed since you first purchased it? Did you have to undergo any major renovations? 
It's certainly seen a lot of paint jobs! Luckily, I haven't had to do any major renovations, but I've painted every room and bathroom [some even twice] and have had all of the cabinets painted as well. A couple of years ago, I replaced the backsplash in my kitchen and had the cabinets painted white. My living room, dining room and kitchen are pretty much one big open area, so that small change completely transformed the entire space. All in all, I would say that my style has been the thing that's changed the most over the years, and it's fun [and funny] to look back at old pictures and see the evolution.
How would you describe your personal decorating style?
Colorfully eclectic. I've always said that I'm a little bit country and a little bit rock n' roll, mainly due to my work history, but I think it's translated into my decorative style as well. I love mixing rustic with modern and the old with the new. I certainly realize that my style isn't taste, but that's what makes personal style 'personal.' My space makes me happy.
Where did you shop for the items in your home? What are some of your favorite pieces?
Everywhere! A majority of the pieces came from antique fairs, markets and estate sales, however I also love Four Hands Home [a hometown favorite!] and HomeGoods. A couple of my favorite pieces are the antlers above my bed [my dad had shot a mule deer earlier last year and gave me the mount for Christmas—I had to spray paint them gold, obviously] and my autographed Willie Nelson guitar, which was a gift from a friend. I love having a collected home, as it tells a story and constantly reminds me of my favorite moments and people.
Tell us how you've decorated on a budget. What home items are important to invest in? What items do you recommend saving on?
As I previously mentioned, most items in my home were purchased at antique markets or estate sales, therefore I was able to score them at a deal. I also love a good outlet mall and IKEA! I believe it's important to invest in pieces that truly speak to you and that you know you'll have for a while—if not forever—whether they be large or small. At one point, in my living room, I had $200 throw pillows next to a $25 coffee table. Today, I still have the throw pillows and couldn't tell you where the coffee table is. I consider myself to be extremely budget conscious when it comes to my home, but when it comes to things I just 'can't live without,' I say spend the money. Small accessories and super trendy furnishings, pinch your pennies.
What do you love most about living in Austin? What are your favorite things to do in the city?
I can't say enough good things about Austin. It's constantly growing and changing, yet it remains to be the same laid-back, come-as-you-are city that I fell in love with 13 years ago. I love that you can go to a five-star restaurant in cut-off shorts and the fact that there's literally live music on every corner. Austin's food scene has exploded over the past few years, so I love checking out new restaurants with girlfriends—particularly for Sunday brunch.
What advice would you give your 23-year-old self?
To just go for it and to believe in myself. At 23, I was still figuring out what and who I wanted to be when I grew up, as most mid-20 somethings were. Deep down, I always knew I wanted to make something on my own, but it's taken almost 10 years for me to finally put the faith in myself to get it done. Over the past few months, it's been amazing to see what faith and effort will accomplish, and it gives me great hope to see what the future will bring!
Where would you like to see yourself in five years?
Within the next year, I plan on going into business for myself—a combination of blogging, styling, event planning, and perhaps even Etsy [maybe have my own online retail site?!]. It's hard to say where see myself in five years, but I can just hope I'm happy, creating, and that I have a glass of wine in hand.
Katie Taylor is The Everygirl…
Dream Job?
To co-host either the third or fourth hour of the Today Show. I'm obsessed with the Today Show and often find myself talking about the co-hosts as if they're my real-life, serious friends [weird, I know…but what's up Willie and Tamron?!]  After working mornings at 30 Rock, I would then head over to the home decor boutique that I own—that has a wine bar in the back. Obviously.
Flowers or Chocolate?
Flowers! Peonies, preferably [cliché, I know].
TV show you wish was still on the air?
The Nate Berkus Show—I loved that show [and Nate!] so much that I DVR'd it every day while I was at work, and I even made a 24-hour trip to New York to be in the audience. RIP.
Best way to blow off steam?
Shopping is definitely always a quick fix, but I also love to craft and DIY. There's something about making something from scratch [that's not food—I don't cook] that's therapeutic for me. Oh, and wine. Wine's a good way to blow off steam too.
If you could have lunch with any woman, who would it be and what would you order?
Kathie Lee Gifford and Hoda Kotb [can I pick two?!] and a heavy pour of Sauvignon Blanc.