If you're dreaming of a frothy, sweet Christmas replete with soft pinks, creams, and greens (and a gorgeous flocked tree), then just wait until you lay your eyes on yoga teacher, actor, and blogger Kristen Garaffo's Maryland apartment. Her subtle decor feels calming and serene, just what we all need after a chaotic 2020. Bottle brush trees, twinkle lights, and greenery covered in snow dot the apartment, making everything feel cozy and warm.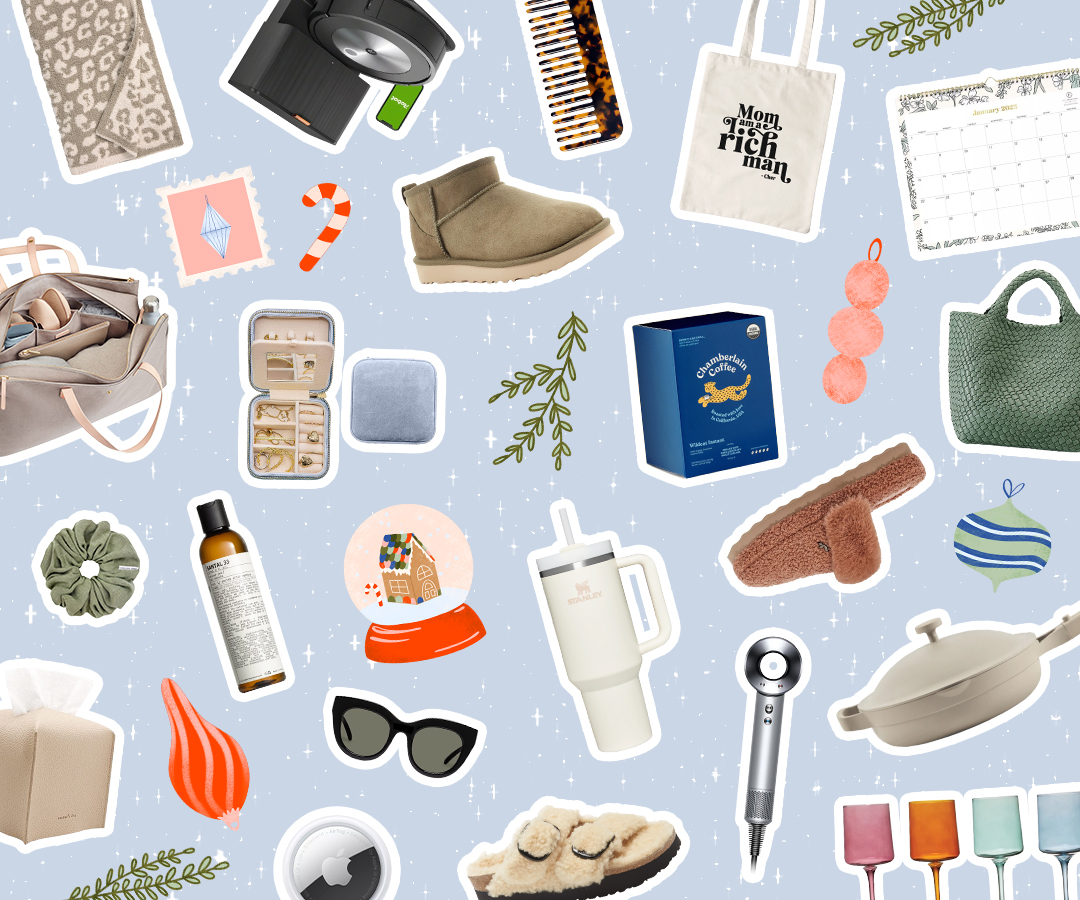 With hundreds of thoughtful gifts, you're sure to find something for everyone on your list!
Kristen gave us the inside scoop about her decorating process, most-loved holiday traditions, and best advice for decking the halls in a small space. Read on for some major inspo.
Name: Kristen Garaffo, Yoga Teacher, Actor, and Blogger
Location: Gaithersburg, MD
Sq. Ft: 734
When do you start decorating for the holidays?
I start in November! Especially this year, since my husband and I are spending more time in our home than ever, we wanted to enjoy our Christmas decor for as long as possible!
Tell us about your holiday decorating process.
We are living in a new apartment this year, so the first thing I did was decide where I wanted to decorate and sort through all of the decor we already had. I have a Pinterest board and am inspired by a few home bloggers I follow on Instagram as well! Deciding on a color scheme is also important. I want to find decor that will go with the decor I have in my home year-round. I was definitely browsing all of the Target decor as soon as it was online!
How do you budget when it comes to decorating seasonally? (Things can get expensive for such a short time of the year!)
It's so helpful having a plan before any purchases are made—knowing where I want to decorate and using the decor I already have helps me to not overspend. Whenever I'm making new purchases, I ask myself if I love it, if I know where it's going, and if it will last for years to come. I use this for any purchases I make, actually—it helps me to stay minimal!
Where do you shop for holiday decor?
Almost all of mine is from Target! I also did some DIY stuff this year. I am very proud of my pom pom wreath—I made it myself! My ornaments are sentimental, as they are mostly gifts from friends and family.
Do you have any holiday traditions that are special to you?
The food we eat over the holidays is really special—and eating it with family, of course. We always have lots of different cookies to try, cinnamon rolls on Christmas morning, and lasagna and meatballs for Christmas Eve dinner! Our Christmas Day is very chill: we open gifts in the morning, have a big breakfast, and usually see a movie in the afternoon. We spend the holiday at my parents house. It's the house I grew up in, which is also a really nice tradition.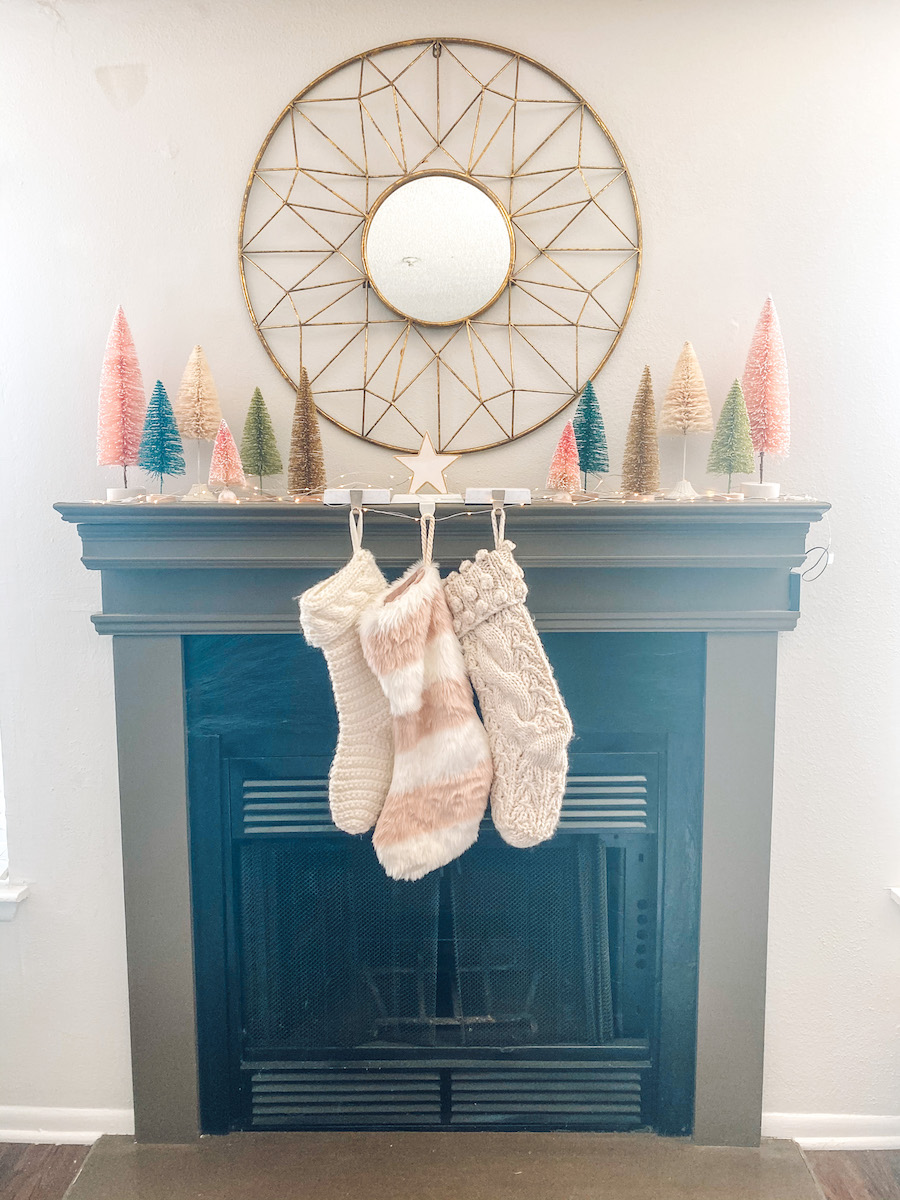 Do you have any tips for readers who may live in smaller apartments (and who are on a budget) who might not be able to decorate to their heart's desire?
Twinkle lights are an easy and cost-effective way to make your home feel festive and cozy! Especially since the days are shorter, we have lots of twinkle lights sprinkled around our living room, we turn them on around 4 p.m. and keep them on 'til bedtime. There are so many ways to make your home feel festive without decor too. Playing Christmas music in your home, lighting a holiday candle, baking cookies, or watching Christmas movies will always put me in the spirit.
Do you have a favorite ornament on your tree?
I have an angel ornament that says "Live Your Dreams" on it, and I love her. I actually keep her out all year long—when she's not on the tree, she hangs on my jewelry stand.
What's your favorite piece of holiday decor that you own?
I love my flocked tree. It looks so pretty in our living room! I also love my homemade pom pom wreath, especially on my pink door!
How are you adjusting your celebrations this year?
Our celebration will be smaller this year; probably just my parents, my husband, and I. My brother usually flies home from LA, but he'll be staying in California this year. I also usually perform in A Christmas Carol at Ford's Theatre in DC, but the production was canceled this year due to COVID-19. Not having my seasonal job is a bummer and has drastically changed my holiday schedule, but I am grateful to have more time at home!
Kristen Garaffo is The Everygirl…
Hot chocolate or hot cider? Hot chocolate
Favorite Christmas song? All of the Charlie Brown Christmas album
Favorite Christmas movie? Elf!
Favorite holiday treat? Christmas cookies!
A small business you love: Lindsay Letters art is all over my house, as well as Lori Portka's art!
The best gift you've ever given? My dad had a mug that had a picture of my younger brother and I at a pumpkin patch when we were kids for the longest time. The picture started to wear away until you couldn't tell what the picture was anymore, so we got him a brand-new one 10 years later! We also recreated the picture as adults, and recreated other childhood photos too. It made everyone cry—that was a good Christmas 🙂
What's at the top of your Christmas list this year? I was obsessed with The Home Edit when it came out on Netflix, just like the rest of America (haha!) and would love some organizing supplies to give my closet a makeover!