Creativity is everywhere — while some of us find it in our weekend hobbies, Kristin Corrigan expresses it in her everyday life. Along with her role as an event manager and wedding planner, she's the founder of Kristin Corrigan Styling & Events and is no stranger to celebrating life's special moments — and the details that make them extraordinary.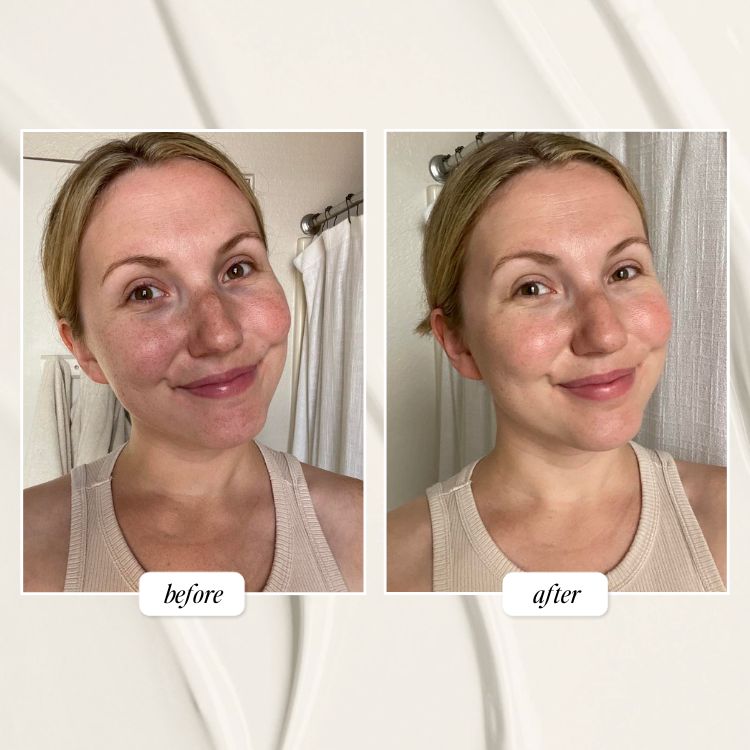 With her passion to plan memorable events for others, she's also working on some milestones of her own — such as buying her largest home yet. Based just outside of D.C. with her husband, Kristin invites us into her space full of natural light and a bathroom that made us gasp. Here, she discusses her design style, her favorite room, and her tip on how to incorporate different textures into your home cohesively.
Name: Kristin Corrigan, Interior Stylist of Kristin Corrigan Styling & Events, Global Event Manager at Entrepreneurs' Organization, Wedding Planner with Kelley Cannon Events
Age: 32
Square Footage: 3,000
Rent or Own: Own
City/State: Fort Washington, MD (just outside of Washington, D.C.)
What was your first job out of college and how did you land it?
I've had a passion for event planning since I was in high school working as a catering server for coastal Maine weddings.  I met with the owner of the catering company to ask about his career path and his answer was simple, "Hotels. Start in hotels and see where that takes you." I followed his advice and later found an internship at a hotel near my college and networked with several alumni in the hospitality field. One of these alumni offered me my first job as the Evening Manager at a large hotel in Boston, MA. I worked nights and weekends for a year, paying my dues before moving on to Kimpton Hotels & Restaurants for seven years.

As a global event manager for Entrepreneurs' Organization by day and a wedding planner for Kelley Cannon Events by night, your job is dedicated to creating memorable moments for others. What are some of the greatest lessons you've learned through this experience?
I've learned a genuine appreciation for the little moments between the big ones. Don't get me wrong, I'm a still fan of dramatic, show stopping moments in the evening social events I design with the Entrepreneurs' Organization, but when I worked for Kimpton Hotels, they had a saying, "surprise and delight," and that has stuck with me. People remember the little personal touches. It's important to tell a story through your design that helps your guests connect with the moment and one another. And, to be honest, people love a good photo op, add a creative backdrop or installation for some selfies and you have a winning event.



Your career is already admirable and now you've also recently launched your own business, Kristin Corrigan Styling & Events. Congratulations! Tell us what inspired you to take the jump and how you balance everything in your life.
Thank you! I've always had a vivid imagination and creative vision for event and interior design. I love setting the perfect shot for photographers at my weddings or helping friends and family revamp their home décor. I'm surrounded by creative, ambitious people in every area of my life and I decided it was time to put my energy into something of my own. I have been fortunate to partner with and be inspired by passionate, driven girl bosses like Sarah Bradshaw and Kelley Cannon. My wedding and styling businesses energize me, so working in the evenings and weekends doesn't feel daunting. I do make sure to save time for date nights with my husband and drinking wine with my girlfriends.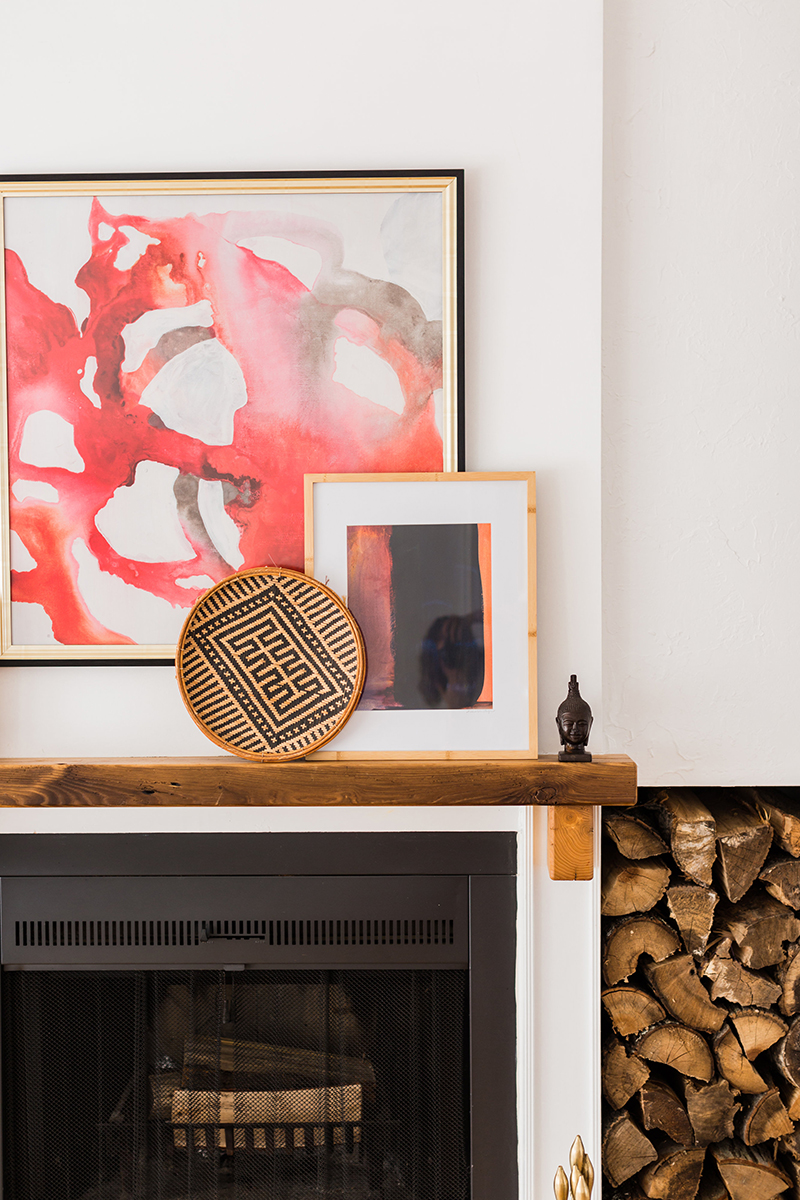 What factors made you decide on a home right outside of Washington, D.C. and why is the location special to you?
We got married in February 2015 and had just returned home from our honeymoon. I thought we would have a little time to breathe after the wedding before house hunting, but my husband, Sam, is a doer and was eager to settle into a new home as newlyweds. So we were homeowners a little sooner than I had expected, but I was up for the challenge! We were drawn out of the city by our beautiful, quirky house in Fort Washington, in a pretty waterfront neighborhood called Tantallon, where most of the houses are on the creek off the Potomac. While it feels quite suburban, we are only 20 minutes from our old house in Capitol Hill and it's like a relaxing vacation home on the creek, especially with all the natural light and diverse wildlife. We even bought a small boat last summer so we can venture out to the Potomac whenever we want!


With this home being larger than your previous homes, what challenges did you come across when moving and decorating?
Everything has been on a much larger scale than our previous row houses in Capitol Hill. We had some furniture and art that fit in well, but we did have to buy a few larger pieces and we had so many more nooks and crannies to fill. I do love a well-styled vignette! We've both been anxious to have the house completed so our biggest challenge has been not to move too quickly, but rather carefully curate the pieces that will best speak to our style and vision.
Our dining room sat empty and sad for about a year before we finally got a table large enough to fill the space and eight midcentury modern dining chairs. I've sourced furniture and accent pieces from affordable antique stores like Old Luckett's Store in Leesburg, VA, on Craigslist and from estate sales.
We did splurge on our sectional sofa, but it was well worth it because it's so comfortable and fits like a glove into its spot in our living room. We also did a few renovations shortly after moving in, which is challenging in itself. Our home was an explosion of super modern, edgy 80's design (see our hashtag #miamivicereno). There were some things we embraced (blue tiled bathroom) and others that screamed for an overhaul (shiny black kitchen cabinets with bright turquoise backsplash).  While challenging, the renovations have been my favorite part, I love seeing the final product of all of my designs.
How would you describe your design style and what area of your home reflects it the most?
My style is a warm, inviting take on midcentury modern layered onto a bright, light base. I like combining soft, neutral fabrics and materials with pops of rich textures and colors. I'm drawn to simplicity and functionality — not too minimal. I want lots of warm tones in the wood and gold accents. My favorite designs mix furniture with classic, modern lines and thoughtful, fun antiques and art to create a collected look. Our living room most reflects this style with our big, cozy sectional, cognac leather accent chair, bold modern art, and fun vignettes.


You've managed to cohesively incorporate white/marble and natural wood in your home — that isn't easy! What are your tips for people who are also trying to work with different textures/colors?
I love mixing a little old with new, and white marble with rustic wood is a perfect example. It's all about balance, you never want too much of either style. Start with a simple, clean palette as the base and layer in textures and patterns in 2-3 complementary colors. For example, we have pieces with black, red, and a natural wood hue that we've weaved together into a cohesive design on our fireplace mantle.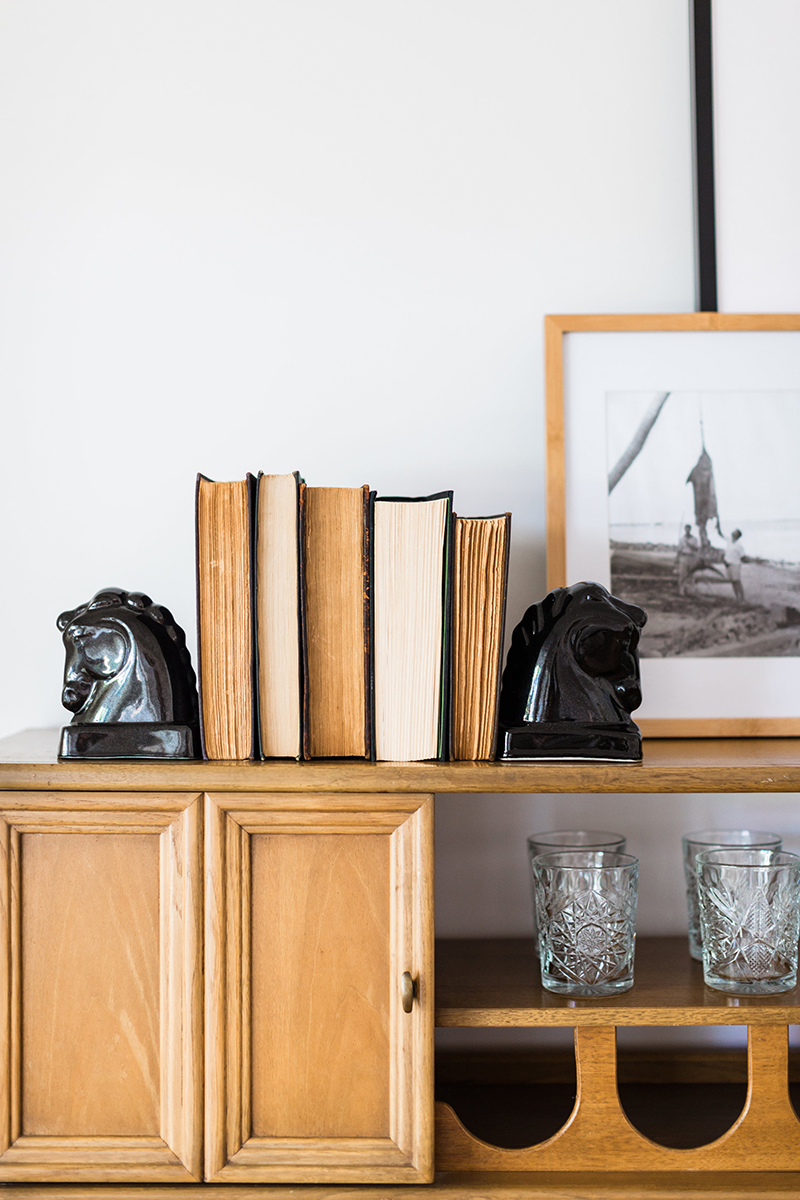 The marble portrait in your dining room is breathtaking! How did you find it and where are your go-to places to shop for home decor?
Thank you, I actually made this watercolor painting! I was inspired by a watercolor wallpaper I saw on Pinterest and I wanted to add a large scale piece of art in the dining room. We have a very artistic family, so much of the art hung around our home are photographs or paintings by our own family. Several of our paintings are from my talented sister-in-law, Nell Waters Bernegger. For furniture and other décor, in addition to antique shops, I love West Elm, Pottery Barn, Serena & Lily, and Etsy. I get almost all of my Turkish rugs on Etsy!




We love the big windows and natural light that seem to hit every room. What was your process in order to keep this airy and bright look?
This was one of our favorite features of our house! We kept all the walls white and bought light, neutral curtains. Our kitchen has two walls of floor to ceiling windows, so we purchased a low profile white kitchen table and lucite chairs so as not to distract from the view. Most of the furniture in our home is lighter fabric or natural wood, there are no heavy, dark colors.
What's your favorite room in your home?
While I probably spend the most time in the kitchen testing out recipes and making a big mess, I think my favorite room is the living room. I can light a fire and just sink into the couch to decompress from the day. In the warmer weather, we open up the three sliding glass doors on one side and our double door entryway on the other and the breeze flows straight through the room.
Your bright blue tiled bathroom is so bold and fun! What influenced you to make this statement?
The fun blue tiles and tub also came with a mauve sink, oak cabinet, and pink toilet – quite the combo! So we decided to embrace the blue and make everything else bright white. We updated the vanity and toilet and kept the accessories light with a hint of nautical Maine. The photographs are my mom's and the painting and rug are from an antique store in our area. We love how it turned out – it's unexpected and has so much character!
Do you feel like the space is finished? If not, what's in store for the future?
I'm sure other projects will come up, but for now, we need a break! If anything, this summer, we might pay more attention to our yard and our outdoor spaces – we have a small deck off of our kitchen and a larger one off the living room. As far as designing goes, I'm going to change gears and focus on styling other people's homes now!
What advice would you give to your 21-year-old self?
Keep looking for opportunities to network and build relationships in the industries you're interested in. Your connections and relationships will open doors for you.
Kristin Corrigan is The Everygirl…
Go-to brunch order?
Any variation of eggs benedict. Crab? Florentine? Pulled pork? Yes, yes, and yes!
The song that's currently playing in your car?
When I asked Alexa to play my favorite station, she played a Zac Brown Band station. Right now, I would listen to Homegrown on repeat nonstop if it wouldn't drive my husband crazy.
Your camera roll is full of… food, travel, and many slightly different versions of the same photo being styled for Instagram.
Guilty pleasure?
Shopping on Sephora, and on occasion placing separate orders when I like the samples. I can't be the only one who does this, right?
If you could have lunch with any woman, who would it be and why?
Emily Henderson. She is an insanely talented designer who finds THE best quirky antiques to sprinkle throughout her spaces. From what I see on Instagram, she's smart, silly, honest, stylish in all ways, and loves her family fiercely. She has my dream job, I would love to see her and her team in action. Can I opt to pick up Tender Greens for a quick lunch and spend the time shadowing a shoot day instead?
SHOP KRISTIN'S HOME // PRODUCT SOURCES
Artwork over Bed, Ogunquit Museum of Art
Bed, Belfort Furniture
Bedroom Console, Wayfair
Living Room & Bedroom Leather Chairs & Ottomans, Roche Bobois
Misc. Antiques, Luckett Store
Living Room Couch, Bassett Furniture
Living Room Art, Nell Waters Bernegger
Living Room Baskets & Lanterns, Pottery Barn
Living Room & Kitchen Trays, West Elm
Kitchen Light, Rejuvenation
Kitchen Chairs, Serena and Lily
Kitchen & Dining Room White Vases, West Elm
Dining Room Gold Flatware, Pottery Barn