Le Petite Studio is a sweet spot in Minneapolis that houses two businesses under one roof. Three years ago, Jaimee Morse began renting the studio with another photographer and when the time came for that photographer to move out, Jaimee invited wedding planner Jennae Saltzman to share the space. They have been there for almost two years now!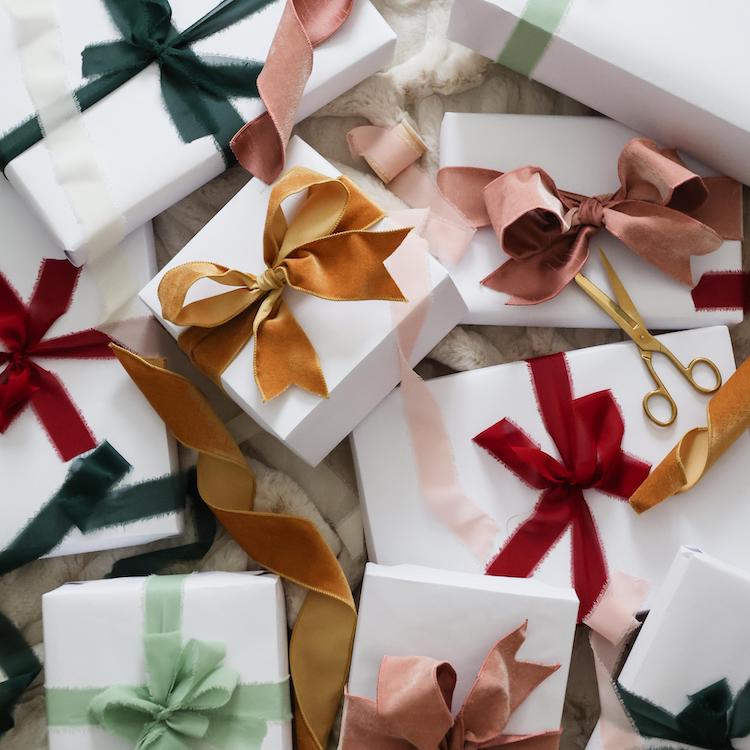 the perfect gifts for everyone—and we mean everyone—on your list
With endless trips to IKEA and vintage shops, and a little effort, these creatives took a small blank space and turned it into a clean modern workspace. Who wouldn't want to work in this bright and cozy office?
Keep reading to hear more about Jennae and Jaimee's experience in sharing a workspace, starting their own businesses, and how they worked together to create Le Petite Studio's decor.
Name: Jennae Saltzman
Age: 29
Current job/company: Owner, Blush & Whim Wedding Planning + Event Design
Education: Communication studies, Gustavus Adolphus College
Name: Jaimee Morse
Age: 25
Current job/company: Owner/Photographer, Jaimee Morse Photography
Education: Associate's degree
What was your first job out of school and how did you land it? 
Jennae: I worked at a family owned vineyard and winery in Wisconsin as the special events coordinator. I interned at the winery during college and had a wonderful experience! When I graduated, they happened to be hiring and offered me the job on the spot.
Jaimee: I started my business right after graduating college. I had just gotten married—my husband bought and made me a website for my wedding gift. I landed my first wedding by only charging $500 for 8 hours of coverage, an engagement session, online gallery of all their images, and a Cypress album. I think I was making $3/hour when I measured it out.
Don't get discouraged the first year if you aren't booking the ideal client or making the income you want. Stay the course and keep building—the struggle is the only way to learn and define yourself as a business owner.
Both of you are business owners. How did you make the leap to go out on your own? What advice do you have for women who want to do the same? 
Jennae: I was lucky to grow up with an entrepreneurial mother and two older siblings that owned their own businesses, so the idea of starting something, someday was always on my mind. After I graduated college, I married my college sweetheart who was working two different jobs (both that he started on his own). So I started drawing up plans for a wedding planning business and finally took the leap! I quit my full-time job while I was contracted for a few different wedding planners in the Twin Cities.
It took a lot of discussing and vision boards before I gained the confidence to go out on my own, but the risk was totally worth it. My biggest advice to new business owners would be to try and not get discouraged the first year if you aren't booking the ideal client or making the income you want. Stay the course and keep building—the struggle is worth the reward because it's the only way to learn and define yourself as a business owner.
Jaimee: Oh gosh. It was scary for sure! I always worked another part-time job until September 2014 when I decided to take the final leap and be a full-time photographer. That first planning season was scary when inquiries weren't coming in, as everyone told me it would, but then they started flooding in.
I would tell people that are working two jobs (one you have to and the one you want to) that you are burning yourself out! You will feel so much better to just work the job you want. Yes, you may have to put down that beautiful Hack with Design dress but don't worry—you'll be able to buy it eventually and on the way there you'll be more rested, more happy, and more in love with life.
Tell us a little bit about your businesses. How do they run? What does a typical day look like?
Jennae: Blush & Whim is an event planning and design company specializing in weddings. We have a small team of 5-6 lead planners who plan and execute all of our events ranging from event design to full-service planning. A typical day consists of social media posting, vendor meetings, client planning, and budget management, and emails, emails, and more emails.
Jaimee: I'm a fine art wedding photographer but I also just recently became a mom to twin boys. So my typical day looks a lot different now than it did just five months ago. These days, I tend to my babies and when they nap or their Papa comes home, I rush to my computer to edit, email, or to the studio for new client meetings. Sometimes I even make it to happy hour to chat with friends from the industry.
I had some people tell me right before the boys were born that as soon as they came I wouldn't want to pursue my career anymore, but that's actually incredibly untrue. I still love my business and actually look forward to meetings and evenings. And, oh gosh, when the nanny is here and I can get to a coffee shop all by myself to send out emails? Best thing ever!

Best moment of your career so far?
Jennae: A major highlight in my career was being featured on national television last winter. We were called by the Meredith Vieira Show on a Monday afternoon and asked to plan a wedding by Wednesday morning. By Thursday of that week, I was flying to New York for an early morning taping of the show! It was the most chaotic and exciting week I have ever had as a business owner.
Jaimee: The first time my husband said to me, "I'm really impressed with you."
How did you decide to go for the shared studio office space? What are some highs and lows of sharing the space? 
Jennae: I was just starting the hunt for a studio of my own and was so lucky to be asked by Jaimee to share her studio in Minneapolis. It has been the best experience ever! Jaimee and I get along so well and have a very similar design aesthetic.
We both mainly use the studio for meetings, so we really don't work in the space all that often at the same time. I wouldn't say there are any lows, just mindfulness that you have to keep when scheduling a meeting or shoot so you aren't overlapping.
Jaimee: I had the studio originally and thought it would be more fun to share it with someone—plus to only have to pay half of rent is a definite plus! We have a shared studio calendar where we put in our meetings or times that we need to use it.
It's been great sharing the space because I utilized Jennae's design strengths for the decor. Before the babies came we would work together at the studio every once in a while. And I'm in an industry where 90% of it is spent in front of a computer and the other 10% is with people. It's nice to work with humans every now and then.
Your studio is beautiful! How did you decide on the decor? What was the process like?
Jennae: Thank you so much! The space is teeny tiny and has a ton of light and vintage/industrial charm, so adding a few decor pieces really went a long way. Jaimee and I spent time on a shared Pinterest board swapping ideas before braving IKEA and foraging antique stores for the rest. The process was a ton of fun and we just love the finished product.
Jaimee: Thanks! We love it! The space is small so we didn't want to overwhelm it with decor. We kept most things white and then added pops of color. We spent a lot of time shopping and sending each other ideas—and quite a few trips to IKEA. Then my husband and a few of his friends painted the walls and assembled the desks and shelves. And Jennae and I did our part and beautified it.
How did you create such a great space on a budget?
Jennae: With the minimalistic vibe we were going for, it was easy to get a lot of bang for our buck. Thank goodness for good light and exposed brick!
Jaimee: Thank goodness for IKEA and Target! We wanted it to be inexpensive but not look cheap or like it was all from IKEA. We steered away from anything that screamed IKEA (such as the gray rug with the big white flower on it) and focused on other items that looked more general.
Start your business now! I wish I had made the plunge earlier. In an industry where everyone is young, your time is already so limited!
Is there a particular area or item you're proud of? 
Jennae: I really love the art gallery shelf wall filled with photos and tidbits of inspiration from both of our businesses. It makes such a statement and I love the look people give it when they walk in and gaze up at that area.
Jaimee: I love the desk! It's huge and perfect when I'm working and everything—my computer, calendar, contracts, and camera gear. I've never feel like I didn't have enough space.
What advice would you give to your 21-year-old self?
Jennae: Start your business now! I wish I had made the plunge earlier. In an industry where everyone is young, your time is already so limited!
Jaimee: Well, I just turned 25, so I'm not that far off from 21, but I would tell myself: Don't cut your hair that short (you won't like it, and it'll take forever to grow out). Make business your major.
I've never sat down to think of advice before, but other than that I really don't have many regrets—and that makes me happy.
Jennae and Jaimee are The Everygirls…
Favorite way to start the morning? 
Jennae: A long walk with my dog Berekely, the Today Show on TV, and bacon and eggs to eat.
Jaimee: At 10 a.m. rather than the ungodly hour I have been lately. (Thanks, Gus and Bear.) Also, I love a good cup of coffee while watching Live with Kelly and Michael.
Perfect weekend?
Jennae: Sleeping in with my hubs and pup, brunch and a Bloody Mary bar, a boat cruises down the St. Croix River, and matinee movies.
Jaimee: Sleeping in, brunch at The Mill NE (best breakfast potatoes ever!), walk around lake Nokomis, snuggling my babies, ice cream at Sebastian Joe's in Linden Hills, stop at Parc Boutique for a new outfit and new magazine (#magazinehoarder), rock climbing, dinner, and a cupcake at Copper Hen. I'm originally from Maine, so if there was a way to transport the ocean here for the evening, that would be perfect. Oh, and somehow get a great photo for Instagram.
Biggest dream? 
Jennae: To write a David Sedaris style book about my wedding experiences—I have so many hilarious and ridiculous stories that I keep filing away for later!
Jaimee: I would absolutely love to shoot a wedding in Iceland. And just to be clear, I liked Iceland before Iceland was cool.
Coffee, tea, or juice order?
Jennae: English breakfast with cream and sugar.
Jaimee: Oh gosh, I'm pretty noncommittal, but as of right now it's a vanilla raspberry latte.
If you could have lunch with one woman, who would it be and what would you order?
Jennae: J-Law—that woman is my spirit animal. I would order cool ranch Doritos and we would live happily ever after.
Jaimee: Ronda Rousy because she's so badass. And I'd order pizza because I still have the palate of a five-year-old.
Product Sources
Desk
Trestle with shelf (saw horses), IKEA
Solid butcher block table top, IKEA
Ghost chairs, IKEA
Sheep skin, IKEA
Garbage can, IKEA
Gold magazine files, Target
White bowls, Target
Calendar, Sugar Paper
Shelf Wall
Floating shelves, IKEA
Mini organizer shelf, IKEA
Ribbon, JoAnn Fabric
Mason jars, Target
Washi tape, Target
Chalkboard jars, Target
Copper candle, Polyvore
Frames (white, silver, gold), IKEA
Boxes with lids, IKEA
Magazine files, IKEA
Potted succulents & cactus, IKEA
White pots, IKEA
Apothecary jars, Michaels
Mirror, IKEA
Mirror Wall
Vintage Mirrors, Hunt & Gather
Lounge
Sofa, IKEA
Sheep skin rug, IKEA
Table, Target
Serving tray, Target
Edison bulbs, Menards
Light cords, IKEA
Throw & pillows, Target
Air plant vases, floral wholesaler
Bench
Bench, thrifted
Fan, Target