When Piper Raffle and her husband were looking to buy in Tulsa, they were split on what sort of house they wanted to buy. Raffle was leaning toward something older with plenty of character, while her husband preferred something that presented fewer problems. Luckily, they found a house that fit what both were looking for. The next step was making it their home, and to do so, they recruited Tulsa designer Mel Bean, of Mel Bean Interiors, to help formulate and execute their vision. Read on to learn what it was like to work with a designer, how they decided to embrace bold patterns, and more.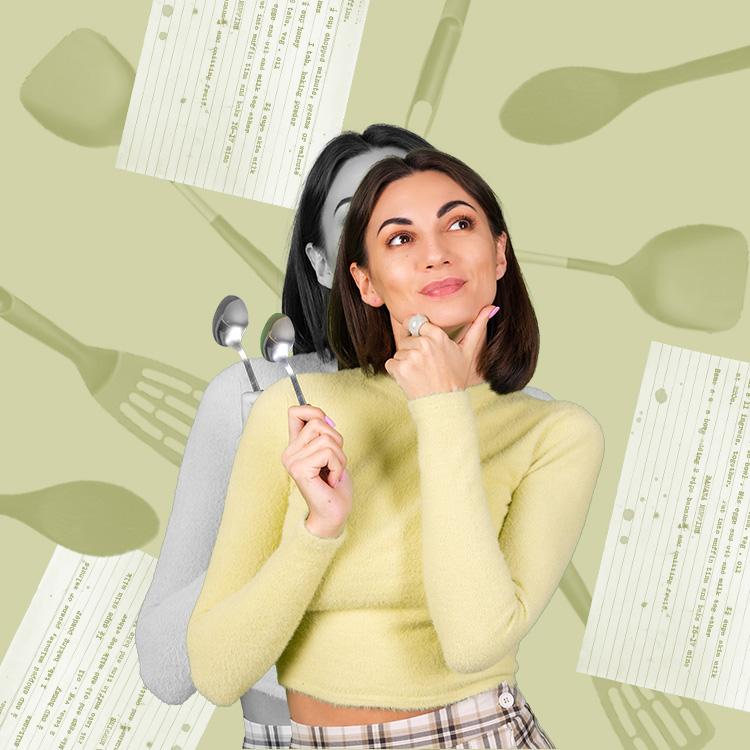 high in protein, good for gut health, and anti-inflammatory? yes, please!
How did you get into interior design?
Mel: Unofficially, I began my career as a child helping my parents in our own ever-evolving home. As a teenager, I rearranged our family's furniture and constantly staged our home, without permission and with too much chastising by my mom! The signs of my future career were there even then!
Still, it didn't occur to me to pursue interior design as a profession until I was approaching my third year of college on the psychology / pre-med path. I realized I lacked passion for my studies and chose to make the leap to interior design. I wanted to be sure I was making the right decision, so I picked up a phone book (yes, there were phone books!) and called every business in Tulsa listed under interior design or architecture and asked for an interview. I told them I had no education or experience and that I was willing to support designers or sweep the floors and take out the trash! Robert Cisar and Kirk Holt, of Tulsa-based Cisar Holt, took a chance on me and became mentors and friends that contributed largely to the launch of my career.
When did you decide to set up shop on your own?
Mel: I was so fortunate to work for several incredible interior design and architecture firms, each of whom shaped the designer I am today. With this experience and the encouragement of my family and friends, I eventually just knew I was ready to drive the vision of my own firm. Over cocktails in 2011, a partnership was created between Bailey Austin and I, and Austin Bean Design Studio was born! For seven years, Bailey and I and our amazing team created homes with a focus on the integration of interior design and architecture. In late 2018, Bailey and I decided to pursue our individual career visions, and Mel Bean Interiors launched in December!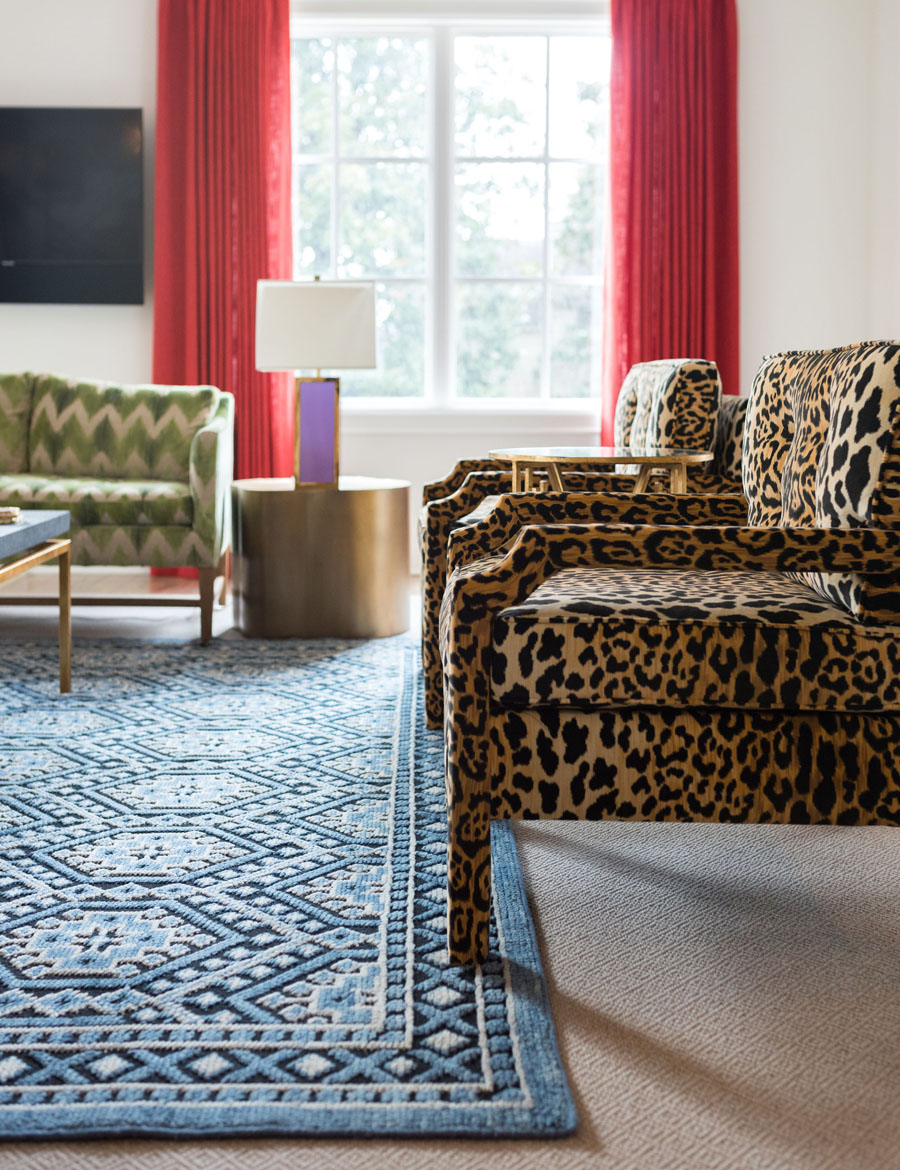 How did you know your house was the one? How did you find it?
Piper: When our daughter was a few months old, my husband and I realized that we wanted more space and told our family realtor that we wanted to start looking. We had seen a few houses but weren't on the same page in loving anything (I wanted old-house charm, but he was tired of old-house problems and wanted a new build). One day, I was driving home from my parents' house and noticed a large builder's "coming soon" sign with our agent's firm on it, so I shot her a text asking about it. It wasn't on the market yet, but she figured out how to get us a showing the next day. We saw it, and both fell in love! It was a new build like he wanted, but the builders had added details that are often missing from spec homes. Plus, it was in one of our desired neighborhoods. We came back two days later for another showing with my family, and two days after that we made an offer!
What were the first changes you made to your home when you moved in? How did you prioritize the changes?
Piper: We started making changes long before we moved in; the builders had given us a great canvas to start with, but I didn't adore all of their choices. Our first step was contacting Mel to formulate an overall design plan, and then we could proceed with the renovation. Our priority was living with as little construction as possible, so we waited to move in until about 90 percent of it was complete.
How would you describe your design style? And how did you find your style?
Piper: My style is fun and bold with a touch of the glamorous. My style has come together over time and has matured and refined with each space I've decorated. I know what I like, and I pick things I love without the worry of being on-trend or what a guest or future buyer might think. It's our house, and we live in it, so it should reflect that.
How do you help others find and implement their individual personal style?
Mel: Many of our clients express that they know what they like when they see it, but have no idea how to create it. We ask them to show us some of the things they love so we have a general understanding of their style as a starting point. This can be the dress that makes them feel incredible, a work of art they can't get out of their head, or photos from travels — it can be anything, but it needs to be something that stirs passion. We dive deeper from there, push the boundaries of their comfort zone, and pursue discovery along the way. This is the ideal way to create a home that is completely unique and represents the personality and lifestyle of the people who will live their lives in this place and truly make it a home. I love the variety of design opportunities we are presented with as a result.  
What was it like working with a designer to make your vision for the house come to life?
Piper: Collaborating with Mel was great — she came alongside me and filled in the blanks, so to speak. I provided a starting point (existing furniture or art, patterns or colors I wanted to use, etc.), and she really made the spaces come together, sometimes by selecting things I never would have thought of. Getting access to trade-only products was the icing on the cake!
The color, light, and patterns in this house are so much fun! What was your inspiration behind the project?
Mel: Our clients, Piper and Callum, envisioned bold color, pattern, and texture from our first meeting. Their adventurous approach to interiors was such a freeing opportunity to take risks and reap big rewards, plus they already had a few incredible pieces to work with. I am so excited to have had the opportunity to incorporate these elements in an intentional and edited way. In some spaces, the vision was launched by a wallpaper choice (such as the bar), or an art piece (the client's existing donut painting and floral painting in the lounge!).  
How did you decide to incorporate so many patterns?
Mel: With clients so willing to embrace BOLD, we couldn't pass up the opportunity to find new favorites and push the limits! Piper had a few favorites she knew she wanted to incorporate (such as the butterfly wallpaper in the bar, and the leopard chairs), which gave us a dream of a launching point! We layered patterns methodically and used anchoring elements to balance the bold selections. For example, in the mostly open main living spaces, we selected white walls and used navy elements as the anchor (navy cabinets, navy rug in the living room, navy paneling in the office, navy trim in the nursery). Repetition, of color and of elements, prevents the home from feeling chaotic in the least. In terms of color, navy, fuschia, and green are woven throughout many of the rooms. Our departure from these colors in the powder bath, mud room, and master suite is more impactful as a result.  
Your house is full of prints and patterns and color. Do you have a favorite print or a favorite combination of pattern and color?
Piper: By looking at my house you can tell I love a good leopard/jaguar print, but honestly, I believe it functions more as a neutral textural element than a pattern. The pattern that makes me happiest on a daily basis is Osborne & Little Butterfly Garden — using it as wallpaper in our tiny bar makes it such a happy surprise every time I walk by and get a glimpse. Plus, our two-year-old daughter loves to point out the "buh-bys" (butterflies)! And while it seems a bit staid now because you see it everywhere online, I still love Schumacher Chiang Mai; it brings the entire living room together. 
Light is obviously another big feature of this house. How did you maximize the light in the house to make it feel so open and bright?
Mel: This home has incredible natural light! We knew we wanted to maximize this while still providing privacy where needed. The woven grasscloth shades we selected for the sitting area off of the kitchen achieve this perfectly, with a beautiful and soft light. Lighting is equally important in the darker spaces, such as the lounge and powder bath. The library lights and sconces in the lounge, and the sparkling powder bath sconces provide a more dramatic and moody light. 
What's your favorite spot in the house, from a design standpoint?
Mel: That's so difficult! I really love each of the FUN spaces we created with Piper! My favorite view is probably when you walk through the entry into the large open kitchen, dining, and living room. You catch a glimpse of the avocado green pantry cabinets just beyond the navy kitchen with its green pendant and can't help but scan the space so you catch a glimpse of the fuschia and green bar, on through the living room with its dramatic coral drapes, leopard chairs, and green sofas, and to the gorgeous and personal stairway beyond!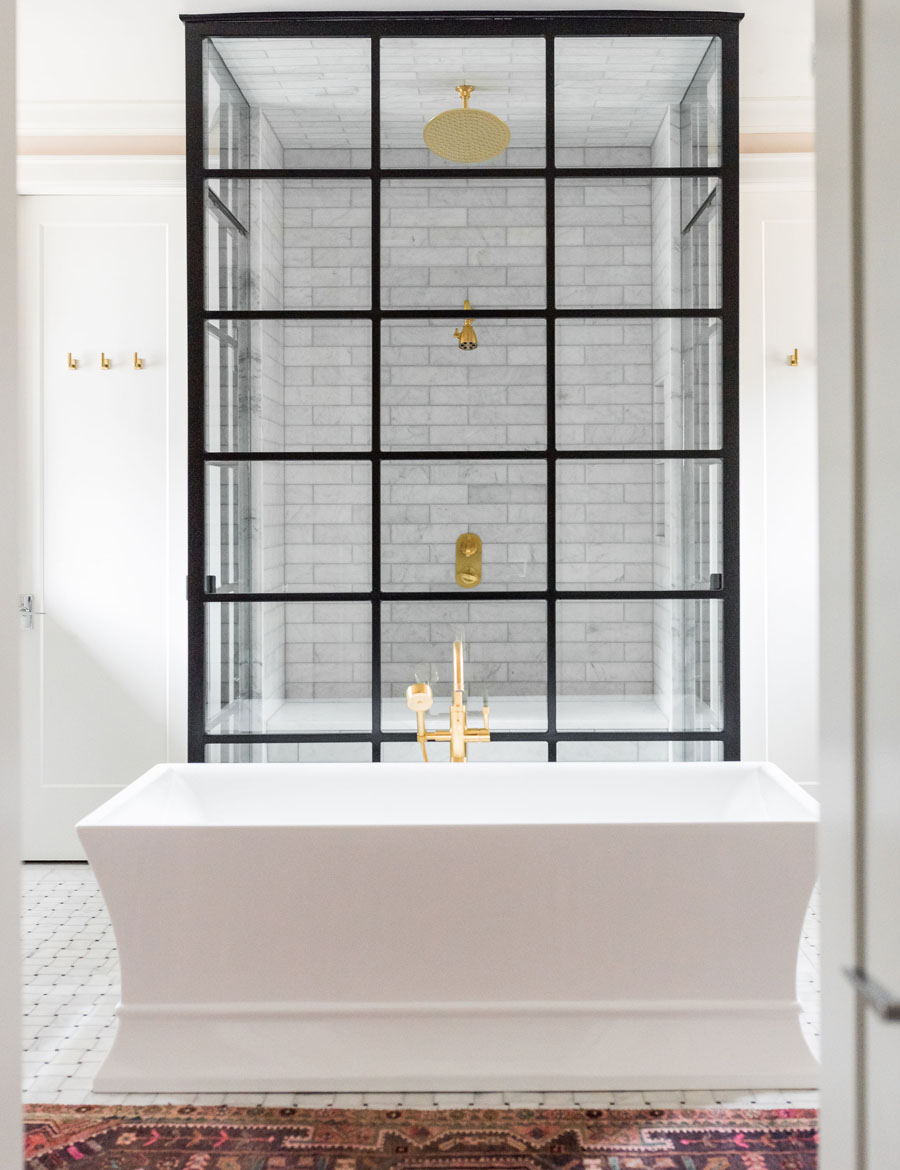 Your house is so beautiful and so fun! Do you have a favorite space in your home?
Piper: Thank you! It differs day to day, but I always really love the light in the sitting nook off of the kitchen. It's such a great spot to sit and read, drink tea, or just take a break while I'm waiting for something to simmer or come out of the oven. The natural shades we selected with Mel allow privacy while still letting the best-dappled light through the large windows. Mel suggested putting a large piece of art on the third wall that would be a showstopper from the street, and the piece I found (by local artist Susan Eddings Perez) really completes the space and ties into the kitchen in such a satisfying way.
What are your favorite pieces in your home?
Piper: I really love my leopard chairs and purple sectional, but my favorite is how everything plays together! And it's not a piece per se, but my favorite part of my home is probably the master shower. It's my "design baby" and it took some creative problem solving to make happen in a freestanding configuration like that. 
Where are your favorite places to shop for home decor?
Mel: We purchase many products via the trade-only sources, but there are also so many new sources popping up daily, it seems! We've recently sourced pillows online via Etsy, or Little Design Co. You can find great prices on custom pillows in designer fabrics! We've also found unbelievably gorgeous antique runners on Etsy! Shoppe Amber Interiors and McGee and Co. have beautifully edited collections. We are constantly discovering unique and creative products and vendors locally, online, and in markets.
Piper: Anywhere and everywhere! Online, I love McGee & Co. and CB2 for accessories, and Furbish Studio for one-of-a-kind rugs. Locally, I love T.A. Lorton for accessories, decorative books, and the best seasonal décor. 
What's your favorite thing about living in Tulsa?
Piper: I was born here and my family is here, but my husband (who is from Scotland) and I love the feeling of living in a city on the rise. So much is transforming all the time!
What advice would you have for your younger self?
Mel: Follow your curiosity and passion without hesitation.
Piper: Don't let sticker shock stop you from choosing the thing you really want.