Once you enter the working world, your work wardrobe ends up taking over your entire wardrobe. Time to trade in crop tops for crewnecks! In order to make getting dressed in the morning easier, stock up on classic professional pieces so that you can be confident every time you walk into work. Once you build a work wardrobe base with classics you can wear for years to come, you will save time, money, and stress.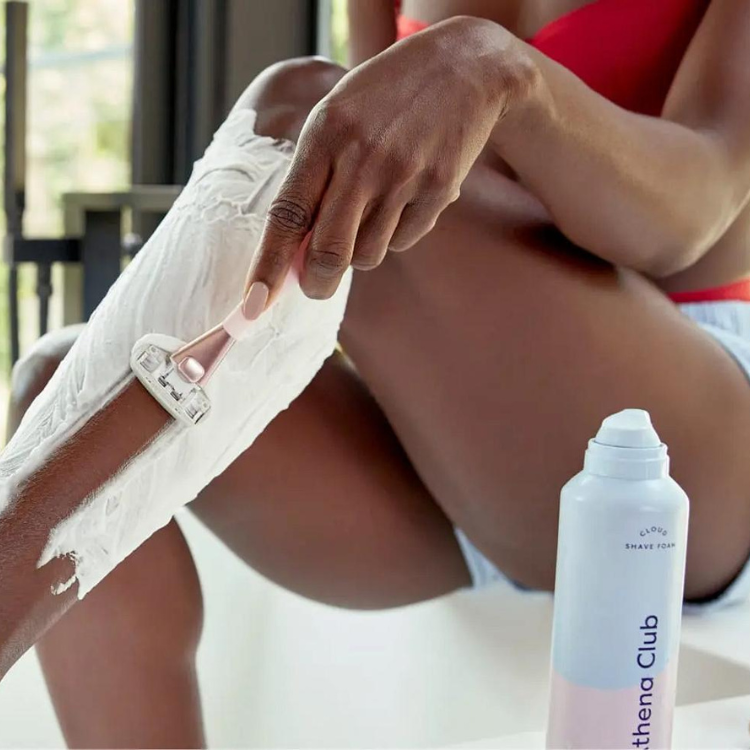 "This razor gave me the silkiest, smoothest shave I've ever had! I never get any cuts or scrapes, even on those hard-to-shave places."
Cashmere Cardigan
No matter where you live and no matter what the season, there is one thing you can guarantee your office will be: cold. Keep a cashmere cardigan on the back of your chair to layer over dresses when the air conditioning is blasting in the summer and for when you need a little extra warmth in the winter. It can also be used as a makeshift blanket if wearing a skirt leaves your legs chilly. Try this long style from J.Crew for some extra coziness.
SHOP IT
Budget, Light Grey Cashmere Knit Crewneck $49.50
Middle, Open Cardigan Sweater $288
Invest, Helmut Lang Cardigan Sweater $425
Structured Tote
A structured tote is the perfect combination of professional polish and practicality. You can pack your lunch, gym clothes, papers, and everything else you need to get through your busy day without looking sloppy. Kelsi Dagger Brooklyn's totes will stash everything you need from sun up to sun down.
SHOP IT
Budget, H&M Handbag $39.99
Middle, Rider Tote $168
Middle, Kate Spade Savannah Bag $313
Invest, Saint Laurent Shopping Tote $995
The Perfect Pant
We all have those days that start with the best of intentions. You picked out a fabulous dress and heels to wear the night before but when you wake up, a pair of comfortable pants and flats sound much more appealing. Skip shaving your legs (we won't tell!) and slip on a pair of pants that makes you feel amazing. It may take time to find the right pair for you, but it's an investment worth making. These Vince pants are lightly fitted and cropped, giving them a modern vibe.
SHOP IT
Budget, Suit Pants $34.99
Middle, Skinny Ankle Pants $79
Middle, Devin Ankle Pants $89
Invest, Koreen Pants $298
Statement Blazer
While blazers are always a safe bet, try a statement blazer that will cause your coworkers to do a double take. Choose a fun color like coral that will pop against basic navy and leather details for a little edge or a unique silhouette. A little nervous about investing in a piece with more flare? Try this red Forever 21 blazer—at a little over $20 it's a sartorial risk worth taking.
SHOP IT
Budget, Collarless Blazer $24.80
Middle, Tuxedo Blazer $77
Middle, Drape Blazer, $169
Invest, Rebecca Minkoff Backy Jacket $378
Everyday Jewelry
For the days you are running a little short on time in the morning, have some go-to jewelry that will look amazing with every outfit. Keep a small dish filled with your favorite delicate gold or silver jewelry that won't make too much of a statement, but will add a little sparkle. Catbird's gold threadbare gold rings are pretty and subtle enough to never take off.
SHOP IT
Budget, Earring Set $5.99
Middle, Threadbare Ring $44
Invest, Diamond Mini Necklace $275
White Silk Blouse
A white silk blouse will always have your back. Wear it with slacks, a skirt, or even jeans if you are lucky enough to wear them to the office. The white will go with any color, just be careful not to spill your morning coffee! Everlane has such a good deal on their silk blouses that you can start hoarding different colors now.
SHOP IT
Budget, Faux Silk Gathered Blouse $44
Middle, Everlane Silk Blouse $80
Middle, Silk Pocket Blouse $138
Invest, Silk Crepe Blouse $250
Oversized Watch
Not only does an oversized watch make a major fashion statement, but it makes it easy to sneak peeks at the time during long meetings without pulling out your phone. This gold Michael Kors watch may be old school in technology, but eternal in style.
SHOP IT
Budget, Boyfriend Bracelet Watch $22
Budget, Rose Gold Watch $19.99
Middle, Slim Runway Watch $195
Invest, Two-Tone Watch $495
One Killer Outfit
Source: Pop Sugar Fashion
We are going to be a little vague on this suggestion because it will vary for everyone. Pick one outfit that makes you feel super confident: an outfit that you can wear on your first day at a new job, when making a big presentation, or to a networking event to feel your best in. Play around with a bold color that makes you stand out, a crisp button down that helps you feel pulled together, or a pair of heels that makes you feel just a little bit taller and stronger.
Tell us, what pieces in your wardrobe have become your work staples?