Regardless of whether or not you recognize Natalie Chong from her last home tour with us, you can't help but respect her for her current role as the principal designer of Nest Design Studio. As the founder of this successful company, Natalie dedicates her career to designing spaces that reflect her clients — and is now ready to share her updated space that represents her.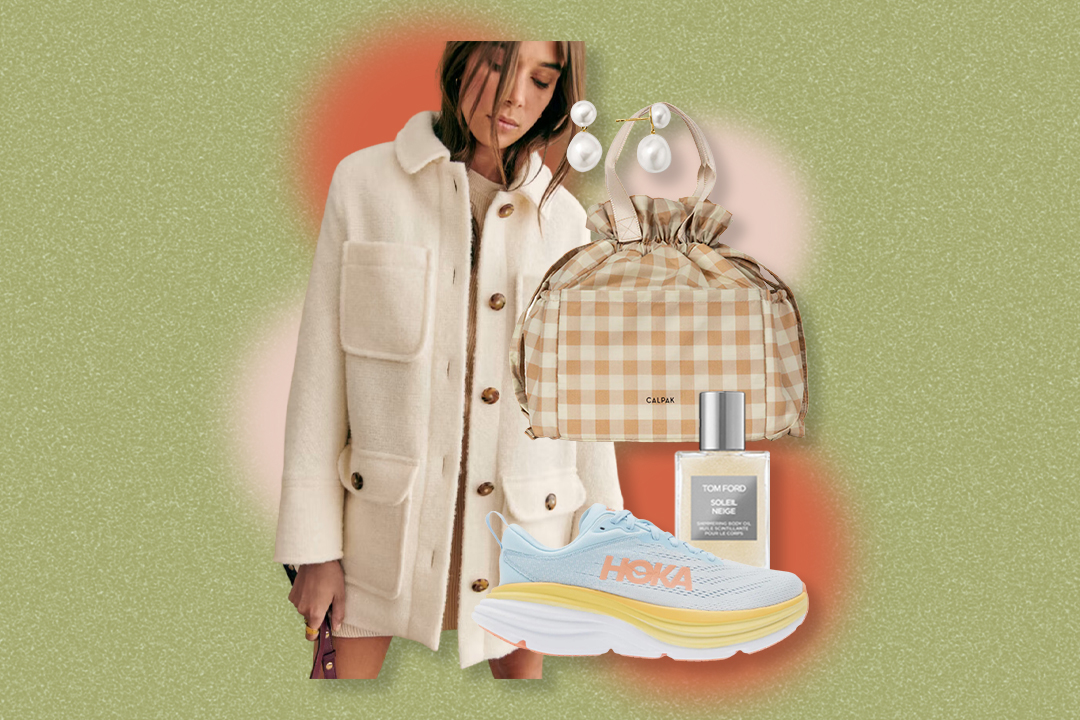 Whether it's the neutral color palette or the stunning wall gallery, Natalie's home is a classic approach to the timeless look of white walls and greenery. Here, she shares the most important traits of an entrepreneur, the best way to decorate with a partner, and the relatable advice she would give to her 21-year-old self.
Name: Natalie Chong
Age: 31
Current Title/Company: Principal Designer of Nest Design Studio
Square Footage: 750
Rent or Own: Rent
City/State: Toronto, Canada
Your last home tour with us was beautiful — we loved the splashes of color in your modern space! Tell us the changes you've made in your home since then.
I started with keeping the things I loved. I kept almost everything, but I swapped out a few key pieces to really make it better. I added: a storage ottoman, dining room sideboard, art, bed, and closets, and I changed the guest bathroom to my bathroom.
I needed to really make it something that functioned well for both of us as well as was a reflection of where we are and who we aspired to be. Thirty-something young professionals, downtown living, and people who love to entertain! It felt initially like just my husband, then I went overboard and made it too much like my space (although I didn't live there). So we needed to reign it in… just a bit. Something more gender neutral, calm, classic, timeless, and comfortable. I wanted it to be a cozy retreat after a long day.
Let's get down to how I started — I didn't even have a closet! I had to design a bedroom with two wardrobes on either side. This Everygirl (as most do, I am sure) has a ton of clothes. I needed things that had double duty since we also only live in a two-bedroom condo. Our media unit also stores my addiction to candles and decorative items, as well as wine. The sideboard in the dining room keeps things like my slow cooker and fancy drink glasses and more alcohol! Everything is filled to the brim with storage — concealed storage of course, because I hate exposed storage unless you are meticulously clean. My bathroom was easy — I wanted a killer gallery wall. Even if I didn't have all the pictures for them, I knew that would come.
These large but key pieces really helped make our space more "us." We were married now, so I needed to think of us as a family unit with equal say in our design decisions. Gender neutral was the plan, and I really think we achieved it together seamlessly! It is perfect for us.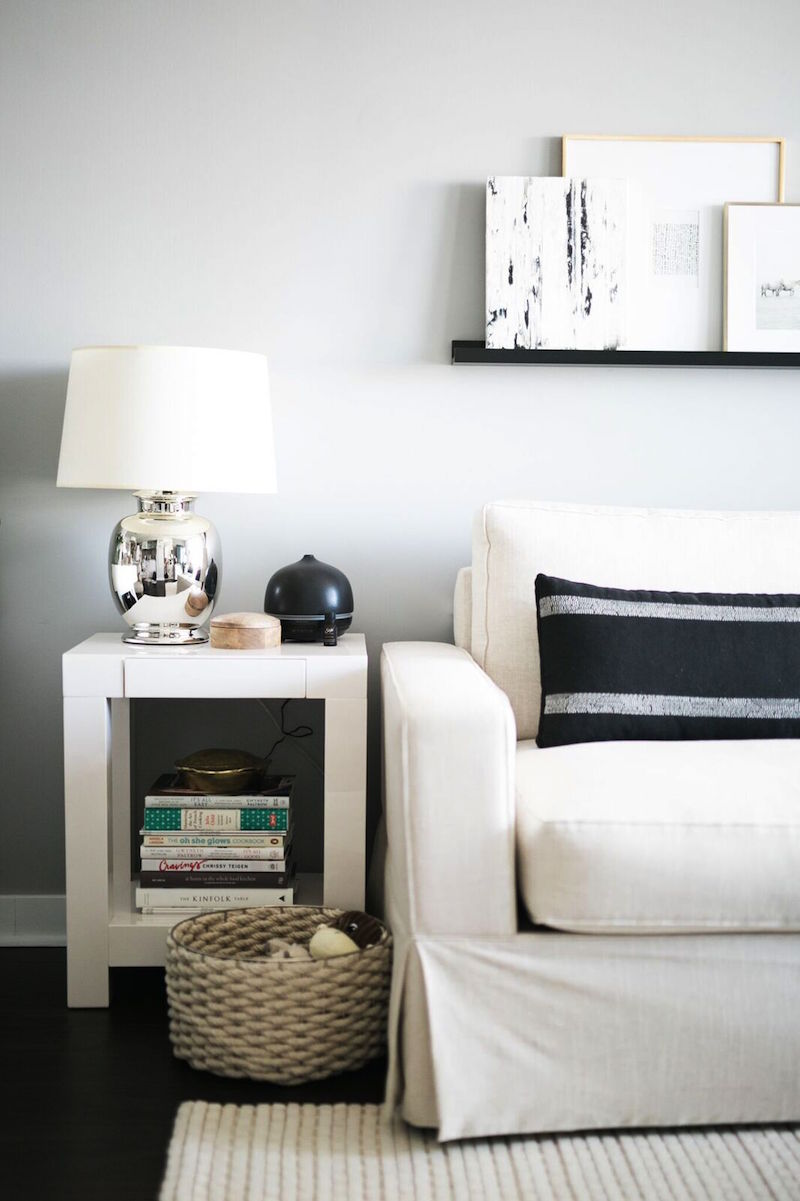 After landing a couple of design internships and accepting a full time job you didn't love, you took the chance and founded Nest Design Studio. What unexpected lessons have you learned from this jump?
The main lesson I learned when opening Nest Design Studio was to trust your own judgement. I wouldn't necessarily say that was unexpected, but rather, reaffirmed my own belief in myself. When you feel doubt about either a future client or a specific opportunity, it usually means that is not the right project for you.
Secondly, if there is a course on the type of business you are running or a mentor you can reach out to regarding systems to help you set up your business, that would be incredibly helpful. I went out with no idea how to invoice, any bookkeeping, or writing things like proposals or contracts. I am still learning along the way, but that was definitely something I needed to learn and I needed to learn really fast — so that was a steep learning curve.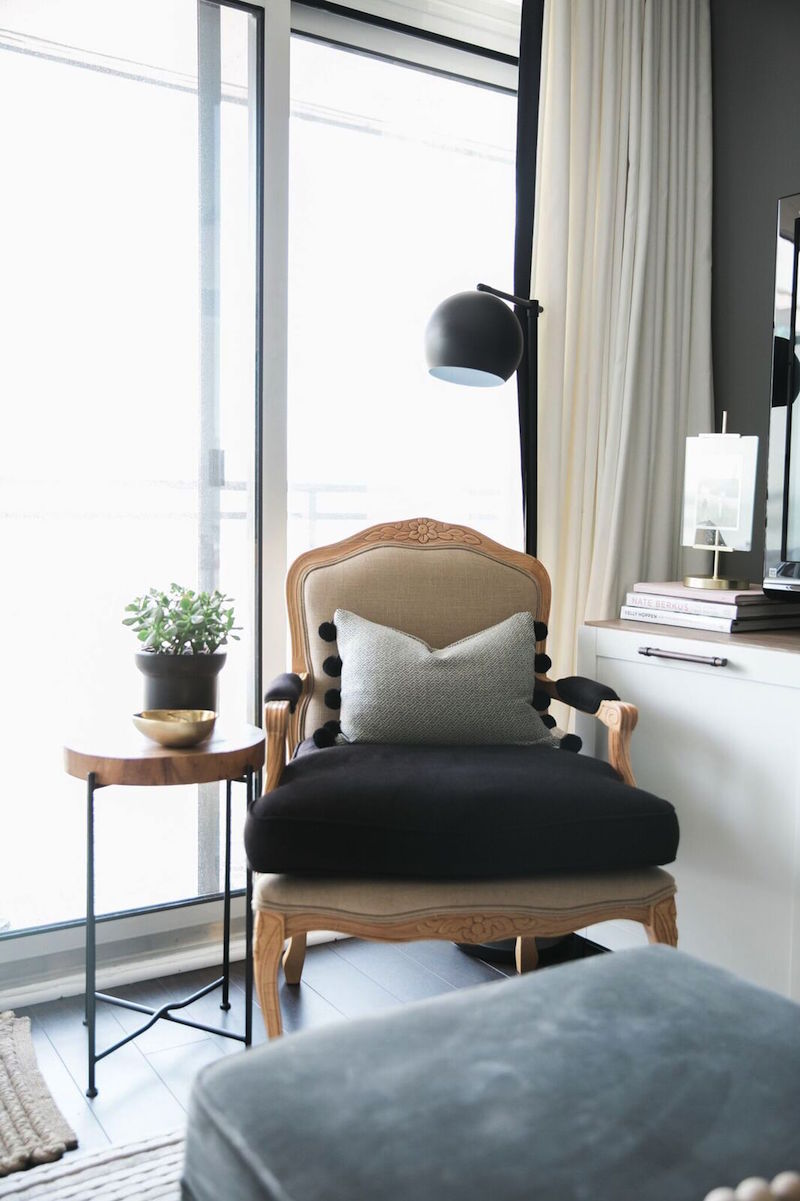 What do you believe are the most important traits to have as an entrepreneur?
Organization

Being able to sell yourself and your idea.

Perseverance, knowing that when things get tough to keep going. Because that is when everyone else will quit — so you have to push on.
Nest Design Studio prides itself on creating homes that reflect the people living in it. What other goals did you originally have for your company and how have they transitioned throughout the years?
I wanted to be published in a national print before I was 25 was the main goal. And I did it! I wanted to be on TV before I was 30, and I also did it!
My goals have kept moving. The targets get bigger and more interesting. Smaller goals are great, such a designing a specific type of home or dealing with a specific type of client. Those are easier to achieve. I wanted to reach for things that are much larger and require more effort to achieve.

As a residential designer, you truly made your passion your job. How do you differentiate your personal life from your professional one?
I try my best not to work on weekends. I keep those for time with my family and my husband. Sometimes, on a very rare occasion, we will have to stop at a store or pick something up for a client. However, my family has been such a huge support to me over all these years, this is the least I could do.
With regards to clients being friends, that is a hard line. Some of them have just become friends — so they don't really ask me anything anymore. But with most of my clients, we are friendly, but not friends.


Toronto continues to be known as a trendy city and a favorite getaway vacation for many. Why did you choose your specific neighborhood? Are there any hidden gems nearby?
My husband works downtown,  so we really needed to be walking distance from work. We are quite central, so that made it easy for that, but also for any kind of nightlife or activities on the weekend. If it were up to me, I would have chosen something with more of a neighborhood feeling. I want the sense of community, which I am sure we can find once we buy a house. We live very close to the new "club/night" district, which is King West — I wouldn't say it's a gem, but it does make our Uber Eats menu the best!
You're clearly someone who doesn't settle for less. Does this attitude shape you as a designer? If so, how did it influence the way you re-designed your home?
I am all about making better decisions with whatever you can afford. However, I do believe in investing in quality items when you can. Things like your sofa or your mattress/bed are some of those things. This has helped me to be more conscious of how people use their money and what they should invest in long term. It has helped me to really focus on the things that matter and to not collect a ton of useless or unnecessary items. My last design for our condo was much more trendy. Our new space is more classic, timeless, and elegant. Which I feel also has a lot to do with age and experience.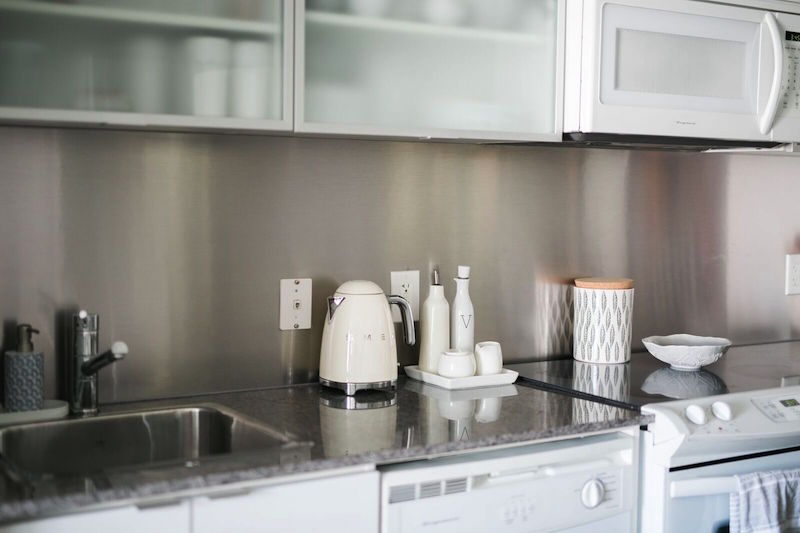 When we last spoke with you, you were sharing your space with your now husband. What tips do you have for couples who are also trying to combine their design styles to create a cohesive home?
Hire a designer! Hahaha. We are kind of also like therapists in a way. Designing spaces with a spouse is very hard. It can really test your limits of patience and understanding as these are big decisions that require a substantial amount of money. This way you have someone who has the bigger picture in mind and will help guide you throughout the entire process, accommodating for both your ideas.
For those who cannot afford one, it has to be fair. There has to be compromise and a ton of give and take. Since this is a merger of both your ideas, there needs to be balance. Everything can't be feminine and everything can't be masculine. So pick the items that are the most important to you and share the other decisions with your spouse. I like to get couples to make a Pinterest board of items each and exchange ideas. This way both of you can see and contribute to the overall vision.
What was the most challenging room to update and how did you overcome the obstacles?
The master bedroom was probably the trickiest as when I moved in, we needed major storage. I wanted to put closets in without making it feel like a closet. In order to do this, we had to give up the idea of being able to get a king-sized bed in there as well as nightstands.
The solution started with wrapping shiplap on the doors of the closets so it felt more "custom." I played with the lighting, added a ceiling fixture, two closet lights, and lastly wall sconces instead of table lamps. I then added picture rails for our "bedside tables." This was sparing — for sure — but we didn't really have a choice. Just enough space to have our phone and a glass of water.


The gallery wall in your bathroom is a dream come true. We have to know — what's the trick to arranging different sized frames and pulling off this popular trend?
Thanks — I do love that room. It is my own sanctuary since my husband stole the ensuite! Tips:  I like to stick with 1-2 frame colors and a similar theme. Black and white never goes wrong, or travel photos, etc. Hanging — to be honest, I wing it. I like to start with the largest one and build from there.
How would you describe your design style and what room in your home best represents it?
I think my true style, when designing for myself, is: neutral, textural, timeless, classic, elegant, layered. I think my living room is probably the best room. My sofa is my first custom piece I ever designed for myself. I love the depth, the color, and the style. My gallery wall has a few pieces of art that I love. Some prints, some customized and original — so more eclectic. I have a Bergere chair, which is something with more of an antique vibe, and my TV cabinet is an IKEA piece which I customized with two tone frame and black hardware.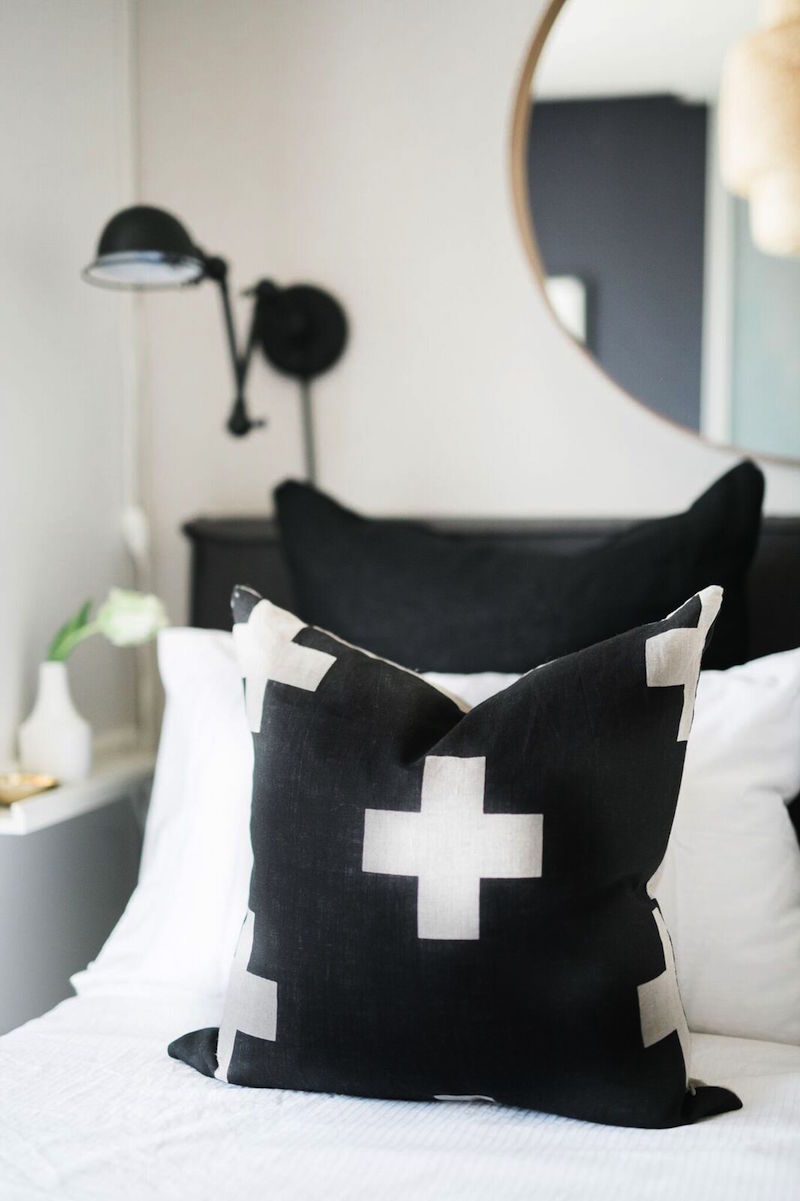 While your home has always looked chic, we can't help but notice the more neutral tones you've incorporated. What made you decide on this look and how did you begin the process?
Thanks so much! I think I got tired of seeing so much color with all the clients I have in my everyday life. I wanted a place of solitude and more of a sanctuary. Plus I think my old place was a tad bit feminine and not as polished or finished as I wanted it to be. This time I wanted to incorporate something more neutral since both of us are living there.
I started how I start all my clients — we create a mood board where we save pictures of all the things that inspire us. I kept pinning shades of white, cream, black, and warm browns. Things that were more classic in style — and that for me was enough convincing!
What's your favorite room and why is it special to you?
My bathroom! I eventually have started to put all my wedding photos in there. Ones of my Mum and sister and husband, pictures of my dogs, and just things that maybe are a bit more feminine but all in black and white. It was my opportunity to make this space just mine.
The bursts of greenery seem to be a trademark of yours! Where are you go-to places for home decor?
I can't help it, I love plants! They are a breath of fresh air and they add a decor element you can't emulate with any print.
We have a store called Homesense — like Homegoods in the US. I love Target, West Elm, Crate and Barrel, CB2, etc. We also have local stores, which I try to grab things from whenever we are in the area.  
What advice you would give to your 21-year-old self?
Trust who you are and believe in the fact that there is a bigger plan. Trust your gut and follow your heart. It isn't going to be easy, but success will come.
Natalie Chong is The Everygirl…
Favorite dessert?
Bombolones — Sugar donuts stuffed with Nutella.
Your camera roll is full of…
Pictures of my dogs or designed spaces
Home essential you can't live without?
Candles — ugh I have a serious obsession
Current song playing in your car?
Daniel Caesar — Get You