Natalie Comstock runs not one but two businesses from her dreamy home office: her blog Natalie Dressed and her clothing line Style + Spirit, which both serve up large doses of style as well as spirituality. After working in the venture capital world and putting her fashion aspirations to the side, now she finally works full-time at her dream job, which entails working in this amazing space.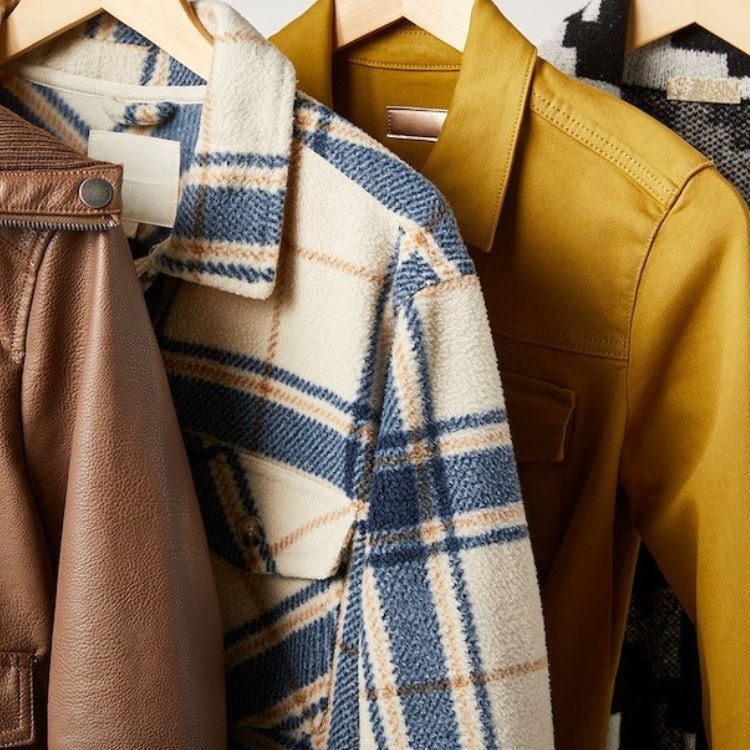 ...and it's wallet-friendly
After peeking inside Natalie's chic office, we're temped to call her "The Queen of Jean" and you'll see why. Read on the find out how Natalie maintains a work life balance, how she decorated on a major budget, and what she has planned for this space next! (Spoiler: Congrats are in order!)
Name: Natalie Comstock
Age: 27
Occupation: Founder, Natalie Dressed and Style + Spirit
Education: B.S. in Business Administration, Concentration in Marketing, San Jose State University
What was your first job out of college and how did you land it?
I got hired as a receptionist at a Venture Capital firm here in Silicon Valley. A recruiting company contacted me on LinkedIn and although I really wanted a job in fashion, that wasn't playing out so I decided to give it a try. I'm so glad I did because as my time with the company grew and they developed more trust in me, my responsibilities began to grow and I took on some executive assistant projects and eventually marketing projects (for a conference one of the partners had started).
I knew nothing about the VC world and never thought I'd be involved in the world of tech, but I learned a lot while I was there, worked with some really great people, and was even able to continue working for one of the partners remotely from home when our move to Santa Cruz at the end of 2013 caused me to quit my job. It ended up being the perfect transition for me to eventually work for myself.
You now work from home on your blog Natalie Dressed and clothing line Style + Spirit. What made you want to work for yourself and start your own company?
Since I was young, I could always see myself starting my own business, I just didn't know how. My dad has been a small business owner since I was probably 10 or 11 and his dad and brother also worked for themselves, so I think that planted some entrepreneurial seeds in me. When I started my blog in 2011, I was introduced to this entire new world. As time went on I saw these amazing women working from home doing something they loved while raising a family and I knew that was what I wanted.
On the one hand, I wanted to enjoy my work and have a career that felt fulfilling and like I was contributing something positive to the world. On the other, I wanted the lifestyle advantages: The flexibility to create my own schedule and be my own boss, the ability to work from anywhere, and the opportunity to work while still being at home with my kids when we decided to start a family. It really boils down to the lifestyle my husband and I want to live and the ways I want to contribute to the world.
Have you always been interested in fashion? Where did the inspiration to start Natalie Dressed come from?
My love for fashion really blossomed in college. When I couldn't find a job in fashion after college, I thought that starting a blog might serve as a living resume that highlighted my style and my eye for fashion (which, looking back, was so bad at the time!). I had actually started a blog once before, but only lasted for two posts. It was terrible. Like mirror selfie shots terrible. But my friends liked seeing my outfits and encouraged me to start a real blog so I used that encouragement to fuel me.
When I started my blog, I just viewed it as a creative outlet and a tool to help me get a job in fashion eventually—I never thought it would be my main gig. As time went on, I realized how much I loved writing and began to develop my own voice and vision for the space. While style is still a main component of the blog, its evolved to include a lot of discussion on spirituality and real life. I now view it a place to serve up some style inspiration while also delivering meaningful content that actually matters.
I really want girls to know that you can live this modern-day, stylish life while still living from a deeper place of connection, truth, and meaning. Style and spirituality can go hand in hand—you don't have to sacrifice one in order to have the other.
I realized how much I loved writing and began to develop my own voice
Tell us about Style + Spirit! What are some of the challenges you faced starting a clothing line?
Style + Spirit is essentially the physical manifestation of my mission to bring the worlds of style and spirituality together. It's a graphic apparel brand for the spiritually inclined. I wanted a one-stop shop for graphic tees that touted positive messages I believed in and was proud to wear, so when I couldn't find one, I decided to start Style + Spirit. The brand utilizes style to help remind us to embody the messages the products carry.
I'm a California girl so the vibe of the brand is very inspired by ease and effortlessness of California style. There were plenty of logistical challenges when I first started because I had no clue what I was doing. I had to figure out things like how to actually establish and set up a business, how to source and create physical products, and how to set up an online e-commerce store. Those things were challenging, but they were all things I could figure out with a little research.
The hardest challenges were probably around strategy: how much inventory to buy and what sizes, how to best market the brand, whether or not to do wholesale, etc. because there are no clear cut answers. It was and still is a lot of trial and error and figuring things out as I go. The mental and emotional challenges were also tough. Although I believed in my vision, I had plenty moments of self-doubt and fear (and still do). The hardest part is to keep going and keep believing when you hit the bumps in the road.
You now work from home full-time. How do you maintain a work life balance?
It's hard. I think looking at the bigger, zoomed out picture of my life, I have a fairly good balance—lots of work but also lots of rest and play. What I struggle with is finding balance in the day-to-day. I tend to be very focused, so some days I can be on the computer from when I get up to when I go to bed. Other days, I'll find myself a lot more distracted and "doing" a bunch of different things but not really getting anything done. So although it balances out in the grand scheme of things, I'd like to find more balance across each day.
My husband is a firefighter and works 48-hour shifts followed by 96 hours at home so I tend to get a lot done when he's at work then have more flexible days when he's home. The thing that's been most helpful in trying to find more balance is to take breaks and to incorporate grounding practices into my day like reading something inspirational, sitting for meditation, doing some journaling, or being active. When I make the time for those things, my work is much more focused and effective and I'm able to turn it off more easily.
You moved to Santa Cruz from San Jose in 2013. What do you love most about your neighborhood? 
The beach! We are a ten-minute walk from the beach and now that we've lived ocean-side for the past two years, I can't imagine ever not living near the ocean. I love that Santa Cruz is slower than San Jose. There's a little less rat race here. Our particular neighborhood is great because in addition to the beach, we can walk to several markets, cafes, coffee shops, and even the boardwalk.
Your house is over 100 years old! Tell us about what makes the home special.
My grandparents have owned it since the 1980s but we're the first family to live here so it's been cool to bring it into family hands. The home itself is super charming and things like trim around the top of each room and the original doors that have the keyhole under the doorknob give it a lot of character.
My favorite thing is that there are a lot of windows and natural light. There are also some quirky things like a really funky shaped bathroom (we think it was added on), a light switch that is half way covered by a kitchen cabinet, and no door to the backyard (you have to go through the garage) that make us question the thought process that went into those things, but also make us laugh.
Think out of the box about how you can make things both functional and aesthetically pleasing
This room serves as both an office and closet. How did you make this work? Any organizational tips?
Thankfully, my clothing is part of my work so working surrounded by my wardrobe isn't weird. The majority of my clothes are in the closet, but I had to figure out extra ways to either store or display everything that didn't fit.
My biggest tip is to think out of the box about how you can make things both functional and aesthetically pleasing. I utilized the original trim around the top of the room to hang all my heels and save floor space. I didn't have wall space for an inspiration board so I bought some sticky cork to attach to the back of the closet door.
Denim is one of the my favorite things in the world and it's also the thing I wear most so having all my jeans be visible is both functional and puts a smile on my face. The IKEA shelves are godsends. I bought drawers for them to store things like pjs, workout clothes, bras and underwear, t-shirts, and anything else I didn't want to see and then the shelves themselves host a variety of things from jewelry to books to file boxes to shoes. Coats and jackets live on the clothing rack, which works well because they're easily accessible when I need to leave the house quickly. Style + Spirit pieces hang on wooden hangers on the front part of the clothing rack so they're also easily accessible and unwrinkled when I need photos of them.
Office essentials like paper, shipping labels, tape, files, etc. are all stored in decorative boxes behind my desk so they're within reach but out of view. Thinking about what I actually wanted displayed and what I didn't want to in view was helpful in coming up with solutions for different things.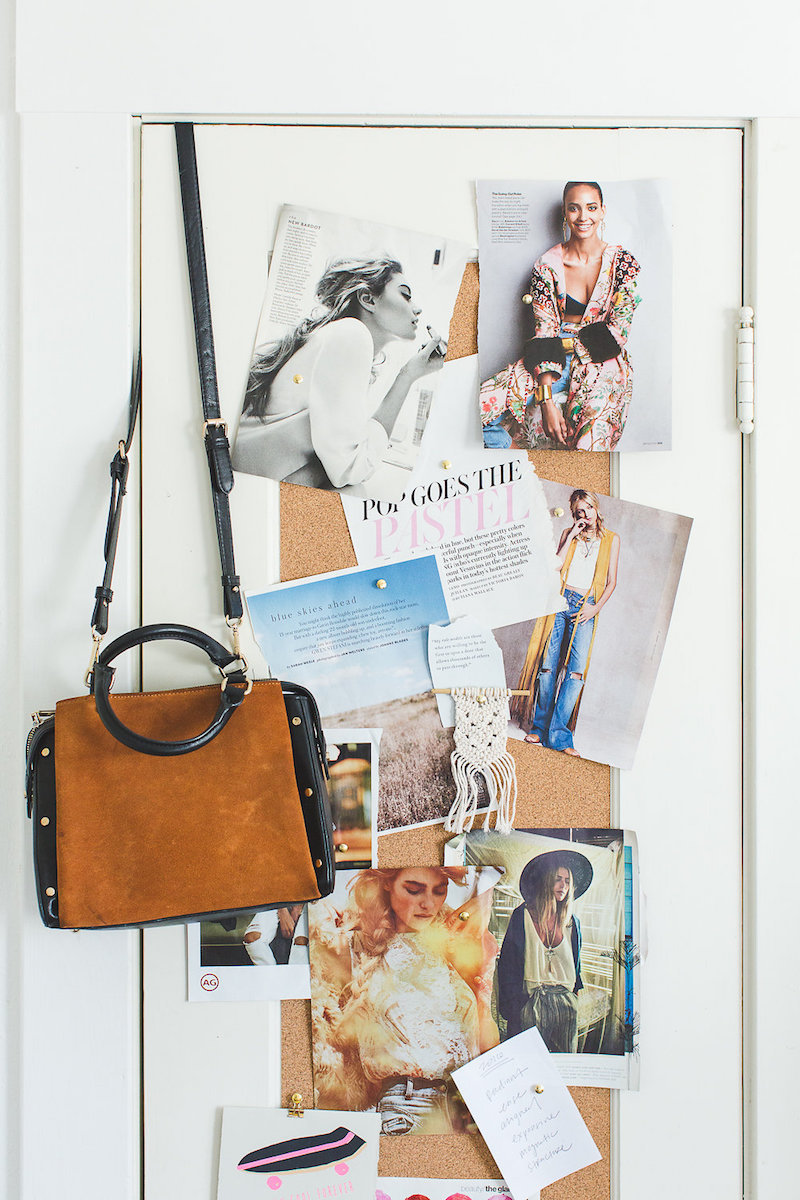 How would you describe your personal decorating style? 
I like spaces to feel bright and airy, but I also want them to have character. I gravitate towards a lot of different styles—for example, I have a soft spot for industrial and natural elements like brass, concrete, wood, metal, and leather and I love more modern pieces and clean lines. I always appreciate touches of boho elements like plants, prints and patterns, cool textures, etc.
I try to just choose things I love and make them work together. I typically like some contrast—masculine/feminine, hard/soft, dark/light, clean/rough—so the variations usually work out okay.
Did you decorate this room on a budget? What are some of your favorite places to shop for furniture and décor?
Yes, I'd rather invest in pieces in other areas of the house so I wanted to keep this space very affordable. My favorite places to shop are AllModern, Urban Outfitters, IKEA, Target, Homegoods, and World Market. I also love all things Anthropologie, West Elm, and CB2 for investment pieces and wish I could fill my house with their stuff.
Recently, I've been on a kick of discovering smaller brands on Instagram for things like pillows, rugs, wall decor, art, etc. A few recent finds are Mae Woven, Coco Carpets, Loom & Field, Sun Woven, Loom Goods, and The Shift Creative. I don't do it a lot, but I also love looking for unique finds at flea markets and consignment stores.
We hear that this room will soon be a nursery! Congratulations! Do you have a decorating scheme in mind?
Thank you! It was kind of ironic how once my office finally felt finished, we found out we were pregnant and would have to transition the space to a nursery—timing is a funny thing! When it comes to decorating the nursery, I want to keep the foundational pieces neutral and natural and then incorporate some fun, boho elements through the decor.
We're having a girl so thankfully a lot of the decor and art I already have can still be used in her room. I'm really not into traditional baby things so I want to the room to still tie into the rest of the house. I want it to be cool and boho but still feel fun and playful.
Where do you see yourself in five years?
I don't like to project too much into the future, but I hope our life looks similar to how it does now but feels a little freer and bigger. I hope that my blog and business will have grown to enable us to travel more and to document those adventures with our kids. Hopefully we'll have a few more kids, own a home, and have a VW Westfalia to adventure around in. That's the dream! I also hope that Natalie Dressed and Style + Spirit evolve and expand into a bigger platform where I can help women tap into their spirituality, examine their relationship with their image and possessions, and live a life of both beauty and deeper meaning.
Natalie Comstock is The Everygirl…
Coffee order?
While pregnant, decaf latte. Normally, regular latte or chai latte.
Dream vacation?
Santorini and Mykonos, Greece
Guilty pleasure?
Bad reality TV
Describe your perfect Santa Cruz Saturday!
A big BBQ at our house followed by a beach bonfire and s'mores.
If you could have lunch with one woman, who would it be and what would you order?
Ellen and I'd order a sandwich and a chai latte.
Product Sources
Rug, Urban Outfitters
Office Chair, All Modern
Leather and Metal Arm Chair, All Modern
Wall Sconces, All Modern
Peace Sign Sculpture, All Modern
Desk, IKEA
Fjalkinge Shelves, IKEA
Clothing Rack, IKEA
Black Planter, IKEA
Floor Mirror, IKEA
Striped Storage Boxes, IKEA
Gold Bowl, Homegoods
Necklace Stand/Form, Homegoods
Mirroried Jewelry Box, Homegoods
Beaded Jewelry Box, Anthropologie
Gold Pineapple, Anthropologie
Square Mirror, Thrifted
3-Tiered Metal Cart, Target
Wood File Boxes, Target
Acrylic File Trays, Target
Desk Calendar, Target
Magazine Holder, Target
Wood and White Frame, Target
Wood and Black Frame, Target
Bamboo Boxes, Target
Black Frames, Target
Eckhart Tolle Print, Meghann Miniello
Hug More Often Print, Beau Champing
Yoga Class Print, Sara Combs
Bay Surfers Print, Sara Combs
Classic Print, SS Print Shop
Clip Boards,​ Office Depot
Globe, World Market
Agate Druzy Stone, World Market
Cement and White Planter, Dig Gardens