As much as I love the Law of Attraction, my crystals, and positive thinking, I haven't quite willed clear skin into existence yet. I'll stand in the mirror telling my skin it's beautiful and clear and strong all night, and I'll still wake up with those same zits on my face. While there are tons of products on the market that promise rejuvenated skin—we're looking at you, retinol—those results can take weeks to months to even notice, so what are you to do if you want better skin, like, tomorrow? When I've got a date, a special occasion, or an important meeting and want to look my best, there are a few secrets I've followed to get my skin in tip-top shape (er, the best shape it could be) in just eight short hours. Follow these skincare tips to get better skin overnight: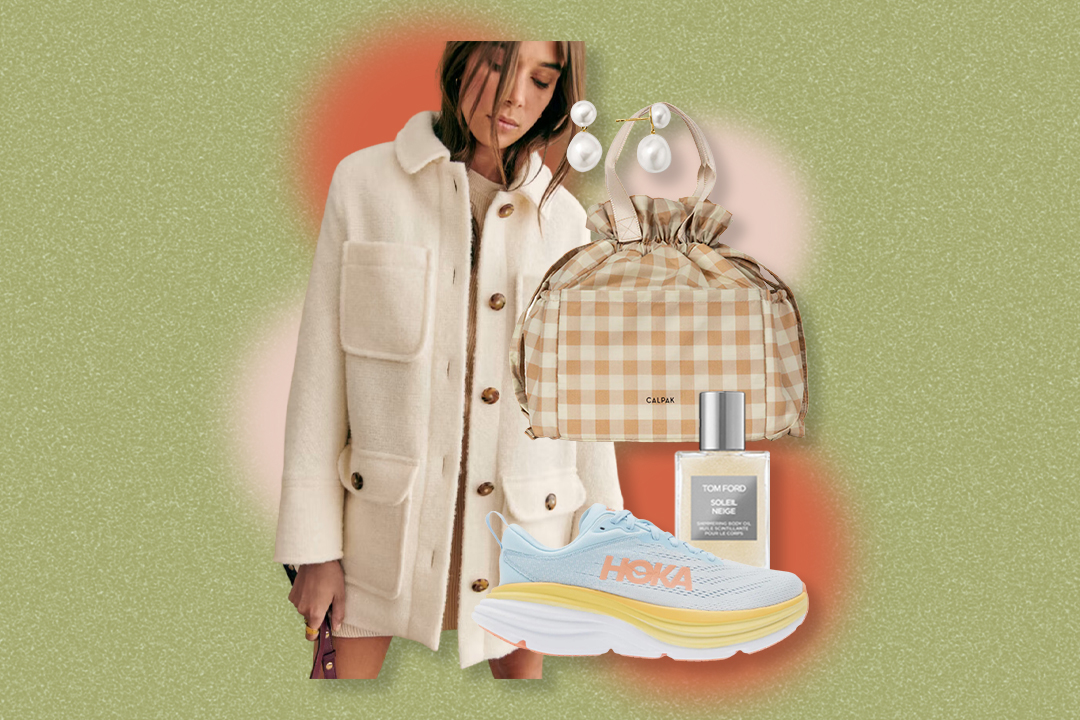 1. Wash your face
It really is that simple. If you're not washing your face before you're going to sleep, that might be the culprit of your skin issues. Make sure that you're washing your face every night before bed, even if you didn't wear makeup that day. If you really want to wake up with bright, clear, smooth skin, you can try double cleansing, which is when you use an oil or balm cleanser first to remove makeup and follow that with a gel or milky cleanser (depending on your skin type—gel is great for oily/combo skin, while milky, cream cleansers are good for normal to dry skin).
Naturium
This cleansing balm is silky smooth, and once you add a little water, it turns into a milky consistency that entirely removes a full face of makeup in under 30 seconds.
CeraVe
Our editors with dry skin swear by this milky drugstore cleanser for keeping skin clear and bright without skimping on hydration.
Shani Darden Skin Care
For oily skin, this serum-like cleanser will wash away dirt, oil, and debris without making you feel stripped.
2. Steam your face
To start your at-home spa night right, steam for your face for up to 15 minutes, whether it's with a facial steamer or by boiling some water and standing over the pot (less glamorous but highly cost-effective). The hot steam will soften your skin, making all of the products and treatments you do afterward penetrate deeper into the skin.
Vanity Planet
This luxe facial steamer does all the hard work for you, auto-shutting off after 15 minutes, so you can sit back and relax.
Target
For a drugstore alternative, we love the light steam this provides and how easy it is to set up.
3. Avoid picking
Although it might seem counterintuitive, if you want to wake up to better skin, don't pick at it. Fight the urge to pop any pimples (a spot treatment is a great physical blocker for this). Popping your zits only causes more inflammation and redness to the skin's surface, so you could wake up with more acne or that pimple looking even worse than before. Instead, leave it be and know these other tips will help that zit much better than putting your grimey fingers all over it.
4. Exfoliate
An exfoliator is basically like getting a facial from the comfort of your bathroom. It removes dead skin and reveals a brighter, smoother complexion in just one step. If you really want your skin to glow, use a product with both a physical and chemical exfoliation, like a scrub that also has AHAs. Celebrity esthetician Joanna Vargas swears by using both modes of exfoliation in her book Glow From Within.
Wishful
This exfoliator tows the line between the gentle yet effective, revealing ultra-soft skin even after just one use.
Good Molecules
Mix a little bit of this powder with water or your cleanser to reap the benefits of pineapple enzymes and papaya extract, two ingredients that brighten skin and loosen up dead skin on the surface.
5. Treat with ice
Contrary to your face steam, ice has benefits for your skin too. Ice can instantly reduce swelling and inflammation (AKA why you used an ice pack when you scraped your knee as a kid), so it can bring down puffiness and redness. This can help reduce the appearance of active acne and overall make your face look more glowy and well-rested. Plus, we can't deny it feels so good.
The easiest way to do this is with an ice roller or cryo sticks, but you can also wrap a few ice cubes in paper towels to rub over your face in a pinch.
Amazon
The ice roller that practically broke the Internet, this Amazon-favorite can be found on the vanities of some of our favorite celebs (including Shay Mitchell).
Amazon
Expensive versions of these sticks you keep in the freezer to roll over your face are all over the market, but we stand by this under-$20 set.
6. Drink a glass of water
Before bed, make sure you're getting a last-ditch effort of hydration to your skin by drinking a full glass of water. On the days I drink more water, I immediately notice it in my skin the next day. My skin looks bouncier and firmer, and my usual morning puffiness is practically nonexistent. In the days leading up to a special event, I put a lot of focus on drinking as much water as I can to nourish and hydrate my skin from the inside out, but it works just as well overnight.
I tend to have a salt-heavy diet (sorry to my dietician, but I cannot resist extra soy sauce with my sushi) that makes my skin prone to puffiness. Instead of avoiding my favorite things, I combat it by drinking lots of water, and it does wonders for my skin.
7. Use a thick moisturizer
Regardless of your skin type, using a thick moisturizer as your last step will lock in all of the good skincare ingredients you used before with a final layer of hydration. Moisturizer keeps your skin bouncy. Plus, hydrated skin just looks better—there's no getting around it.
Obviously, "thick" is subjective based on your skin type. If you tend to have oily skin, you'll likely want to opt for something lighter without any pore-clogging oils, while a dry skin type can handle something occlusive and ointment-like.
Weleda
Loved by dermatologists, estheticians, skincare enthusiasts, and beauty editors alike, Weleda Skin Food is the gold standard of thick, occlusive moisturizers for curing dry skin (even through harsh winters).
Buttah Skin
Buttah's goal is to make your skin as smooth and moisturized as possible, and this facial moisturizer containing vitamin E, cocoa and shea butter, and hyaluronic acid certainly does the trick.
8. Try slugging
If you're looking to wake up with the most glowy skin of your life, try slugging. You apply a thick layer of Vaseline or a petrolatum-based product (like an ointment) all over your face as the last step in your nighttime skincare routine and sleep in it. This acts as an occlusive to keep all the moisture in your skin, reducing transepidermal water loss (when water passes through the skin's surface and evaporates, leaving skin dehydrated and disrupting the moisture barrier) and revealing a glowy, ultra-moisturized complexion once you remove it in the morning.
While slugging is recommended for dry skin types, oily skin can benefit too, as it's not comedogenic. However, we recommend doing a patch test first to make sure your skin won't go ultra oily the next morning, or worse, break out.
Vaseline
If you don't have a tub of Vaseline in your beauty stash, this is your sign to order ASAP.
CeraVe
TBH, this is the superior petrolatum formula on the market right now, combining the petroleum jelly we love in Vaseline with good-for-skin ceramides and hyaluronic acid.
9. Use a spot treatment
If you have areas on your face you want to pay special attention to, use a spot treatment to help zap it overnight. Salicylic acid spot treatments will clear out your pores in a gentle way, while sulfur and benzoyl peroxide are a bit stronger and can reduce the appearance of acne (often leaving a bit of dryness) in a few short hours.
We often think of spot treatments for acne, but you can spot treat most skin issues. If you have dry patches, you can focus extra moisturizer on those areas, like the skin on the eyelids or the back of your cheeks. I also love spot treating any creases or fine lines by focusing extra moisturizer in those areas.
InnBeauty Project
Our editor brings this zit cream everywhere she goes because it practically zaps a pimple overnight without drying out or irritating skin.
Paula's Choice
For those hard-to-get spots that live under the skin and drive you nuts, this 9% salicylic acid spot treatment goes deep into pores to clean out blackheads, bumps, and clogged pores.
10. Get a full night's rest
If you don't want to wake up with tired, irritated, puffy skin, there really is one thing you can do to fix it: actually get some Zs. Waking up rested and rejuvenated is enough to make you feel fantastic, so it's not a surprise your skin would follow suit. Use your calming essential oils, brew your favorite tea, and head to bed just a bit earlier tonight. Your morning self will thank you.