When my cofounder Danielle and I sat down in August 2011 to brainstorm what launching an online magazine would look like, we had a lot of lofty goals for this not-yet-existent company.
We were 28 and 25-years-old respectively, basically strangers. We both had full-time jobs to tend to, and let me just say, we had no idea what obstacles stood in our way. We simply believed the sky was the limit.
As I feverishly transcribed everything we were saying, pen to paper, I noted the seemingly attainable, low-hanging fruit goals… but as all big dreamers know, you don't settle for low-hanging fruit. You set the bar high.
As we drank coffee and excitedly talked over one another, rattling off one idea after the next, and visions for what this site could become danced in the air around us, one of us may or may not have suggested "a product line in Target!"
Suuuure! Why not?! Add it to the list! What a dream that would be! "The products would be stylish, affordable, and practical, of course." Items that would help women everywhere reach their goals of living a well-rounded, creative, career-driven life with purpose.
Well, fast forward ten years, and let our story be another example of not settling or giving up. As we've said many times before, we've grown this business slow and steadily, patiently and staying true to our mission, as we encourage all of you to do the same with your dreams.
And we are elated to say that as of today, The Everygirl 2021 day planner collection is now live at Target.com and will be in a store near you over the next few days!
How did this come to be, you may ask? Let's rewind to 2018.
I remember the moment like it was yesterday. Our partnership director gave us the exciting news that she'd be talking with Day Designer–the premiere name of planners and notebooks–and they wanted to partner with The Everygirl on a 2021 collection of day planners. Gasp. As if that wasn't thrilling enough, she told us that we'd be pitching the collection to Target.
I'm fairly certain dogs in Indiana heard our screams of excitement at the news. Sure we dreamed of seeing The Everygirl name on products, but planners are to The Everyirl team what books are to Rory Gilmore. Lists, goals, charts, stickers, reminders, all organized neatly in one specific place–Ooo boy! It gets our blood rushing.
The Day Designer team are true experts in the planner space and we can't thank them enough for making this whole process so easy and fun. Collaborating with them meant we'd get to design a large collection of planners, front to back, choose the formatting and content, curate and design stickers, pick out the details, all of it. Truly one of those 2011 pipe dreams coming true.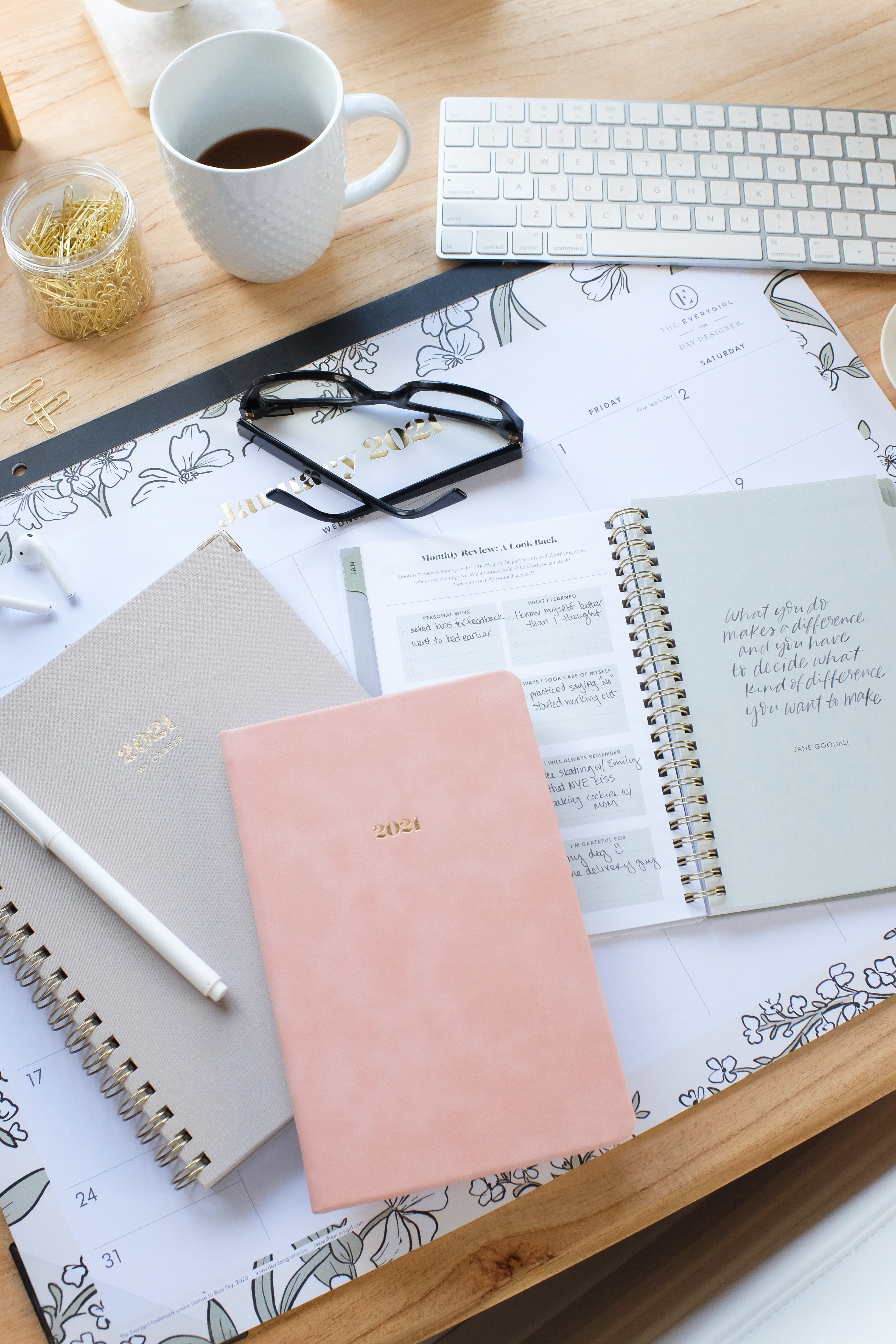 Once we got the news and details, we immediately got to work, pinning inspiration, mood-boarding color palettes, brainstorming creative details to include.
Unsurprisingly, we settled on our signature color palette: a base of white and grey neutrals paired with soft blush, mint green, and pastel blue and finished with gold foil accents and spirals. We wanted beautiful texture and went with a linen material for our two signature planners: The Career Planner and the 30 Day Challenge Planner.
As for patterns, thick stripes, striking ikat dots, and feminine florals round out a collection that is as classic as it is beautiful. Our graphic designer hand-lettered quotes for each month page, and we pulled helpful resources from our archives to include to help inspire and guide your year.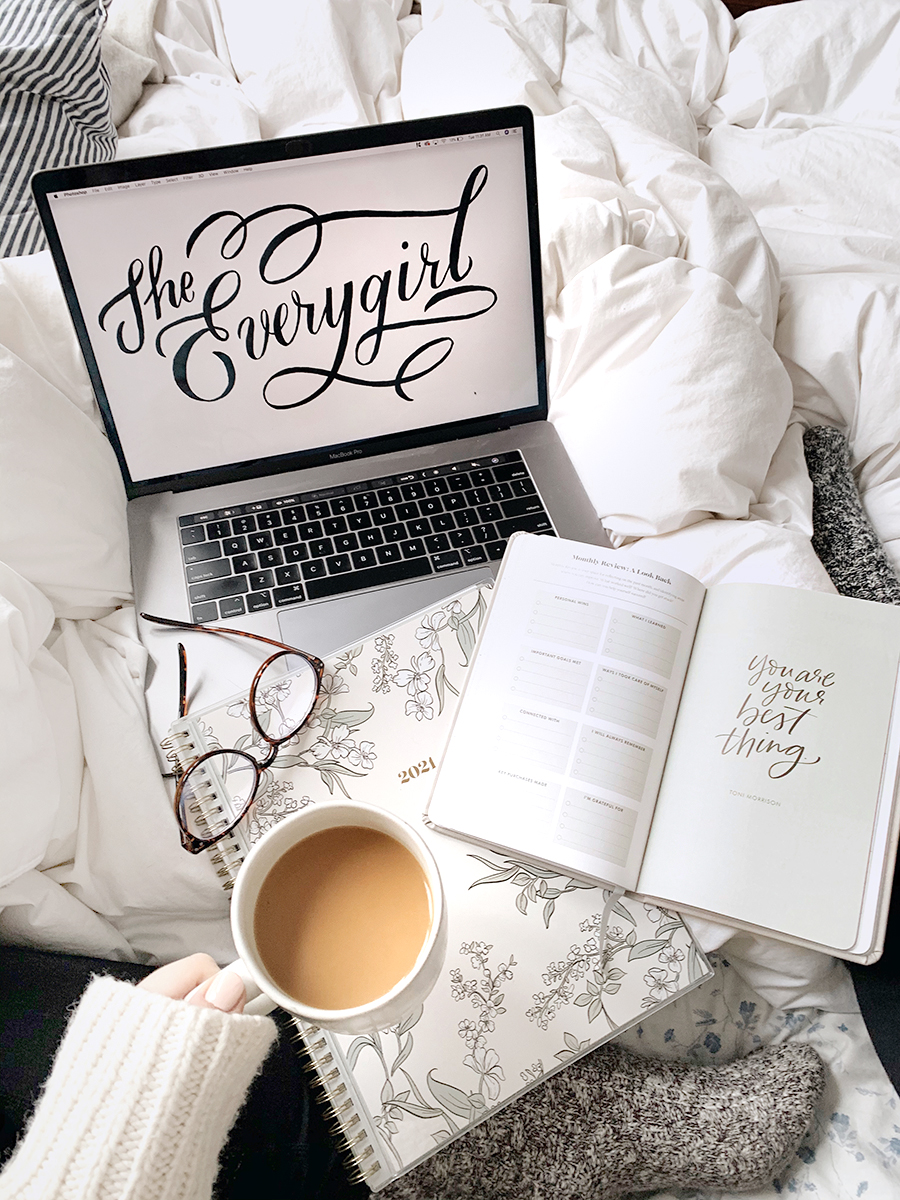 It's crazy to think we had this entire collection finalized over a year ago and were so proud of the pieces we put together and presented to Day Designer. So you can only imagine our elation when we found out The Everygirl planners were being picked up by Target to be sold in stores all over the country and on their website! That's right–as of today, you can shop the entire collection of 2021 planners on Target.com and in a few days, they'll be in a Target store near you!
The collection comes in a range of sizes, from desktop calendars to wall calendars, spiral-bound and book-bound notebooks. They're all so beautiful, it's almost impossible to choose one. How many planners is too many, we wonder? The limit probably doesn't exist.
We hope you enjoy!
available at Target
The Everygirl for Day Designer
Wire-bound, hardcover, 7x9 in.
The Everygirl for Day Designer
Wire-bound, hardcover, 7x9 in.
The Everygirl for Day Designer
Wire-bound, 5x8 in.
The Everygirl for Day Designer
Faux leather, 8x10in.
Weekly & Monthly Planner
Wire-bound, 8.5x11 in.
The Everygirl for Day Designer
Wire-bound, 5x8 in.
The Everygirl for Day Designer
22x17