You know that feeling when you grab your favorite pair of leggings only to put them on and notice that there are holes in the thighs? Utter disappointment doesn't even begin to describe moments like that.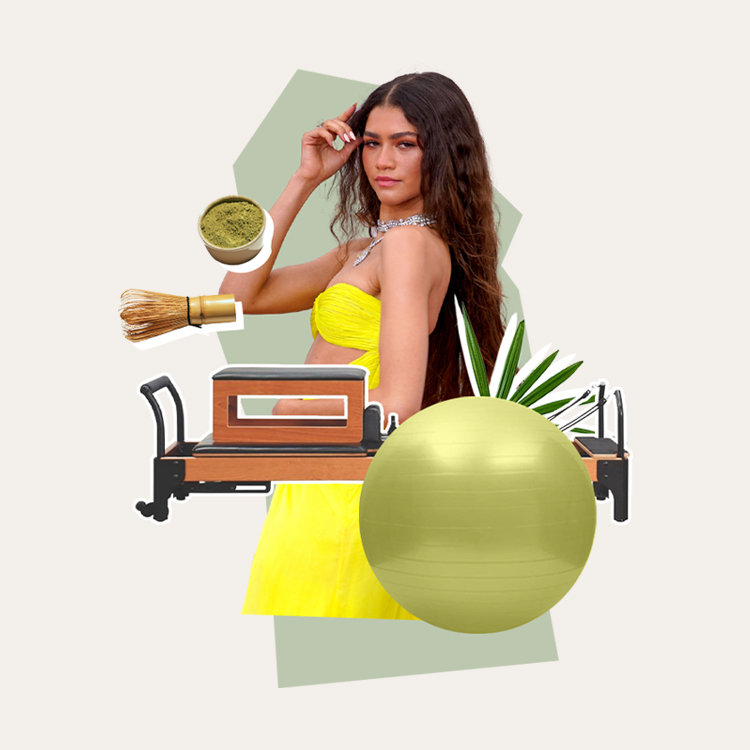 she's (kinda) just like us!
I try to work out every day, and I've noticed that more than a few of my favorite leggings have been rubbed raw in the thigh area—every curvy girl knows what I mean here (thigh gap who?). It seemed as though my favorite leggings and my thighs were conspiring against me, so I decided it was time to order some replacements.

For the past year, I've been getting ads for the same pairs of size-inclusive leggings from Girlfriend Collective, PopFit, and Fabletics. I can't count how many times I've clicked through to them and talked myself out of taking the plunge—but no more! I ordered three pairs of the leggings I'm constantly seeing online to test them out once and for all.
I'm a big girl who likes to do all kinds of workouts. I love anything from dancing to cycling to HIIT to weight lifting to yoga, but the one thing I absolutely cannot stand is a pair of leggings that can't take the heat of a good workout. So, I really tried these brands and ranked them based on style, comfort level, fit, and full workout capability. Here's what happened:
Legging 1: Popfit Harlow Legging
I've had my eye on these for a while because they have a crazy entry offer where you get your first pair of leggings free. Honestly, it sounded too good to be true, so I had to investigate. When I opened the package, I can't lie, I was a bit skeptical. The material felt thinner than what I was used to, and I couldn't imagine how the leggings would actually look on me (the patterns on the site were a bit outside of my comfort zone). But then I tried them on and I was pleasantly surprised. I loved the way that the leggings offered some light compression in the tummy area, accentuated my waist, and bonus: they have pockets!
I did two workouts in these leggings: jump rope and cycling. They're super high waisted, so I didn't have to pause in the middle of my workout to adjust them or keep them from falling down. The material was pretty stretchy, so there wasn't too much resistance against my movements or hesitation for fear of ripping them.
I'd recommend these leggings for those who enjoy HIIT workouts and activities with a lot of fast-paced movements. I would pass on them for those who need a maximum mobility for activities such as yoga, pilates, and barre.
Sizing tip: These leggings run a bit large, so I'd recommend sizing down based on your measurements.
Legging 2: Fabletics Maya High-Waisted Capri
The next leggings I tried were that of Kate Hudson's Activewear line, Fabletics. If I had to describe these leggings in three words, I'd say: cute, high-quality, and again, pockets.
In comparison to the PopFit leggings, these were definitely more comfortable. I really appreciated the thickness of the waistband and softness of the material, although I did have to do the Beyoncé jump to get them over all of my assets. The pockets weren't as deep or wide as the PopFit leggings, but they're made with a sheer material which provided a cute contrast to the material of the actual leggings. They also weren't as high waisted, which would have been a major bonus for me because it helps to create that hourglass shape on my body.
I went hiking in a rocky terrain in these leggings. As I brushed up against bushes and branches, I was immensely thankful for the thick material between me and the more unforgiving aspects of nature. Also, as I climbed, I was able to really assess the mobility of the material and was extremely pleased. Plus, they're super sweatproof, so you can say goodbye to awkward sweat stains. On the con side, I did have to stop and pull these leggings up a few times, and I don't think going down a size would be possible for me.
I'd recommend these leggings for more stationary activities like: weight-lifting, yoga, biking, and core workouts.
Sizing tip: These leggings fit pretty true to size, so I'd recommend sizing based on your measurements.
Legging 3: Girlfriend Collective High-Rise Legging
So, do all leggings have pockets now? I'm not complaining, I'm exclaiming! Honestly, I don't think I can wear leggings without pockets after this experience.
These were the leggings I was the most excited to try. They have such an amazing variety of models and representation in their branding. They arrived in the cutest packaging and came with an adorable recyclable pouch. Their site calls these particular leggings, "squat-proof, ultra high-rise, compressive leggings," and I wanted to find out if these claims held up.
The first time I pulled these on, I could tell that they were much more structured than the other pairs I tried. The compression was, comparatively, a lot lighter, and the high-rise didn't rise as high as I may have hoped.
I went for a five mile walk in these and followed it with a quick yoga session. I found them to be extremely moisture-wicking, and the pockets had a really secure feel—which would be great for my keys, wallet, or phone. I found myself having to pull them up a lot during my walk, and I think it's because my phone started to weigh them down.
These are the leggings I'd go to for my athleisure 'fits. I'll probably double back to the site for the matching top so I can wear this on work-from-home days or to run errands. They're the perfect leggings for a chill Saturday, and come in a ton of cute colors to spice up your wardrobe with.
Sizing tip: The next time I order from Girlfriend Collective I think I'll try a smaller size. This time I got a XXL, and I think an XL might have given me that extra compression I needed. (Plus, I'm kind of short, so these felt a bit too long for me.)