If you're anything less than what society deems beautiful, you may feel like you're supposed to be heard rather than seen. People who don't uphold traditional beauty standards may not feel worthy of admiration or attention, or like they are supposed to take up space. This feeling may bring up many fashion fears, like the fear of wearing prints.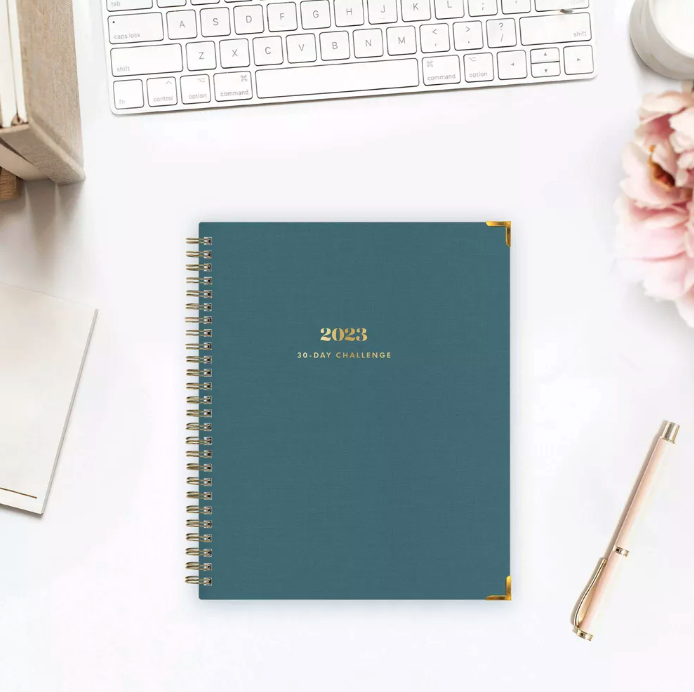 We may be biased, but this is the ultimate planner for the motivated goal-getter. Schedule your days, track your habits, and set new goals every month.
If you've ever felt like you're not what society deems "beautiful," you might feel like you're supposed to be heard and not seen. This feeling might bring up fashion fears, like the fear of wearing prints, and I'm here to address and squash some of them:
1. You don't want to be the elephant in the room
Or the leopard, cheetah, zebra, or snake either. I'm talking about animal prints! I've heard women say, "I'm too big to wear zebra, because I'll look like one." *Record scratch* Wait just one minute, ma'am. No one is going to mistake you for a tiger if you wear tiger print. What they may say is that you're feisty, fun, and looking sexy in your ensemble. Animal prints won't make you appear any larger or smaller, but they will definitely make a statement.
When I wear animal prints, I feel fun and super sexy. My favorite animal print to incorporate into my wardrobe is leopard print. I have leopard print shoes, bags, shirts, pants, and dresses. Now, of course, I wouldn't wear all of these different items together, but hey, I could if I wanted to! Here's a look that's easy to recreate:
I've paired my midi-length, bodycon leopard dress from Rebdolls with a cute and classic black moto jacket I scored from Eloquii for $13! The dress I'm wearing has sold out, but Amazon has a similar one. I added a cute, black, heeled bootie to top it off. I like the boots because they're easy to walk in and are very versatile. I bought these particular booties from Torrid a few years back. They're not available now, but Torrid has these available and they're a close match.
2. You're afraid someone will "connect the dots"
I hate to be the one to break it to you, but people will be able to tell you're plus-size regardless of what you're wearing. I know wearing all black is supposed to "slim you," but do we really care about being slim or are we more concerned with how people may respond to us because we aren't slim?
Too often, many plus-size women share the sentiment of wanting to "hide" their weight, and they use their clothing to do it. I'm all for wearing what's flattering and what fits your natural body shape best, but prints have nothing to do with that. Wearing plain or dark clothing won't hide your body, but it will make you less memorable. If you're not super comfortable with prints yet, try a look like this. I've chosen a black tube dress with white polka dots then paired it with a long denim shacket. I finished the look with white Steve Madden sneakers and voila! You've got an easy, fun casual look to go about town.
3. You're afraid of being "seen"
You deserve to be seen, admired, and complimented, and regardless of your personality, bold prints can do a lot of the talking for you. Walking into a room wearing a bold, graphic print places a lot of attention and focus on you and some people aren't OK with that. I know that some of us are just naturally shy, but I think some plus-size women try to avoid the spotlight because of insecurity. If you're feeling insecure or body-conscious, I'd like to encourage you to try wearing prints.
Take this dress from Eloquii, for example. It's a white, knee-length dress with a bold, abstract snow leopard print (told ya I like leopard). When I wear this dress, I'll undoubtedly stand out in a crowd. My dress will say "I'm here, I dress well, and I'm confident," and all of those things are true. I'd wear this dress for a date night, dinner party, or social event. Wear it with or without a bright moto jacket, like this one from Eloquii. Remember those boots from earlier? Here they are again. You can find ways to incorporate staple pieces into different outfits. It's a sensible thing to do that can save you tons of money.
4. You take yourself too seriously
Girl, why so serious? Clothing is supposed to be fun and experimental. I know, someone said you shouldn't wear stripes and you believed them; someone said you shouldn't experiment with bold colors and you believed that too. But they're wrong! Don't worry about if you can "pull it off," because you can! Your unique style is just that: yours. There really aren't any rules to this. You're plus-size, yes, but you aren't a stick in the mud. Feel free to experiment with color, shape, texture, lengths, and more.
I love pieces that are fun and help me stand out in a crowd. My favorite skirt is from a small boutique, Love's Lost Phoenix. I like to shop independent boutiques because they carry unique items, which makes it less likely for you to catch someone in the same outfit as you. I love this skirt because it breaks all of the fashion faux pas for plus-size girls. It's striped (horizontally and vertically), brightly colored, and has an exaggerated shape. I've paired it with a graphic tee and a pair of combat boots. It's eclectic! And whether or not you hate it or love it, you won't forget it. That is what I want to convey in my wardrobe: I'm unforgettable.
5. You don't think prints are professional
I can hear you now, "Yes, Jasmine all of this sounds great, but I'm a professional! I can't wear prints at work!" Well, I'm here to tell you that you can. I'm a professional too and I wear prints to work. When it comes to work attire, you may have to tone it down some, but you can definitely still incorporate prints into your wardrobe.
Here, I've paired a solid black mock-neck tee with a pair of plaid pants. It's simple and understated, but still shows a bit of my personality in the boardroom. Gone are the days of wearing plain black slacks and white button-downs to the office. It's 2021 and our work attire should have evolved by now. Don't be afraid to show up in your prints, just choose them carefully.
When I'm considering what prints I should or shouldn't wear to work, I think about what image I'm trying to portray. Yes, I want my personality to show, but I don't want to come off as immature. Polka dots, animal prints, stripes, and more are all fine, but definitely consider color and style. Also think about how much print you're wearing in one outfit. I'd balance the prints with solids just to be on the safe side.
I'm not sure if it's fear, shame, or the fear of shame that keeps our beliefs limited, but I am sure that you are beautiful and worth showing off. I don't care if you're a size 2 or 24 (like me), you deserve to feel good in your skin and clothing. I think that the fear of wearing prints on a plus-size body is less about the prints themselves and more about the insecurity and sense of inferiority society has instilled in women who don't meet "the beauty standard." The beauty standard is a lie. You deserve quality, fashionable clothing that speaks to your individual style, energy, and flair. Gone are the days of hating your body. You are beautiful! Now, show yourself off.