There is something in the air at Trader Joe's that makes me go absolutely off the rails. No matter how succinct the first draft of my shopping list is, I will always abandon it and emerge with two shopping carts full of items. If I allot 20 minutes of time to peruse the aisles at 2 p.m., there is a high probability that I'll find myself checking out far past sundown. I will suddenly start spewing nonsense like "I need 17 loaves of pancake bread or I will perish." And no matter how many reusable TJ's bags I have sitting at home, I will let the display convince me that I need just one more.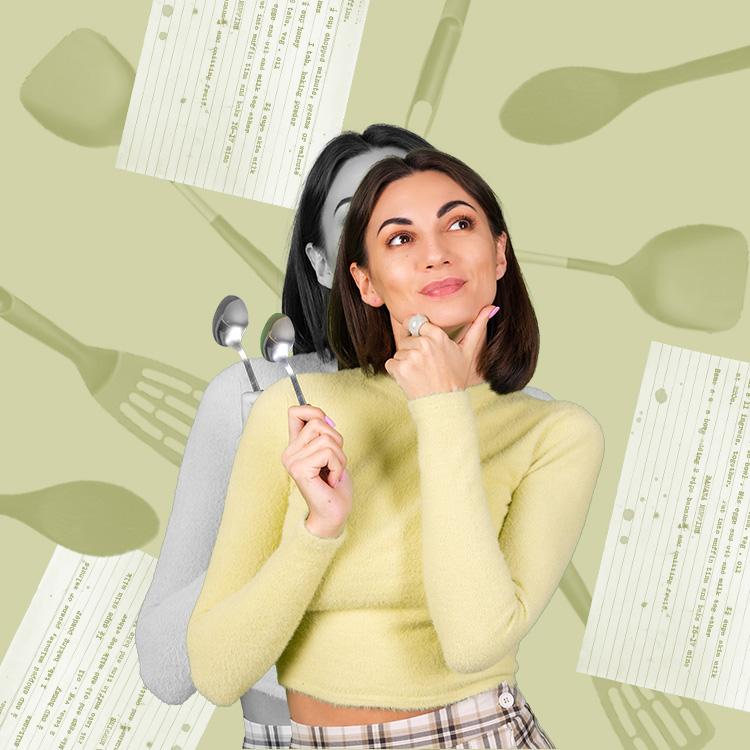 high in protein, good for gut health, and anti-inflammatory? yes, please!
This week's Trader Joe's run was no exception. I left with a cart full of new goodies that the internet insisted I needed, overdid my stay, and left sporting yet another brand new reusable bag. I am who I am. I ate my way through three shopping bags, I lived to tell the tale, and I took notes so that you don't waste your money on the "meh" stuff.
Out of the 15 items I piled into my cart this week, here are the ones that have earned a permanent spot in my pantry:
1. Sparkling Black Tea: Love it
If you're a fan of flavored seltzers, this Sparkling Black Tea will be your new favorite. Full disclaimer: I have never been a La Croix person. It's not like I have a personal vendetta against it, but it just doesn't have enough flavor for me. This carbonated peach tea packs just a tad more flavor than a La Croix which makes me an automatic fan. It's light, sweet, and only 15 calories. Also, can we talk about this gorgeous packaging? That alone gets me going.
2. Dark Chocolate Peanut Butter Cups: Love It

The perfect after-meal dessert exists and, honey, this is it. Seriously, these things have no business being so good. I like Reese's on a good day, but the dark chocolate in these sturdy peanut butter cups makes these even more addicting. With that, I say proceed with caution… I could most definitely eat the entire package in one sitting.
3. Spicy Cheese Crunchies: Love It

I cannot believe that I hadn't heard of these Spicy Cheese Crunchies sooner. If regular Cheetos and Flaming Hot Cheetos had a love child, this would be it. My biggest tiff with Flaming Hot Cheetos is that I love the spice but I don't fancy the flavor (anyone else?). This spicy snack has made that qualm a problem of the past. It packs the perfect amount of heat without sacrificing cheesy goodness and I couldn't be happier. Trader Joe's absolutely crushed it with these.
4. Sweet & Salty Snack Mix: Love It

Popcorn, peanut butter-filled pretzels, potato chips, and nuts lightly salted and drizzled with milk chocolate? Sign me up! I found myself absolutely shoving handfuls of this mix in my mouth and could have very easily finished the whole bag during one episode of The Queen's Gambit. Apparently, TJ's will only will be featuring this mix during the holiday season (which is a little strange to me because this doesn't strike me as a seasonal item, flavor-wise) which is a bit of a bummer. Alas, I'll be buying as long as they're selling.
5. Cacio e Pepe Spaghetti: Love It

My late Italian grandfather was in my ear, tantalizing me as I reluctantly grabbed this pasta from the TJ's frozen section. As an Italian, a part of me withers away and dies at the thought of a pre-packaged, frozen pasta/sauce situation, but as a budgeting, young adult with what feels like no time to spare, a larger part of me lights up and says, "let's get it, fam." Sure, I'm capable of whipping up a simple cacio e pepe from scratch but some days, I just don't have the energy or the time. And for days like that, this frozen meal is perfect. It makes enough pasta for two people though, that wouldn't stop me from eating both servings on my own if I was hungry enough. If you can get past the suspiciousness of the cream chunks that become sauce on a stovetop, then you'll be golden. The flavor of this stuff is *chef's kiss* and the convenience is unparalleled.
6. Chocolate Lava Cakes: Love It

This was it, you guys. This was the "how did I live without these" moment of my taste test. I had seen these when perusing Trader Joe's before but, to be honest, I typically skip the frozen dessert aisle altogether. I love my sweets but if I have them in my apartment, I will reach for them before any other edible, nutritional food option, and apparently, part of being an adult is saying no to yummy, processed AF treats every once in a while for the sake of "health" or whatever. BUT, I can say with full confidence that these Chocolate Lava Cakes are 100 percent worth the indulgence. Each package comes with two cakes that can be microwaved or placed in the oven. I opted to microwave mine because I have the patience of a toddler and it was still so unbelievable. How is this stuff legal? I'm telling you, it's that good.
7. Chicken Soup Dumplings: Love It
All hail these Steamed Chicken Soup Dumplings. These cute little friends were so easy to whip up—we love a "microwave for two minutes" moment. They were so tiny and poppable that I'll definitely be adding them to my cart the next time I hit up TJ's.
8. Spinach Lasagna: Love It
Making a full batch of lasagna (especially if you're like me and live alone) is quite the venture and not one that I have the time, patience, nor the resources for. That being said, I freaking love lasagna. Layers on layers of noodles, tomato sauce, and ricotta are my idea of a good time and this microwavable, spinach lasagna just hit exponentially different than any other microwavable lasagna I've ever whipped up. This would make for a perfect on-the-go, vegetarian lunch (throwback to days in the office, I lovingly long for you) and I can pronounce all of the ingredients which is always a win to me.
9. Vegan Banana Bread: Love It
Before I get into this one, I just have to say, this Vegan Banana Bread did not outrank my go-to Pancake Bread—I'm not cheating on my OG Trader Joe's dessert loaf, OK? I just need to get that out into the universe to clear my conscious. Now that we have that disclaimer out in the open, I can exhale and admit, this stuff is a close second. It paired perfectly with my morning coffee, tasted close to homemade without the fuss, and is a great bakery option for all of our vegan friends out there.
And the ones I won't be purchasing again:
10. Mini Cheesecake Cones: Leave It

If you wanted to know the Trader Joe's equivalent to a cavity, ladies and gents, this is it. I was so excited to try these Mini Cheesecake Cones, but as much as I take pride in my ability to inhale my desserts, these are just way too sweet. I love cheesecake, I love cones, and I love frozen treats… but these just didn't do it for me. Whomp, whomp.
11. Cookie Butter Spread: Leave It
I'm definitely going to get heat for this wildly unpopular opinion, but in the choice to love it or leave it, I don't think I'll be repurchasing this Cookie Butter again. Before you grab your torches and pitchforks, hear me out. TJ's Cookie Butter isn't bad. But, for me, it just didn't live up to the hype. I gave it the ole' college try by first spreading it on a banana. I expected to do a backflip and ask, "where has this been all of my life?!" When that didn't happen, I gave it a second attempt by dipping a few pretzels in it. And still, no dice. Sorry, world, I just can't get behind this one.
12. Mac and Cheese Bites: Leave It
When I heard about these fried mac and cheese balls, I had high hopes. I love cheese, I love all things fried, and I love a good find from the frozen food section. Unfortunately, these just did not pass the vibe check for me. On my first attempt at pulling them out of the oven, they were still a bit gooey at which time I felt like the Elmo Rise meme and exclaimed "let them burn!" with the expectation that they'd perhaps crisp up a bit more. Instead of becoming crispier, they lost their shape and melted into sad little blobfish. The flavor was fine and I'm sure air frying them would have been better but honestly, the experience wasn't worth the extra calories or questionable ingredient list.
13. Buffalo Style Chicken Dip: Leave It
I still experience shivers up my spine when I think about trying this. There was something about the mushy chicken and mostly-sour-cream buffalo cream sauce being served cold that I truly could not get past when taste-testing this dip. I don't know how to explain the mystery and uncertainty I felt when I dipped some pretzels in it but I truly wouldn't wish it upon my worst enemy. It just felt… wrong. I guess I didn't know what to expect as I've never had buffalo dip before (a total "me" problem, I fully acknowledge) but to me, I high-key expected it to be spicy, not sour—a little sus if you ask me.
14. Chocolate Lava Gnocchi: Leave It
To put it simply, I have never been more internally conflicted by a food item in my entire life. When I bought these, I was skeptical. Looking back, I wish I would have gone with my gut and left them in the frozen dessert section. Despite my longtime passion for potatoes and chocolate, that does not make it OK, legal, or medically sound to eat them together, if you ask me. When I was heating these up in my saucepan, I audibly questioned, "what the hell am I doing?" But still, my experience with Trader Joe's and gnocchi has been a trusty one so I persisted. If you've ever wondered what a diluted, Nesquik-soaked baked potato tastes like, I imagine this would be it.
15. White Truffle Popcorn: Leave It
In this past year, I have been a huge fan of all things truffle—truffle fries, truffle hot sauce, fire-baked focaccia with truffle-honey ricotta from my favorite Chicago restaurant—you name it, I opt for it. So when I heard that TJ's came out with a truffle popcorn I was all ears. Unfortunately, these just didn't do it for me. Like the cookie butter, they weren't bad per se, but I wouldn't reach for them over other types of popcorn. And for that reason, I say leave it.