Stepping into Rebecca Hewitt's midwestern home, you are instantly greeted by a welcoming air of classic charm. Her home truly displays a timeless presence and is the embodiment of the word "elegant." Incorporating natural elements like fresh wreaths, branches, and a real tree with lasting embellishments that can be used for years, she knows how to use her resources wisely while still keeping the splendor and alluring appeal of the holidays. Tour this Indiana residence to find out how to create a classic chic holiday look, how to plan your holiday budget, and learn about Rebecca's favorite Christmastime traditions!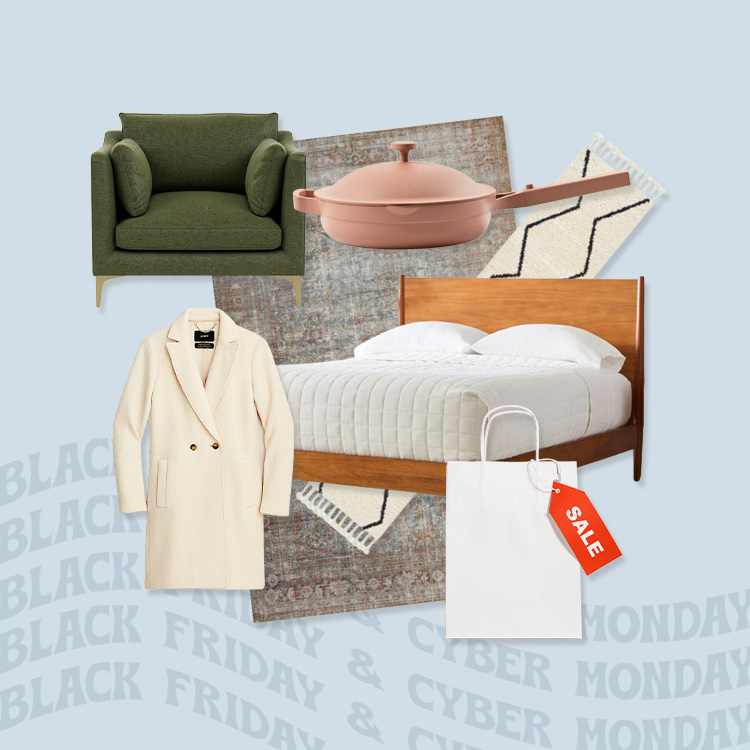 we combed the internet for the best OMG-CANNOT-MISS deals
Name: Rebecca Hewitt, Communications Manager
Location: Indianapolis, Indiana
Sq. Ft: 1,000
When do you start decorating for the holidays?
I begin dreaming up the décor or shopping for some new pieces throughout November. I love Thanksgiving and the fall décor that comes along with it, so I like to start decorating the day after Thanksgiving.
Tell us about your holiday decorating process.
One of the biggest goals with decorating our home, both throughout the year and for the holidays, is to not only create a beautiful and inspiring space but create a space that is a welcoming and comfortable place for us and our community of friends and family. I keep this view in mind when starting to decorate our place for the holidays. I love starting the process by looking for inspiration for that year in late October or early November. Since we always get a fresh tree and fresh wreaths for the windows, I start planning with knowing we have those anchor pieces and build out the decor from there.
Artists, designers, and our travels really inspire me, so I gather inspiration and ideas from places we've traveled, blogs, Pinterest, and Instagram (the "saved posts" feature is amazing, and I definitely have a Christmas collection!). Then, I figure out what parts of the apartment I want to decorate and gather all the fresh pieces like pine branches, wreaths, berry branches, and florals. Once everything is gathered, I look at the decorative pieces already out in my home and at the decorations I have in storage specifically for Christmas and pull everything together to start to decorate and figure out what should go where. Once those pieces are in place, I will figure out what else I need and shop for decor and add where needed.
How do you budget when it comes to decorating seasonally? (Things can get expensive for such a short time of the year!)
It really can add up for a season that is so short (and with so many beautiful decorations tempting you)! When so much holiday decor comes out so early in the season, it is easy to get swept up in getting new decor to implement decor trends for that season. To help us budget throughout the year, we use an app that syncs to our accounts and shows our budget, spending, and savings goals in real-time. When looking to budget for Christmas, my husband and I talk in early November about our budgets for November and December, our long-term savings goals, and our expected expenses, and come together to agree on a reasonable budget for Christmas and try to stick within it. In the budget, we set aside money for our holiday cards; our regular pieces like the tree, wreaths, and fresh branches; and then add in a little bit of wiggle room to build out our decor.
Where do you shop for holiday decor?
It is a combination of local shops and the big retailers. In years past, we have cut down our tree at a local farm, but the last two years, we have gotten our Christmas tree and all the fresh pine and berry branches from a locally-owned hardware and garden store that is decked out in Christmas decor. Though a hardware and garden store may sound boring, this specific place gets transformed with various holiday decorations and is a magical place to get a tree. They also give each tree a name, which I think is so charming – our tree this year's name is Walter! The fresh pine wreaths are from Trader Joe's, and I have been getting them there for the last three years. For ornaments, candles, ribbon, and general non-fresh home decor, I have been loving Amazon, CB2, West Elm, H&M Home, TJ Maxx, Hobby Lobby, and of course, Target. For those investment and heirloom pieces we want to have for a long time, I love Crate & Barrel and Pottery Barn. The first year we were married, I purchased our stockings from Pottery Barn and just love that we will be hanging those for years to come!
Do you have any holiday traditions that are special to you?
I love holiday traditions so much and so many of them have a special place in our celebrating! Ever since my husband and I started dating, we always did a Christmas date that involved something Christmas whether it was grabbing dinner at a cozy restaurant, seeing The Nutcracker ballet, or grabbing a hot drink and walking around looking at Christmas lights. We continued that when we got married, and I love it! Another one is attending our church's Christmas Eve candlelight service. Our faith is one of the most important things to us and celebrating Christmas with our church community is really special. At the service, they give everyone real candles to light, and at the end of the service, they dim the lights, light the candles, and we sing – it's beautiful. One of my absolute favorite traditions is designing, printing, and sending out a Christmas card to friends and family. Picking out the paper and envelope, taking our photo and figuring out that year's card design is one of my favorite things I look forward to every year! It's especially fun to also receive friends' and families' cards in the mail too! Finally, a recent tradition that I've loved is my husband and I wake up on Christmas morning at our apartment. We bake cinnamon rolls, sip on hot coffee, and open our gifts by our tree. The first year we did this as a married couple it was snowing and so picturesque!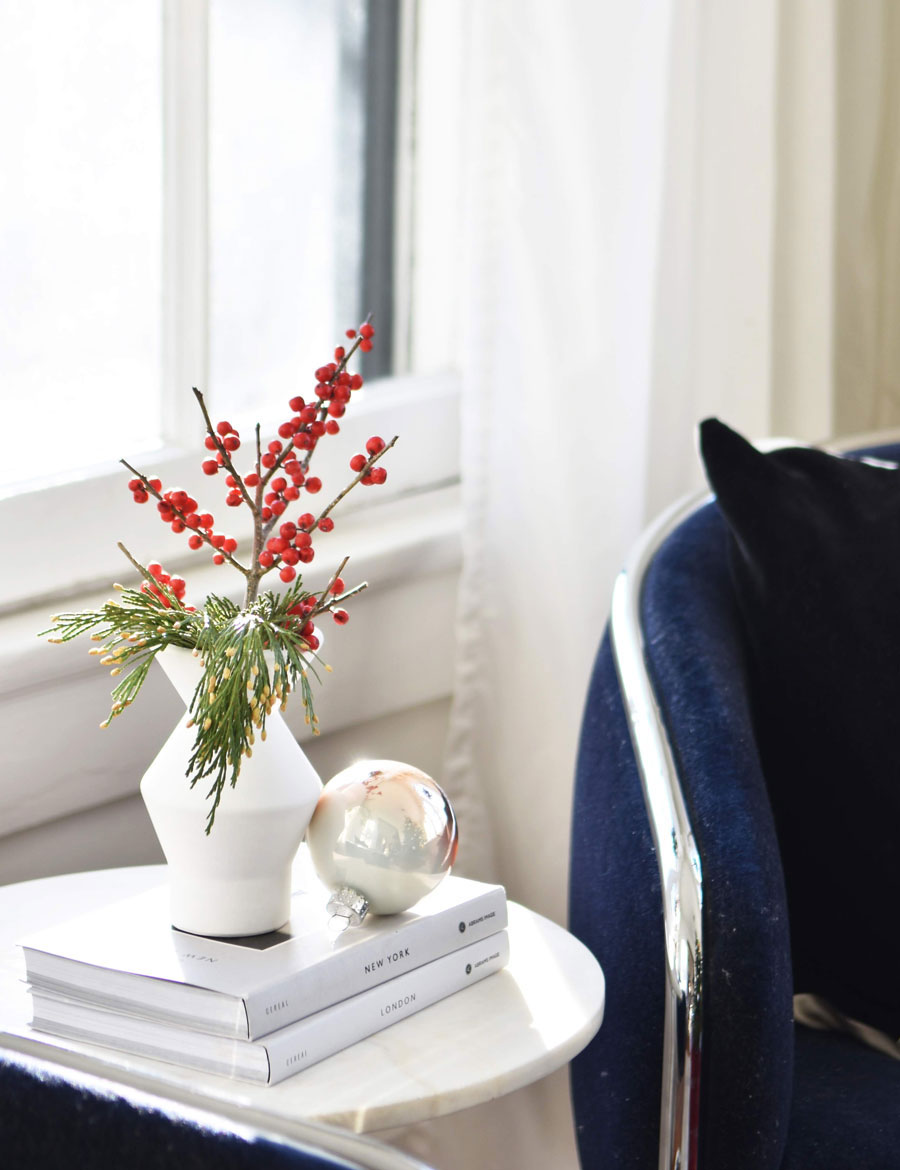 Do you have any tips for readers who may live in smaller apartments (and who are on a budget) who might not be able to decorate to their heart's desire?
I would put myself in this category, and my biggest piece of advice is to focus on high impact pieces, meaning pick focal point pieces that when in your space make the space feel instantly transformed. Examples of this in each room could include a Christmas tree with lights in the living room, a plaid throw blanket across the bed, a festive towel on the oven and a wreath hung in the window in the kitchen, a pine and red berry vase arrangement in the dining room. Also, don't underestimate the power of candles in a space as well. I think focusing on focal points is a simple but impactful (and budget-friendly) way to dress up any space!
I also recommend getting creative with what you have and what you use. Use branches or pieces from your yard, or if you go to a tree lot or farm, many times they will give you the extra trimmed branches, and you can use those around to decorate. Use those, acorns, or ornaments in a beautiful bowl. I also love using fresh fruit as decor, especially fruit we also eat regularly, so even putting pomegranates, pears, or apples in a bowl and sticking some pine in there would be practical but also festive!
What was your childhood home decorated like at the holidays compared to your own as an adult? Did you take any influence from your childhood when putting your own together?
Our childhood home was decorated beautifully both inside and out. Our home took a New England traditional and classic approach to the decor, including a light-up ceramic New England Village above the mantel, candles in all the home's windows, needle-point stockings hung on the fireplace, candlelit tablescape on the dining room table, and we always had a fresh tree with white lights and kids ornaments. They used deep burgundy, gold, and green as the color palette, and I would say our childhood home was always welcoming, cozy, and purposely designed.
As an adult, I think that traditional, New England classic decorating style has influenced my own decorating style. I have taken some of that style and combined it with my modern-leaning tastes to create decor that is a fresh, modern twist on traditional. I love using traditional red and traditional wreaths, but I combine it with modern decor accents. I have taken some cues from my home growing up, the homes from various designers and bloggers I love, and my own design preferences to evolve our décor style into what it is today. Overall, I want our apartment to be a place that feels welcoming, comforting, and inspiring!
How has decorating for the holidays evolved over the years for you?
I think it has evolved for me with every year we decorate. As our personal home decor style has evolved, so has the taste in holiday decor. Early on when decorating, I would go with the trend of that season or just pick up anything that caught my eye, even if it didn't match or wasn't cohesive with my vision or what I already had in the home. I now have evolved into knowing more of the style I want, being selective in what I choose and curating the pieces more throughout the recent years to fit with our home and fit with how we want the home to feel.
Have you slowly been collecting your holiday decor over the years, or did you purchase it all at once?
I think I have taken both approaches in different seasons of life. My mom gifted my siblings and me an ornament every year growing up, so I had a tub full of ornaments when I started my adult life. I lived with roommates almost all of my 20s until I got married, and these roommates provided a lot of foundational decorations like the tree, tree skirt, stockings, household decor, etc. This allowed me to slowly and intentionally add and collect decorative pieces throughout the years. When I got married, we realized, however, that a lot of those foundational pieces neither my husband nor I had, so I purchased our stockings, our tree skirt, faux door wreaths, a nativity scene, and most of our ball ornaments all at once. Now, I try to invest in special pieces and am very selective in the ornaments and decorative pieces we bring into our home and look to incorporate vases, bowls, and accents we already have in a festive way.
Do you have a favorite ornament on your tree?
I love so many of them for different reasons, and some favorites include geometrically shaped ornaments made from Alabaster, an olive wood carved bell we got to commemorate our dream trip to Greece taken earlier this year, and a paper replica of our current apartment building that my dad made to commemorate my husband and I's first place together!
What's your favorite piece of holiday decor that you own?
Ah! This is a hard one! If I absolutely have to pick, then I would say the window and kitchen cabinet wreaths hung with red satin ribbon are my top favorite piece of holiday decor. A very close second goes to our modern nativity scene and our red, cable-knit stockings.
Overall, what's your favorite thing about celebrating in your home?
Like I talked about in an earlier question, one of the biggest goals with decorating our home, both throughout the year and for the holidays, is to not only create a beautiful space but create a space that is welcoming, comfortable, and an inspiring place for us and our community of friends and family. I just love the coziness that comes with the holiday décor in our home and love the creativity it provides every year for me, but ultimately, I love hosting family and friends and being able to enjoy each other's company in our home. I think there is something special and meaningful about gathering in a person or family's home, sharing a meal together and sharing your home with others.
What does your Christmas morning look like?
Since my husband and I got married, we wanted to start the tradition of waking up in our own home on Christmas morning, so we wake up, make cinnamon rolls, brew fresh coffee and head into our living room/sunroom with the Christmas tree to open presents. We put on a fire (on the T.V. because we don't have a real fireplace ha!), open our stockings, exchange gifts, and just take a relaxing morning in our home before heading out to visit our families in the afternoon.
Do you have any holiday traditions you haven't started yet but are planning to?
We have been fortunate to have a lot of traditions that include friends and family, but I think if I were to start something new, I would love to host a big Christmas brunch or cookie exchange! Also, we have been talking a lot about giving more of our time to the community, so I would love to start the tradition of volunteering with non-profits that need help around the holidays to give back to others around the city.
Rebecca Hewitt is The Everygirl…
Hot chocolate or hot cider? Hot cider!
Favorite Christmas song? "O, Holy Night" (love the version of this song and really anything from the Sleeping at Last Christmas album!)
Favorite Christmas movie? I know it's not technically a Christmas movie, but I love the 1994 version of Little Women and watch it around Christmas! I also love The Holiday and randomly love The Santa Clause.
Favorite Starbucks holiday drink? Vanilla chai with a shot of espresso
The best gift you've ever given? The first year my husband and I were dating (eight years ago!), we had been dating just a handful of months at Christmas, so picking something great was important to me. I ended up giving him a blanket with his favorite sports team logo, and it was a hit.
The great debate: when do you start listening to Christmas music? Ha! This is a controversial topic, isn't it? I actually don't have a strong opinion about this. I choose after Thanksgiving to start listening to Christmas music, but I am open to it being on before.
What's at the top of your Christmas list this year? I would love a membership to our local art museum or a Jo Malone candle!