Downsizing a home would be an unbelievably daunting task for most of us, but for Ruth Allen of Ruth Eileen Photography, downsizing meant finally having the opportunity to do away with mismatched, hand-me-down furniture and creating a home that better relfects both her and her husband's style. To create a stylish and multi-functional home, this talented wedding photographer and regular on beloved wedding blogs (such as Style Me Pretty and 100 Layer Cake) enlisted the help of Dina Holland, interior designer and blogger behind Honey & Fitz.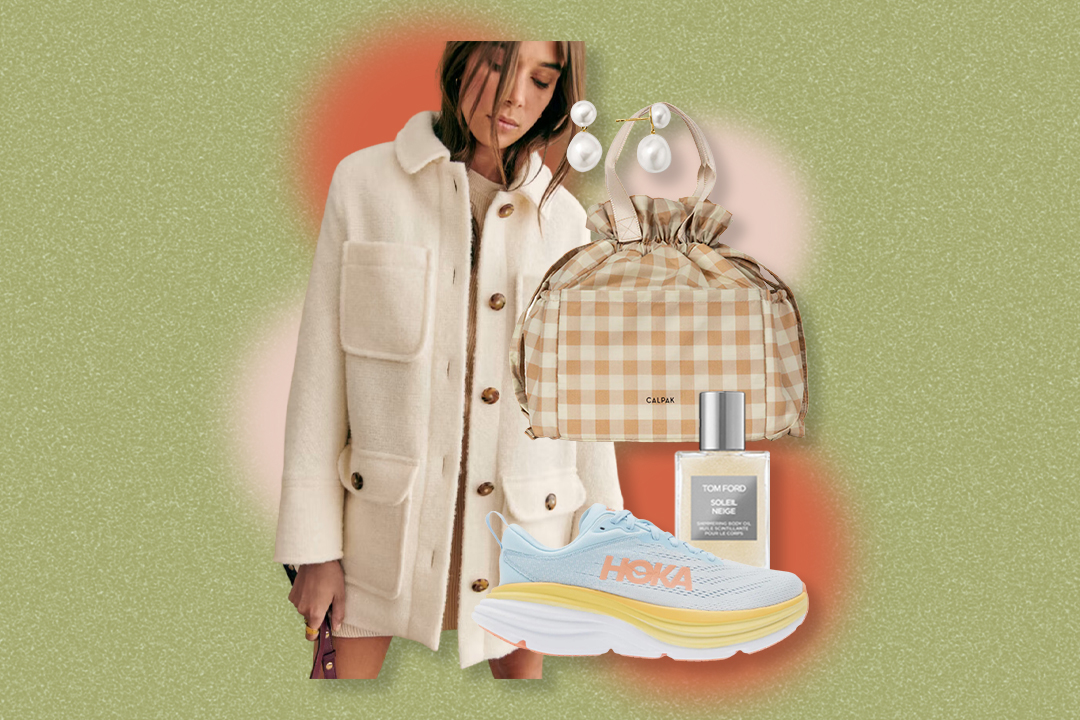 Together, the two transformed a smaller loft into a charming home and inviting workspace. They filled it with DIY projects, thrifty finds from Craigslist, and whimsical touches to ultimately design a space that is cohesive and echoes Ruth's personal and photography styles—it's light and airy, a little feminine, and so very classic.
We are delighted to feature Ruth and her home today on The Everygirl. Not only has she created a beautiful and budget-friendly home, but she has also turned her passion for photography into a successful business and a career she genuinely adores. So step inside, take a look around, and meet this talented gal. We know you'll love Ruth's decorating tips and be inspired by the unconventional path she took to become the sought-after wedding photographer she is today.
Name: Ruth Allen
Current Title/Company: Owner of Ruth Eileen Photography
Location: New England
What was your first job out of college and how did you land it?
After attending a few community colleges in St. Louis and Orlando, I actually convinced my parents to let me step away from college for a bit to focus on photography. They bought me my first DSLR camera, and I signed up with Lynda.com to learn Photoshop. While working as a nanny for a family, I continued to pursue and learn about photography. Each day I would be online seeking and learning as much knowledge as possible. I was dead set on making my passion for photography into a career. In 2010, after 2 years of teaching myself, I officially started Ruth Eileen Photography. Within just a few months of starting my business, I booked two weddings. I actually ended up shooting almost 10 weddings my first year in business.
You're currently a wedding photographer based in the New England area. Had you always known that you wanted to photograph weddings? If not, what drew you to becoming one?
I didn't always know I wanted to photograph weddings. I actually started out photographing senior sessions and families and was certain that was the path I wanted to take. Then, as mentioned before, within just a few months I had inquiries for wedding photography. I thought, "Sure, why not shoot a couple of weddings a year to mix it up a bit?", but after shooting my first wedding I was hooked! I went home that night after my first wedding completely exhausted but so thankful that I was able to use my gifts and talents to capture a couple's most special day. After the wedding, I thought I'd continue to do a little of everything—families, seniors, babies, and weddings. I'll never forget listening to a webinar, and the person speaking said something that stuck with me: "Doing a little of everything, like families, seniors, babies and weddings, you'll just be average. But if you focus on one of those categories, like weddings, you'll have more time to be great at just that one thing." I love that! I want to be great, not just average. That's when I decided to focus all my time and energy on just weddings.
I'll never forget listening to a webinar, and the person speaking said something that stuck with me: "Doing a little of everything, like families, seniors, babies and weddings, you'll just be average. But if you focus on one of those categories, like weddings, you'll have more time to be great at just that one thing."
What is the process of photographing a wedding like? Could you take us through what you do on a typical wedding day?
Definitely! On a wedding day, I arrive to the bride first while my 2nd photographer arrives to the groom. I immediately begin shooting all the details: dress, jewelry, shoes, and flowers. After those details are finished, I'll begin capturing the bride, her bridesmaids, and family hanging out. I want to tell the story of the day for couples through my pictures, so it's important to capture all those little moments between the big moments. Then, we'll wrap up with the bride getting into her dress. I love that moment! Lots of smiles and even some tears build up. Obviously, every wedding day is different for me, but usually after the "getting ready" pictures we'll head outside for some formal portraits.
Depending on if the couple chooses to do a "first look", we'll always try to do as many pictures before the ceremony as possible. That way, after the ceremony the couple can enjoy some down time or even head to the cocktail hour to visit with guests before the reception starts. When I capture the "first look", I try to stay far away so they feel alone. I want them to have the freedom to exchange any words with each other and not feel like I can hear everything they are saying. It's one of my most favorite moments. After the "first look" we'll then go straight into the bride and groom portraits and then end with wedding party and formal family portraits.
From there, I'll head over to the ceremony location and begin capturing all the details. Details are important to me and my brides, so it's really important that I make the time to capture them all. During the ceremony, I try to stay invisible to the guests but still make sure I capture all those special moments without being a distraction.
After the ceremony, both the 2nd photographer and I will head into the cocktail hour. I really appreciate having a 2nd photographer. They help me so much during the day and help me be in two places at once! During the cocktail hour, I'll start in the reception area capturing all the details, seating chart, tables, place settings, cake, favors, etc. My 2nd photographer is in the cocktail hour capturing candid shots of the guests chatting and hanging out.
Then it's onto the reception! During the reception, I don't want to be a distraction from the couple. I try to blend into the background when shooting the first dance, cutting of the cake, and toasts. Obviously, I give direction as needed, but my goal is to always capture the day as it's happening…no manipulating of moments. Candid is always better in my opinion!
As a photographer, what most influences your work? Is there a certain look or feel you try to capture for your clients?
When I first started in photography, I was drawn to bright and natural looking images. Light, airy, and clean images are what I aim for in my work. I love natural light! When doing sessions, I usually tend to backlight my subjects so that the light really fills up the frame.
I also try to capture a natural feel when it comes to my clients. I don't want them feeling uncomfortable during a session, so I lighten the mood with my witty humor! Well, I'm not that funny, but I do love to have a good time. I always make sure to do what I can to relieve the stress or awkwardness from my couples. I'm not going to put them into any crazy poses or uncomfortable situations during the session.
You've been featured on some of the most popular wedding blogs, like 100 Layer Cake and Style Me Pretty. What is that like to see your work recognized and applauded, especially in such a competitive, creative field?
It's very exciting and very humbling to see my work featured on these top wedding blogs! I'm incredibly thankful and have enjoyed the opportunities I've had within the past year to share my work. When you've worked hard to get to where you are, it's always rewarding to find others that appreciate it as well.
Let's chat about your home! You currently live in a loft in Marlborough, MA (though you'll be moving to New Hampshire in just a few months!). Do you currently rent or own? How did you go about finding the building your live in and what drew you to it? There is also some really cool history behind your loft building. Care to share the details?
That's right, we will be relocating to New Hampshire soon. I'm definitely sad to be leaving this gorgeous home, but I'm so thankful for the time we've had in this newly redesigned space. It's nice that I can take everything with me to our new home.
We first heard about the space from some friends. When we were moving up here, we knew we wanted to live in the metro west area of Boston. And then began the long process of finding just the right place to live. We knew we wanted to rent, but it was important for me to find a home that I loved. Like I said, I'm a huge fan of natural light. As soon as we walked into the building, I knew this was the place for us. Not only were the original hardwood floors a selling point for me, but also the huge windows had me sold instantly! Hello gorgeous light! I think what I like most about this space is that although it's an old building, they did a great job with reinventing it in a modern way. There are gorgeous granite countertops, simple white cabinets, and white walls. I love that they kept things simple. It's an easy space to move into and make it your own.
I love the history of the loft building. I was built in 1923 and owned by Dennison Manufacturing. It was used as a paper box company until 1969. After Dennison left, a subsidiary of Dennison, Design Pak, was based in the building. In 2007, the building was converted into apartments. The building was then added to the National Register of Historic Places in 2008. It has almost all of the original hardwood floors except for one half of the building because that half of the building was where all the heavy machinery was used, which unfortunately damaged all the hard wood floors.
We know you just downsized and moved into a new loft in the same building. Because you were downsizing and creating a new home, you enlisted the help of Dina Holland of Honey & Fitz. What was the process of downsizing like? How did you two prepare for the move?
I loved the process of downsizing. When we first moved into the Design Pak lofts, we had such a mixture of furniture with lots of it having been passed down from family members. There was never really a cohesive style to our home. The move to our current loft was an opportunity to purge a lot of junk, which I love doing! We got rid of most of our furniture and enlisted the help of Dina to find us the furniture that would work in the space and also fit our style. I'm a true believer that there is beauty in simplicity, and that's exactly what we did when we downsized. We simplified our living space.
Did you have a specific decorating style or aesthetic in mind when you decorated your new loft? Has your decorating style changed at all since moving?
I knew I wanted to keep things clean and simple. I'm a huge fan of white walls, so that was easy since our space already had that covered. It was basically just a process of bringing in different elements that would add the right colors. I also wanted the space to fit the brand of my business. It was important to me that when I brought wedding clients into my space, they saw cohesiveness between my home office and my branding style. I think Dina did an amazing job with doing just that.
Because you share your home with your husband Chris, how did you two combine your preferences in decor to create a space you both can call "home"?
I'm so glad you asked this question. Chris is the greatest! He appreciates good design and gives me the freedom to do what I want with our home. He obviously had some opinions, like not getting rid of that awesome vintage green chair. I love the pop of color that the chair brings to the space. We thrifted that chair about 3 years ago for $50!
How did you work with Dina on decorating the new space? Was it a collaborative effort?
It was such a joy collaborating with Dina! She'd ask my opinions on things, but in all honesty, I really handed the reigns over to her. I trusted that she understood my style and that she'd reflect it in every part of the home. This is one of the many reasons I hired an interior designer, so I could sit back and allow them to do what they do best—design and bring a space to life. I'm not a designer, I'm a photographer. I don't always know what works and what doesn't!
Moving to a smaller space usually means sacrificing certain furniture or designated living areas, and we know that you actually gave up a formal dining room for a studio/office space. Were there any other challenges you faced or sacrifices you made while trying to create a multifunctional home/office?
Honestly, not really. We went into this downsize knowing that we'd have a smaller space, and it works so well for us. We don't miss anything about having a bigger space.
We love those little whimsical touches like the gold pig bookends and the abstract floral painting! Where did you shop for those extra touches? What stores did you turn to for the more classic furniture pieces?
Dina really helped me with those items. I really just let Dina find things that she thought would work, and I bought them. In the end, we had a mix of Ikea, Target, and vintage items that we found at thrift stores, like the green chair, or on Craigslist, like the couch from Room & Board.
Did you tackle any DIY projects? If so, do you have any advice for DIY newbies?
We did quite a few DIY projects, which was probably my most favorite part! I'm a huge DIYer and love creating things. I did all the DIY projects myself with the direction of Dina.
Advice for DIY newbies? Before you begin a big spray paint project, purchase a "spray can trigger handle". If you don't, you'll seriously lose feeling in your fingertips for days afterwards. Take it from someone who experienced it first hand. Also, Rub-n-Buff will become your favorite thing when trying to paint anything gold. It's also really handy if you live in an apartment building and don't have access to going outside to spray paint items/furniture. I ended up using it on my coffee table.
What items for a home would you say are the most crucial to invest in? What items do you think can be saved on?
Invest in a couch, furniture, and artwork. Save on decor and accessories.
What do you love about living in New England? What are your favorite things to do in Marlborough?
I think what I love most about living in New England is the history of the area. Being a wedding photographer, I have the privilege of shooting at so many unique, old venues. I love the character that each New England town has. It makes being a photographer up here that much more fun!
Where would you like to see yourself (and your business) in 5 years?
In 5 years, I see myself with kids and enjoying life to the fullest with my family. I see us settled down, with a home of our own in a city that we love. For my business, I see myself doing more editorial work along with shooting weddings. I love working with other creative people. It's inspiring!
What advice would you give to your 23-year-old self?
Advice I would give to my 23–year-old self would be to focus more on what matters most to you in your life. As a small business owner, you can easily make your work your life. You begin focusing too much on your success and lose track of what matters most to you or why you even started your business in the first place. I would tell myself to fight for a healthy work and personal life balance. Because in the end, your best work comes out of focusing on what matters most to you.
Feature of your home you love the most:
I love so many aspects of my home, but I think I'd have to choose the huge windows! The light is amazing in our space!
Dream destination you'd love to photograph for a wedding:
Ireland. My bags and passport are ready to go—just saying!
Describe your perfect day off.
My perfect day off would be spent exploring a new city with Chris and a vanilla latte in hand!
If you could have lunch with any woman, who would it be and what would you order?
If I could have lunch with any woman, it'd be with Elizabeth Messina. I'd order a yummy garden salad, a side of bread, and a glass of Riesling.