Christmas decor doesn't have to be overwhelming to make a big impact. Don't believe us? Just look at Sarah Lyon's home in Washington, D.C. Sarah used organic touches (including plenty of greenery) to transform her 650-square foot apartment into a chic winter wonderland. Her secret special touch this year? Real garland instead of the faux variety to make her place really feel (and smell) like the holiday season. There's nothing better than that.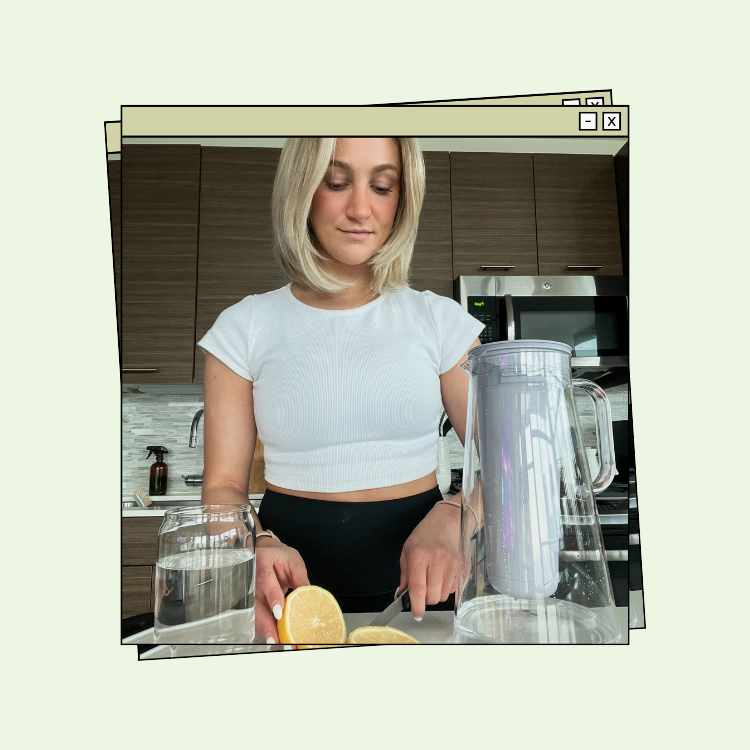 get it right in 2023 and beyond
For all of Sarah's best tricks for holiday styling (so you too can work your holiday magic in your own home) and the places she finds gorgeous decor without spending her entire paycheck, read on.
Name: Sarah Lyon, Higher ed professional and interior design freelance writer
Location: Washington, D.C.
Sq. Ft: 650 (ish)
When do you start decorating for the holidays?
I'm normally a bit of a hesitant holiday decorator (the process of putting everything up only to take it down a few weeks later is always a bit daunting!) and generally start slightly after Thanksgiving. This year, however, I was determined to make my space feel extra festive nice and early and began hanging garland in mid-November. Honestly, 2020 made me do it, and I'm all for embracing a little extra cheer in my apartment when I can!
Tell us about your holiday decorating process.
I always set up my faux tree (one of these days I'll get a real one) and hang some garland to kick things off. This year, I opted for real garland, which definitely requires some maintenance but makes my space smell oh-so Christmassy. I also love decorating with small accents like mini $5 ceramic houses from Target and an adorable snow globe that my mom gave me years ago. Subtle touches can definitely go a long way to make a space feel nice and festive.
How do you budget when it comes to decorating seasonally? (Things can get expensive for such a short time of the year!)
In addition to keeping an eye out for deals, I try to pick up pieces that I know I'll want to use year after year rather than opting for what's trendy at the moment. I splurged on a simple, realistic looking wreath from Crate and Barrel and know it will stand the test of time–and it seriously doesn't look fake at all! In the end, it's also cheaper than purchasing a live wreath brand new every year. For smaller pieces, I'll turn to Target and HomeGoods, which are also great resources for adorable gift wrap, cards, and boxes.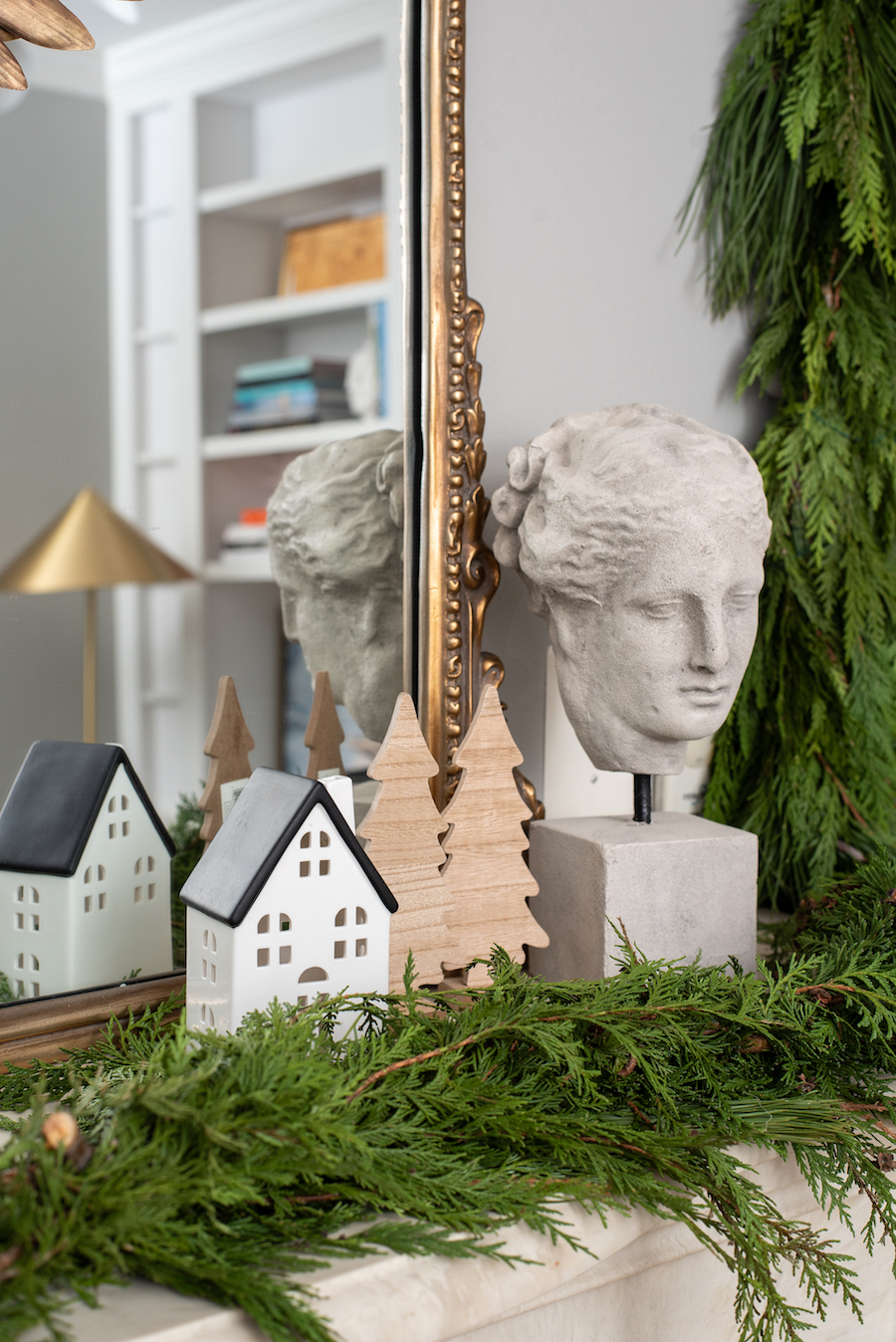 Where do you shop for holiday decor?
All over! As I mentioned, I love Target; the dollar spot actually has some super cute pieces. I'm also a big fan of CB2; just keep an eye out for sales and you're golden. They have gorgeous wreaths and accent pieces like these little trees that I know I'll incorporate into my space for years to come. Last but not last, I enjoy shopping locally, whether that means purchasing greenery from a local maker or visiting a vintage store in my neighborhood for some decorative pieces. Now more than ever, it's truly the season to support small businesses.
Do you have any holiday traditions that are special to you?
Though my sister and I are both in our twenties, my dad will still grab a favorite childhood Christmas book or two and read them to us on Christmas Eve; I think it reminds all of us of simpler times!
Do you have any tips for readers who may live in smaller apartments (and who are on a budget) who might not be able to decorate to their heart's desire?
You can still have a lot of fun decorating a mantel, bookshelves, or entry table. You don't need a lot of space or a large budget to make your apartment feel festive. I always hang a wreath in my entryway and place a mini Christmas tree on my nightstand, for example. I also enjoy busting out my favorite seasonal coffee mugs and stocking up on festive hot chocolate mixes and teas to make the everyday feel a bit more special come December.
Do you have a favorite ornament on your tree?
When I spotted a needlepoint Home Alone-themed ornament on Etsy earlier this year, I couldn't resist, and it's hanging front and center on my tree.
What's your favorite piece of holiday decor that you own?
I love all of my Spode glassware; it's such a classic, and pouring wine into one of my Christmas tree glasses is the perfect way to cap off a busy work day. I hope to expand my collection, which should be easy as I often see such pieces while thrifting!
How are you adjusting your celebrations this year?
Unfortunately, I won't be celebrating in-person with family this year due to the pandemic, so I've been trying to think up fun ways to keep the holiday spirit going from my apartment. I'm planning a day of baking and a movie marathon for Christmas Eve and will be relying on lots of FaceTime calls.
Sarah Lyon is The Everygirl…
Hot chocolate or hot cider? Hot chocolate with peppermint flavored whipped cream!
Favorite Christmas song? "All I Want for Christmas is You" by Mariah Carey
Favorite Christmas movie? The Holiday, but Serendipity is an underrated second!
Favorite holiday treat? My aunt's homemade trifle.
A small business you love: The Lifestyled Co for stylish home decor and accessories.
The best gift you've ever given? I gave my mom a NIGHT pillow last year and I think she's found it to be truly life changing!
What's at the top of your Christmas list this year? Honestly, this may sound cheesy, but I'm really just hoping for safe, quality time with friends and family in 2021. And the opportunity for some travel, too!