Sarah Lyon has lived in many gorgeous places, but her most recent move was back to a familiar landscape — the beautiful and bustling Georgetown neighborhood of Washington, D.C., a quick trip from her family's hometown in Maryland. As a successful writer, blogger, and higher education professional, you'd think Sarah would barely have time to keep her apartment clean and entertaining-ready — but that's certainly not the case.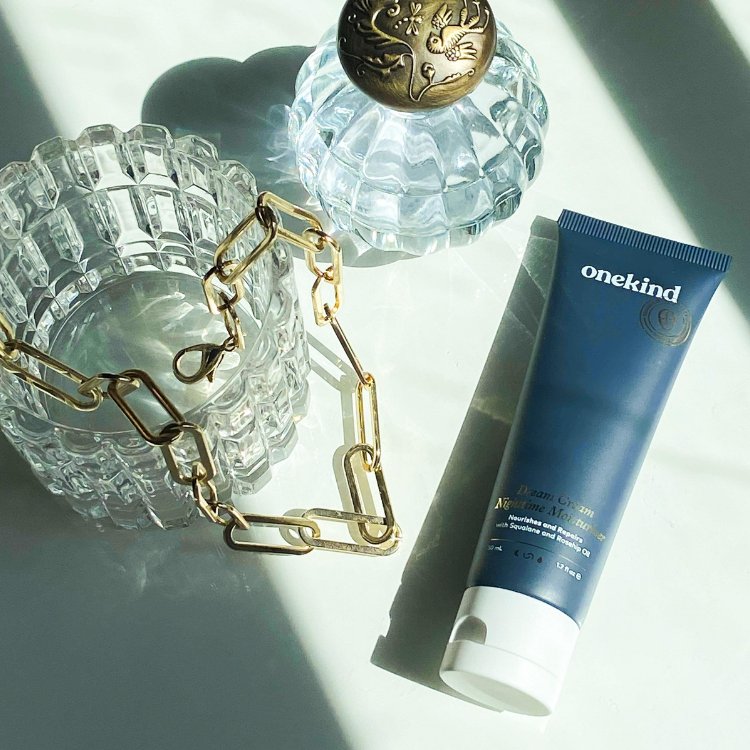 you just pay shipping—use code EVERYGIRL to get yours today!
Now that Sarah's in her first non-studio apartment, she's combining her old favorite finds with some amazing new pieces to create the home of our dreams. Check out Sarah's amazing artwork collection, her enviable Craigslist finds, and her totally relatable girl-crush.
Name: Sarah Lyon, Communications Associate and Blogger
Age: 25
Square Footage: 650
Rent or Own: Rent
City, State: Washington, D.C.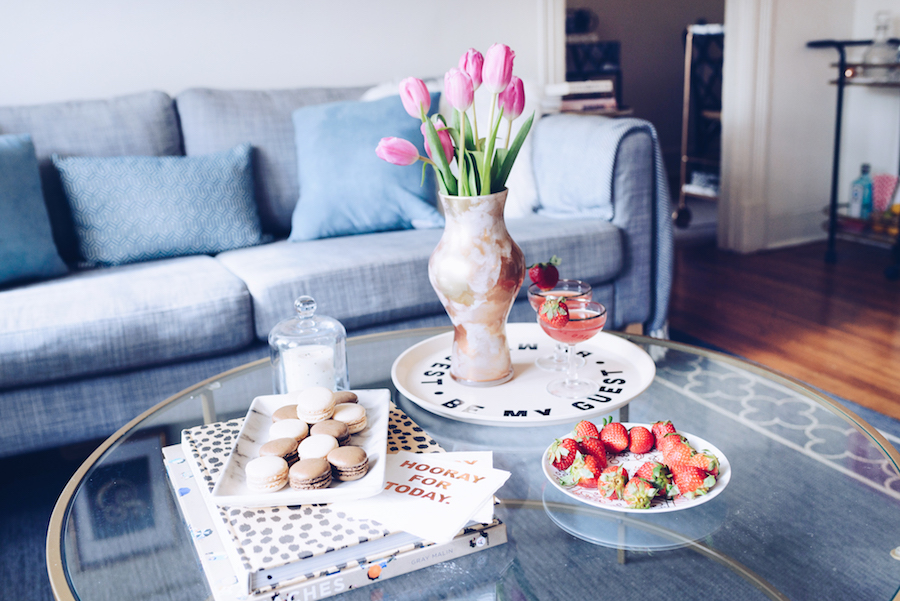 Congratulations on a big move! You've moved several times after graduating from college. What brought you to each different city?
Although I went to college in rural Maine, I'm definitely a city girl at heart. I'm thankful that I've had the opportunity to live in many different, exciting cities, including New York, Philadelphia, and now D.C. (I grew up in the nearby Maryland suburbs). Journalism has always been a passion of mine, and after graduating from college, I moved to NYC to work in communications. I had interned in the city the summer before my senior year, and my friends and I loved exploring the West Village and discussing all things magazine-related. NYC will forever have my heart, and I go back as many times a year as possible! I completed a one-year master's program in Philly before beginning my current job in D.C. this past July — I had been itching to be closer to family after seven years away.
Even more congratulations are in order — you recently completed your Master's in higher education! What led you to seek this degree, and what are you excited to do with it?
In New York, I absolutely loved working as an editorial assistant at Meredith, but decided that I wanted to go back to school to study higher education administration, another field that had always interested me. As the editor of my college's student newspaper, I had the opportunity to frequently interview administrators and get the "buzz" on what was happening around campus. I greatly enjoyed discussing these issues and realized that I wanted to be on the admin side of the table. So, after two years in the city, I moved to Philadelphia to complete a one-year master's program at the University of Pennsylvania.
There are so many things that one can do with a higher education degree — my grad school classmates work in areas such as admissions, executive search, development, and residence life, to name a few. When I began the program, I wasn't sure if I wanted to pursue academia, student life administration, or something else upon graduation. When looking for jobs, I realized how much I value creativity at this stage in my life. I'm fortunate that in my current position working in communications at an independent school for students in grades K-12, I'm able to combine my joint interests in writing and education. I love writing articles and building social media posts while also interacting with interesting and talented students and faculty members.

What's your favorite part about D.C.?
You know what they say about D.C.: it's a city of Southern efficiency and Northern charm. But sometimes, I feel like my view of D.C. is a little different since I'm not in government and my job is actually located in suburban Virginia. However, I absolutely love how D.C. is full of transplants from different cities and countries. Even though I'm from the area, I'm always learning new things, and I kind of like that everyone else here is in the same boat! As for Georgetown, I love living in such a cute neighborhood and being so close to all of the shops and restaurants on M Street — it makes things super easy when friends come into town! I'm close to work, which is right across the river, but I'm also not too far if I want to go out with friends on U Street or one of the more popular downtown spots in D.C. Plus, the higher ed nerd in me loves that I happen to have settled in a college town — there's so much going on!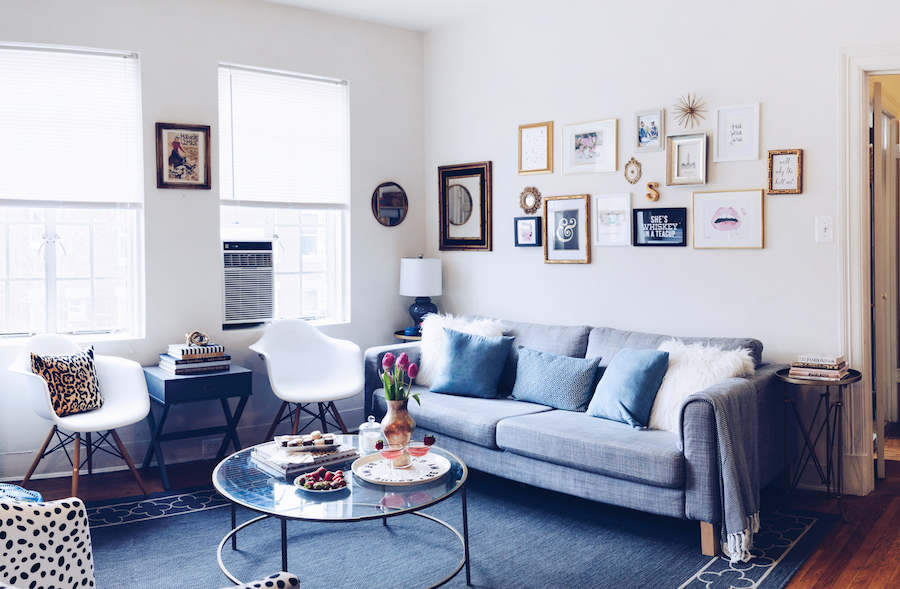 This gorgeous apartment is your first non-studio. Aside from the obvious increase in space, what's different about decorating a one-bedroom? How has your style evolved from when you decorated your first studio?
I love entertaining, and it's definitely been nice to have a larger living room and a separate bedroom area. My studio in Philly could still accommodate a decent amount of people, but I definitely appreciate having physical dividers between my living and sleeping space. I also like feeling as though I can have different "themes" going on in each room. My living room is a little more colorful and funky, whereas my bedroom is more relaxed and classic.
I think my overall aesthetic has remained the same since I moved into my first apartment at age 22, but I've definitely incorporated more DIY-pieces (more on that later). In NYC, it's harder to do (I have no idea where one is supposed to go to spray paint — I once watched a YouTube video of a girl doing a project right in the middle of the park!), and my apartment was full-on IKEA. I had a huge Expedit shelf which was great for storing books and knick knacks, and I brought that with me to Philly. I also had a great kitchen table from IKEA, which I dressed up with some fun ghost chairs. I've always incorporated some sort of bar cart scenario, which I love decorating with cute glasses, colorful straws, and printed napkins.
You have so many interesting statement pieces — where do you find them all?
I love little accent pieces that are quirky but also stylish. I am absolutely addicted to stores like HomeGoods and TJ Maxx, but there's definitely a difference between cute and junky, so you have to use discretion. I also love browsing thrift stores and flea markets for interesting finds. You can find me at the Georgetown Flea most Sunday mornings!

How would you best describe your decorating style? Where do you find inspiration?
I'd describe my style as classic but contemporary. I love traditional pieces like my campaign dresser and bamboo chest, and I also love Hollywood Regency style. When I came across a bookshelf on Craigslist that had been covered with banana leaf fabric, I flipped out! But I also like items that are cute and quirky — like my emoji wall art from Furbish Studio. In my opinion, a twenty-something's space shouldn't be stuffy — it should be full of life!
I can't get enough of Pinterest, but I also love following lifestyle sites (including The Everygirl!) to see how other women my age have decorated their space. I also read too many blogs to count. As for decorating blogs specifically, I love Burlap and Lace and Tiffany Leigh Interiors. However, many of the fashion and lifestyle bloggers I follow also post home content from time to time, which is always inspiring to see. I really enjoy sharing my own projects and design wish lists on my blog, which I started over the summer.
What's your favorite piece in your apartment? Which room is your favorite overall?
My favorite piece is definitely the Chinese Chippendale chair that I snagged for $35 while living in Philly last spring. Any design enthusiast knows how special these chairs are and how expensive they can be — they oftentimes retail for several hundred dollars! For weeks, I had been browsing Craigslist every day with the hope of finding one that was both cute and affordable. One night, I came back from a group project meeting and decided to check Craigslist quickly one more time. I was amazed at the low price and great quality and called the seller right away. The next morning, it was mine!
Now that I have my own separate bedroom, I would say that it's definitely my favorite space. I've tried to make it as relaxing as possible, using lots of shades of blue and gray. I recently purchased blue and white checked pillows from Target after seeing them on multiple blogs, and I love the preppy pop they bring to the space.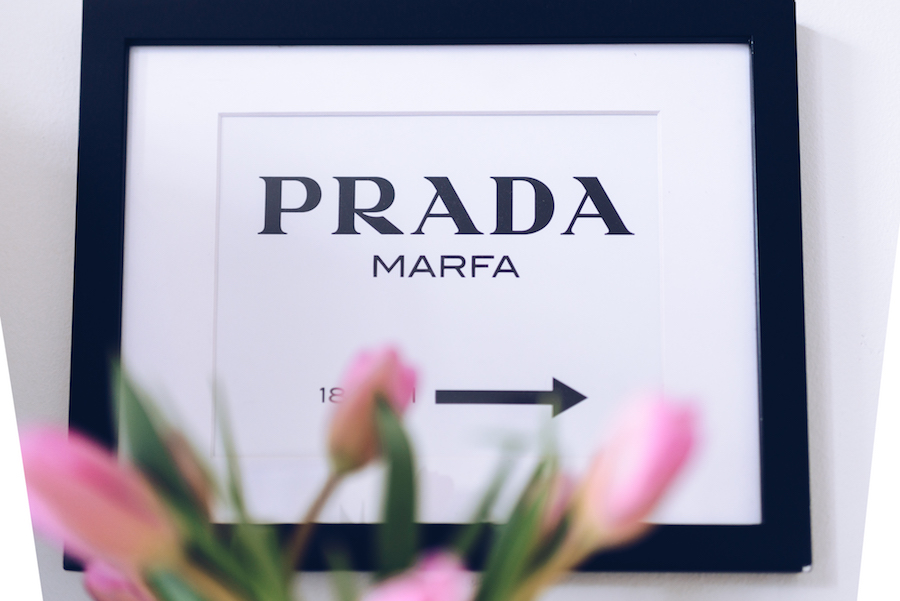 What's your best advice for decorating on a budget? What would you tell someone looking to furnish and style their first ever adult apartment?
For me, location was the most important factor in my apartment search, and while I love where I live, it wasn't feasible for me to then also go out and buy tons of big-ticket items for my new place. You'd probably never guess, but 95 percent of my furniture in this apartment came from Craigslist. Literally everything except for my bed, couch, rugs, headboard, and wicker bench is secondhand. Definitely browse Craigslist regularly, and make sure you're using the appropriate search terms (there are tons of articles online with further tips). Also, you don't have to be an HGTV star to do a killer makeover on a piece. My mom and I spray painted my vanity table and blue bamboo chest on my parents' driveway this past summer, though I relied on a professional to make over my campaign dresser. I think a lot of blogs make it seem normal or aspirational to own a $400 bar cart, when you can really find something just as cute at a fraction of the cost if you do some digging. My bar cart was $15 and it's been great!
One common piece of decorating advice is to not purchase everything at once. However, some things are definitely musts right off the bat. Pick out a nice rug, as many buildings require 80 percent of the floor to be covered to reduce noise. I have an indoor/outdoor rug from Ballard Designs that has held up well for three years. It isn't the comfiest thing in the world, but it's easy to clean.
While some suggest splurging on frequently used items like a couch, the truth is that my $400 IKEA couch has held up just fine for the past three years, and I receive a ton of compliments on it! Artwork is definitely crucial, too. Even if you don't want to nail holes in the wall right away (it took me three months to do so in my first NYC apartment, which is funny, because it probably took me about three hours in my current place!), you can prop up frames, which is a look in itself. Society6 and Etsy are great resources for art prints. At Penn, I lived right next to a university print shop, so I'd often purchase "digital download" files, such as my "Prada" sign, and print them out on glossy paper for a couple of dollars a piece.
Location was the most important factor in my apartment search, and while I love where I live, it wasn't feasible for me to then also go out and buy tons of big-ticket items for my new place. You'd probably never guess, but 95 percent of my furniture in this apartment came from Craigslist.
What's the best advice you've ever received? How do you translate it into your everyday life?
My mom always says, "Be kind to yourself," or "Be your own best friend." I interpret this differently depending on the day — maybe it means treating myself to something from our office candy jar, or maybe it means not beating myself up for something I wish I could change. As women, we're often competitive with ourselves and can be our own worst critic. It can be hard to let things go and support ourselves, but it's possible. In the end, you're the only one who's going to truly, fully be there for yourself.
What advice would you give to your 23-year-old self?
For me, 23 was filled with major ups and downs, but looking back on that time, here's what I'd say… Don't forget what a fantastic support system you have when things go wrong, and be just as supportive back — always. Don't dwell on the one opportunity that didn't work out when so many other amazing things did. Pet every golden retriever you see, because for some reason they're 10 times more common in New York than they are in any other city. Oh, and take full advantage of those late night diner runs, afternoons in Central Park, and Sunday trips to HomeGoods with friends, because you may not all be in the same location again for awhile.
Don't forget what a fantastic support system you have when things go wrong, and be just as supportive back — always.
Sarah Lyon is The Everygirl…
Best book you've ever read?
Hillbilly Elegy was so, so interesting and relevant and had the sociology major in me geeking out.
Next trip you're planning?
A girls trip to Seattle for a college friend's wedding!
Starbucks order?
Grande coffee with a pump of hazelnut
If you could have lunch with any woman, who would it be and why?
Joanna Gaines, one hundred percent. She's full of poise and talent, and I love how she uses design to change people's lives.