Like our team here at The Everygirl, Jacqueline Marie is a sucker for two things: 1. Bright white spaces and 2. Dogs. So, when she found a dog friendly apartment on a quiant side street in the East Lakeview neighborhood of Chicago, she was sold. Read on to see how Jacqueline launched her own business, why incorporating texture is one of her favorite styling tools, and her tips for decorating on a budget.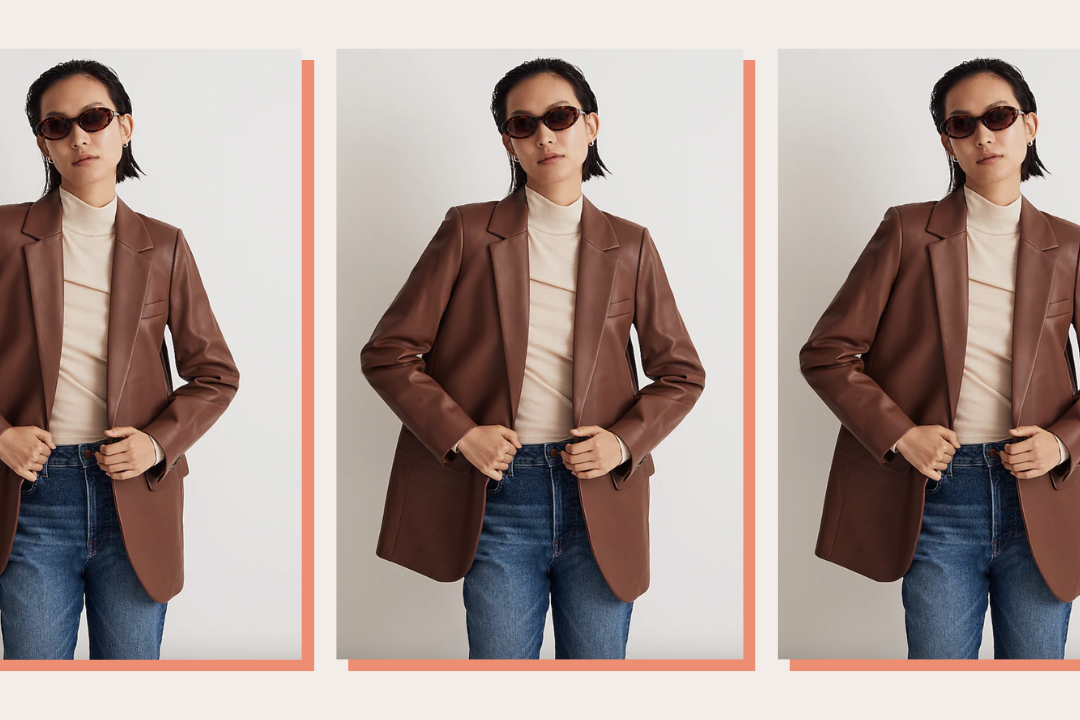 time for your fall wardrobe update!
Name: Jacqueline Marie, Stylist & Business Strategist at Tweaked Style
Age: 30
Square Footage: 650
Rent or Own: Rent
City: Chicago, IL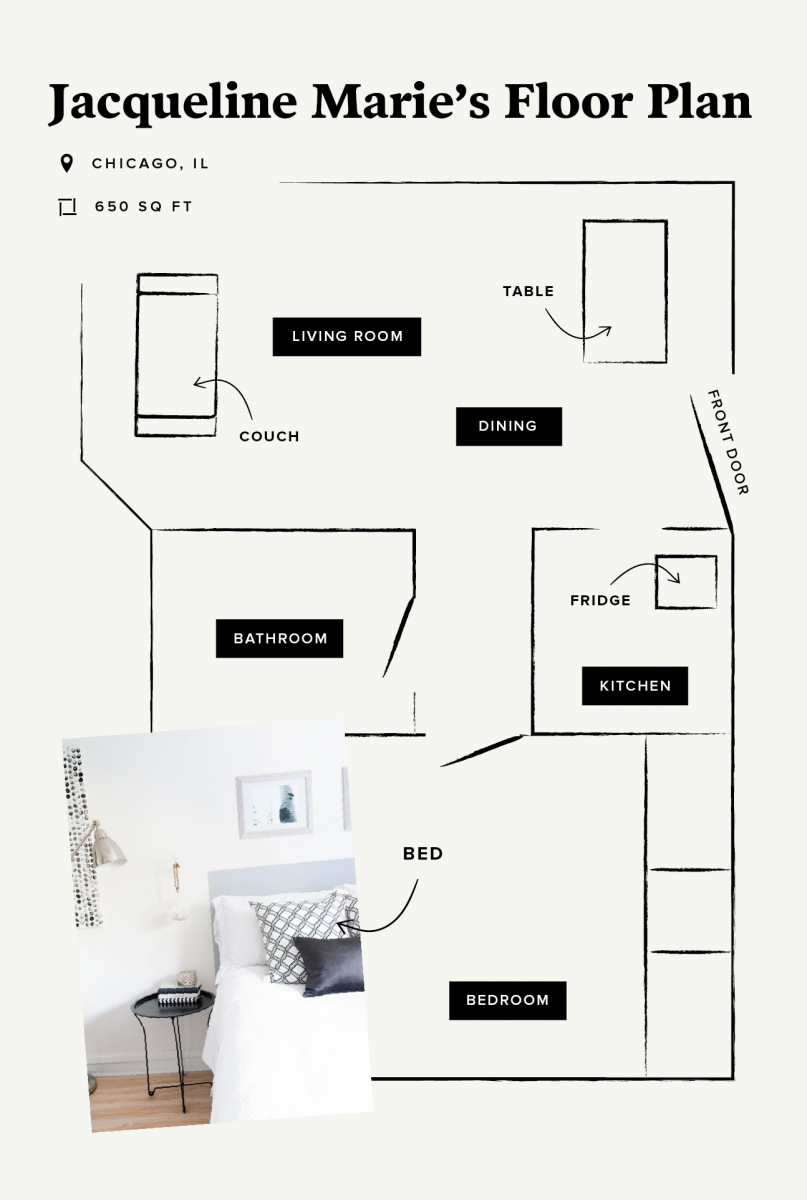 Your job experience doesn't fit a typical one-page resume. Tell us a bit about your professional path.
Dance choreography was always my first language and my first way in which I shared stories through styled experiences. When I was old enough to work and drive, I hit the ground running. I got accepted into a program at the Broadway Dance Center in NYC and worked my butt off to prove my passion. It was my first entrepreneurial project where I had to raise money and convince people that I really wanted to succeed. After training in NYC, I decided to share my valuable experience by teaching hip-hop dance classes to kids who didn't have the resources or funds to take professional classes. Teaching and training dance was the tipping point of my entrepreneurial journey where I realized how much I loved bringing a vision to life, bringing people together, and inspiring others to make things happen.
My work ethic has always been really strong coming from a low-income family. I started working at age 14. Today I have worked a total of 25 jobs. I was always diversifying my revenue streams before I knew what those were. I had two to three part-time jobs at any given time because some jobs were a paycheck and some jobs were a passion job. Most of my jobs have included fitness, marketing, events, talent management, dance, sales, customer service, fashion retail, and entrepreneurship. My growth-oriented personality led me to the opportunity to work in a variety of industries. I am grateful for the abundance of insight into various audiences, marketing strategies, visual design, brand experiences, and cultures. By 2011, I combined my strengths and clarified my niche and purpose, leading me to Tweaked Style.



The world is such a chaotic, tough place. I wanted my home to feel peaceful and light.
How did you know it was time to launch Tweaked Style? What steps did you take leading up to its launch?
Tweaked Style went public in 2011 as a recycled styling business ("tweaking what you have") inspired by my entrepreneurship programs in college. The first couple of years I tested out content and began to grow into my brand. Through my own personal growth journey as a business leader, I realized that my life has been greatly influenced by style and strategy. It was a no-brainer moment where I knew that my purpose was to help others overcome similar adversities that I've gone through and lead the life they love by tweaking their style and strategy. Once I knew my purpose as a business leader, I was better able to communicate my vision to others. For months I strategized the new business model and brand for TS. I cared about it so much that I wanted to take my time clarifying the voice and integrity of a company I set out to inspire others through. I didn't want the pressure of paying the bills to interfere with my creative process. I tell my clients that my business has been the hardest creative direction project I've worked on yet.
I left my part-time job when I was missing out on paid client opportunities and creative projects. After the scary leap to becoming a full-time business owner for the second time, I officially launched my new brand image for Tweaked Style in 2015 with more confidence and tools to succeed. Once I started creating and sharing things that I found joy in, I received more positive responses from peers and even got hired for styling and coaching projects. This was the tipping point for further believing in the value that I bring to others. I saw a need to continue to grow, invest in people, surround myself with inspirational people, strengthen my marketing and photography, and spend more time pursuing my creative passions.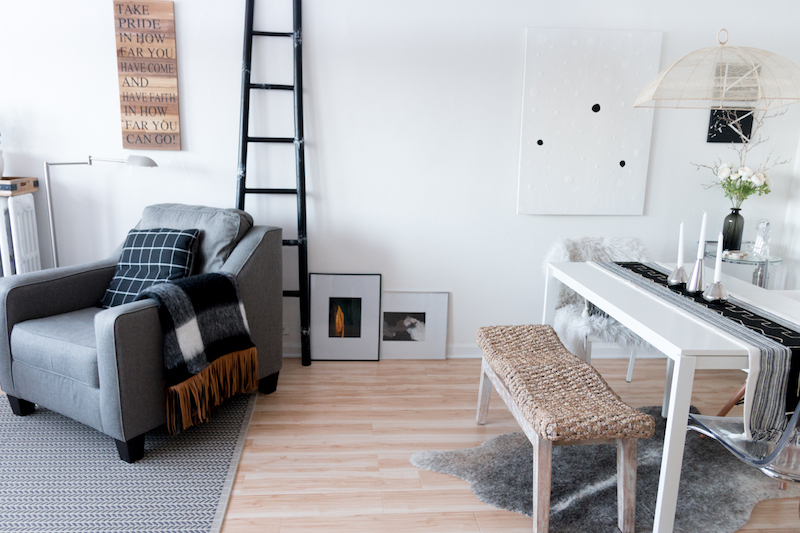 Take us through a day in the life of Jacqueline. What does a 9-to-5 look like? 
As a business strategist, stylist, blogger, YouTuberand creative director my days vary every single day. My morning routine is very important to me. It's the one time of my day that's consistent. I usually try not to schedule my meetings in the morning. It's not because I'm not up early, but because I like to prepare for the day before facing the world. (You can check out my morning routine on my blog.)
On average my typical week consists of a 2-3 days shopping, painting, and styling spaces for business owners looking to create an inspirational experience for their customers or themselves. The other 2-3 days I'm meeting with business leaders to strategize their marketing, scheduling, goal planning, and branding for their small business; 1-to-3 days a week include my creative collaborations and projects; meeting with entrepreneur friends; collaborating on photo shoot projects I'm filming a Youtube video; and blogging. Everyday I make time for office hours where I send emails, invoice, and edit media.
Everyday I always spend my lunch with my dog Chloe. I block out 1-2 hours in the middle of the day that's devoted to her and taking a mental break. It has really increased my productivity.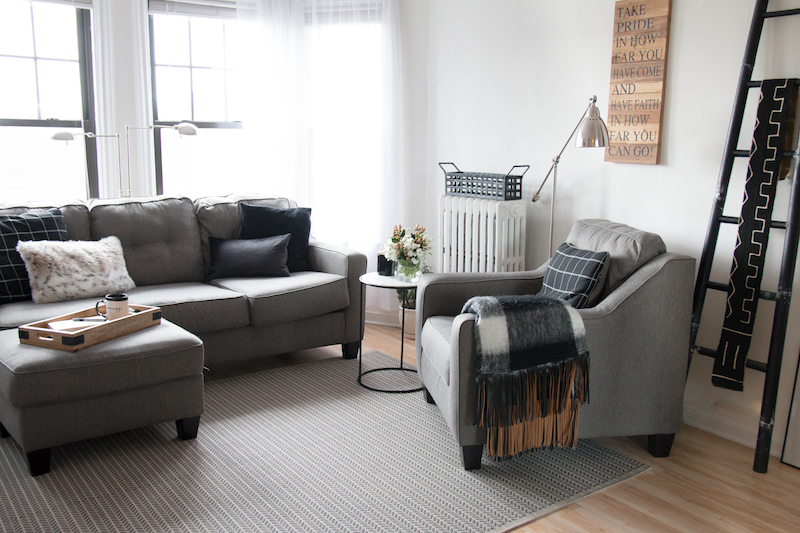 How long have you been in Chicago? What drew you here initially and why have you stayed?
I came to Chicago in 2008 to study dance at Columbia College Chicago. After I graduated college, I lived abroad in Italy for two-and-a-half years studying history, fashion, and Business English. When I decided to move back to the states, I knew that Chicago had more opportunities to continue developing Tweaked Style than my small hometown of New Hampshire.
What was the hunt for your current apartment like? What were your 'must-haves'?
I knew I had to find a building that welcomed dogs. Living in studio apartments since living on my own, I was overdue for a room with a door. A huge must have is natural light. I'm a sucker for bright white spaces and feeling like I'm outside. It's strange turning a light on in the middle of the day.
How did you settle on your current neighborhood? 
I lived in several neighborhoods in Chicago, including downtown touristy neighborhoods like River North and South Loop. Being a New Englander, I missed a slower residential community and ventured north of the city where I fell in love with the quaint Boston-like side streets in Lakeview. I also love having Lake Michigan a few steps out my door and cafes a 3-minute walk away.

How would you describe your decor style? 
I love mixing styles in a smart balanced way. A lot of my personal style inspiration comes from my passion for light and airy spaces that feel almost heavenly. The world is such a chaotic, tough place so I wanted my home to feel peaceful and light. My home has a mix of modern, edgy, feminine, and a touch of California style. You'll also see a lot of texture in my apartment because it is my favorite way to style any space. It's amazing how an added dimension like a weaved pattern, leather fringe or a three-dimensional painting can really add warmth. The desire to "touch" items with texture in a space can create a more intimate experience. I always have fresh flowers around as a reminder of growing up in beautiful New England.
What was the design process like? Tell us about your approach. Did you do one room at a time, invest in staple items first, etc.? 
I always start with big picture concepts and focus on details later. I first committed to the color scheme, look, and feel. Once I had a strategy and foundation for the big picture, I slowly attained furniture and décor. I bought what I call foundation items first — the bigger anchor furniture pieces to set the layout for the space (i.e. sofa, dining table, bed, dresser). Then I added layers of accent furniture like side tables, lamps, a bar cart, and chairs. Table décor, textiles, and art were added last to create a cohesive look across all rooms. Those last style tweaks are led by my intuition (aka I "feel it out").
I get a thrill out of making something beautiful from what many think is nothing.
Where do you find design inspiration? Are there any particular blogs, magazines, or sites that you look to often? 
I have followed The Everygirl since it first launched. My favorite TE posts have been the home tours found on Pinterest. Instagram has been my new Pinterest over the last year. There, I've discovered amazing design inspiration from Amber Interiors, Studio McGee, Emily Henderson, Chris Loves Julia, and Consort Design, to name a few. My favorite thing to do on the weekend is to visit luxury design studios in Chicago's West Loop and Fulton Market. I never buy anything but take a ton of notes for trends, brand experience, and design concepts.



How did you stick to a budget for decor and furnishings? What tips do you have for someone else looking to decorate on a budget?
I get a thrill out of making something beautiful from what many think is nothing. I find most of my pieces at thrift stores like the Brown Elephant and online discount sites like Wayfair and Amazon. Growing up without a lot, I learned to be resourceful. My creativity helped me make the most out of what I had. I'm also a believer that we all can have the dream life we deserve now, no matter where we're at in our lives or how much money we have.
I recommend splurging on larger items that you use a lot and want to last a long time like a sofa or bed. Resisting the urge to buy every home accessory at designer stores like Jonathan Adler or West Elm has also helped me stick to a budget. Accessories can add up fast and only fill a small space on a shelf. Making my own art has also allowed me more room in my budget. And of course, hire a professional stylist to tweak your space with what you have first.
Were there any areas/pieces of your apartment you splurged on? If so, how did you justify the splurge? 
I have a hard time splurging on items for myself, but this past year I had a month where I was working so hard and felt that I didn't have a relaxing space to "zen out" when I got home. My old sofa was more of a college dorm futon that was great when my dog was a puppy, but it had a five-minute limit of comfort. My living room sofa and chair pieces were a big step in upgrading my space. The rewards were well worth the money.

What's your favorite part of your apartment and why?
The artwork. Most of my artwork in my home I created. I like knowing that the art is an expression of how I want to feel in my space. It's super hard to find good artwork that you feel a connection with.
Where do you see yourself in five years?
I'm a strong believer in finding the joy in the journey and being open to the possibilities. Five years seems so far away from now, but the one thing I would love to be doing more of is inspiring people to be resilient leaders in their businesses and lives. I hope to travel, share my resiliency story, and give talks on how style and strategy can help and inspire people to succeed.
What advice would you give your 21-year-old self?
Choose joy, believe in yourself, and be grateful for the life you have now. Let go and love more even when it's hard, let go of the wrong things to make room for the right, and always dance it out when you find yourself being too serious.
Jacqueline Marie Is The Everygirl…
Perfect day off in Chicago?
Taking my dog to the park, grabbing coffee or brunch in a new neighborhood, and exploring new streets and shops for style and photography inspiration.
Dream purchase for your place?
This is tough because I'm very grateful for what I have, but if I had to answer I would say a new bed. Sleep is so important for our health. My current bed is lacking a quality mattress and headboard, but in the grand scheme of things, I'm fortunate to have a warm and safe bed to sleep in.
People would be surprised to know that I…
had a rough childhood that included absent parents, living in low-income housing, and taking care of my brother and sister.
If you could have lunch with any woman, who would it be and what would you order?
My great friend Leslie, founder of the Center for School Success. She is the most inspirational woman in my life and gives so much to those around her and her community. I don't get to spend enough time with her and appreciate any quality time we get. I would order avocado salmon toast.
Products
Entry
Wall Hooks (similar here)
Kitchen Rug (similar here)
Kitchen Hand Towels (similar here)
Dining Room
Candles, H&M Home
Basket, TJ Maxx
Table, Ikea (similar here and here)
Chairs, Ikea (similar here)
Bench, Local boutique (similar here)
Ceiling Pendant, TJ Maxx
White board paint, Home Depot
Faux Hide Rug, Overstock.com
Bar Cart, Gift from friends moving out (similar here)
Bar Accessories, Marshall's & Michael's Craft Store
Art, Tweaked Style (similar here)
Inspirational Wood Wall Art, TJ Maxx
Mudcloth Table Runner (similar here)
Dishes, Family Dollar & Target
Cloth Napkins & Rings, Pier 1 Imports
Decorative Tray, Tweaked Style
Water Pitcher, Brown Elephant
Water Glasses, TJ Maxx
Living Room & Desk
Sofa, Lubinski's Furniture in Wicker Park
Chair, Ashley Furniture Home Store
Ottoman, Ashley Furniture Home Store
Art, Tweaked Style
Pillows, H&M Home
Decorative Trays, Marshall's
Rug, Wayfair
Floor Lamps, Brown Elephant (similar here)
Ladder (similar here)
Bubble glass water pitcher set, Thousand Villages
Hanging mud cloth, Gift from a friend when visiting Chelsea Market in NYC
Sheer curtains, Bed Bath & Beyond
Light bulb accessory, Michael's Craft Store
Storage boxes, Michael's Craft Store
Teranium, Tweaked Style
Plant pot, Home Depot
Side table, Wayfair
Wood Candle Holder, Crate & Barrel
Desk, IKEA discontinued (similar here)
Desk Chair, Amazon
Fringe belt, Akira
Side marble table, Nadeau Chicago
TV stand, DIY using Ikea storage and Home Depot faux marble tile
Hallway
Art Shelf, Ikea
Candle Votives, Michael's Craft Store
Wood Recipe Box, Tweaked Style (materials from Michael's Craft Store)
Art, Tweaked Style
Fan, Street festival in Treviso, Italy
Mosaic Perfume Bottle, Gift from Morocco
Bedroom
Bedding, Cynthia Rowley
Pillows, H&M Home
Art, Tweaked Style
Jewelry Hooks, Marshall's
Dresser, Wayfair
Chair, Amazon
Bathroom
Faux Grass Plant, Marshall's
Art, Tweaked Style
Bath Mat & Shower Curtain, TJ Maxx