Now that the flurry of January has mellowed a bit, you might be feeling the desire to really hone in on your goals for 2021. What do you want more of this year? How can you show up as your most genuine self? If you're frustrated with your resolutions and on the hunt for actual solutions, we can help.
To help you visualize, track, and commit to your goals, we're brining back our six-week guide to get you to your happiest and healthiest self. This course is about getting to know yourself and what "self-care" truly looks like to you, so you can keep up your health and happiness long after the 42 days are over. We reached out to experts in a variety of fields, from nutrition to psychology to skincare, for their advice and input on a few of the different areas that make up a life well-lived. The result is over 100 pages of guidance, worksheets, and challenges designed to help you redefine and rediscover self-care in your life.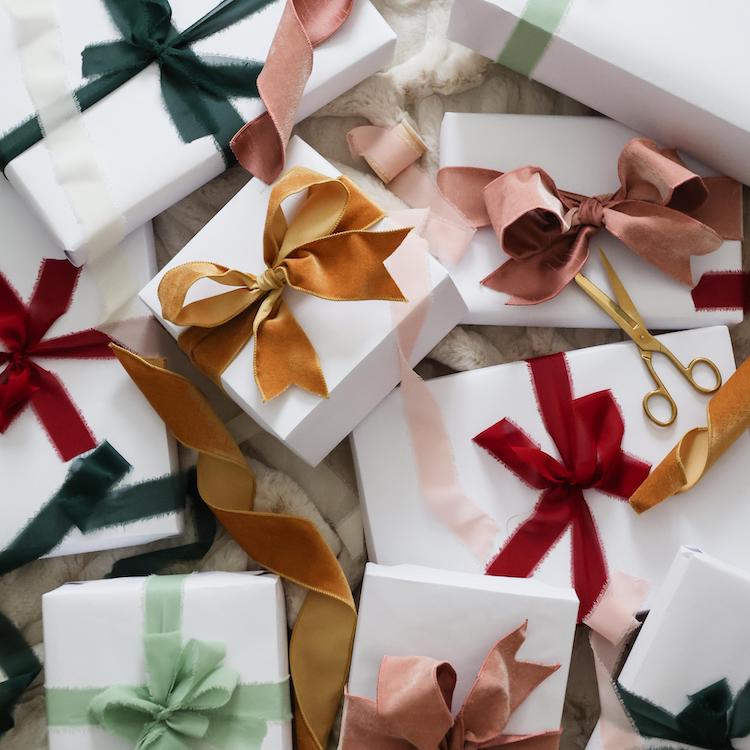 the perfect gifts for everyone—and we mean everyone—on your list
What does the course cover?
The workbook, which is over 100 pages, is broken down into six sections based on a different theme. Each section includes notes and insight from our panel of experts as well as guided worksheets and daily challenges to complete over the course of the full six weeks of the challenge. The weeks are structured as follows:
At the end of the course, there's a space for rest and reflection—to help you determine what strategies worked for you throughout the course and what habits you can implement into your life moving forward.
What's included in the course?
Each week of the course centers around a theme—mental health, nutrition, relationships, etc.—and includes daily activities and challenges relating back to that theme. For example, week one is all about your mental health. On Monday, you'll assess what self-care means to you. On Tuesday, you'll take our guided quiz to determine your personal mantra. On Wednesday, you're challenged to spend 30 minutes in nature. And so on for the rest of the week. Each day is accompanied by guided notes, worksheets, and advice from our panel of experts.
Also included in the course is an invitation to our course specific Facebook group, where Everygirl editors will be popping in as we complete the challenges in office. You'll also have a chance to connect with other course attendees and form a self-care community.
New! Mastermind sessions with our wellness editor, Josie
We're so excited that this enrollment period includes access to the mastermind session of your choice with The Everygirl's wellness editor and certified holistic health coach, Josie Santi. Each mastermind session goes deeper on a topic covered in the six-week challenge and includes a discussion and Q&A with Josie, tips and tricks to succeed as you work through the course, guided journal prompts, and more. You can choose from four specific masterminds, including:
What do I need to take this course?
All you need to get started is a pen and paper. The course is completely self-paced, so you can start working through each section at the time that works for you—whether that is Sunday mornings with a cup of coffee, Tuesday nights with a glass of wine, or anywhere in between. After purchasing, you'll have a full year of access to the course, and unlimited lifetime access to all the course downloads.
You can access our course platform from any browser, so no apps or extra software needed. Once you purchase the course, you'll be prompted to create an account with a username and password, which is how you'll login to access your courses. Questions about how the course system works? Reach out to [email protected] and we'll be happy to help.
Frequently asked questions
When does the course start?
Since the course is entirely self-paced, you can start it whenever works best for you! Upon purchasing, you'll have immediate access to the full course, including the guided worksheets and templates. You can only enroll in the course until WEDNESDAY, February 3, so be sure to grab your spot now.
How much does the course cost?
The full course—including the 100-page workbook, resource lists, guided worksheets, masterminds, and Facebook group access— is $65 and we're also offering a payment plan of two monthly payments of $32.50.
What's included with the course?
Your purchase of the course gets you immediate access to our online platform, where you can download your workbook and start the challenge immediately. Each section of the course includes section notes, advice, insight from experts, guided worksheets, prompts, and resource lists. The course also includes access to the mastermind session of your choice with The Everygirl's wellness editor and certified holistic health coach, Josie Santi. And finally, the course includes an invitation to our private Facebook group, where you can ask questions and connect with other course attendees.
Meet Our Panel of Experts
Meet your course instructors, guiding you to your best year yet. From meditation to nutrition to beauty, our contributors are experts in their fields, bringing you the evergreen information you need to assess your habits and create a personalized, balanced routine.
Dr. Loretta Ciraldo is a highly sought-after dermatologist with over 40 years of experience. She is an avid clinical researcher, published author, on-camera expert, and successful entrepreneur who has formulated medical-grade skincare since 1993. She founded Dr. Loretta®, the first skincare line that protects from the four external factors responsible for more than 85 percent of skin aging. She served as the Director of Cosmetic Dermatology at the University of Miami's Miller School of Medicine, President of the Miami Society for Dermatology and Cutaneous Surgery, and President of the Dade County Medical Association.
Dr. Loretta's research experience started in 1975 in the Dermatology Department of Harvard Medical School, where she performed early testing on the effects of UVA on human skin and contributed to the development of the Fitzpatrick Skin Type Classification. She completed her dermatology residency at Albert Einstein College of Medicine in the Bronx, NY, where she was selected as Chief Resident.
Born in New York, now living in Los Angeles, Irinel De Leon is a respected celebrity hairstylist and colorist with an impressive client list, a creative approach, and over 14 years of experience.
Currently working as the right hand woman to world-renowned stylist Jen Atkin, Irinel travels around the world styling some of the biggest names in Hollywood (Kendall Jenner, Bella Hadid, Hailey Beiber, and more). She also styles hair at some of the most prestigious events including New York and Paris Fashion Week and Cannes Film Festival, and travels to Dubai, Bahrain, Qatar, and Australia.
Kate Eskuri is a registered nurse, holistic health junkie, and the creator of The Foundation Blog: the modern woman's guide to all things slow living, integrative health, and holistic self-care. Kate is a wellness expert who is currently getting her doctorate degree in Integrative Health. She's passionate about helping women maximize their health with simple, foundational health practices and rituals that can help them disconnect from their to-do lists and reconnect with their lives.
Dr. Miriam Kirmayer is a clinical psychologist, writer, speaker, and leading friendship expert. Her work focuses on helping others navigate life transitions, cultivate resilience and self-compassion, and build stronger relationships with the people who matter most.
Her words and advice have appeared in outlets such as Forbes, The New York Times, TIME, and Vogue. She is a featured expert for Women's Health and Psychology Today and a regular guest on television shows and podcasts. As a speaker and consultant, Dr. Kirmayer partners with organizations on events and initiatives related to social connection, mental health, and well-being. Whether Dr. Kirmayer is working one on one with clients, leading a workshop, or sharing the science of connection and compassion, her goal is to help others create meaningful relationships and fulfilling lives.
Yunah is a psychiatry physician assistant in the Chicago area. She is also a content creator and a blogger who shares her style, travel pictures, and blogging tips.
When she is not working as a PA, she loves finding new places to eat and spending time relaxing. She currently lives in Chicago with her husband and the cutest cat, Milo.
Toni Marinucci is a Registered Dietitian with a Master's Degree in Nutrition and Dietetics from Westchester, New York. She is the business owner of Diet Tips With Toni Marinucci, MS, RD, LLC. where she provides online nutrition counseling. She works with busy, working, women who struggle knowing how to eat to fuel their bodies optimally so they can have the energy and self confidence to live a life of freedom; freedom from negative thoughts, self-doubt, and what-ifs. To learn more about Toni follow her on Instagram, Facebook, The Tips With Toni Podcast, and check out her website.
Ashley Pitt is a toddler mom, fitness instructor, and the creator of the lifestyle blog, A Lady Goes West, which is a healthy-living community for busy and fit-minded gals, where wellness is made easy.
Ashley is a NASM certified personal trainer, a Les Mills BODYPUMP, BODYATTACK and CXWORX group fitness instructor, as well as a Bootybarre and POP Pilates instructor. After moving from Florida to California several years ago, Ashley started A Lady Goes West to share her fitness tips, simple meals and everyday commentary on life in the San Francisco Bay Area. She has been named "40 Under 40" in the East Bay by Diablo Magazine, as well as "Blogger of the Week" by POPSUGAR and has been published and quoted on Mindbodygreen, Huffington Post, LIVESTRONG, Healthline, and more.
Formerly a finance professional at Nuveen Investments and Guggenheim Partners, Mar followed her deeply-rooted passion for health and wellness and made a bold career shift.
Nearly a decade later, she is a certified yoga instructor and the founder of Yoga With Mar, a Chicago-based lifestyle, life coaching, and yoga brand. Most recently, she is a Partner at BIÂN, a wellness club coming to Chicago in 2020. Mar strives to reinvigorate and heighten the energy of her clients in order to enhance their personal growth and vitality.
Heather Wilson is a licensed skincare professional with 10+ years of experience in both professional and retail cosmetics. She has had the honor of working and training with brands such as Dermalogica, Aveda, philosophy, and Kiehl's and has held positions such as lead esthetician, retail manager, and sales and education executive.
Heather has been with InstaNatural since 2015 as the Director of Brand Development, which encompasses brand messaging, product development, and education. Throughout her career she has developed a passion for the natural beauty industry and connecting with the consumer in a way that is accessible, digestible, and relatable.
May is a Chicago-based media dietitian and founder of Nutrition Happens, a nutrition consulting practice where she helps busy women discover healthier relationships with food by building sustainable eating habits for life.
Meet Your Challenge Partner
Our wellness editor, Josie, is known around the office as the girl who will basically try anything–adaptogens, cycle syncing, nootropics—you name it, she's tried it. She's road tested our entire challenge course and offers her insight and experience along the way. Josie is also a certified holistic health coach and believes that true health is freeing, and she is on a mission to inspire everyone to achieve their happiest and best life.
Questions?
If you have any questions about our 6-Week Self-Care Challenge or any of our other online courses, leave a comment here or reach out to us at [email protected] and we'll be happy to help!