Native California girl Sera Michael is no stranger to hard work — after spending over four years at one of the world's most prestigious PR agencies, Sera now works as a PR Manager at Poshmark, an online social marketplace used by millions, where she spends her busy days writing, networking, planning, and more. Because of that kind of work ethic, it should come as no surprise that Sera was open as well to another kind of challenge — fully furnishing a brand new apartment after moving in with her boyfriend in a new city. As expected, the result is a dream — it's relaxing, airy, and perfectly at home in its trendy San Francisco neighborhood. Read on to learn more about Sera's inspiring career advice, her enviable taste in decor, and the one thing she'd still love to change about her apartment.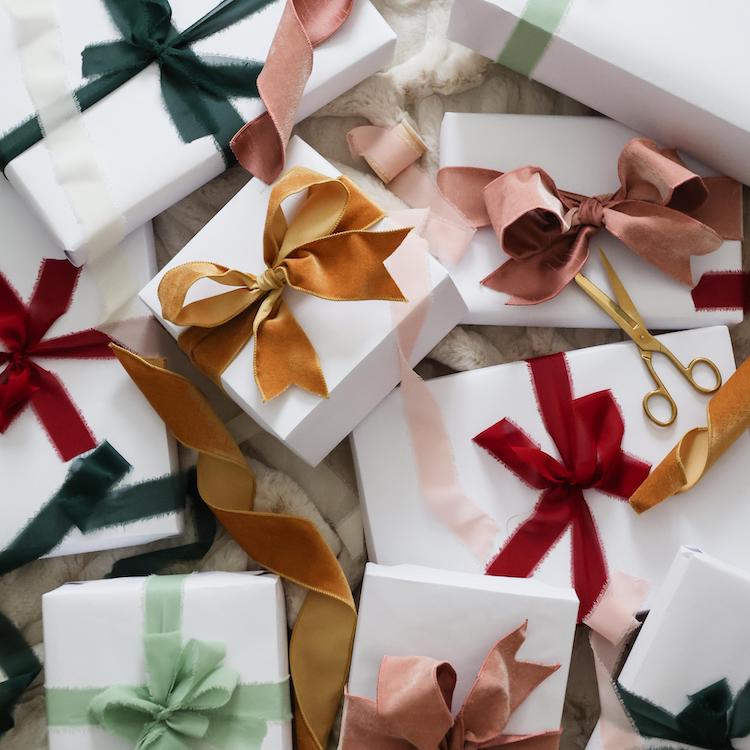 the perfect gifts for everyone—and we mean everyone—on your list
Name: Sera Michael, PR Manager at Poshmark
Age: 30
Location: San Francisco, CA
Rent or Own: Rent
Sq. Ft.: 600
Years Lived In: 1
First of all, we're so inspired by your impressive career! What was your first job out of college, and how did you land it?
Thank you so much! I loved interning while in college and had several part-time internships at a local TV station, a film festival, and an influencer marketing agency, in addition to my restaurant job. I was also obsessed with taking people out to coffee who had the jobs I wanted or organizing guest speaker events and company visits to meet as many people in the industry as I could. The fall after I graduated, I landed a full-time internship at Edelman, one of the top global PR firms, where I continued working for the first four years of my career. I knew I wanted to work at that agency because it had the best reputation in the industry, and I landed the job because of the networking I did while in school. It really is all about the people you know — connections are everything!


What were your next career moves? How did you end up in your current position?
Starting off at an agency is great because it gives you the opportunity to work with so many different brands, industries, and people, and I'm grateful for all the experiences I had there. After four years of agency life, I was ready to continue growing and knew I wanted to make the move in-house. I ended up in my current position at Poshmark again because of the connections I made while in school. The person who hired me was someone I'd taken to coffee years before, and we'd kept in touch ever since. In fact, she's still my mentor today.
What do you enjoy about working in PR? Tell us about the day-to-day challenges/rewards of your job.
I've never been bored at work, and that's one of the best parts about working in PR. No two days are ever the same, which keeps it exciting. I might be organizing a photo or video shoot one day, doing a press tour the next, and planning an event the day after. The challenge is to always stay on top of everything while also finding time to unplug. I enjoy what I do because I have the opportunity to work with amazing brands and bring their stories to life. It's rewarding to see a campaign through from start to finish and then pick up a magazine or turn on the TV and see your hard work come to fruition.


What do you love about SF? About your specific neighborhood?
I think San Francisco is one of the most beautiful cities I've ever seen. I love the amazing restaurants, all the creative entrepreneurs who've opened up unique boutiques, coffee shops, and other businesses, and the number of beautiful parks to hang out in on a sunny Saturday. I live in Russian Hill and it's definitely one of the most quintessential San Francisco neighborhoods. I can hear the trolley car going by every day, I am surrounded by the most spectacular views, and can always find a good hill to hike up when in need of exercise. I love that I can step out of my apartment and walk to the best restaurants, cafes, and shops, which is the beauty of living in such a vibrant city.

SF isn't a cheap place to call home — what's your advice to someone looking for a place without breaking the bank?
It definitely isn't cheap and apartment hunting can be a crazy marathon. My advice is to find a place with rent control so that you know the price will stay consistent year after year.
What made you choose this specific apartment? What do you like about it, and what unique challenges did it present (if any)?
When we walked into our current apartment, I instantly loved it and knew we had to have it. I actually jumped up and down when we left! What sold me was the amazing amount of beautiful natural light in the apartment, in addition to the views. We're up on a hill and have a panoramic view of the city, and can even see the Golden Gate bridge from our window. The only challenging part was figuring out what to fill it with. Although it's only a one-bedroom apartment, I'd never had so much space of my own to get creative with.

Once the apartment was chosen, what was the next step in the design process?
I knew I wanted to keep it simple and minimalist, and decided to start a Pinterest board to share my decor inspiration with my boyfriend. Since we were moving in together for the first time, it needed to feel like home for him just as much as me. Having a Pinterest board really helped us kick off the design process, and we were able to come up with a cohesive theme that we both loved.
You live with your boyfriend — how did the two of you combine your design styles and tastes? Is one of you more outspoken about design opinions?
We discovered that we were both drawn to mid-century style, so we decided to go for a clean, bright, and minimalist aesthetic, which nicely complemented both of our styles. My boyfriend was living in Austin before we moved in together and he wanted to be able to incorporate elements that reminded him of home, such as live music, so we have his guitar hanging on the wall and an awesome record player in our living room. To my surprise, he was much more opinionated about the design process than I thought, so we made sure to agree on everything before either of us purchased something. He likes to call himself (jokingly) the creative director of our apartment, but I think it's really his way of ensuring I don't buy too many furry pillows! Sigh.
Did you each bring in your own furniture, or did you start from scratch (or some combination of all the above!)? Tell us about the whole furnishing process.
We started from scratch, which was really fun! Since my boyfriend moved from Texas, he sold all his furniture. I didn't have too much of my own from my previous place, so the past year has been a constant hunt for the perfect pieces to fill our space. Once we decided on the aesthetic of our place, we began sourcing the big pieces first, like a bed, couch, table, and chairs. Then, I began adding the accent pieces, like plants (can't get enough!), a bar cart, candles, and pillows.
Furnishing an apartment takes time and it's expensive too, so we had to figure out how to create our dream apartment on a budget. I discovered that you can score some amazing finds on Craigslist (especially in bigger cities) like our marble kitchen table, West Elm couch, and Eames-style chairs. I leveraged IKEA hacks and DIY projects to add character, and became a huge fan of the home section at Target.
I also wanted to find some great artwork to fill our walls, but when it comes to art I like it to feel special or evoke a memory. We found two large black and white prints on Etsy that really bring the space together — one is the music sheet for Frank Sinatra's "New York," which is one of my boyfriend's favorite songs, and the other is a map of Paris, which reminds us of one of our favorite trips together.
The process was long — it took about nine months to truly feel like it was done — but the hunt was half the fun.

Where's your favorite place to shop for furniture and decor?
I love Target, Urban Outfitters, and even Overstock for cute finds on a budget, as well as places like EQ3, West Elm, Serena & Lily, Lulu & Georgia, and Hayneedle for higher-end pieces. I love flea markets for unique finds and great deals on succulents and like to support local businesses and artisans whenever possible. My friends own an amazing shop called Botanic and Luxe in my hometown of Santa Cruz, where I've purchased all of my large plants and pots, as well as many of my favorite home decor accents.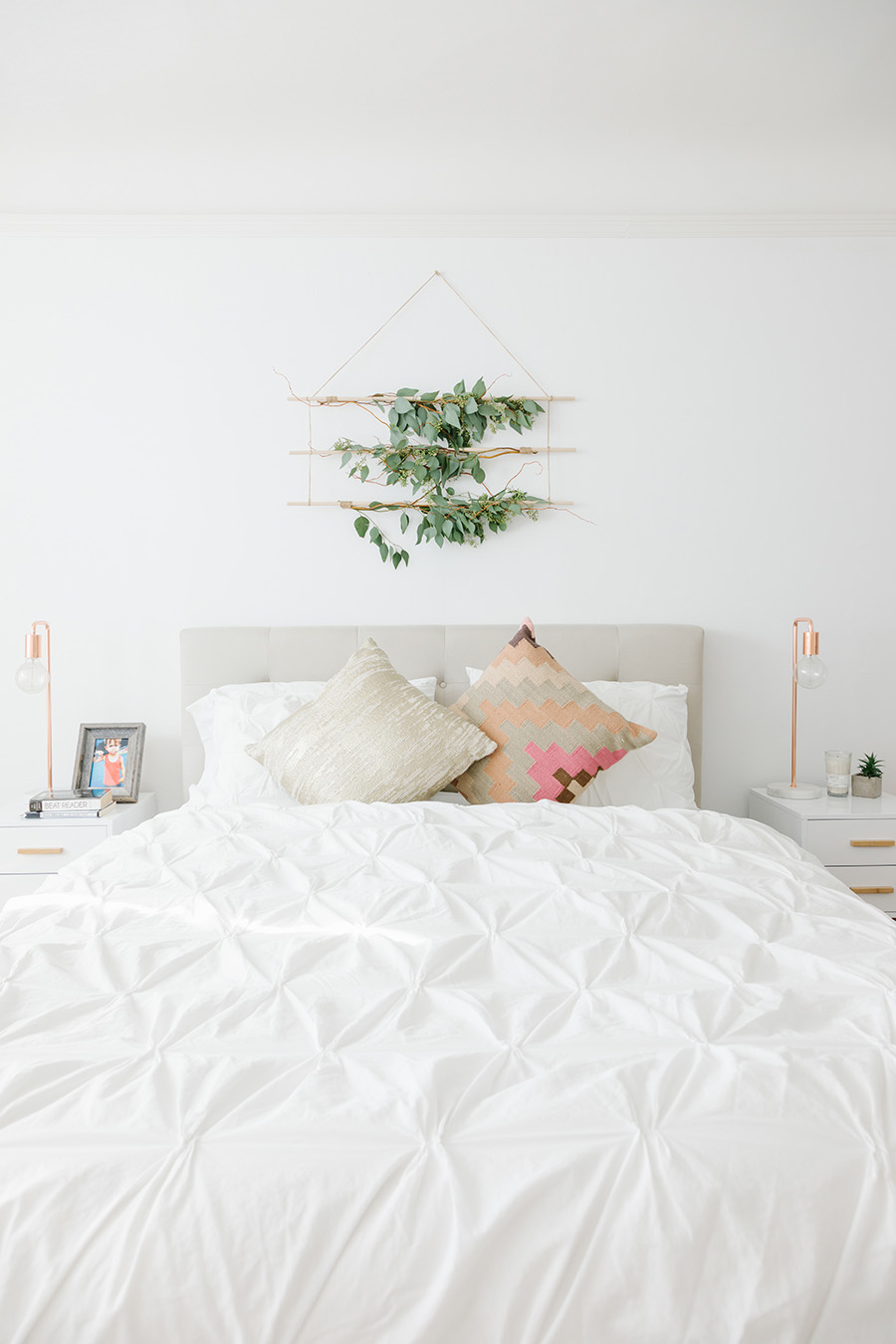 What's your favorite room in your home?
It'd have to be our living room! Before moving into this apartment, it had been years since I had an actual living room space, so I was most excited about decorating this room. It's definitely where we spend the majority of our time.
Additionally, overall, what's your favorite part of your home? What do you love most about it?
I love how peaceful and serene our apartment is. Because my life tends to be so busy, I like my home to be a tranquil and relaxing place, which to me means a space that's clean, clutter-free, and aesthetically pleasing.
What's next for you? Now that your home is completed, what's your next project?
I love how bright and light our whole space is, but I also love a good accent wall. I've been contemplating painting the wall behind our bed a moody, dark grey to give it some edge.
What advice would you give to your younger self?
I'd tell myself to always trust my intuition. So many times I'll have a gut feeling about something, and, more often than not, it tends to be right. In the past, I've ignored it and regretted it later, so I've learned it's important to stop and think things through before moving forward.

Sera Michael is The Everygirl…
Typical workday outfit?
Ripped jeans, flats or mules, a striped shirt, and a leather jacket.
Go-to lunch?
Something healthy but filling — I'm always hungry!
Favorite way to work out?
I love ClassPass! Getting to try different studios in my neighborhood is the best. My go-tos are barre, spin, and yoga. I've been doing yoga for many years and it's always my favorite way to de-stress.
Most recent splurge?
My boyfriend and I just bought tickets to visit Mexico City in the New Year. We're going to see a concert while we're there and explore the amazing restaurants and coffee shops everyone has been raving about. I can't wait.
If you could have lunch with any woman, who would it be and why?
There are so many self-made female entrepreneurs that I admire in the creative and media spaces that I'd love to have lunch with such as Hillary Kerr, Emily Schuman, Emily Weiss, and Leandra Medine, to name a few. However, if I had to choose one person, I'd choose my aunt, Lynnie, who passed away several years ago. She was a smart, successful, and independent woman who lived life on her own terms, which I admired. We had a standing phone date every Sunday since I was able to talk and I truly miss our conversations. So much has happened since we last spoke, we'd have lots to catch up on!