If you ran a business in 2020, we want to start by giving you a massive shoutout. We don't need to explain why last year was so challenging for business owners, and we think you're amazing for getting through such a hard year. Whether you already started a business and made it through 2020 or you're planning on starting one this year (go for it!), we want to help you take some actionable steps that will set your business up for success in 2021.
We put together six things you can do right now to get off to a great start this year—from creating a marketing plan to giving your website a strategic spruce. Start checking things off quickly with our platform of choice, Squarespace, which offers user-friendly tools on everything from building websites to tracking analytics to sending emails, so you can get back to doing more of what you love.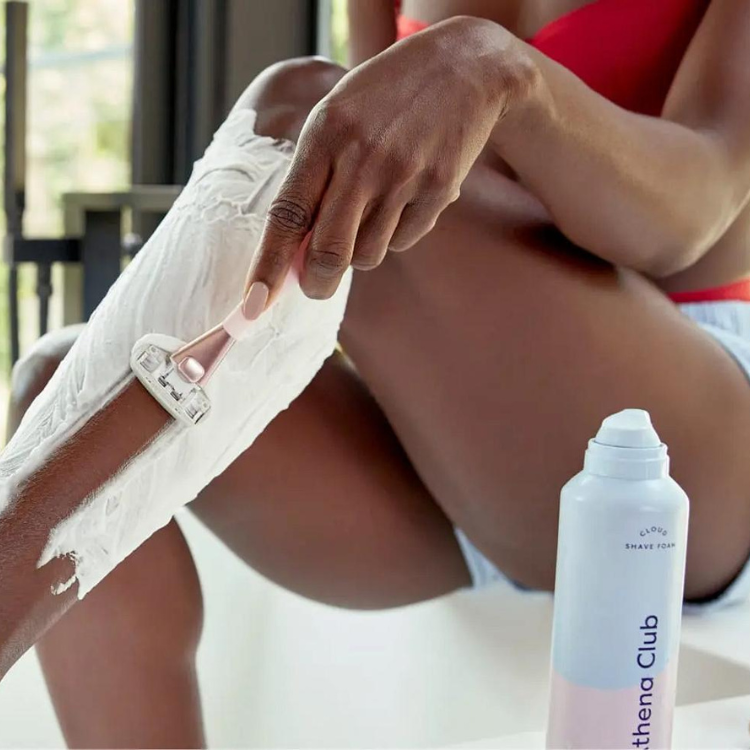 "This razor gave me the silkiest, smoothest shave I've ever had! I never get any cuts or scrapes, even on those hard-to-shave places."
1. Refresh your website
The start of a new year is a great time to revisit your current website (or set one up if you don't have one already). You want your site to engage your audience and help you pull in new customers, inquiries, or readers. Go through an audit of each page and really think about what the color choices, website copy, and overall layout is communicating. Is your site layout easy to navigate and understand? Is your site set up for mobile viewing?
We love and recommend Squarespace because it makes it easy to ensure your site is beautiful and functional. Pick from tons of templated designs, customize in a few hours, and your site is ready to rock. You can also preview how the site will look on mobile devices, which is essential, as that is where most of your traffic could be coming from— especially if you're marketing on social platforms like Instagram.
2. Make your customer's lives easier
While the customer may not always be right (don't tell them we said that!) they do always deserve to have a good experience with your business. Make their life way easier by making your processes, business hours, and other key information clear and easy to find.
Use your website and social platforms to show how to contact you, what your store hours are, what items you have available to purchase, and any other key info they need in order to either buy from you or book an appointment with you in the simplest way possible. Don't be afraid to reiterate this info in multiple places—it might seem like overkill to you, but new customers will be thankful to easily find exactly what they're looking for. And because so many people hate calling during business hours to make appointments, add convenient features to your website, like appointment scheduling, to create as seamless of an experience as possible.
3. Let's get automated
If you're a business owner, you know your to-do list never truly ends. You wear many different hats during the course of your day, and that can get really overwhelming, really fast. So anything you can do to save a little time here and there can be a game-changer. Enter: automations. As a business owner, it's hard to let go, but utilizing automations to do some of your more mundane—but necessary—business tasks is something that will save you time, stress, and headaches in the long run.
Let's look at email marketing as an example of how automations can make your life so much easier. Every business needs email marketing as a tool in their arsenal (btw, these are some of our go-to email tips!), and luckily email is one of the easiest things to automate. You can create automations that welcome new subscribers, send them a coupon, or recommend products they may like after they make a purchase—further engaging your audience and keeping your biz top of mind. If you're not sure where to start, Squarespace email campaigns offer pre-set automation triggers that help you craft your emails, along with plug-n-play templates that look great on desktop or mobile. Win, win.
4. Create a fresh marketing plan
It's time to take last year's data and put it to work! Take an hour or two to sit down and look at what really worked for you last year marketing wise, and equally as important, what didn't work for you. Then take what you've learned and create an achievable and actionable marketing plan for the new year. If possible, create social media posts, email newsletters, and digital ads in bulk. Then schedule them out a bit in advance.
The key with any good marketing plan is to use data to make informed decisions. While your gut can lead you in the right direction at times, it's also extremely valuable to have analytical insight on your side. Utilize the free analytics provided by the platforms you share on, like Instagram, to gauge what is resonating with your audience. We also love Squarespace's built-in analytics to help you understand how your audience is interacting with your website. What pages, content, or products are engaging viewers the most? Use these insights to help you make a plan for the future.
5. Consider a rebrand
It's always a nice feeling to give your brand a little refresh, and you don't have to go all out with a complete rebrand to breath some new life into your aesthetics. Sometimes, just switching up your color palette or adding a new font into the mix can change the feeling of your brand, while still keeping consistent with your look and style.
Try adding a few fresh colors to your Instagram feed or switching up your website color palette to start. Just play around and have fun with it—no pressure to be perfect. Our graphic designer here at TEG recommends starting out with a moodboard to narrow in on colors, styles, and type treatments that you're drawn to. Start by creating a board on Pinterest with images that you think reflect your brand and that would resonate with your audience. Then go through and find the recurring styles—i.e., warm earth tones, touches of handwritten script, etc.—and pull those into your own brand imagery and designs. For more of her tips, read our guide to common branding mistakes and how to fix them.
A bonus: If you're using Squarespace, it's super easy to test out different colors within your site with their built-in design editor and pre-made palettes.
6. Build your digital network
It seems safe to say that most of us won't be networking in person anytime soon. Luckily, there's really no need to. Connect with like-minded individuals in your industry over social media, ask people you're interested in getting to know for phone or Zoom dates instead of coffee dates, and check in with existing connections via email whenever you come across an article they may like or hear about a recent work accomplishment of theirs. Want the networking to come to you? Don't forget to add a contact form to your website!
This post was sponsored by Squarespace, but all of the opinions within are those of The Everygirl editorial board.