What do biology and home design have in common? Reinvention. That is exactly what inspires Shanty Wijaya, a former molecular biologist and current home renovator, to revamp older, historically significant, and sentimental properties into modernized abodes full of internationally-influenced decor and bright and airy interiors. Originally from Jakarta, Indonesia, Shanty has always found traveling to new countries a tremendous way to gain imaginative design ideas by drawing inspiration from elements like their flora and fauna, architecture, culture, and so much more. 
Shanty, along with her company ALLPRACE Homes, is always on the hunt for a home that can use her expertise for restoration while making as much of a positive impact as possible. Her decision to take on the project for renovating this nearly 100-year-old LA home was governed by how much it meant for the former owner to have his childhood home restored. Read on to find out more about Shanty's eclectic background, how she brings personal touches to the projects she takes on, and what advice she has to offer for anyone looking to give their own homes a well-deserved makeover.  
Name: Shanty Wijaya, Co-Founder and Creative Director of ALLPRACE Homes
Age: 36
Location: Los Angeles, CA
Sq. Ft.: 1,212 sq. ft.
You have an incredibly unique trajectory in terms of your career. What was your first job out in the real world, and how did you land it?
My first real-world job was a research associate at UC Irvine, my alma mater. I majored in Molecular Biology and Biochemistry, and worked at the Biology Lab at the University.
Before
After
Moving here from Jakarta, Indonesia back in 2001, what were your expectations for what your life would be like here? How did things end up differing from those?
I always wanted to study Molecular Biology in the United States because of the wonderful job opportunities here. I had absolutely no idea what to expect in the U.S., but I have always been very ambitious from a young age. I was excited to live out my dream, which motivated me to excel in school. Other than language and cultural differences, I adapted wonderfully to life in the U.S. I was able to find my niche and felt happy, free, and safe in my new surroundings. 
How did you discover your passion for design and curation? Was it something that you always had an innate fervor for growing up, or did something specific spark your interest in it at a certain point?
Ever since I can remember, I have been passionate about design and renovation. One of the reasons I'm drawn to both biology research and design and curation is because I love to invent. You always need to reinvent and come up with new ways of doing things when it comes to both biology research and design. When it comes to design, you always need to reinvent new ways of approaching a project, and incorporating new architectural and design elements whether it is from materials or exploring the functionality of a home. Research and design both have a great impact to the community and improve our lives for the better.
Before
After
GET THE LOOK
Explain the meaning behind your "no details spared" approach to design.
Every element is taken care of when I work on a project — from managing the construction process, to hand selecting the finishes, bringing in unexpected design elements, maximizing and reformatting the layout, building out the landscaping, overseeing the staging and photo shoot, and everything in between. We strive to create an original, curated look in all of our projects, so the future homeowner can enjoy the benefits of a custom home experience. 
Our mission at ALLPRACE is to deliver well-designed and high-quality homes so the new owner can enjoy the custom home living experience, regardless of how much the home costs. For example, this home was listed for under $1 million but we added many upgrades, finishes and architectural details that are typically seen only in multi-million dollar properties. We put in a La Cornue range, imported a 19th century fireplace from an old building in England, and installed stunning light fixtures that we picked up during our European travels. 
Before
After
How do you and your firm, ALLPRACE, decide whether or not you will take on a certain project? What draws you to a specific property over another?
We love old homes that are full of character and charm, and homes that have a story, history, or sentimental value — we love to preserve.
A few years ago, we bought a home that was previously owned by a songwriter companion of Elvis Presley. The neighbor told us that she used to see Elvis frequent the home, and it was exciting to work on a project that was full of history. For this project, one of our close friends offered to sell us the home. It was his best friend's childhood home, and we could not pass up the opportunity to redesign a property that was so special to our friend. It was exciting and meaningful to renovate and transform this home. We're big fans of Spanish-style homes and incorporated unexpected design elements while paying homage to the home's original details and charm.
Before
After
Taking a look at the after photos of this home compared to before, the older look is completely unrecognizable (in the best way, of course)! Do you have a sort of formula for renovating a fixer-upper in terms of how you plan the course of the project? We'd love to know the steps it takes to achieve this sort of stark makeover.
You need to have a clear vision for each project at the very beginning. My mantra is always "go with the flow." Flexibility and patience are key, especially when it comes to renovating a fixer-upper. Old homes are tricky and there will likely be unexpected surprises along the way, so keep an open mind and always be prepared for last minute changes throughout the process. To avoid financial setbacks, we always put contingencies in our renovation budget. Trust me — it never ends up under budget, especially with fixer-uppers. Using a great and reliable contractor is a must. Don't hire a cheap, unqualified contractor, because it will end up costing more money and a bigger headache. 
Before
After
For someone who wants to revamp their entire home but isn't sure where to begin, what suggestions would you offer on how to plan, especially when on a budget?
The first step is to make a list of absolute must-haves items to lesser important items that aren't deal-breakers. That way you can prioritize your budget according to the list. Revamping and transforming the entire home will not be cheap — especially when you're on a budget. It's likely more feasible to do renovations one at a time, rather than all at once. You can give your bathroom a much-needed facelift first, and when it is done, then you can start with other sections of your house — like your kitchen. When you're on a budget, do some research and think outside of the box when sourcing materials. Many direct-to-consumer brands offer a luxurious, bespoke look without breaking the bank.
Before
After
What was the biggest challenge you faced when working on this LA home?
The biggest challenge I faced on this project was the reformation of the home to increase the amount of living space. Prior to renovation, there were many walls and closed off rooms, and the layout was unusual. The master bedroom was only accessible through a guest bedroom, which is not an ideal setup for anyone that enjoys having house guests. Another big challenge for this property was how to incorporate luxury, high-quality upgrades that are typically only seen in multi-million dollar homes. We got creative and sourced a lot of the piece from our European and Australian travels for an eclectic, yet stylishly curated look. 
Natural light is definitely something that can open up a home and make look much bigger and airy, which we can see with the addition of natural light sources you added to this one! What are some of your other simple favorite ways to brighten up a home and make it feel more inviting?
A great way to brighten up any living space is to incorporate white or light-colored walls into the design of the home. Accent lighting shows off your personal design style while creating an inviting sense of warmth. Mirrors are another great way to open up a space since they reflect light and give an illusion of a bigger space. For a more inviting feel, rearrange your furniture so that nothing blocks the window, and choose pieces that are less bulky. For a personalized touch, incorporate your favorite home fragrance. A diffuser is highly effective in a small space and adds an element of luxury. Plants bring vibrant, lush elements to your home and are natural mood-boosters. I love to add statement rugs for coziness and to tie together the room's color palette. 
Before
After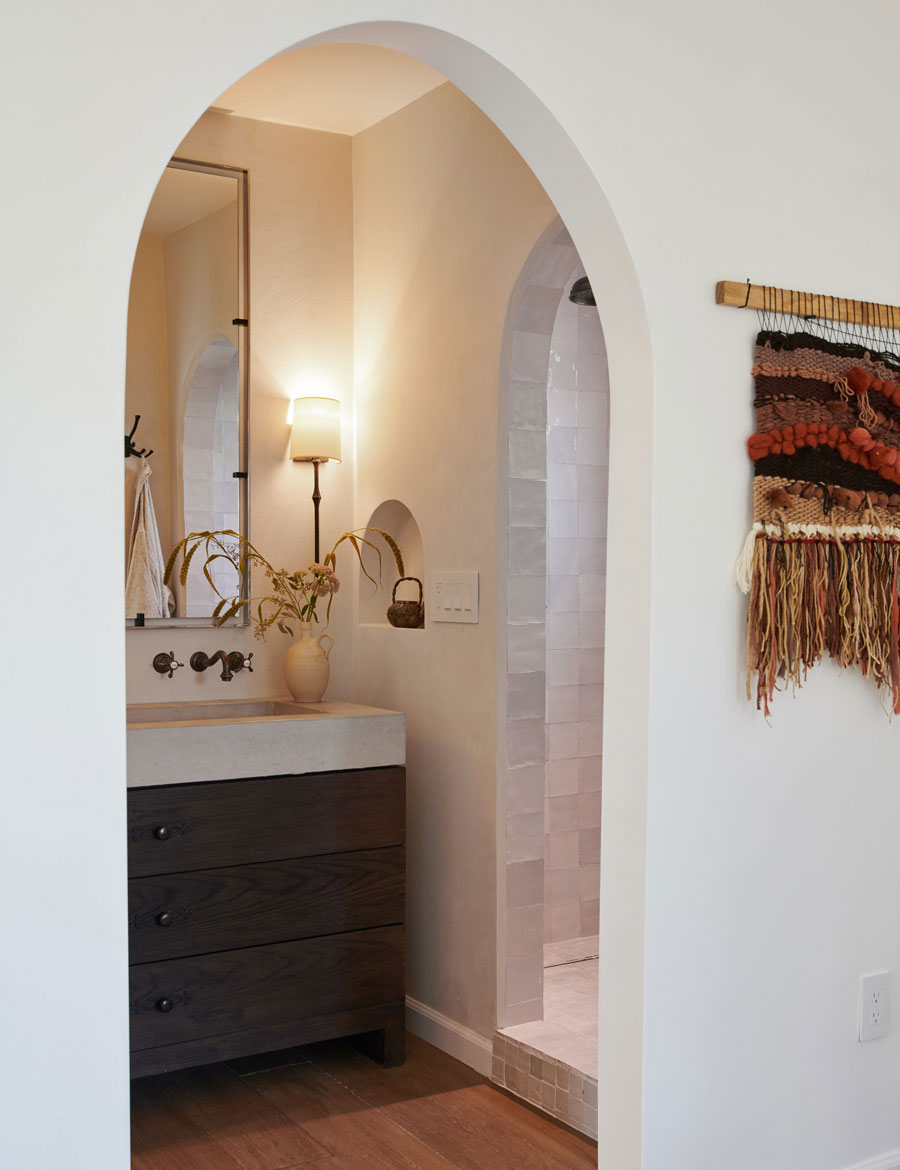 We absolutely love the Spanish, Moroccan, and Italian influences you brought to different parts of this LA home! What catches your eye most in terms of design and architecture during your travels, and how do you decide which ways to incorporate those elements into your projects?
I'm inspired by old-world architecture, especially the beautiful historic buildings all throughout Europe. I'm fascinated by the gorgeous colors, intricate detailing, and the preservation of these old buildings. When working with any property, my design process starts by reflecting on the things or experiences that inspire me. For the landscaping on this property, I was inspired by the Mediterranean-Spanish landscaping of by one of favorite hotels, the Hotel El Fenn in Marrakech. The olive trees, Italian cypress, bougainvillea, grass tile, moroccan solar lantern, chimney, and hammock were all carefully selected and reminiscent of my travels to Morocco. I had to include an alfresco dining space for this property, since Riad-style dining and indoor/outdoor living are such a huge part of Moroccan culture. The nursery was inspired by my trip to Australia — particularly the exotic animals I encountered there. The charming animal-printed wallpaper from Chasing Paper reminds me of the wildlife in Australia, and the hanging monkey light was bought specifically for this room during my last trip there. We saw many cast iron fireplaces in older buildings or hotels when we traveled to London and Oxford. I decided to import the 19th century fireplace from England, as it creates a focal point for the living room and adds so much character and history to the home.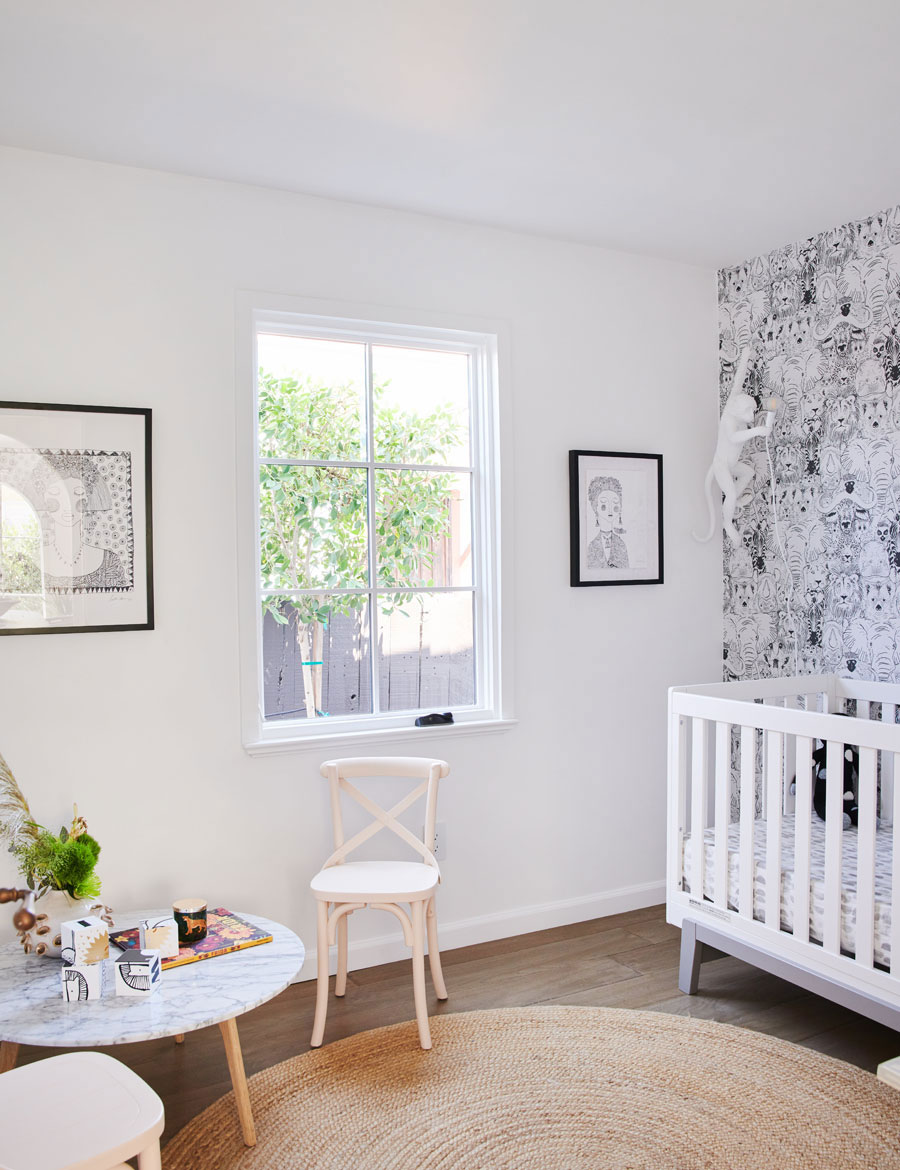 One of the best things to come out of each of the homes you sell is your collaboration to sponsor homes for families transitioning out of homelessness with the nonprofit, Humble Design. We'd love for you to tell us more about that partnership, and how it came to be.
We believe in doing meaningful work that positively impacts society, and we're always looking to give back to the community. We selected Humble Design as a partner because we believe their mission to improve lives really resonates with our company. Humble Design is a non-profit serving families, veterans, and individuals emerging from homelessness and rebuilding their lives. A portion of the proceeds of every ALLPRACE home sold will sponsor a furnished home for a family transitioning out of homelessness. In addition to benefiting the organization financially, our team helps design and furnish each family's home. 
Before
After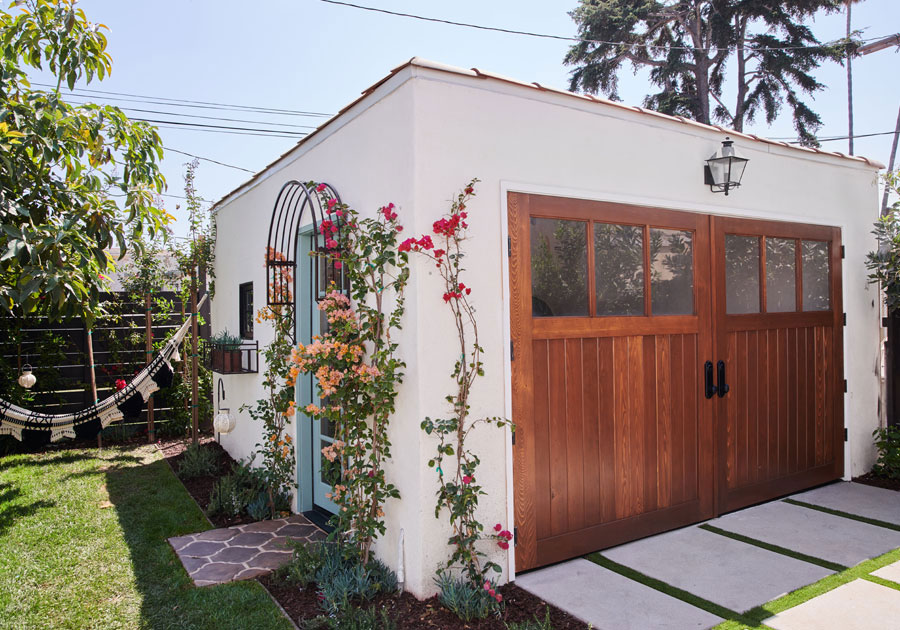 Looking back at all of your experiences you've had and the things you've learned over the years, what advice would you give to your younger college self?
Always remember that our time on earth is finite and you only live once. Make decisions based on always seizing every opportunity and lead a life with no regrets. Don't overthink things —  if it's not unkind, just do it. 
Shanty Wijaya is The Everygirl…
Favorite feel-good song? It Might Be You by Stephen Bishop.
Next spot on your travel list? Machu Picchu
Go-to paint color? All White by Farrow & Ball
Favorite LA restaurant? Providence
I wish I knew how to… Play piano
If you could have lunch with any woman, who would it be and why? My Mother. She is such an inspiration to me, and since we live on different continents I don't get to see her as much as I would like.