Friends, three words. This Is It. There is truly no better time to shop small than now, with so many gift-giving holidays coming up. Small businesses have been hit hard this year as the pandemic kept doors closed and limited shoppers when stores were able to open. Supporting the small businesses in our community is so important all the time, but especially now, when so many are struggling.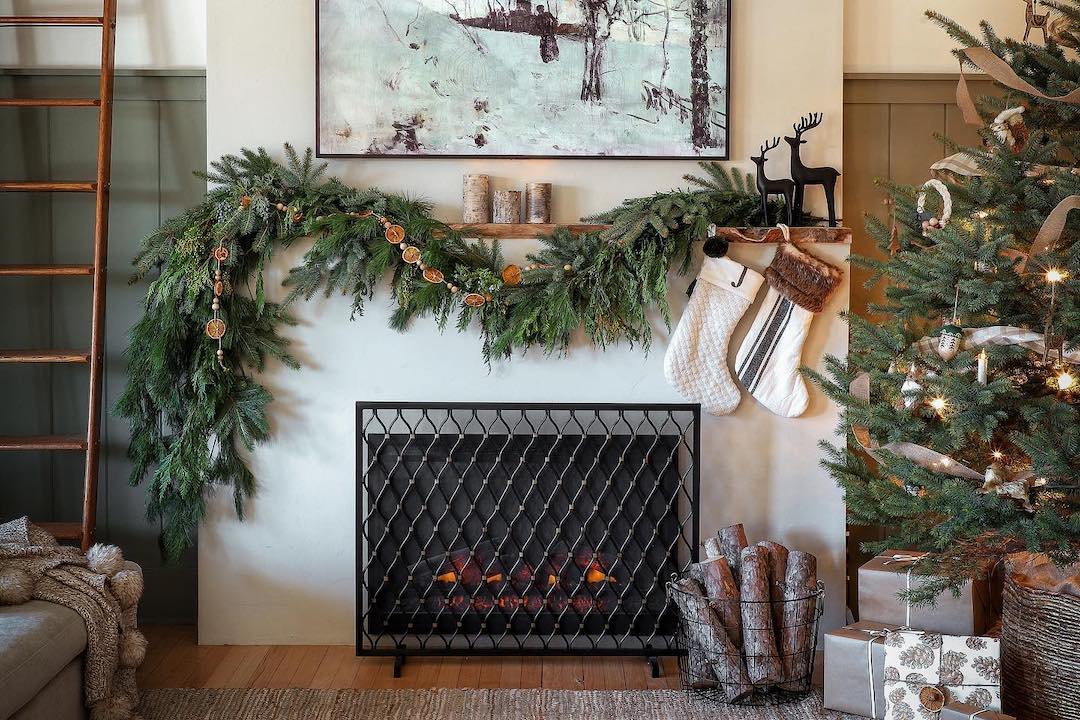 there's still time to deck your halls
Shopping at a small business isn't just about buying a product. You're really making a difference for the small business owner, their employees and families, and your community. The impact is major.
The entire team here at The Everygirl loves supporting small businesses, and we hope you will too this holiday season if you're able to do so. Today, we're sharing our favorite small businesses from across the country and around the world and we know you'll love them just as much as we do.
*indicates BIPOC owned businesses
From stationery and office supplies to home decor, they have you covered with everything needed for a chic and inspiring space, but the best part? They're based right here in our favorite city, Chicago!
If you're looking for a shop with unique, charming, items, this little shop (with two Chicago locations, if you're in the area) is for you. They have great gifts for any occasion and by the time you leave, we're sure you'll have a basketful of items you'll be obsessed with.
Look no further, this woman has it all. If you can't decide on what to get (because, same) may we suggest the goddess body statues? They're stunning!
There is nothing better than a matching plate set and by shopping here, you will have a piece that will never go out of style. The simplicity and quality of this product is just A+ in our book.
When we say we love personalized items, that's an understatement because we are actually OBSESSED with them. This company has the chicest pieces and you can customize each to your liking, add an initial, special date, anything! Don't wait on this one, get yours now.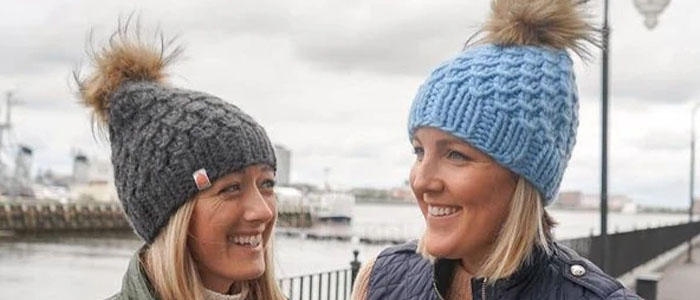 This company is the coolest brand in knitwear. It's (young) woman-run, the materials are sustainably sourced, the knitters are working moms in Peru earning a fair wage, and they also do a lot of charitable initiatives.
ArtLifting works with artists living with homelessness or disabilities "through the celebration and sale of their artwork." The artwork is sold for individual as well as commercial use. The work is beautiful and there are tons of options available.
This company produces gorgeous jewelry and is a B-corp that connects "artisans in Kenya with the global market." We love that they are using their business to change the world: by working to reduce inequality and poverty and supporting women showcasing their talents. All the designs are simple, sleek, and beautiful.
We're blown away by the talents of Danielle Coke. She's a one-woman show and her meaningful work lights up our Instagram feeds. We love her design style and artistic vibe as well as mission.
Baltimore-based vegan skincare company Miles of Moisture has great botanical products for every part of your skin. From cruelty-free and vegan deodorants to facial creams and serums, this women and Black-owned business puts care in every product.
Created in 2001, Oyin Handmade features hair, body, and men's products that are gentle and cruelty-free, like their award-winning leave-in conditioner, Hair Dew, and popular Honey Wash hydrating shampoo. Led by a Black woman of color, you can now find this line nationwide in many retailers, including Rite Aid and CVS Pharmacy.
If you love a good candle, you'll love the selection at 228 Grant Street Candle Co. From fragrances like Sweet Orange + Moroccan Spice to Tobacco + Patchouli, these soy candles are great as a unique gift for any candle-lover. Even better, a portion of their proceeds from their Candle of the Month program goes to support social justice programs and community activists.
Really good coffee and tea are sometimes hard to come by, but Compass Coffee has great signature blends for everyone. This DC-based coffee company makes their coffee from a variety of beans found around the world. They even sell their blends in K-cups and capsules, so no coffee lover is left out.
Out of Maryland, Olive & Loom has cute and unique trinkets for anyone: baby blankets, one-of-a-kind magnets, and cards with painted portraits of female icons (who doesn't want a fridge plastered with photos of Beyoncé, Michelle Obama and the late, great RBG?) and other home and beauty products. Their specially-made gift boxes are also great gift ideas, mixing traditional pieces like tea sets with modern elements for anyone to enjoy.
This Portland, OR-based company works with local non-profits to employ womxn in the PDX area who don't have many opportunities for employment. The womxn receive job training and make the company's sugar-free, peanut-free nut butters, including festive flavors like Salted Eggnog and Cinnamon Snickerdoodle.
From lip balms and face masks to lotion bars, body oil, and dry shampoos, this organic skincare company has something for everyone on your list. Whether organic products in particular are important to them or they just love new skincare finds, you can't go wrong.
Shopping for anyone who is trying to get serious about reducing their use of plastic? Blue Heron Botanicals is a great choice for skincare because the brand uses compostable and sustainable packaging whenever possible, which means you can feel good about using products from wound care to lip conditioner.
From vibrators to organic lube, oils, menstrual cups, and more, this company is about all things sexual wellness. Buy for yourself, buy for a friend.
We're not one to nerd out over cookware, but we're obsessed with our Our Place Always pans. It replaces eight pieces of cookware, so you can use it to sauté, fry, boil, strain, and so much more. Plus, the pans are made in ethical factories that are environmentally conscious and provide a fair wage to their teams AND use sustainable materials as often as possible, so it's a purchase we feel good investing in.
Galerie.LA is an online store (with a stunning boutique in Los Angeles–if you live in LA, you seriously must go!) that makes sustainable shopping easy. From chic clothing to luxurious candles and beyond, it's basically your one-stop-shop for sustainable brands and high-quality products. Plus, it was founded by a celebrity stylist. Hot tip: it's a great spot to stock up on gifts for everyone this year.
This Brooklyn-based design studio focuses on handmade, high-quality ceramics that celebrate the multicultural heritage of its co-owners. They offer stylish dinnerware, trendy vases, and candles so pretty, you'll want to leave them out as decor, even after the wax burns down. You'll also want the "Vote" Mug or "BLM" Mug to show off what's important to you (in a very trendy way!)
This beauty company creates luxury body products like body balm, bath soak, and body polish, at an affordable cost. Plus the products are as sustainable as they are effective, and will look gorgeous sitting out on your bathroom counter. The marble-based dry brush basically went viral this year (it's that cute), and the candles are fan-favorites because of the chic marble canister and ability to replace the wax (and interchange the scents!) without getting rid of the base (#sustainable).
2020 asked for loungewear, and Club Casual answered. They make cozy, knit fabrics in items like slip dresses, pants, tanks, and rompers, so you can still feel your best while staying cozy and comfortable. FYI, each collection is made to order for each season, releasing limited styles and quantities, as to create no waste, so stock up on the items you want before they sell out. Trust us, they're well worth the wait.
This Etsy shop is based in Philadelphia and sells natural, cold-pressed whipped body butters that are skin-softening and smoothing and smell heavenly.
Cool, chic clay earrings are abundant with this little shop. It's woman-owned and run by Erica who makes all of this gorgeous jewelry and accessories herself.
This indie makeup line has everything you need for both bold and bright looks, but also neutrals. Inclusivity is a core value of the brand, so you'll find products everyone can use.
This cosmetics line has everything you need for bold, unique makeup, from sparkly and duo chromatic eyeshadows to lip glosses to blinding highlighters.
If cool, unique, and fun nail colors are your thing, Cirque Colors should be on your radar. Their range is filled with cool shades and patterns (think tortoise and jade!) for trendy nails you can do at home.
Featuring inclusive and empowering messaging, the art and designs at Artsy Affirmations are printable, frameable, and super affordable. Whether you're looking for a customized portrait, a fun pop-culture-specific print to hang in your home, or a positive reminder of your value and worth, the design duo because Artsy Affirmations has you covered. (Bonus: They love Harry Styles as much as we do!)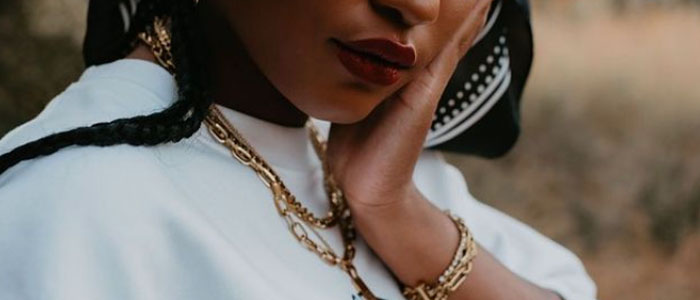 If you're looking for a trendy-yet-timeless jewelry brand founded by a badass Black woman, look no further. Featuring simple classics AND bold statement-makers, this brand is sure to elevate even your most casual outfits. (Our editor Abigail wears the Mini Binge-Worthy Hoops almost every day!).
Not only is Jamika Martin, founder of ROSEN Skincare, one of our all-time favorite career role models (she started the line while she was still a college student), but she's also working to de-stigmatize acne and scarring while treating those same skin conditions with natural ingredients. The products are effective, the packaging is stunning, and the line is ever-growing. ROSEN is sure to be a lifelong staple in the routine of anyone looking for clearer, healthier skin.
As the perfect art for anyone looking to add a touch of old-school glamour into their homes, Josh Young's stunning pieces are statement-making and elegant. While Josh lives and works in D.C., his art evokes a certain European charm (which makes sense, as he lived in Milan for 6 years!).
These candles are the PERFECT gift for your friend who's always crushing on a celebrity. The pop-culture-themed (and delicious-smelling) candles from Cool Girl Candles look SO chic and trendy in any home. We're partial to the One-Direction-themed options, but love them all!
A fine artist living in Traverse City, Katherine creates the dreamiest sketches, prints, and paintings inspired by her life in Michigan. From floral calendars to large-scale figure paintings, you'll love Katherine's bold use of color, light, and texture.
Based in the UK, Femme Candles creates luxury, handmade candles that pay homage to the human form, featuring a shade and silhouette range we love. Snag a bundle to burn or display (or both!).
The place to go for custom, hand-lettered doormats. A gorgeous lettering style and minimalist design make Olive Creative Co.'s custom options stand out; you'll want to snag multiple options and switch out throughout the year.
You've probably seen Nina's illustrations floating around Instagram, her "Buns" and "Ponytails" prints are relatable as hell (especially in these work-from-home times). She also sells t-shirts, pins, cards, and more, all featuring her signature illustration style.
Sex never looked this chic. Maude's collection of vibrators, body oils, condoms, lubes, massage oil candles, and more will majorly up your intimacy game—all at affordable prices. Plus, the packaging and design? A+ all around.
Bawdy's mission is "skincare for your neglected areas" and we never knew we needed a butt mask this much. With fun packaging and an empowering message, Bawdy makes nipple, butt, and overall skincare feel fun, charming, and essential.
This Chicago-based boutique has some of our all-time favorite fashion and accessory finds (may we suggest this shirt?) and it feels so much better to buy it from a local store than a big retailer. Trust us: they'll show you things you never knew you needed.
This fragrance company, based in DC, was created by three brothers all under the age of 15 when they wanted more money to buy video games and their parents told them to get a job (relatable!). Ten percent of all their profits go to homeless shelters nationwide, and their frequently-sold-out candles rival scents 5x their prices. We highly recommend trying out one of their holiday scents.
If you're looking for completely unique gifts this season, look no further than Seven Sisters, a Portland-based shop (that's currently only online) that brings together small-batch wardrobe, apothecary, and home products. Everything on their site is unlike anything you could find anywhere else—and that's worth checking out.
Finding a really cool, unique graphic tee is no easy feat, but this site makes it easy (and most of their shirts have a deeper message behind them).
There's never a bad time to add some classic jewelry pieces to your wardrobe, and Lola Ade will help you do that, but with a unique twist. Their pieces are both unique and super wearable, striking the sweet spot for great jewelry investments.
This is, without a doubt, some of the most beautiful cookware that we have ever seen. The woman-founded company gets its name from Judith Jones, who edited work for Julia Child and Edna Lewis (among others).
Whether you have kids yourself or you're buying gifts for the kids of friends or family, this boutique is a great choice. Adorable clothing, cool shoes, and sweet toys will make your gifts the most popular around.
We love independent bookstores. This one allows for online ordering and will happily special-order anything for you that they don't have already in-store.
Trendy accessories are great, but who doesn't need classic pieces that they can wear daily? Seattle-based Lace & Pearls makes beautiful pieces that aren't too fussy—perfect for everyday wear.
Making good (and thoughtful) gift boxes is harder than it looks, but Virginia-based Teak and Twine takes all the guesswork out. Each of their gorgeous boxes is filled with carefully selected items for a memorable and thoughtful gift.
This artist sells merch inspired by the men of One Direction (plus a few unrelated designs), so it's perfect for all the Harry Styles stans in your life. The designs are whimsical and fun, and everything is super comfortable and high-quality.
This jewelry brand has the most stunning selection of timeless classics—including everything from essential gold hoops to coin necklaces and gold chains. The price point is the perfect middle ground of affordability and quality.
Fawn Design makes amazing faux leather bags in tons of styles and colors for all your needs. Their purses, backpacks, weekenders, totes, and more are perfect for any woman on the go.
Romy Studio's baked clay earrings are to die for. The designs are stunning, with the color palettes being the perfect mix of neutrals and fun colors. You will not be able to decide on just one pair.
This custom jewelry makes the perfect gift for any occasion. There are tons of styles of necklaces, bracelets, earrings, and rings in gold, silver, and rose gold finishes—and almost all pieces are customizable.
Klei Beauty is a company that gives the gift of sustainable self-care while giving back to their local community. Whether you're looking for soothing skincare or calming bubble baths for the self-care expert (or someone who could make more time for caring for themselves), this small, women-owned business is a fave.
If you're looking for a long-lasting gift for the jewelry lover in your life, Amarilo offers well-made, dainty gold pieces that are stackable and made with solid gold.
We love these glasses. This gorgeous (seriously: lavender champagne coupes) hand-blown glassware is perfect for the person who loves to entertain or the best friend that enjoys shaking up a cocktail.
A handbag can be a great gift for someone who lives for an accessory that holds all of their essentials. What I love about Modern Picnic, aside from their commitment to sustainability, is the brand offers bags in five sizes: the mini, the luncher, the large launcher, the snacker, and the tote—not to mention, they each come in a wealth of color options.
Literati is an independent bookstore that, pre-COVID, was once a quirky and cozy place for book lovers to convene and feel right at home. If you're in the market for a new book (we highly suggest their staff picks) or are looking to gift a book to someone this holiday season, Literati is sure to be the perfect fit!
This Detroit clothing label is one of my favorites in the whole world. It embodies the unapologetic, raw spirit of Detroit and is a company that was built on love in response to poor media portrayal of a city that has provided so much to our nation. The brand started with their "Detroit vs. Everybody" collection but has grown to include multiple collections including "vs. COVID," "vs. Racism," "vs. Cancer," and more.
This Ann Arbor-born clothing boutique is unique. The ambiance makes shopping an experience and you can trust their item picks. If you don't live in Ann Arbor, shopping online is a very close second to being there in person!
If you're looking for a candle that lasts and doesn't melt away after one use, this is for you. Kai & Co. Candles are soy-based, which allow the candle to last 2x longer and allow your house to smell so good and fresh for even longer. This is a super great gift for a friend or even for yourself this holiday season.
Sunwoven Marketplace offers beautiful hand made wall art that you've more likely have seen all over Urban Outfitters/Pinterest to achieve that boho chic look in your home. So if you're looking for that yourself or know a friend who can't get enough of it, look no further—this is your one-stop shop.
Nothing beats a good deal and you know where you find those deals? Thrift stores and resell shops. Jane Dottie Vintage was created to take away the stigma of fast fashion and bring used items back to life. The shop has items ranging from jewelry, clothing items, to even stickers and masks. Sounds like a great place, right? Check it out yourself! You won't regret it.
Prints can get quite expensive depending on what you're looking for, but they're not all that way. What we love about Juniper Print Shop is they have beautiful, quality-made pieces for a fraction of the price. Yes, you read that right! All you need to spice up your home is one of these pieces and you're good to go. And it's always a good gift. Trust us on this one.
What small businesses should we add to the list? Let us know in the comments below!