Around this time every year, I can't help but feel a little bit Scrooge-y when everyone around me is so hyped for the start of the warm weather season and the summer style that comes with it. While my friends are planning out beach trips, I'm thinking about the fact that I'm about to be sweating through my clothes the second I leave the house and lathering calamine lotion on my millions of mosquito bites. But as another summer comes around, I'm determined not to let anything get in the way of having fun. That means combatting an inevitable summer happenstance: sweat (and lots of it).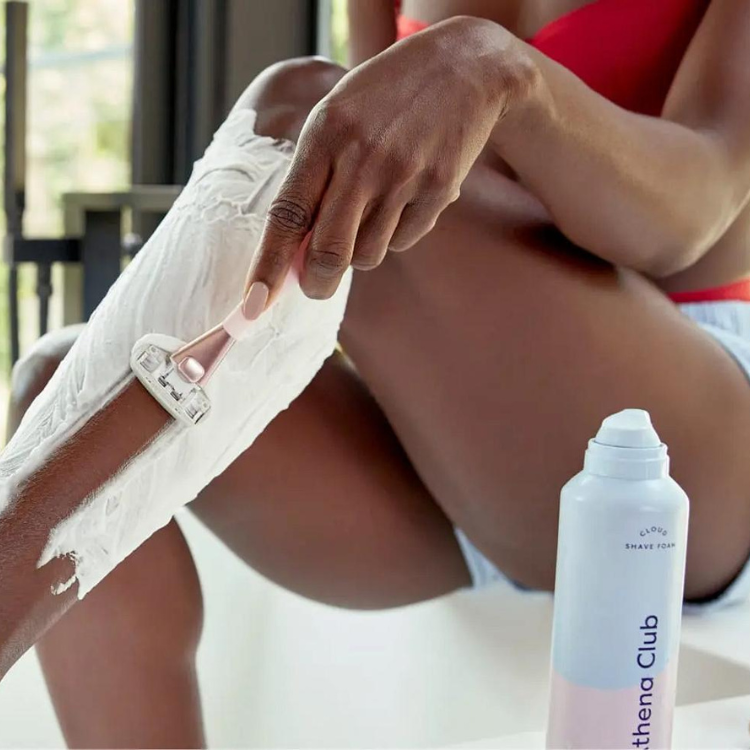 "This razor gave me the silkiest, smoothest shave I've ever had! I never get any cuts or scrapes, even on those hard-to-shave places."
To be frank, I would consider myself a sweaty girl. There's something about anxiety-inducing situations or just a little bit of heat that causes me perspire, so it's naturally in overdrive in the summertime. However, I absolutely refuse to let my summer style fall off because of it. Since coming to terms with my self-proclaimed "sweaty girl" identity, I've gone to great lengths to figure out how to make my wardrobe work with my way of being.
You won't catch me in anything other than linen and cotton when the temps are above 80℉, and of course, sundresses and shorts are my absolute best friend. If you're looking for ways to manage your sweat this year, you've come to the right place.
Strategize the fabrics you wear
One of the easiest ways to manage sweat on a daily basis is by paying attention to the fabrics you wear. Cotton and linen are the best choices for staying cool while keeping the sweat at bay. Avoid polyester and nylon if you know you'll be in a situation where you might be feeling the heat more than usual (a hot day, a morning with a big meeting, etc.).
While it's important to pay attention to the fabric composition of your clothing, the color is just as important. Darker colors will (usually) hide any potential 'pit stains, but greys and more muted tones will put them on full display. Even though both the type of fabric and color of clothes you opt for may seem like small details, they'll make a big difference when it comes down to being out and about on a sweaty day.
Madewell
5 colors available
Abercrombie & Fitch
8 colors available
A New Day
6 colors available
Opt for silhouettes that don't cling to sweaty areas
We're looking at you, baby tees. Unfortunately, just because a piece of clothing is 100% cotton or advertised as "moisture-wicking," the cut of the item is going to make all the difference on whether it makes you perspire or not. For example, a 100% cotton baby tee will typically cling tighter to the body and cut right at the armpit, trapping heat and emphasizing armpit stains (which can be uncomfortable, too).
Try wearing silhouettes that hang around sweaty areas in a more forgiving way, like a tank top instead of a tight tee, or a flowy blouse instead of a tight one. Loose dresses, breezy wide-leg pants, and non-clinging cuts are your absolute best friend in these times.
Everlane
9 colors available
Old Navy
3 colors available
Urban Outfitters
8 colors available
Don't limit deodorant to only your armpits
You heard us right: Deodorant doesn't only have to be for your armpits. While there's nothing stopping you from putting deodorant anywhere you get a extra sweaty, there are also products designed specifically for those areas (yes, you heard us right). Under the boobs, across the back, a swipe on the neck—no judgement here.
Make your accessories work better for you
Even if it's minute, the accessories you wear might be contributing to some extra sweat. Clean out your purse to get some weight off your shoulder, or opt for a lighter-weight bag that doesn't add extra discomfort to you throughout the day.
Don't overlook the power of a hat. Not only will one keep you shielded from the sun, but it'll help keep your protected from UV rays and mass amounts of face sweat simultaneously.
Prep for extra sweat in the shower
Along with the presence of sweat, the presence of body odor is also an inevitable factor during the warmer months (regardless of if you consider yourself a sweaty girl or not). Using body products that combat odor is a key step in managing how you feel in the summer months.
Antibacterial ingredients such as benzoyl peroxide and glycolic acid can help combat body odor by reducing the quantity of bacteria on the skin. Try body washes or cleansers that include antibacterial ingredients and use them on extra-sweaty areas in the shower (though make sure to avoid using them on your vagina). It won't erase future sweat, but it'll make living during the hot season more manageable.
Plan your outfits ahead of time
I can't think of a situation more awful than wearing a long-sleeved shirt or restricting jeans on a day where it turns out to be the hottest day in history. Check the weather and plan your outfits ahead of time to whatever you've got planned for the day. It'll help make sure you don't choose to wear that linen blazer on a day that you definitely don't need a jacket at all. Trust us: Your future self will thank you.