Several years ago, Torrance Hart was at a crossroads. You see, she knew that it was time to leave the Air Force, where she served for eight years, mostly as an intelligence officer, but she wasn't 100 percent sure what came next. Would she flip houses, painstakingly giving them a thoughtful overhaul before welcoming a new family? Was a food truck in her future, assembling combinations of gourmet ingredients into sandwiches? Would she start a gym whose pay structure meant that people who came in regularly actually paid less? Would she plan couples' dream weddings, making sure no detail went overlooked or unappreciated? All of those things were on the table, but none ended up feeling right. As it turns out, seven years later, she'd have built something pretty major—a successful company and a team of her own—and would be steering it through a global pandemic.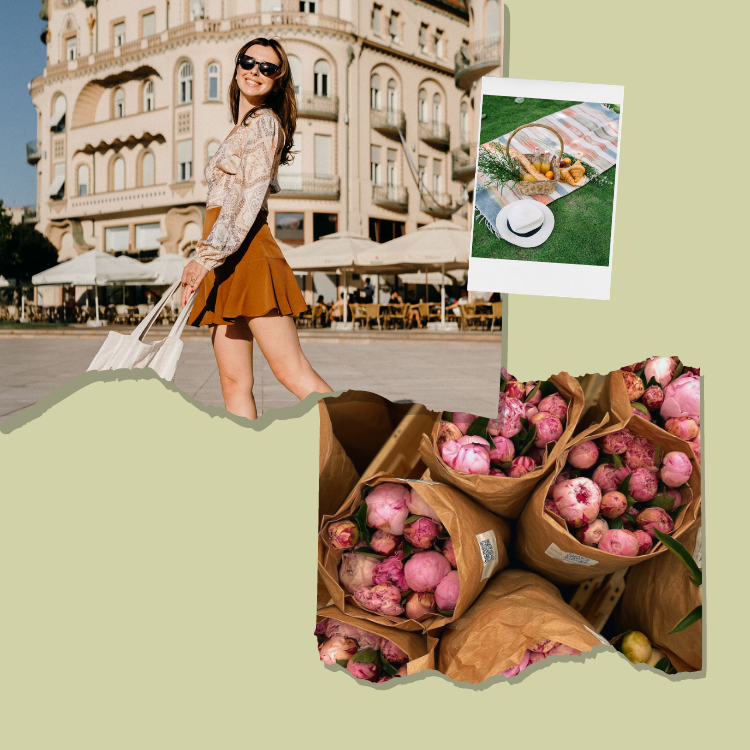 read this if you're in your saving era this summer
"I got to do some amazing things and I really loved my time, but I had spent a lot of time traveling, a lot of time deployed, and so I knew that I was ready for a transition to something a little more stable where I could be home most of the time and I had always been excited about entrepreneurship, but it always kind of felt like something for other people," Torrance explained. "I had stalked websites, honestly, like [The] Everygirl, like DesignSponge, anytime where they had interviews where they were interviewing business owners, I would just gobble them up and think, 'what an amazing life, what an amazing job.'"
About a year before her departure from the Air Force, she started seriously thinking through some of these ideas, feeling sure that entrepreneurship was in her future. She began to do research into the wedding industry, feeling called toward events after planning some while still in the Air Force.
"I noticed a trend—this is seven years ago now—that a lot of couples were doing wedding welcome gifts to welcome their out of town guests, but at the time, there wasn't a company that was providing those," Torrance said. "So even for these incredibly extravagant weddings, the wedding welcome gift was still being done as a DIY by the bride's parents or by the wedding planner or by the bride herself. And I just fell in love with this idea of creating boxes that matched the wedding perfectly. I wanted just as much thought and love that went into the wedding invitation suite and the flowers to go into these welcome gifts. And so I started diving into packaging and printing methods and sourcing products and designs and I gradually realized, 'OK, I love this part even more than being a planner, I think I'm just going to do this.'"
What started with wedding welcome boxes has since evolved into Teak & Twine, a gift box company that focuses on curated gifts for corporate clients (think big, Fortune500 companies) and beautiful, thoughtful boxes that anyone can send family and friends, whether there's cause for celebration, they need a bit of a pick-me-up, or just because you miss them.
Anytime where they had interviews where they were interviewing business owners, I would just gobble them up and think, 'what an amazing life, what an amazing job.'
You'd think that moving from intelligence officer in the Air Force to gift box company owner would be a pretty big life change (everyone says that, according to Torrance!), but Torrance said that there are actually quite a few similarities between her old job and her new one.
"When I was in the Air Force, I had customers too and I had deliverables that I had to meet," Torrance explained. "… And so now it's a different customer and it's a different deliverable, but the organization, the discipline, the making sure that you're going above and beyond for your client, your customer, that has really stayed the same."
Not only that, but characteristics the Air Force helped foster have also helped Torrance as she's worked to build her business after leaving. "I became a more resilient person in my eight years in the Air Force and that has definitely helped me as an entrepreneur," she said.
The early days were long, because Torrance actually launched Teak & Twine before leaving the Air Force. It was nine months from when the company launched before she was able to take the business full time.
"So I would go to work every day," Torrance explained. "I had an amazing employee named Caroline, who's still with me today and she would come to my house, let herself into my house at 9am, work all day, I would come home at 4:30 and … she'd catch me up on everything that happened, and then—entrepreneurs with a side hustle know—at 5pm your other job starts. And then I'd work on that until bedtime."
Once she left the Air Force and worked on Teak & Twine full time, Torrance found herself as a military spouse rather than a military member (her husband was still in the military when she left). She leaned into her community when it came to growing the Teak & Twine team in those early days, knowing that they'd know what her experience was like—and vice versa.
"It actually wasn't hard finding help because I relied on my military spouse network," Torrance explained. "I knew what it was like to be a military spouse and to not have a ton of options and so it was important to me—especially when I was living on and near Air Force bases—to hire other military spouses and give them the career that I knew was really important to me to have. And we had a lot of transitions. They would have to move somewhere, or, eventually I would have to move somewhere. But that's OK. I still tried to grow where I was planted as quickly as I could, and you just roll with the punches."
I became a more resilient person in my eight years in the Air Force and that has definitely helped me as an entrepreneur.
And it's actually what she's most proud of now: her team.
"Each person found me in a unique and interesting way or was sent by someone who followed our business. I just can't believe the caliber, kindness, and work ethic of the folks who are working for me," Torrance said. "People say that entrepreneurship can be lonely, but I never feel lonely because I have a team that really acts like it's our business and it's a shared goal. You can't ask for anything more amazing than that."
Now, both Torrance and her husband have left the military and are settled (along with the company) in the Washington D.C. area. Torrance continues to reinvent parts of her business, creating courses like Crushing Christmas and Crushing Corporate to help teach other product-based entrepreneurs how they can successfully navigate the holiday season and land (and keep) big corporate clients. She also made a Facebook group for other gift box company owners, which has grown to nearly 1700 members.
This year, as so much has gone virtual, Torrance has had to make the adjustments and decisions that so many small business owners have had to make.
"A big thing I've learned, that I think honestly the whole world is learning this together, is it's amazing what we can accomplish virtually," Torrance said. "And I thought, 'well, but, not my business. We have to make things and ship things so I'm different!' But, for a few months we … were bringing in different shifts at different times to just limit the amount of interactions. Anyone who wasn't involved in production was working from home and we really did make it work and surprised ourselves by how well it did work, And I think one of the big lessons I learned was, 'OK, there's some flexibility that I can be bringing to my team members even when this is over.'"
People say that entrepreneurship can be lonely, but I never feel lonely because I have a team that really acts like it's our business and it's a shared goal and I think that you can't ask for anything more amazing than that.
To give back, Torrance started Free Gifts for Helpers back near the beginning of the pandemic. She was feeling a bit of burnout after taking on more of the production work so as to keep her staff safe and listened to a podcast episode about burnout (Adam Grant's WorkLife podcast) while she and her son went on a walk. Though Torrance hoped that Grant would tell her to take some time off to help her cure her burnout, what she heard instead was that she should dive further into work and try to figure out how she could help other people with her work.
That led to Free Gifts for Helpers. "We were sending to doctors, nurses, and EMTs as well as caregivers or people who were living alone. We called it 'anyone who needed a boost,'" Torrance explained. "And I called my team that afternoon, we had it up the next day, and every day for months, we released free gifts for folks to come and just send a gift to anyone who needed them and it worked. Adam Grant was right. It worked. It was such a gift to read those messages of support that we got to write every day and it completely changed the perspective from 'how are we gonna handle this? How am I gonna handle this?' to 'what can I do?' It was a gift for other people, but it was a great gift for all of us going through it too."
As for moving forward, Torrance said she hopes for things to stay relatively the same.
"I hope I have an amazing team and I hope to grow … that team with even more fantastic folks," she explained. "We've gotten some life-changing orders this year and I hope it's just the beginning of us leveling up and challenging ourselves to mastering the logistics behind these large corporate accounts. I hope to be able to teach even more entrepreneurs, product-based business owners, how to grow their businesses, and how to get corporate clients and scale and so I think it's more of the same. I feel really lucky and I want to keep going on the trajectory that we're on right now because we're on a good path."
Torrance is hopeful for post-traumatic growth, in which we come out of hard things with more clarity and purpose, and can lead to things that are really good.
"I talked about that with my students at the beginning of COVID. I said, 'let's try to make this—on purpose—be a post-traumatic growth moment for us, where we challenge our businesses to be more virtual and more streamlined and more profitable' and I think that that is what I'm trying to do, is make this year a catalyst," Torrance said. "… You can't always decide, right? But if you're kind of going through a hard time in life, I like to just kind of decide, 'man, post-traumatic growth.' … And we are all as a nation, as a world, moving through that realization, which is, we are all going through something that we never imagined having to go through. And we're doing it."