Whenever I'm completing a menial task or working out, podcasts are basically my best friend. Even if I'm doing something that doesn't feel spectacular (I'm looking at you, laundry folding), podcasts are a great, productive way to hear the news, have a good laugh, or even learn something new, all within the confines of your headphones.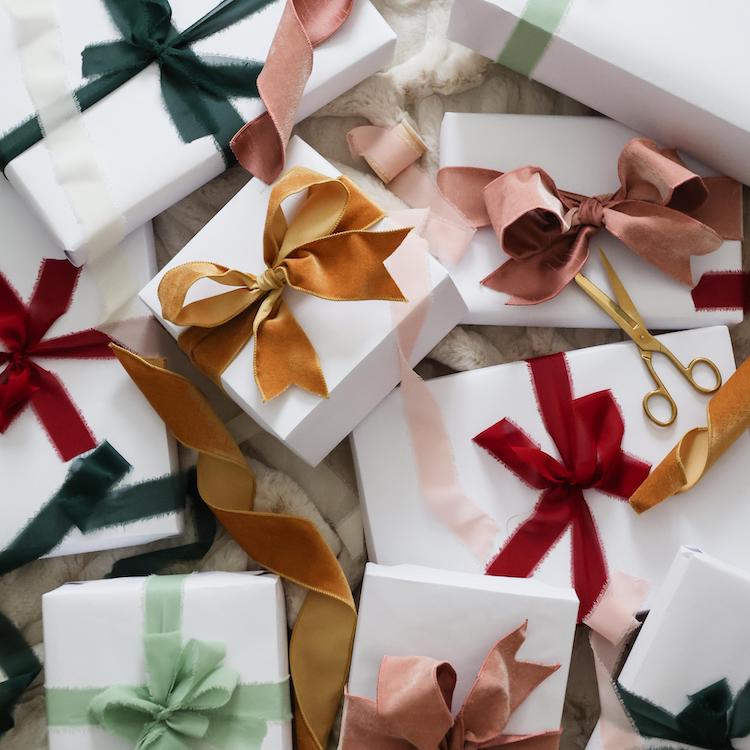 the perfect gifts for everyone—and we mean everyone—on your list
But, of course, finding the perfect podcast for your mood is easier said than done. I mean, I know I'm not going to be in the mood for a 40-minute news story on my commute back from a long day of work. Lucky for you, we've sorted through the best podcasts that are sure to inform, entertain, and do whatever you need. Throw on those headphones and get your fix with any of these podcasts, no matter what you're in the mood for.
Psst…Have you listened to The Everygirl Podcast yet? Whether you're looking for insider secrets from successful women that have your dream job, are interested in expert advice to transform your health and feel your best, or just want be entertained and laugh along with us on your commute, we've got you covered.
For when you want to stay informed
This NPR podcast features new guests and mentors from around the world as they explore some of our biggest questions. From digging deep into what informs our ideals of beauty to our relationship with water—it makes sense when you listen—these audio versions of TED Talks are engaging and prompt you to look at everything a little differently. If you want to gain a new perspective while staying up-to-date on issues and ways to solve them in our society, this is the podcast for you.
Hosted by New York Times journalist Michael Barbaro, each 20-minute episode takes a closer look at news stories and uncovers the truth about what is really happening through longform journalism. Want to know what's going on with the housing market? Curious why Apple is able to search through your files on your cell phone? With a clear mission to educate listeners, the investigative journalism in this podcast is sure to give you all the answers to your questions and address a few you might not have thought of.
From covering the day's breaking news stories to reporting on the most heartfelt stories of the week, The Guardian's Today in Focus is for the listeners who want a "deeper understanding of the news." And let me tell you, each episode leaves me feeling like I'm suddenly an expert on the day's topic. This podcast is my go-to when I want a news team that's willing to explore questions and aspects of current events few other podcasts dare to go.
For when you want to learn something new
With a name that makes it clear it's time to put on your thinking cap and learn a thing or two, Stuff You Should Know is hosted by the writers of How Stuff Works and covers literally all the questions you've been too embarrassed to ask. I mean, how are you supposed to bring up the logistics of pet psychics on your visit to the vet? Lucky for you, after listening to the episode exploring the people who claim to telepathically communicate with animals, you don't have to. From quirky episodes to investigations into cultural phenomena, this podcast is great to listen to when I want to impress my friends with some niche knowledge.
If the past few years have taught us anything, it's that we need to pay attention to climate change and do our part for the environment. A mix of comedy with a rundown on how to practice sustainability, Sustainababble is the perfect, approachable podcast to stay informed on what we can do to be the most environmentally friendly in our day-to-day lives. With hosts Ol and Dave breaking down why everything about climate change and how to be sustainable is so confusing—and cracking a few jokes along the way—you'll feel like you're learning together.
One of the most engaging and downright hilarious podcasts, Still Processing takes a look at pop culture and analyzes the books, music, celebrities, and social constructs we've grown used to under a new microscope. From taking a look at the community of music lovers created by Black musicians like Frankie Beverly, to examining how Olivia Rodrigo's "Driver's License" is actually very similar to "WAP"—I was surprised too—hosts Wesley Morris and Jenna Wortham take the concept of culture and spin it to give it their own fresh take.
If you're into history—or just in need of rectifying all of the biased information you learned in history class—this is the best podcast for setting the facts straight. Two journalist-turned-podcasters investigate and revisit cultural events, such as the O.J. Simpson trials and the Stanford Prison Experiment, to help figure out why these events have been mistold and twisted in the public imagination. Complete with a catchy and eerie Twilight Zone-esque intro, this podcast always prompts me to question how much of what I hear—and see in the news—is accurate.
For when you only have a few minutes
Keeping in line with the history theme here, Womannica takes a stab at answering a question many of us had in our history classes: Where are all the women at? Giving you more than the surface-level story of Betsy Ross we all learned in high school, this podcast takes a deeper look into the lives and notable contributions of women in history in each episode. Though it's coming decades (and sometimes centuries) later, women who took on roles as scientists, leaders, and musicians get the recognition they deserve. And the best part? You can learn about a new incredible woman in just one five-minute episode.
If you're looking to start your day with the news, NPR's Up First is for you. In a digestible 10 minutes, hosts Rachel Martin, Noel King, and Steve Inskeep break down the day's top three news stories. Every time I listen to this podcast, not only do I walk away feeling more informed, but I also have a better understanding of how international events affect us here in the U.S. as well—all before I've finished my morning coffee.
Chances are, you've seen one of those "on this day so many years ago" posts on someone's feed. Well, with this podcast, you may too join this group, as each episode breaks down important events in history that you may not have learned about in school, **cough cough**, like the Stonewall riots and the Organisation of African Unity, to name a few. In just under 20 minutes, this information-heavy podcast will surely spark your inner history buff.
For when you're in the mood for true crime
If a narration of a true crime story to help you pass the time is more of your thing, Casefile is the perfect podcast to throw on in the background or during a workout if you're in the mood for some bone-chilling stories. With episodes on both solved and unsolved cases, a deep-voiced narrator dives into the investigations and theories behind true crime stories and proves that fact really can be scarier than fiction.
If you've never heard of Bailey Sarian, well, let me enlighten you. Known mostly on YouTube for her Murder, Mystery, and Makeup series, Sarian tells true crime stories, somehow flawlessly mixing the perfect amount of sensitivity with humor. The YouTuber launched the Dark History podcast, and listeners have been praising her storytelling in an audio format since the beginning. If you want to be told true crime stories by someone who also seems down to chat with you over a glass of wine, this is the perfect podcast for you.
If downright creepy is more your speed, mulling over the evidence with these unsolved cases could be what you're looking for. Taking on more of a 1950s radio show format, a narrator and ensemble work together to tell the stories of crime scenes, investigations, and the theories behind a cold case. I would definitely advise against listening to this at night—unless you like to be scared—because this podcast will give you the creeps.
For when you need a good girl talk
There's no way you haven't delved into the world of podcasting without hearing about Father Cooper—as host Alexandra Cooper has dubbed herself—and the slew of impressive guests her show has attracted. From interviews with celebs like Miley Cyrus, Chelsea Handler, and Holly Madison, both Cooper and guests spew pretty much all of the details of their sex lives but also touch on serious topics such as misogyny and homophobia. The podcast has definitely evolved, and while, yes, it is about sex, there's so much more than that—I even once teared up over an episode I was listening to at the gym. Yes, it earned me a few concerned glances, but give it a listen and you'll know what I'm talking about.
This show is the perfect mix of comedy, honesty, and a deeper look into queer culture that is never prevalent enough in the world of podcasts. Each show begins with comedian-turned-podcasters Carolyn Bergier and Melody Kamali sharing the "gayest thing" they did over their weekends, and then they delve into meaningful conversations about pop culture, queer news, and just life in general. With a new special guest every week, you'll wish you could join in on the conversations in this podcast.
Inspired by her desire to highlight women of color in the realm of small businesses and professional settings, entrepreneur and host Eboné Almon interviews a different guest each week to chat about life and its challenges. With the goal of providing a safe space for women of color, Almon interviews each guest in a way that makes you feel like you're listening to a story and not an interview. If joining in on a conversation about traditionally taboo topics is for you, don't skip this podcast.
If you regularly seek out intellectually stimulating conversations with your friends, add this podcast to your listen list—if that's what you want to call it. In this series, two feminist theory and history lovers take on a topic, like red hair, fan fiction, or even marriage. Throughout each episode, we get a deep dive into society's modern view of women but in a way that's less of a lecture and more of an open conversation.
For when you want to be inspired
The fashion designer and beauty brand owner Lauren Conrad has become a household name—at least, for us here at The Everygirl—and is an expert on all things lifestyle and social media. So who better to help you get that Etsy shop you wanted to start off the ground or help turn your Pinterest into aesthetically pleasing perfection? Though episodes stopped airing in 2019, Conrad's advice remains timeless. Conrad provides the perfect mix of casual conversation with her own tips and stories on her success, and I walk away from every podcast episode feeling ready to tackle a new project.
In a unique and fresh take on podcasting, host Kaniehtiio Horn interviews her mother, a radical activist, on her escapades and wild stories from earlier in life. And let me tell you, her mom has seen a lot. From her "vacation" to a tension-filled Cuba to the time she just happened to get "stuck" in Europe for a year, this podcast will inspire you to get out of the house and start making your own adventures.
Side Hustle Pro is the first podcast to showcase Black women entrepreneurs, with new guests on every few episodes to discuss how they reached their small business dreams. If that's not motivational, I don't know what is. While this podcast is for women who have started their own business, this show is still a great way to support other women and maybe even learn essential skills, including how to move forward with authenticity or how to reinvent yourself.
For when you want to nerd out
If you're a Harry Potter fanatic like me (my childhood wouldn't have been complete without the HP books and movies), then this podcast is perfect for you Muggle-borns and wizard wannabes. For an in-depth look at each character, scene, and the real relationships between those in the wizarding world, the hosts break down each book and movie piece by piece to explore the entire world in which Harry lived. And with in-depth lessons on herbology and character studies of the mysterious Draco Malfoy and the powerhouse that is Molly Wesley, this podcast is my new guilty pleasure.
For all the movie buffs out there, I've found the podcast for you. The Bechdel Cast looks at popular movies and TV shows through a feminist lens and discusses the portrayal of women in media and pop culture today. It tackles sexism through the clothing and styling of women actors and looks at the morals and themes of movies including Hustlers, Crazy, Stupid Love, and more. Each episode is around the two-hour mark or more, so if you have time to kill and love talking about films, this will be your go-to.
I think we've all mistakenly picked up a book and, with the never-dying hope that it will get better, finished said book only to realize that it is completely terrible. Whether you're in the same boat as me or just want to listen to some angry readers rant about books that, really, should never have been published, listen to the Terrible Book Club. In each episode, the hosts pick a book, choosing from the classics, something from the New York Times Bestsellers List, or anything that even just looks particularly terrible, and they report back on how bad the book really was. A hilarious anti-book club, if you will, this podcast uncovers if you really can judge a book by its cover.
Obsessed with superheroes within the Marvel Universe too? With the Women of Marvel podcast, you're free to geek out over powerful female heroes and listen to the experiences of the women directors, writers, designers, and crew working to make each Marvel production possible. Not only will you hear the incredible stories of the women behind many of Marvel's movies and shows, but you'll also learn how your favorite superheroes turned from comic book characters to stars on the big screen.