Santorini is famous for its whitewashed buildings, romantic cobblestone streets, and unique half moon shape – the island itself is a half-submerged caldera. While exploring Greece last year before a move from Los Angeles to Europe, Selena of Find Us Lost found herself on this photogenic island and had to add it to her collection of travel guides. Read on for her must-see spots and eats in Oia and around.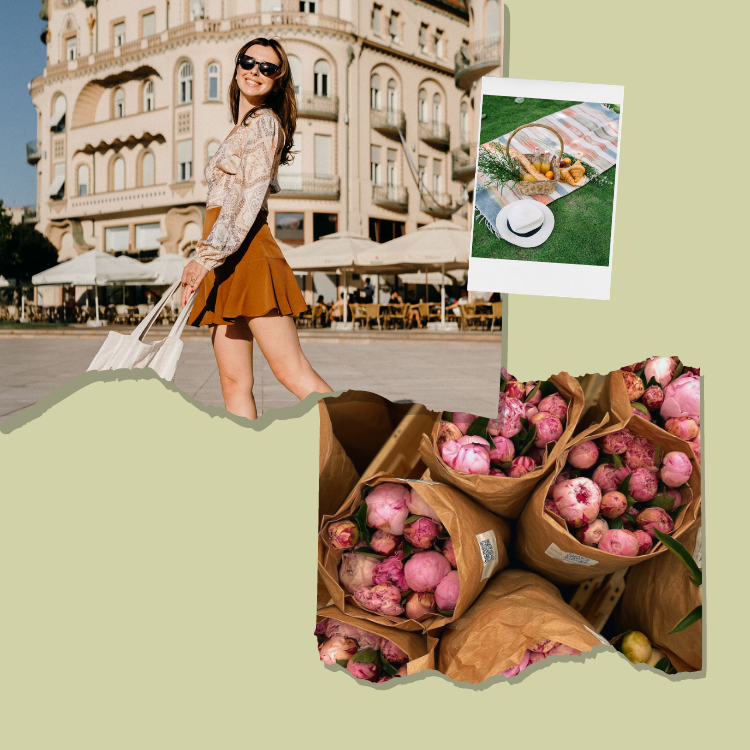 read this if you're in your saving era this summer
There's something magical about Santorini – maybe it's the incredible sunsets that draw out locals and tourists alike. Or the island's local tavernas, which serve freshly caught fish and Greek salads steps from the ocean. If you've ever dreamt of transporting yourself to the Santorini photo you've often seen on postcards, you'll find that that view really does exist in the city of Oia.
No matter what your draw to Santorini is, you'll find there are plenty of reasons to make your way over to this Greek paradise as soon as you can…
Where to Stay
Oia is the place to be. This is where you'll find the traditional cave houses perched overlooking the ocean. There are plenty of similar houses to choose from on Airbnb no matter what your budget, or you can stay in the one we found.
This one's an easy choice if you find pool time essential. The terrace at the Caldera Villas features stunning ocean views and they often run deals on their rooms and suites.
For a direct view of the sunset each night, book a stay at the Charisma Suites and prepare to be pampered. If it looks familiar, it's probably because you've seen their dreamy suites on Instagram!
Where to Eat
At Sunset Ammoudi Taverna, fresh octopus and fish are caught daily from the bay right where the restaurant is located. The best part about eating here is that you can dive into the water after lunch – you'll be dining inches from it.
For the best sunset view on Santorini, reserve a table early on the upstairs patio at Sunsets Restaurant and watch the crowds queue up below for an unforgettable evening.
Don't miss this popular spot for gelato and ice cream on the island. Their flavors rotate often, but mango and pistachio are just some of the tasty flavors you'll find there.

This is the perfect spot for a casual lunch of tasty Gyros and fries. Remember, afternoon naps are encouraged on the Greek Islands.
Consistently delicious, fresh dishes are served at Floga — and the views overlooking the caldera don't disappoint either.
Where to Go
Head down to Ammoudi for a leisurely afternoon starting with lunch. Around the corner is Agios Nikolaos rock, which is a great spot for cliff diving and sunbathing. Facing the water, just head left down the path past the restaurants until you see it.

This unique red sand beach is situated at the bottom of the island. Tip: go in the late afternoon once the crowds have cleared for a sunset dip. Many beaches on Santorini are rocky, so you might find yourself opting to lounge instead of swim.

Fira Town

Lined with boutiques overlooking the ocean, it's easy to spend an afternoon here wandering the quaint streets and hunting for products from local designers.

For beautiful views of Oia and beyond, I suggest visiting this spot and exploring the winding streets nearby.
This beach is famous for its black sand. There are also plenty of nearby tavernas where you can grab lunch and an afternoon drink.
What to Do
Rent an ATV

If you're a skeptic, hear me out – this really is the best way to see the island. We found a completely empty beach on Santorini with our ATV, all thanks to the freedom of being able to explore the smaller roads.

This two and a half hour hike features beautiful views of the ocean. If a long trek isn't in your plans, visit Skaros Rock instead and stroll towards Oia, or explore the small paths leading downhill. It's not uncommon to find an old structure on the cliffside around here.

Go shopping

There are no shortage of shops in Oia or Fira, so don't forget to take home some gifts for your friends and family (and yourself).
Visit the Akrotiri Ruins

Check out the preserved remains of this ancient Greek settlement, which are said to have inspired Plato's story of Atlantis.
Relax and unwind

The Greeks are all about maintaining an easy, comfortable way of life. Enjoy the views, have a leisurely lunch, and take a nap. You'll feel like a local in no time.
It's so easy to fall for the beauty of Santorini. I can't wait to go back one day…