Have you ever gone to happy hour and splurged on a charcuterie board that tasted like HEAVEN (of course you have) and then tried to recreate it at home and had a major #fail moment?
This happened to me a few weeks ago when I put together a "cheese plate" by slicing up a block of cheddar and throwing some crackers on a regular 'ol dinner plate. I then paired it with the only wine I had on hand and called it a day. One Insta story later and all my friends were like "Kelly… this is a cry for help. First of all, you cannot cut cheese directly on granite…" and my sins multiplied from there.
Clearly, I needed the aid of an expert. So I reached out to Tracey Shepos Cenami, a Kendall-Jackson Chef & Cheese Specialist (um, dream job) to get the low down on how to make a cheeseboard that looks heavenly and tastes better.
First of all, what do you love about the culinary world (and cheese!)?
I've wanted to work in the culinary industry for my entire life. I became the cheese specialist because there are so many things to learn about cheese – it marries food, science, creativity. Cheese is this beautiful creation that someone has made – just like wine – and so it should be treated with respect.
Cheeseboard Pairing One: 2016 Kendall-Jackson Vintner's Reserve Chardonnay
What is the most important thing to do when creating a cheeseboard?
Diversity. Diversity. Diversity! At Kendall-Jackson we never do less than five cheeses (but at home, I do three). I look at the brightness or style of cheese:
Triple cream: Soft and young (e.g., Brie) 

Semi-firm: Middle of the road (e.g., Asiago) 

Much firmer: 

Usually hard with a more powerful flavor (e.g., Manchego)

If you decide to include five kinds of cheese, try Blue Cheese or something else interesting you find at your local market.
This will give you a range of textures and flavors to pair with different wines. Treat each cheese and wine like a mini recipe – when you make a dinner, you wouldn't serve three courses of the same food. Use the same logic when crafting your cheeseboard.
Keep in mind that you want to match side by side with the style of the wine. Kendall-Jackson Vintner's Reserve Chardonnay is a rich wine, with decadence. When thinking cheese, go for something with a rind for earthiness and triple cream for mouthfeel. (Pro tip: you can eat the rind!)
Cheese: Brie, Havarti, Mt. Tam, Vella Toma
Meat: Foie Gras Pate, Pork Rillette (no cured meats)
Nuts: Hazelnuts, Macadamia 
Fruit: Apple, Asian Pear, Persimmon
Cheeseboard Pairing Two: 2015 Kendall-Jackson Vintner's Reserve Pinot Noir
What is special and/or unique about cheese?
Most people look at wine and cheese as a snack, but it's so versatile. You can't go wrong. From a large party, to an intimate dinner, or just having friends over on a casual Tuesday after work cheese is always a crowd pleaser. Choosing the right cheese, and pairing it with the right wine, can take those experiences to the next level.
Pinot Noir is a lighter red, so look for a cheese that's slightly aged and firm. For example: Firmer cow's milk cheese rubbed in cocoa powder. Or go with something nutty or slightly salty. Brown butter or Manchego served with Pinot Noir is a great pairing, just add a dash of salt to the dish to finish.
I also like cheeses that have a little more husk to them, a bit more structure. For example: Vella Dry Jack. Nothing too strong because it will overpower the wine – balance is key!
Cheese: Midnight Moon, Red Wine Soaked (e.g., Drunken Goat), Herb-Crusted Firm Cheese
Meat: Red Wine Salami, Braciole, Hearty Pate (e.g., Duck), Duck Prosciutto or Heartier Cured Meat, Dried Chorizo
Nuts: Roasted Almonds, Spiced Pecan
Fruit: Dried Cherries, Red Grapes, Black Figs
Chocolate: Chocolate Covered Dried Cherries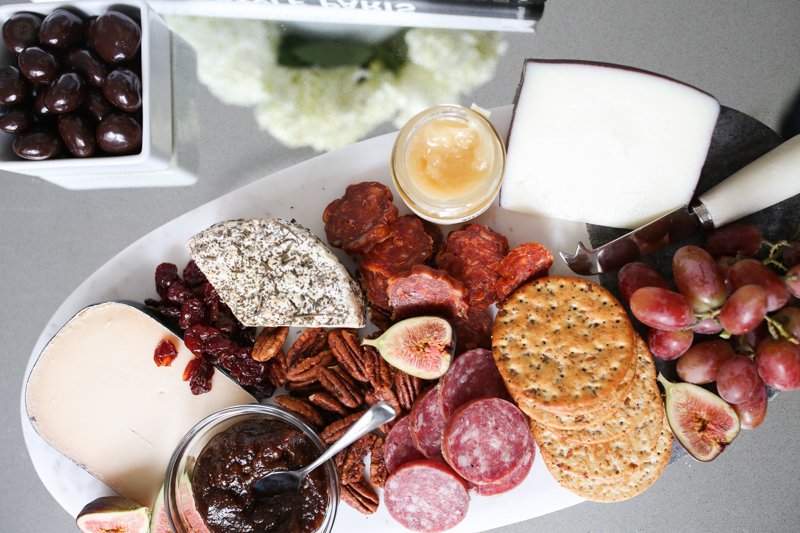 Cheeseboard Pairing Three: 2016 Kendall-Jackson Vintner's Reserve Sauvignon Blanc
Do you have a method for choosing which cheeses to display together?
Think about the animal your cheese comes from – cow, goat, sheep. An easy way to diversify is to pick one cheese from each animal. I don't want the cheese to all come from the same animal. I like to have a cow, goat and sheep on one board. 
A good rule of thumb is to pair a young wine with a young cheese. A wine that has been aged longer should be paired with aged cheese. And always remember to just enjoy yourself and have fun with it!
Sauvignon Blanc is perfect for goat cheese — in a pinch go with Chevre, an easy crowd pleaser. You can't mess it up! It works because Sauvignon Blanc is tropical and crisp and the goat cheese has tang and creaminess.
Opposites attract in this pairing, creating a lovely mouthfeel. Go for neutral bread or crackers and a salty meat like prosciutto to finish off this dish.
Cheese: Feta, Humboldt Fog Goat Cheese, Cabecou, Manchego
Meat: Salty Cured Meats like Prosciutto, Serrano Ham, and Country Ham
Nuts: Marcona Almonds
Fruit: Green Grapes, Dried Apricots, Green Figs, Pears, Green Apples, Mild Green Olives

What's your favorite wine and cheese pairing? Tell us in the comments below! 
This post is sponsored by Kendall-Jackson but the opinions within are those of The Everygirl editorial board.