When you're juggling a full-time job, social life, Bumble dates, catching up on The Bachelor so you can keep up with the office gossip, searching the Internet for flights to Europe at the end of a hard day, and doing everything else that might pop up in-between, it's easy for exercise to fall by the wayside—especially when you're expecting to spend hours at the gym.
Whether your biggest obstacle to exercise is actually going to the gym, not having enough time, or just not having the motivation, there are ways around it. By finding workouts you love that also are time-efficient, working out no longer entails standing in a gym waiting for 25 minutes to use a single machine.
Get rid of the notion that in order to reach your fitness goals, you have to spend an hour on the treadmill every day, and try out these super-effective, 30-minute workouts instead. You'll be seeing results in the same amount of time you used to wonder which exercise you should do next.
Our office's go-to at-home workouts are classes with Obé Fitness. If you're someone who thrives in a group fitness environment, Obé has live class options, where you tune in to a live class with an instructor and other participants from the comfort of your living room. It helps to hold you accountable in the same ways group fitness classes do, by actually singing up for them and having an instructor who speaks directly to you.
If that isn't important to you, you can also participate in on-demand videos at any time. No matter which option you choose for that day, all classes are 28 minutes and fall under three categories: define (strength-based classes), sweat (cardio-based classes), and flow (yoga). It makes it easy to fall into a routine that will give you results, fast, by combining the three categories based on their customized recommendations (and helps you avoid getting into the all-too-common cardio-only rut). If you're really in a pinch, they also offer 10-minute express classes to get your blood flowing quickly or add on to another workout.
The perfect way to get started is with The Everygirl's 10-Day Program, which is full of 10 classes hand-selected by our team members to give you the most enjoyable experience possible (hello, dance cardio!).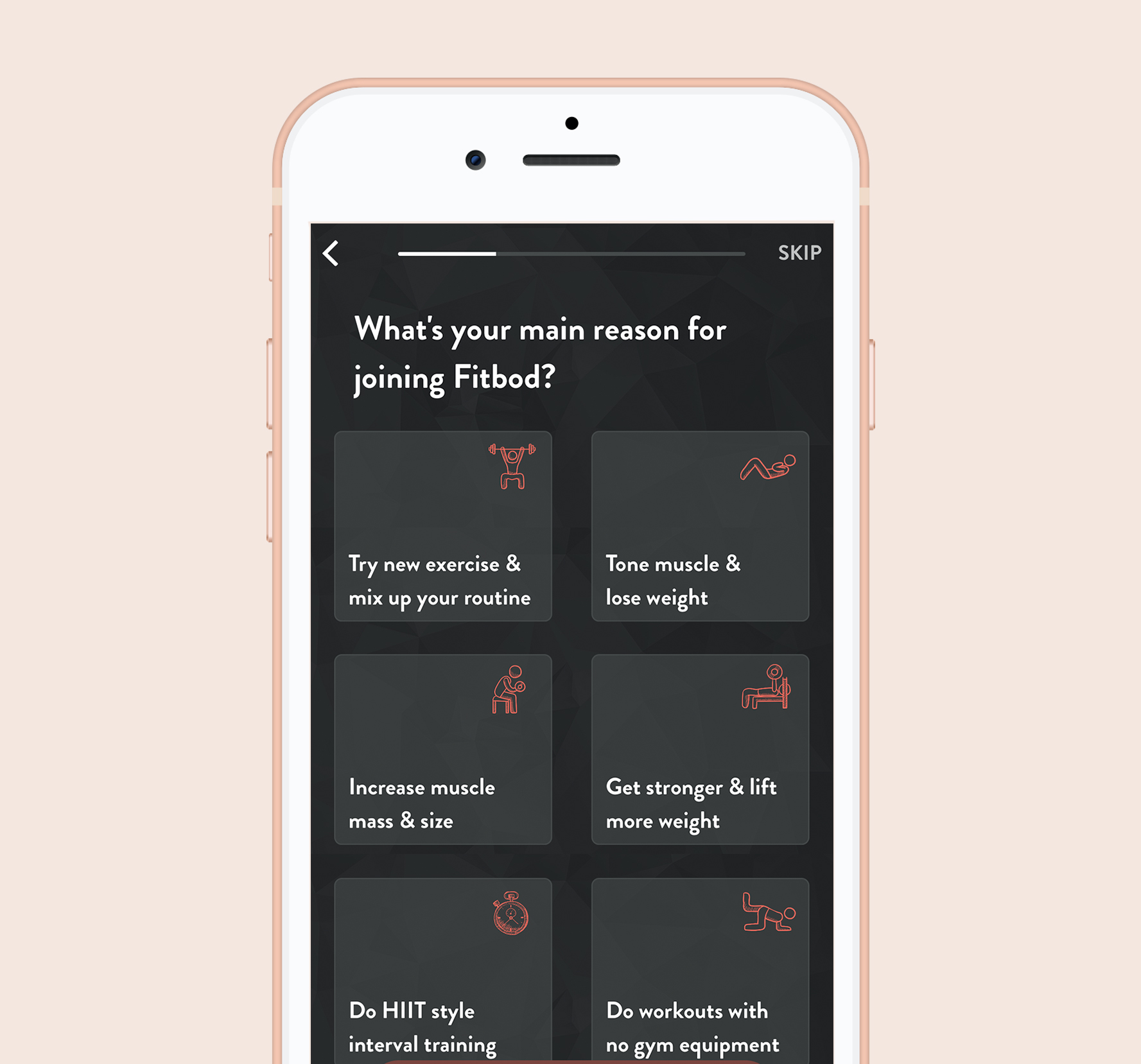 If you want to start a strength-training fitness routine but have no idea where to start (or what workouts to combine to get results), Fitbod is your solution. They use an algorithm based on your profile to tell you exactly which exercises to do, how many reps to complete, and how much weight to use. It customizes it based on the equipment you have available, which you can adjust based on whether you're working out from your home or the gym. It adjusts the sets, reps, and weight as you log workouts, so you're constantly making progress.
The default workout length is 60 minutes, but the app allows you to customize your workout length to fit into any time you have available. It also allows you to customize which muscles you want to work out that day if the suggested workout isn't cutting it.
After the free, week-long trial period, Fitbod costs $9.99 a month (or $59.99 for a yearly subscription).
While running inside can get boring, running outside is generally considered more difficult—even for the best-of-the-best runners. Treadmill training is great for adjusting your speed and keeping a pace, but running for hours on end at a jogging pace is an easy rut to get into, and isn't always the challenge you're looking for. Studio provides boutique-style treadmill classes for all levels of running—from beginner to marathon runners. It will help you know when and how much to adjust your speed and incline, and provides HIIT and sprinting classes as well. It's the easiest way to make the most of your treadmill workouts.
Studio costs $14.99 a month, or $99.99 for a yearly subscription.
If you're not a runner (or even if you are) getting to the point where you can run 3.1 miles easily is no easy feat. This app helps you train every day to help you transition from not running at all to being able to do a 5k within nine weeks. If you're someone who loathes running but wants to start somewhere, this is the perfect app for you—you'll be considering yourself a runner in no time.
Couch to 5K costs $2.99 on the app store.
Yoga with Adriene provides some of the best free yoga videos on the internet; she makes relaxing, informative videos for all yoga levels and all bodies. With themed videos like self-love, joy, and gut health; a variety of 30-day challenges, and videos targeting specific body parts, there's a video for whatever you need at any given time.
Her videos' lengths vary, but this playlist is full of her videos that range from 30 to 35 minutes, and this playlist features videos that are 20-25 minutes.
Here, NYC-based trainer Rebecca Kennedy gives you the bones for a perfect, 30-minute workout by combining a warm-up, strength, and cardio. If you have specific workouts that you like to make a priority, you can fit them into this outline and customize it to which muscle groups you want to exercise. (It also ends with a 15-minute treadmill workout outline!).
This post was in partnership with Obé Fitness, but all of the opinions within are those of The Everygirl editorial board.