You might recognize the name Cait Weingartner from her stylish Windy City studio tour featured on The Everygirl in 2013. Just two years later, Cait moved more than 800 miles across the country to San Francisco, took on a new role as the director of collaborations with Collectively (while maintaining her side hustle Pretty & Fun, of course), and put down roots with her now fiancé in the Hayes Valley neighborhood.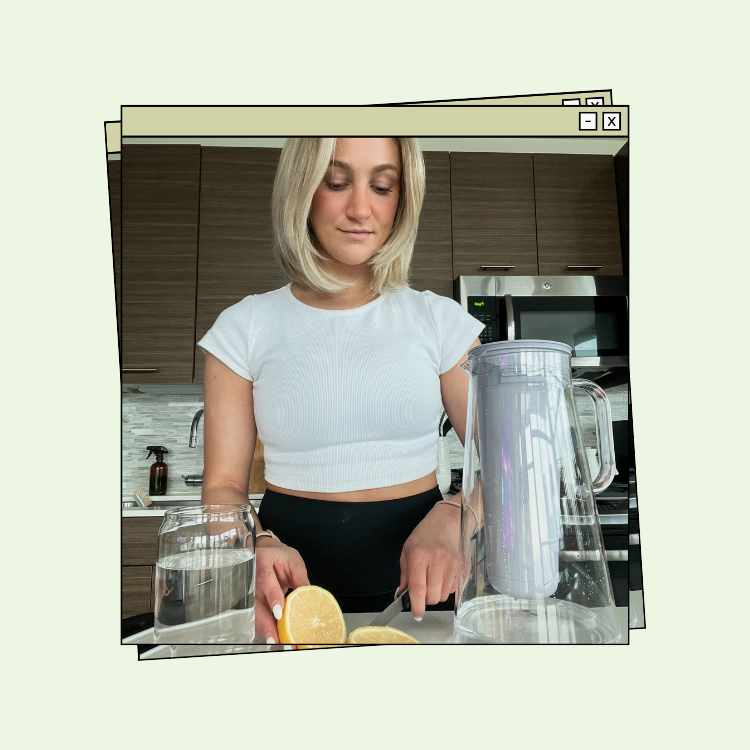 get it right in 2023 and beyond
Here, we chat with Cait about the daunting process of a cross-country move and how she and her fiancé blended styles to make their apartment feel like home.



You're an East Coast native who spent four years in Chicago before moving to San Francisco two years ago, where you currently reside. What prompted you to make the move?
The opportunity to move to San Francisco came suddenly yet serendipitously—I was in a role at an ad agency in Chicago that had me working 50+ hour weeks while traveling to New York and Los Angeles multiple times a month, and I was feeling very burned-out and in need of change. My boyfriend (now fiancé) found himself with a great job offer in San Francisco with a company willing to relocate us both, so I gave notice at my job and made the move with him. I've always wanted to live in California and the Bay Area is definitely the right place for both of us at this point in our lives.
As many know, finding affordable property in San Fran can be tricky. How did you find your current place? 
Apartment hunting in San Francisco is no joke! After hours of scouring Craigslist, attending crowded open houses, and meeting with realtors, we stumbled upon our building after seeing an ad announcing the opening of a new building which was still under construction. We had to do a hard-hat tour and almost walked away after seeing their two one-bedroom layout options that weren't quite right for us, but luckily they had one apartment with a slightly different floor plan so we grabbed it right away!
What was on your wishlist and what were some non-negotiables? What made you finally settle on your place?
I had my heart set on moving into one of San Francisco's famous charming vintage apartments, but after touring lots of them, it just wasn't in the cards for us at the moment. We have a dog and have gotten spoiled with having a short commute, dishwasher, and washer and dryer in-unit. While I still wish our home had more space and a little more character, we live in my favorite neighborhood in the city, Hayes Valley, and love having great restaurants and coffee in our neighborhood.


Did you take all of your pieces when you made the move from Chicago to San Fran? If not, what did you sell, and what did you keep? How did you decide?
The combination of a cross country move AND moving in with my boyfriend was the perfect opportunity to start fresh, so we both sold all of our furniture before the move and brought only a mattress with us to San Francisco. We learned a lot during our first year of living together and creating a space for the both of us, and actually sold almost everything again before moving into this apartment. A little crazy, yes, but each space is so different! Throughout every move I'm always adamant about keeping all of my books and art—those two always make every apartment feel like home and add so much character to any space.
How would you describe your decorating style? How would you say it has changed since we last chatted with you? 
It's really fun to look back at the photos of my Chicago studio apartment from my first home tour and see how much I've grown up over the past few years. From living alone in my first city studio to sharing a home with my fiancé in California, a lot has happened since that first home tour! Living with Blaine has definitely added some masculinity to my decorating style, but I'm still drawn to mid-century pieces and love the thrill of vintage hunting.
When decorating your place, what room/area did you concentrate on first? Why did you choose that area? What was your first big purchase for that space?
The open layout of this apartment made it really important to define separate spaces within the living space to break things up and make the area multifunctional. Our CB2 bookshelves were one of the first purchases and instantly added a lot of much needed storage and make our little living room nook actually feel like a living room. We also added a new couch and splurged a bit on a leather sofa from Article which is so comfortable and looks beautiful floating within the middle of the room.


There are so many great details and accent pieces that make up your place. Do you have any favorites, or are there any that hold special meaning? 
Every piece of art in our home has a story! I've been collecting pieces off Etsy and from local artists since college. It's been fun to watch the gallery wall grow over the years—hanging art after moving into a new apartment always makes it instantly feel like home.
What are your fav places for budget buys (either for furniture or accents)? Any local stores you've discovered in San Fran?
Craigslist is my best friend for both selling and buying furniture, and we scored some serious gems for this place! Our vintage credenza that we have the television on is my dream piece with its brass accents—I had an IFTTT alert set up to track down a vintage piece we could use as a television stand, and we were lucky enough to jump on this piece as soon as it was posted. The brass bar cart is another favorite; I sadly had to sell the vintage bar cart I had in my Chicago apartments after the movers deemed it too risky to make the long-distance move. I was so excited to find another beauty on the west coast.
Are there any pieces you splurged on? If so, what were they, and how did you know it was a good investment?
After years of having a headboard with a basic metal bed frame we finally splurged and upgraded to an actual bed. Our bedroom in this apartment is tiny so the low-profile bed with clean lines from CB2 made the space feel polished without much else in the room.
Where do you look for home decorating inspiration? Are there any design books, magazines, blogs, or particular designers you look to for ideas? 
I'm a total Pinterest addict! Over the years I've saved almost 30,000 pins—scrolling through my boards always provides a serious inspiration boost. Outside of the Pinterest world I love Emily Henderson and Sarah Sherman Samuel's work and have years of Domino magazine issues saved.


You are a master of juggling multiple gigs, including serving as the director of collaborations at Collectively, and of course, running your lifestyle blog Pretty & Fun. What's your secret to balancing it all? Or is there one?
At the end of the day there's no real secret besides hard work, but blogging is such an important part of my life and my role at Collectively is a dream, so it's always worth the effort. I feel so lucky to have a job where I truly love going to work every day and a side hustle that has been so fulfilling throughout the years!
What has been your proudest accomplishment to date—either with your full-time gig, blog, or side hustles?
I still think that moving to Chicago in 2011 was the best decision I've ever made—I knew no one but moving 800 miles away from home ended up opening so many incredible doors for me. Getting out of your comfort zone can be really scary but is always worth it in the end.
What's a typical day like for you? How do you start your mornings and end your nights?
Every day is a bit different, but I like to get a jump-start on the day and wake up early to get some blogging and a workout done (Flywheel is my jam!) before work. Once I've had a few coffees and settle in at the office the day always flies by with a variety of client meetings and helping the team strategize and troubleshoot. My walk home from work is always a nice way to wind down from the day—you'll usually find me having dinner at home, doing a bit more work on the blog, and then settling into bed early with Callie.
What are your current career aspirations? Where do you see yourself in five years?
Right now I'm really focused on pushing influencer marketing beyond just blog posts and finding new, creative ways for brands and influencers to work together. The past five years have held such incredible growth and more change than I ever could have imagined, so I can't wait to see what the next five hold. I like leaving things open enough so I'm always ready for new adventures and opportunities.
Cait Weingartner is The Everygirl…
Coffee order?
Latte (and about four a day usually!)
Dream buy for your apartment?
How about having more than one bedroom? 😉
TV show you wish was still on the air?
I'm lame and barely ever watch TV! I do miss LOST though.
Fav way to unwind in your city? 
A trip to the dog park with Callie or a glass of wine al fresco
If you could have lunch with one woman, who would it be and what would you order?
Michelle Obama and we'd balance salads with milkshakes.
Product Sources
Living Room
Article Modern Sofa
Vintage Rug
CB2 Coffee Table
CB2 Bookshelves
Vintage Credenza (similar)
Urban Outfitters Pillows
CB2 Lamp
Big Jambox Speaker
Gallery Wall
Framebridge Travel Photos
Waves Print from Urban Outfitters
Tree Ring Print from Minted
Black Abstract Print from Minted
Horse Print from Urban Outfitters
Dining Room Area
CB2 Table
RugsUSA Cowhide Rug
Joss & Main Chairs
Vintage Bar Cart (similar here)
Letterboard
Desk Area
DIY Desk
Bo Concept Desk Chair
CB2 Filing Cabinet
West Elm Lamp
West Elm Chair (similar here)
Leather Moroccan Pouf
Hayneedle Storage Baskets
CB2 Sheepskin Pillow
Bedroom
CB2 Bed
Vintage Brass Trunk (similar here)
Vintage Campaign Nightstand
Target Sea Urchin Wall Decor
West Elm Duvet Cover
West Elm Striped Sheets (similar here)
CB2 Mint Pillow (similar here)
West Elm Gold Pillow (similar here)
Lord Bodner Octopus Triptych
West Elm Lamps
Vintage Brass Elephant (similar here)
Kitchen
Kitchen Aid Mixer
CB2 Dishware
CB2 Storage Canisters
Anthropologie Ceramic Fruit Baskets
Entryway
Chasing Paper Wallpaper
IKEA Shoe Cabinet
Target Brass Mirror