A few weeks ago, we shared 7 Outfits That Give Us Major French Vibes and we know you were probably thinking: I need to have expensive French labels to dress like that, right? Wrong. It just takes a little creative thinking and some digging in your closet. While we can't decipher the entire French mystique for you (we're trying to figure that out ourselves!), what we can offer is some styling advice on how to use what's already in your wardrobe to bring those French vibes home. Here's how!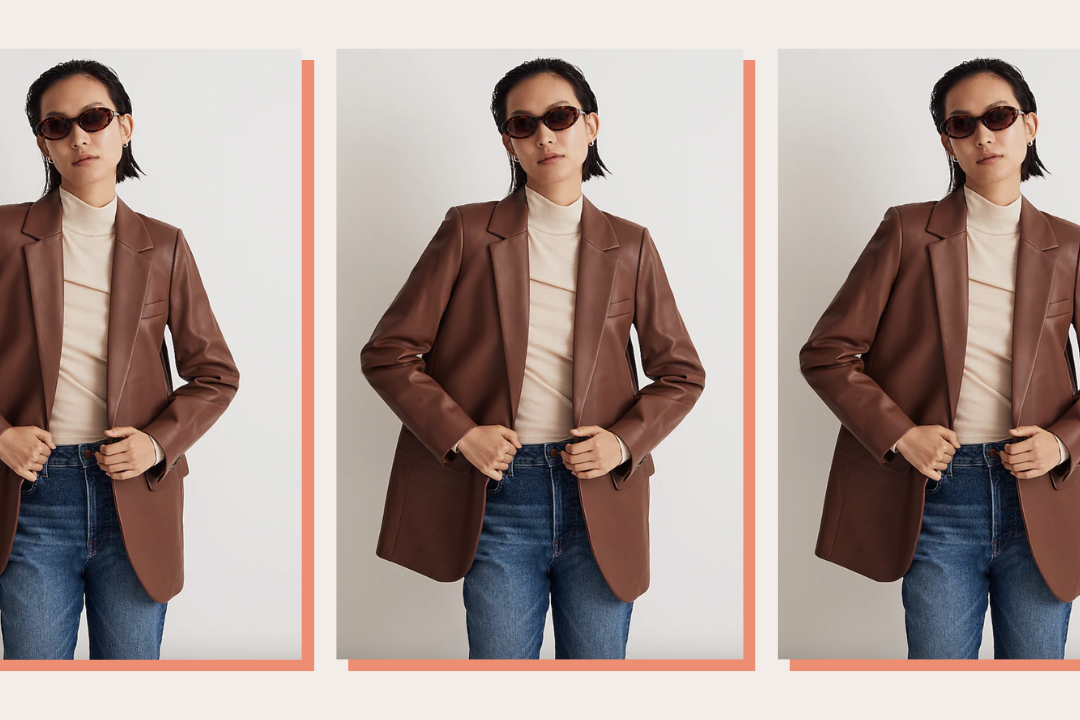 time for your fall wardrobe update!
1. Invest in a Breton Stripe Shirt.
We know you've got a stack of stripe shirts hanging out in your closet. Whip one of those bad boys out, add a scarf, and toss a trench coat over it—it doesn't get any more French! If you're looking for the perfect stripe one, we are head-over-heels for the brand Kule. It is the first American company that specializes in producing the classic Breton stripe shirts. At $118 per shirt, it's an investment but one that you'll wear year-round, time and time again.
Shop the look: stripe shirt / trench coat (save 40% with the code 'extra') / scarf / jeans / flats
2. Navy + leather is your go-to. The French love their knits as much as we do, but what they especially love are navy blue sweaters. We've seen them paired with denim, black skinny jeans, and skirts. Today, we're all about a loose fitting navy sweater with leather pants. Wear this combo with leopard flats for day and pumps for night and you've got yourself an easy transition for an effortless cool outfit. Tip: The key here is to keep it simple.
Shop the look: navy sweater / leather pants / leopard heels
3. Keep it graphic. Dressing French doesn't have to be too serious. Style your favorite graphic sweater with a collar shirt over a simple black skirt for a look that is as fun as it is chic. And as shown in the cover image, take it to the next level by dressing Parisian wherever you are with your closest friends!
Shop the look: graphic sweatshirt / collar shirt / black skirt
4. Pair mid-heels with skinny jeans. While French women love their flats, they also like to add height to their look with mid-heels. We love how it instantly creates a polished look when paired with a large, loose sweater and a casual pair of jeans.
Shop the look: sweater / jeans / shoes / leather tote
5. Drape outerwear. We've seen this simple styling tip on our favorite bloggers—all it takes it a quick drape over your shoulders to create an instantly cool look anyone can master. Try it with blazers, trench coats, or even a cardigan!
Shop the look: stripe shirt / trench coat (save 40% with the code 'extra') / scarf / jeans / flats
6. Confidence is king. The most common thing French women carry is confidence. While the collection in their closet is simple, each outfit looks like a million bucks because French women have a strong sense of self. The good news? Confidence is free! All it takes is a little mental pep talk. Yes, you are beautiful!
Pair it with: Wide Brimmed Hat
Show us your French outfits on Instagram with the hashtag #IAmTheEverygirl!
And for more French-inspired style, follow Juley on social: Website / Instagram / Twitter / Facebook